Many people want a home they can unwind in at the end of the day… That's what the Japandi style delivers.
Japandi interior design brings together the elements of Japanese and Scandinavian designs to create a home environment where beautiful simplistic functionality reigns and a connection to nature is essential.
Japandi interior design is the fusion of Japanese and Scandinavian interior design styles—the very name "Japandi" is the combination of the words "Japanese" with "Scandi." The marriage of Japanese and Scandinavian interior design styles is one that makes sense due to their similar sense of minimalism, love of nature, and quality craftsmanship.
When it comes to Japandi style, a warm and welcoming space is the objective, along with clean lines and beautifully functional style. Utility matters just as much as aesthetic appeal in Japandi designs.
Japandi leans into the Scandinavian concept of hygge of bringing coziness into a home as well as the Japanese philosophy of wabi-sabi, which appreciates finding the beauty and perfection within the imperfect. This is why wood is such a featured material in Japandi styles, along with other natural elements that are intrinsically beautiful, if not uniform.
Japandi is a clutter-free design, much like modern or minimalist designs, which are also connected to Scandinavian design. It's about creating a calm environment, and clutter doesn't support that aesthetic.
The key to Japandi style is to design with intention. Practical and beautiful designs win out as they enhance the environment while reminding you to stay in touch with what truly matters.
Japandi is a very eco-friendly style, and that's part of what makes it so popular among those who want to do their part for the environment. Having originated from both Japanese and Scandinavian eco-minded sensibilities, Japandi carries a deep respect for quality materials, craftsmanship, and sustainability—disposable or throwaway designs do not fit in.
Japandi can also be called Scandi-Japanese, Scandanese, or Japanordic, though Japandi is the preferred term for the style.
A Brief History of Japandi & Its Rise to Popularity
The interior design style fusion of Japandi has been flourishing as a popular design style in 2017 since it leans into intentional, comfortable, sustainable, and beautifully functional designs. You can expect to see more of this trendy design style in the coming years.
The core philosophy behind both Scandinavian and Japanese designs is simplistic yet beautiful functionality, though they express it in different yet complementary ways.
The first hint of the similarities between Japanese and Scandinavian styles was observed in the 1950s when Scandinavian and modern designs became trendy. And from these similarities, a hybrid style was born.
While Scandinavian styles—which focus on functionality and comfort in crisp neutrals and light wood—have been around since the 1930s, Japanese home designs have a historic and distinctive elegant minimalist style, featuring richer wood tones and a connection to nature. The original Japanese designs date back at least a century and have evolved with the times. By the 19th century, Japanese designs took on more Western design elements, like stone and cement.
Japanese designs focus on blending elegant minimalist functionality with the outdoor environment, so wood is a prominent feature in Japanese designs as well as other natural materials to promote a tranquil sanctuary. Likewise, Scandinavian styles lean on light natural wood tones and focus on simple designs.
Where Scandinavian designs are more rustic with cool neutral tones, Japanese designs are sleek with richer and darker colors—so their contrasts actually balance each other out.
The darker sleek sophistication of Japanese styles is balanced out by the lighter, more rustic, hygge-inspired Nordic styles for a relaxed sense of sophistication, where everything serves its place and purpose while creating a beautiful and homey environment.
How to Design a Japandi Style Interior
Japandi designs call for a calming and peaceful color palette to enhance the sense of comfort and tranquility. Bright spaces and colors that enhance the lighting make the space feel more open. You can also pair bright open spaces with darker toned, more intimate spaces to create a contrast and distinction between areas of your home.
Calming warm neutral tones like cream, beige, tan, etc.
Natural tones offered by light and dark woods and plant life.
Muted greens, blues, grays, browns, and pinks complement the warm neutral tones.
Light wood leans into the Nordic side, whereas dark wood tones lean toward Japanese–mix it up for contrast.
Bright or bold colors are used sparingly and intentionally, like in a statement art piece.
Black frames, legs, or accents.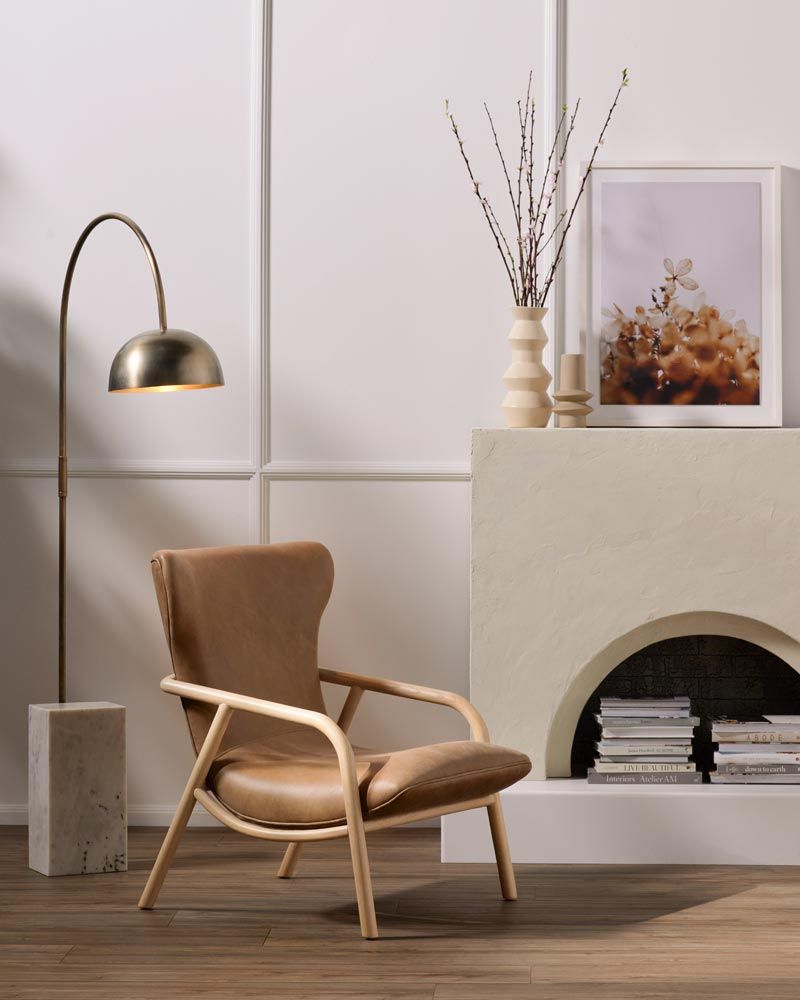 With an eye for simplicity and functionality, form follows function in Japandi designs, so simple shapes are highlighted.
Clean lines – both straight and curved or rounded.
Organic and natural shapes.
Minimalistic and simple designs that are also beautiful.
Handcrafted shapes are popular.
The use of natural materials, fabrics, textures, wood, and plants is featured in Japandi designs to create a connection to the environment.
Sustainable, natural, and eco-friendly materials preferred, like fast-growing bamboo
The focus for Japandi-style furniture is on beautiful craftsmanship and sustainability. Highly functional and minimal furniture through intentional design is also an element of Japandi styles.
It's about letting the functional pieces you need to also be aesthetically pleasing and comfortable. Everything should have a purpose and each piece could likely stand as art in itself.
Quality, handmade furniture pieces that are made to last.
Repurposed, sustainably sourced, or eco-friendly wood or materials.
Simple shapes in neutral colors, like cream, beige, or muted gray with black or wood frames or accents.
Seek out warm or natural textures, materials, or patterns for upholstery.
You can use either Japanese or Scandinavian-specific furniture, or combine the two.
Mix it up with both light wood and dark wood furniture featuring either straight or curved lines to show contrast.
Create a minimalist yet beautiful space with intentionally placed decor items that also serve a function. The key is to make it cozy and intentional, but not cluttered. It's suggested to focus on one or two statement pieces rather than decking it out with a lot of decor.
Decor in Japandi styles would include functional accessories as well as natural decor and materials.
Avoid clutter to maintain clean lines and peaceful open spaces.
Plantlife like bamboo, bonsai, hanging or potted greenery creates a sense of natural vibrancy.
Wood or bamboo features or accents.
Pick one or two statement pieces, such as a cozy rug, accent painting, or throw blanket.
Add comfort with throw pillows, rugs, and blankets in warm tones and textures.
Woven or rattan baskets or other natural material containers or shelving can help organize and keep the space clutter-free.
Shop local goods and plants to add a connection with your surrounding environment.
Screens or sliding doors of the Japanese style provide separation between spaces or coverage of storage.
Conclusion
Ultimately, the Japandi style is about creating a beautiful, comfortable, and highly functional home featuring sustainable elements from the natural world. The harmony of simplistic designs, stylish functionality, and nature in a palette of neutral colors make Japandi a highly desirable interior design style that's here to stay.
Looking to bring Japandi style to your home? Our team of professional interior designers can help! Start off your home project on the right foot with a free design consultation.