Incorporating Popular Culture into Your Style: Nightmare Before Christmas Edition
By the Vevano Home Team
October 26, 2020
How fun would it be to turn a room in your house into a fantastical style incorporating one of your favorite pop culture themes? Well, guess what? It's completely doable, and we can show you how.
Since October is the time of the jack-o-lantern, dark nights, and ghostly ghouls, Vevano Home felt inspired to show you how you could use elements from Tim Burton's popular movie Nightmare Before Christmas as inspiration to transform an area in your house into "something (wonderfully) strange"--to match your interests.
Tim Burton's design style is very distinct--and the more distinct a style is, the easier it is to find different design elements. The stark contrast between black and white in Jack Skellington's design paired with the grayscale theme of the Halloween Town, along with the unique pops of color that come from other characters, can play host to quite a few home interior design ideas inspired by this classic bi-holiday claymation film. Our expert designers have illustrated concept boards to satisfy their own interests from Nightmare Before Christmas--We hope this will engage and inspire your own imagination for different interior design ideas.
Jack Skellington's Abode - Bathroom Design Inspiration
"I used Jack's black and white pinstripe suit as my inspiration." - Madi
Jack Skellington's suit is black, thinly striped with white, and there's a bowtie of sharp angular lines to top it off. Using the features on Jack's outfit, we can start to map out some designs that could create a "Jack Skellington" theme for a bathroom. His suit can easily translate to design ideas that incorporate straight and thin lines, geometric angles, framing/framed elements, minimalistic designs, matte finish, and black and white colors. Interior design styles that use features like this may include modern, industrial, minimalist, eclectic, or even art deco.
In this concept board, Vevano Home expert designer Madi highlights features that incorporate both black and white through straight lines and a couple geometric shapes. The hexagon tile design for the floor includes black and thinly drawn triangular designs with a white backdrop, which is similar to the shapes in Jack's bowtie. In contrast, the wall tiles are black rectangles with thin white grout lines, still playing on geometric shapes and minimalistic straight lines. From there, Madi chose the black grid shower door to continue with a geometric theme. The black granite console vanity contributes to a minimal or even industrial look. Matte black finishes, on the sconce lighting and mirror, and the faucet continues the black scheme. The Jack Skellington-themed bathroom is polished off with chrome finishes for both the towel rack plus the showerhead and faucet. These add durability and soft accents to the minimalistic design of the room.
Nightmare in Grayscale - Kitchen Design Inspiration
"I was inspired by the gray tones used in the original concept art for the movie, so I designed a beautifully neutral kitchen with that in mind." - Michael
Not only do gray tones play in the original concept art, but also in the overall design of the Town of Halloween where most of the movie takes place. This offers a stark contrast to the bright colors of Christmastown. Vevano's expert designer Michael used gray tones as a base to work with as he built up a kitchen concept that's both neutral and dynamic at the same time, while playing to contemporary design styles. This is a Nightmare Before Christmas kitchen that's great for all seasons!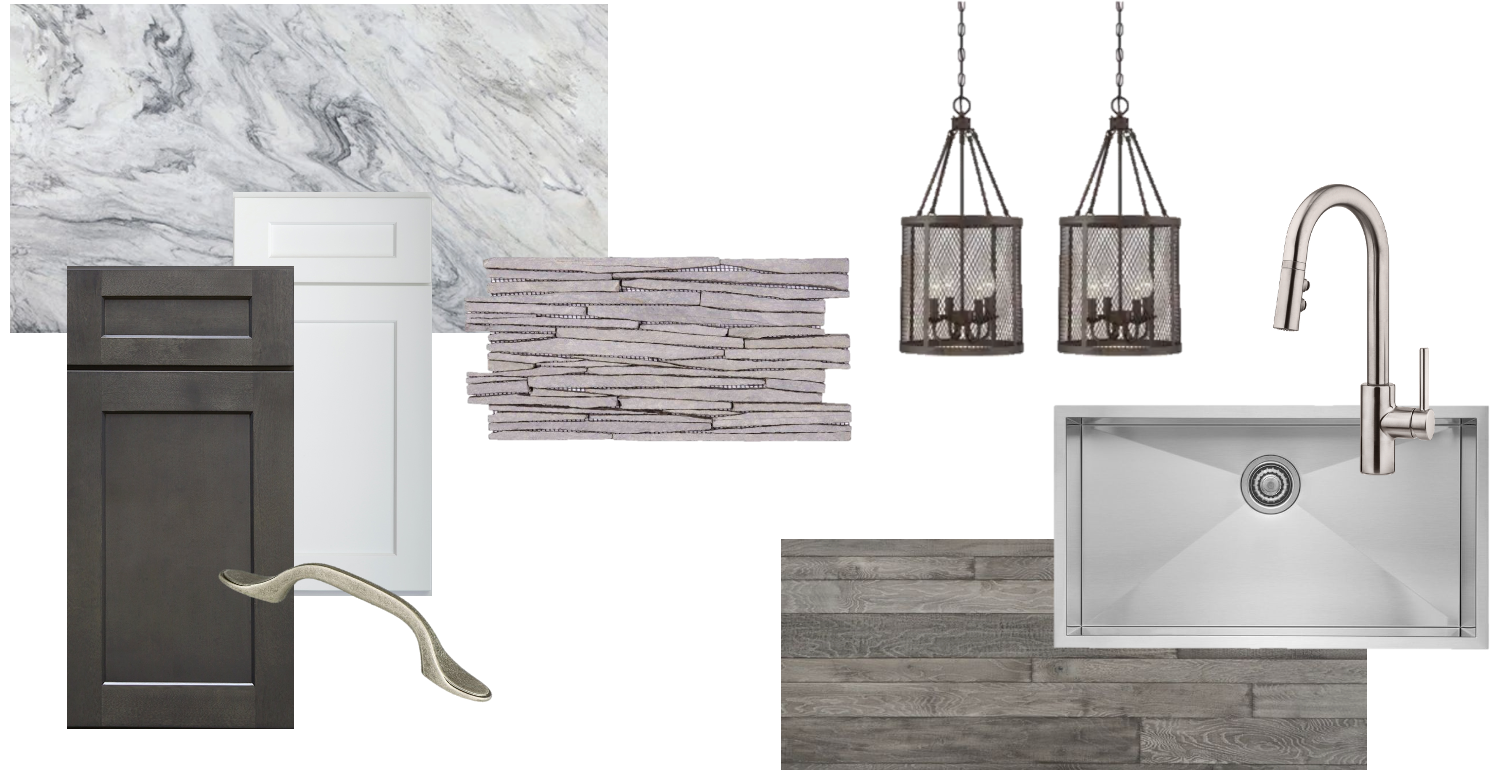 From the dark gray base cabinets on top of a gray-wood luxury vinyl tile (LVT)e, Michael shifted to the contrasting white wall cabinets. This effect draws the eyes upward and adds dimension and depth to the room. The base and wall cabinets are split by a light gray and white marbled countertop, which is where the room starts to lighten up, which provides that dividing element between the gray and white. The choice of pendant lighting creates what looks like a tower, which resembles Jack's home, again tying back to another element of the movie. Since gray is such a prominent color theme in the movie, both in concept boards and in the final product, it gives a lot of room to play with varying gray features and elements.
The whole design is paired with a backsplash that looks eerily like the woods Jack gets lost in, tying together a beautiful kitchen concept that's sure to impress and make you scream, "Eureka!"
Sally's Sanctuary - Bathroom or Kitchen Design Inspiration
"The subtle hints of purple in this concept board is what makes it become part of the Nightmare Before Christmas. I chose the small squares for the backsplash to mimic the patches in Sally's dress while also giving it a splash of color." - Andrea
One of the few characters with color outside of the Halloween Town's general public is the patchwork love interest for Jack Skellington, Sally. The purple patches in her dress, as well as her thematic purple and blue shading from time to time in the film, are definitely inspiring this lovely eclectic bathroom design.
Similar to Michael's design, Andrea incorporates the gray color scheme of the film to enhance the edges of the bathroom, such as the gray wood LVT plank flooring and the silver sink faucet. The gray wood also taps into the woodsy texture from the forest. The white cabinets and sink could reflect how Sally is already a light in Jack's dark Halloween world. This feature also helps to brighten up the room. The small-square mosaic backsplash and the countertop add pops of purple and blue into the design, creating an unexpected yet beautiful combination of cool colors. This resembles the patches in Sally's dress and also reflects Sally's melancholic mood. This design could lend itself well to either a kitchen or bathroom, and it could easily fit within contemporary, modern, or eclectic design styles.
Conclusion
These three distinct design concepts inspired by Nightmare Before Christmas only scratch the surface, as more interior design themes could still be gleaned from such a visually impactful film. Designs like those suggested here, while inspired by a holiday movie, can also work as year-round designs and themes.
There are many possibilities that could transform your home into elements from your favorite films.. To bring your favorite pop culture ideas to life in your interior design, simply focus on your favorite element(s) and use those to identify features, colors, textures, and lines/shapes that could create a unique and personal aesthetic. The key is to find balance between statement features that really tap into the theme you want and more neutral or evergreen features to allow the statements to pop.
Engage your imagination to see what your favorite movies, TV shows, or books might inspire in your own interior design ideas. If you'd like professional support to make these pop culture interior design dreams real, we have expert designers that can help you to achieve just that.