What is Mediterranean Interior Design?
Simple, old-world opulence with a rustic touch
By Mikael Short
April 20, 2022
Inspired by the countries surrounding the Mediterranean Sea, Mediterranean interior design highlights the natural history, landscapes, and communal culture of this diverse region.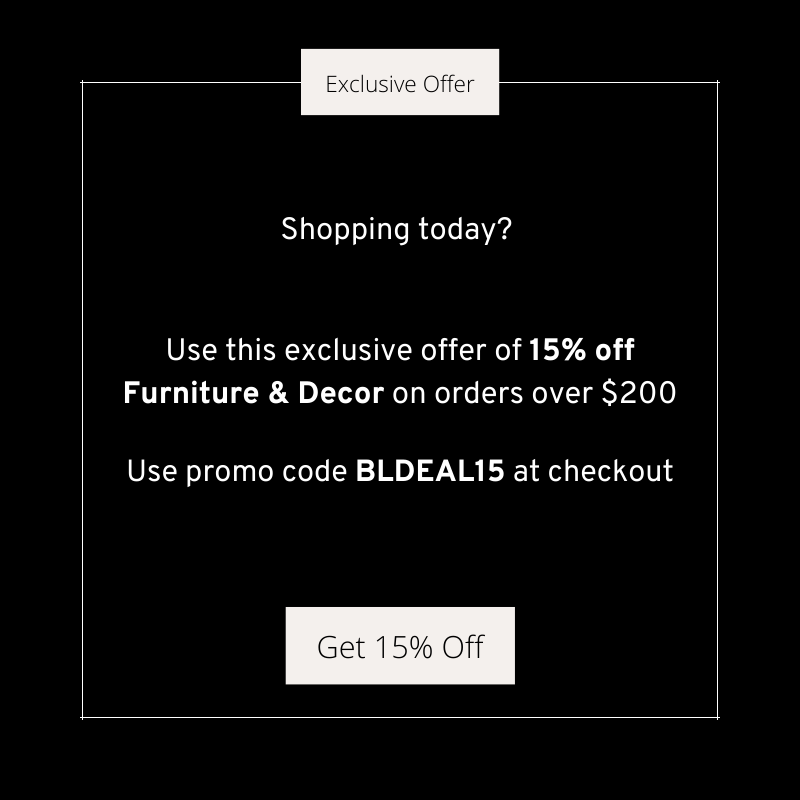 Though many Mediterranean styles stem from the European edge of the sea (like Greece, Italy, and Spain), much warmth of the Mediterranean-style homes comes from influence of Morocco, Turkey, Israel, and the other countries bordering the Mediterranean coast. While they all share similarities, each country has its own design sensibilities based on its land, culture, and traditions.
Due to their historic nature, Mediterranean-style houses and interiors carry timeless appeal and can easily be modernized by pairing contemporary or modern furniture with historic architecture and natural features.
What is Mediterranean Interior Design?
Mediterranean interior design highlights bright and airy communal areas, seamless indoor-outdoor living, highlighting natural materials like wood and stone for main structures, and intentionally using colors found in nature… Specifically those colors that are found around the coast of the Mediterranean Sea, like whites, creams, sea or sky blues, desert tans, and others depending on the region highlighted.
Interior and exterior design flows together in Mediterranean-style homes—bringing the outside in and the inside out—highlighting the balanced indoor-outdoor lifestyle along the sea in a warm climate. Modern Mediterranean interior design is often considered a variation on coastal design for this reason.
This style is mostly minimalistic and functional, yet has a range of possibilities due to the numerous potential influences, from neutral natural colors to vibrantly colored and patterned textiles.
Ultimately, the Mediterranean interior design style gives the impression of old-world seaside opulence with a rustic touch.
Mediterranean Style Homes
Mediterranean style houses are highly influenced by the classic and elegant Mediterranean villas of the 1920s. With a blend of Spanish and Italian architecture, the Mediterranean villas were meant to give the impression of wealth, warmth, and relaxation, bringing the natural world inside.
Mediterranean-style homes are desirable even today for their classically beautiful designs with simple lines and natural textures. Mediterranean style houses are a timeless classic and are often found in seaside states like California and Florida and even states boasting warm seasons year-round.
The original Mediterranean homes were often more cozy and intimate with lower ceilings and smaller windows. The modern take on the Mediterranean style aims to open up the space a bit more with higher ceilings, larger windows, and a focus on open-floor layout plans for easier flow of people and for the perfect balance of indoor-outdoor living.
Since Mediterranean architecture has so many influences, it's also known as Mediterranean Revival, Spanish Colonial, Moroccan, and Neo-Mediterranean.
Many Mediterranean-style homes most often feature low-pitched red clay tile roofing, such as terracotta.
The arch is a signature shape in Mediterranean-style homes, often found over main entryways. You can also find arched windows, arched doors and door frames, and arched interior throughways in Mediterranean homes. Arches may be simple and white or ornate with patterned tiles or mosaic glass.
Mediterranean homes blend indoor and outdoor living, so an easily accessible outdoor living area like a patio, balcony, or terrace is a way to connect the home to its surroundings.
Wrought iron adds detailing and decor by framing windows, balconies, patios, and gates in Mediterranean exteriors.
White, off-white, or cream plaster walls are a signature backdrop of Mediterranean interior design, allowing for smaller pops of color and to highlight the warmth of natural materials throughout. Textured white walls are popular, whether stucco or painted over natural materials.
A natural flow between interior and exterior areas is signature to the Mediterranean style. Continuing stone or wood flooring or walls creates a seamless flow between indoor and outdoor living areas. Furnish an outdoor living space with ample seating to enjoy the outdoors with home comforts.
Tumbled stone detailing like stone wall facades on columns or fireplaces are traditional Mediterranean features. Tile, whether neutral or warm-toned or patterned, also features in modern Mediterranean interior styles, from the floor to the ceiling.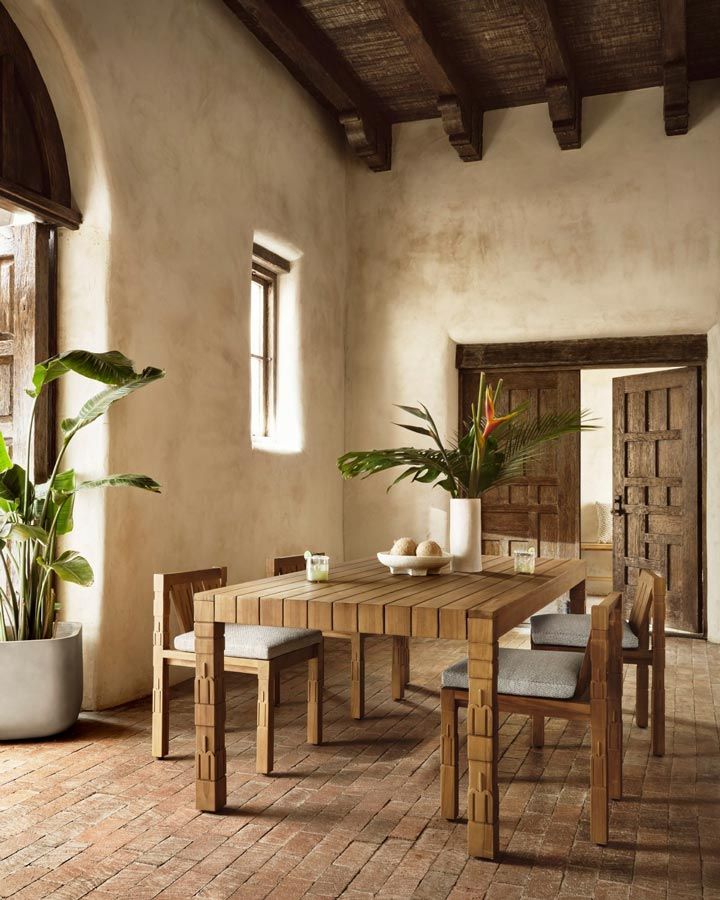 Mediterranean homes feature natural exposed wood beams in the ceiling or hardwood floors throughout for a warm and inviting space. Craftsman wood furniture also features well in Mediterranean-style homes.
Big windows, French doors or sliding doors, and breezy window treatments all contribute to the open-air feeling of Mediterranean styles.
Though the styling is rather minimalistic, Mediterranean interiors feature natural materials as finishing touches and decor, such as rattan, linen, cotton, ceramics, terracotta, wrought iron, wood, and tile.
How to Create the Mediterranean Look in Your Home
You don't need to have a Mediterranean home to give it a Mediterranean flavor. These tips can apply whether you're designing the interior or the exterior of your home.
Mediterranean Color Schemes
The key to nailing a Mediterranean color palette is to stick to 1-3 main colors to focus your aesthetic intentionally.
A neutral base is key to starting. A white, off-white, or cream backdrop on your walls creates the perfect canvas for a Mediterranean-style interior. White walls with texture are the cat's meow for Mediterranean homes.
Add warm, earthy colors from the natural world to create the signature Mediterranean warmth, such as ochre, chestnut, and terracotta hues (red, yellow, brown, pink, gray).
Natural tones from wood and stone also feature well in Mediterranean-style homes as the style embraces colors from nature.
Depending on the region of inspiration, other colors from nature may inspire your Mediterranean home design.
Turquoise, cerulean, blue-greens, cobalt blue against white walls.
Rich shades of blue, green, red, and yellow with dark wood and elaborate patterns.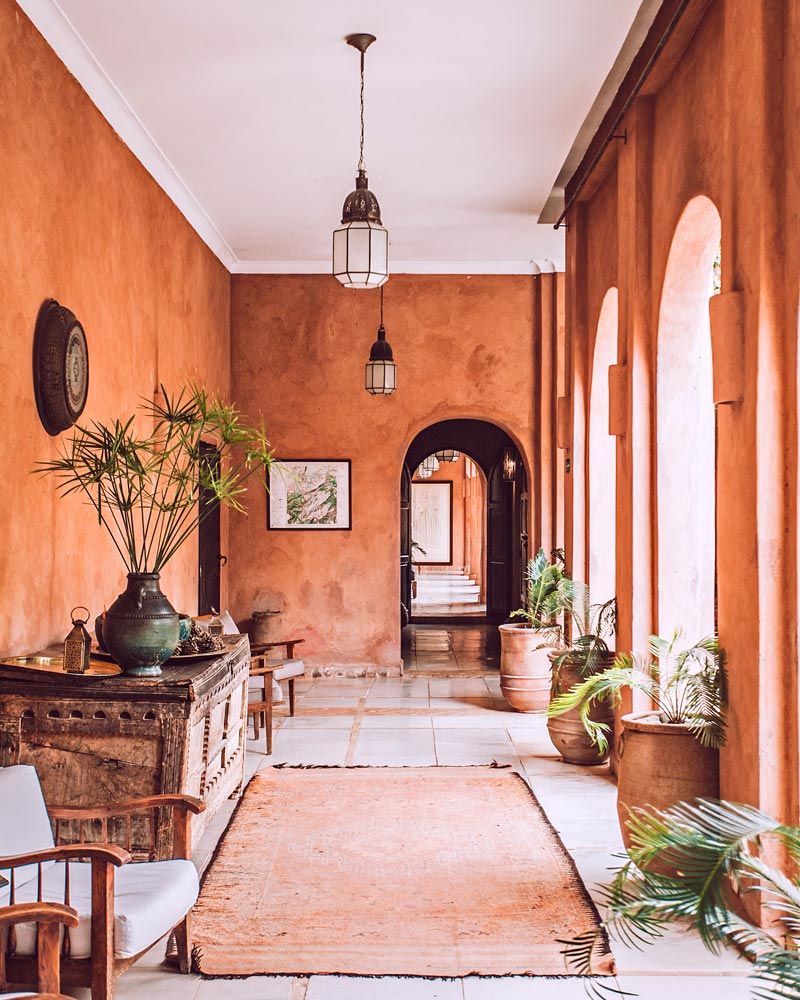 Warm earthy shades of gold, red, orange, and light brown with a creamy base.
Soft, earthy neutral tones like cream and beige to vibrant blues, greens, reds, oranges. Vibrantly colored textiles and intricate patterns.
Mediterranean furniture leans more rustic in design yet spans from more functional to elegant, depending on your preference.
To find that perfect blend of a modern Mediterranean style, mix modern-style furniture with other Mediterranean features, like wood, tile, or stone features and rugs.
Linen furniture or furniture slipcovers are the perfect organic material for Mediterranean furniture, whether indoors or outdoors.
Greek-influenced Mediterranean interior design embraces both cast and wrought iron, so other antique metal framed furniture and touches fit in well.
Italian-influenced Mediterranean-style homes lean on more ornately carved wooden furniture, particularly in dark wood.
Both Spanish and Moroccan-inspired Mediterranean styles opt for low-sitting, rustic furnishings for comfort.
22 Mediterranean-Style Decor Ideas
With all of the stone or wood flooring, rugs are a staple in Mediterranean homes to add comfort and to distinguish open layout spaces. Rugs with traditional designs and neutral colors can work, as well as vibrantly colored rugs that perhaps add a pop of color to an otherwise neutral room.
To add imperfect texture to your walls or furniture, white-washing is a great way to bring more Mediterranean character to your walls, floors, or even wood features.
Symmetrical designs are ideal in Mediterranean decor and interiors, so features in pairs or to parallel across from each other create balance within the space. This works with identical pairings of sconces, living chairs, plants or pottery, mirrors, woven baskets, or other features.
4. Mediterranean Mosaics & Patterned Tiles
Colorful mosaic tiles work beautifully as an accent in Mediterranean-style homes, whether as a feature wall in a bathroom or shower, backsplash, or even flooring. Patterned tiles are particularly popular for Moroccan and Spanish-inspired Mediterranean designs.
Reveal natural wooden beams or paint them onto your ceiling to create the warm and cozy overhead in your living areas that's signature to Mediterranean decor.
Stone or stone-look flooring fits in within Mediterranean-style designs as it highlights neutral and natural materials and colors to ground the space. For added flair and a cohesive flow between areas, use the same stone flooring inside as you do on the outside.
9. Single Statement Piece
Since most colors used in Mediterranean interior design run more neutral with whites and creams, you could add a singular pop of color like a blue sofa sectional or an ornate red rug to draw the eye and build intrigue to a Mediterranean living room.
10. Engineered Stone Countertops
To keep with the natural themes, opt for an engineered stone countertop like quartz in neutral earthy tones.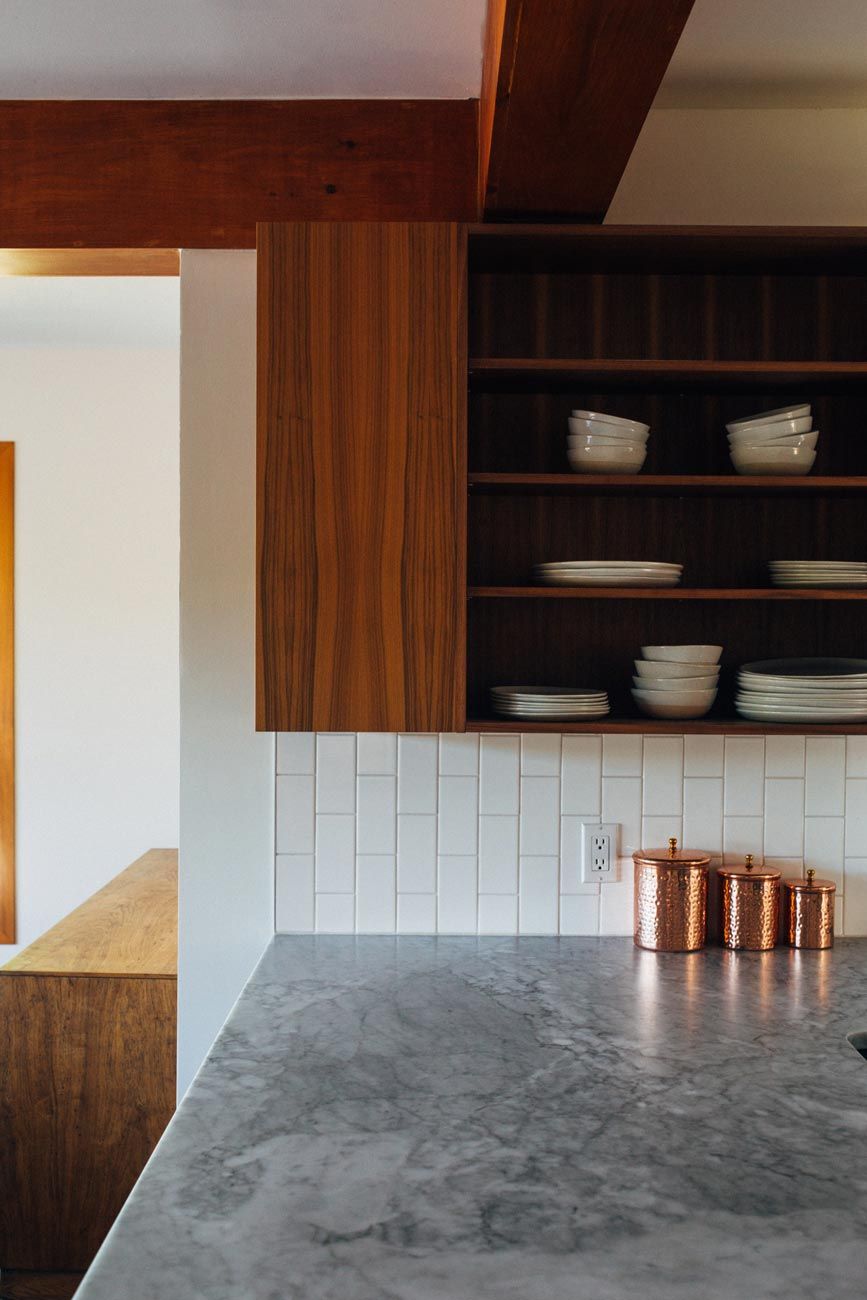 In Mediterranean-style kitchens, wall cabinets don't really come into play, but open-faced shelving definitely does, particularly those made of natural wood slabs. Open shelving contributes to an open, airy feeling while showing off your beautiful ceramicware and make them easily accessible.
With arches a signature shape of Mediterranean, consider arched recessed or raised panel cabinet doors for your kitchen or bathroom.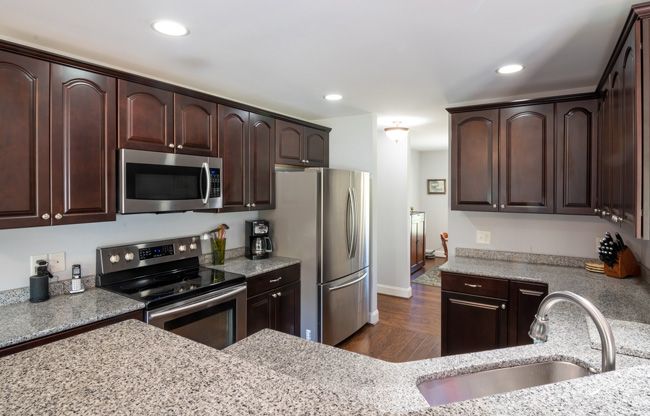 With wrought and cast iron as a mainstay in Mediterranean architecture, keep your faucets and hardware matching with matte black or oil-rubbed bronze finishes.
Natural and organic textures and fabrics fit best in Mediterranean designs, furniture, and accessories, like linen, cotton, rattan, wicker,
The reddish hue of terra cotta ceramic items is the idyllic pop of color in any Mediterranean home, whether it's in floor tiles, ceramicware, or other small accessories.
16. Antique or Artisan Accessories
Though accessories are best kept to a minimum, antique or handmade features like clay pots, tiles, or ceramicware add to the old world, artisan feel of Mediterranean styles.
To make your plant life Mediterranean in style, consider an antique, rustic, or clay pot to bring nature inside or to surround your outdoor living space with intentional planting.
Furniture, accessories, and hardware with wood, stone, and iron finishes fit right in with Mediterranean styling.
Sheer white or cream curtains keep the space bright and airy with natural light for a Greek or Italian-style Mediterranean theme.
21. Vibrant Curtains in Large Rooms
For more of a Spanish or Moroccan style home design, curtains luxuriously rich in color and patterns might be the best fit. Heavy curtains like this are best suited for large rooms so they don't weigh down the space.
With the range of possibilities available to you with a Mediterranean style home—from soothing neutrals to vibrant patterns and simply functional to opulent elegance—you can easily turn your home into your Mediterranean oasis. Focus on bringing natural elements to both your interior and exterior designs with a neutral base for your chosen colors or patterns to pop from, and remember to add natural textures to intrigue your family and house guests when they come to visit your reimagined home.
If you need help creating your Mediterranean-style designs, our expert Vevano Home designers can help! Reach out to our expert interior designers for a FREE design consult.