What's Trending: Style with Hexagon Tile Patterns
By the Vevano Home Team
November 10, 2020
Hexagon tile patterns are making a splash in the interior design world. While the square or diamond-shaped tiles are considered traditional, hexagonal tiles (sometimes referred to as hex tiles) have their own timeless quality. They also have an ability to transcend styles while offering a fresh look to any room in your home.
The "honeycomb" style has made a comeback as it originally started appearing in homes in the mid-1900s. With the hexagon's straight lines and precise angles, solid colored hexagon tiles contribute to a vintage or mid-century modern style. However, this type of tile will also work well with industrial, contemporary or transitional styles, depending on the color and design. Due to their restored popularity, more and more hex tile designs are emerging, providing numerous design options.
So, how can you use hexagonal tiles in your home? Let's take a look!
Where Hexagon Tiles Are Used
The six-edged tiles come in many sizes, colors, and designs, lending itself to be very versatile and usable in a variety of formats. While hexagon tiles are a trending design choice for kitchens and bathrooms, as are tiles in general, those aren't the only rooms that can feature the geometric patterns of the hexagon tile design.
Another idea would be to extend your kitchen tile into your dining area or living room for a cohesive look and feel through your flooring. This would look great, especially if you're working with an open floor plan. Some hexagon tiles are even rated for outdoor use, so it's a fun option for your exterior patio floor as well. Be sure to choose a non-slip tile option.
Pay attention to whether a hex tile is built for light traffic or regular traffic areas to make sure you have a tile that can sustain the expected wear and tear.
Remember that while all floor tiles can be wall tiles, not all wall tiles can be floor tiles--they are typically more slippery, which can be problematic for a floor. Therefore, it's important to find hexagon tiles specifically rated for floor use as well.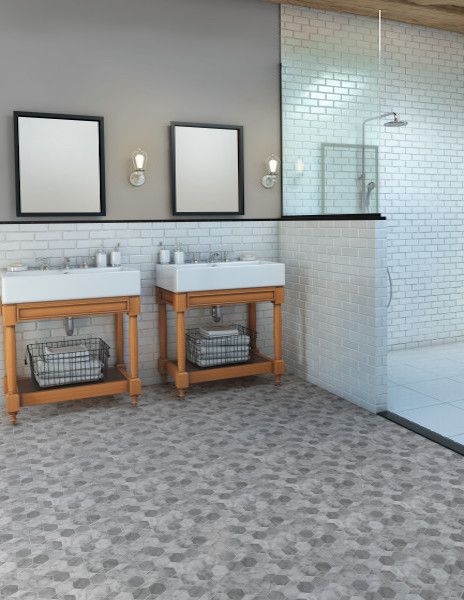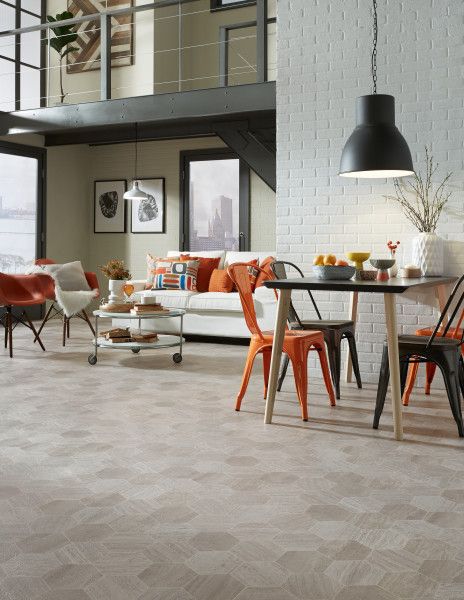 Walls
For your walls — whether in a bathroom, kitchen, laundry room, or another room you'd like to incorporate tiles — hexagon tile options are available to redesign and elevate your walls. The bathroom is a great place to use water-resistant hexagonal tiles due to the moisture in the room.
One way to make the hexagon styles on your wall pop is to use contrasting colored grout compared to your color of tiles--such as black hexagon tiles with white or light gray grout, or darker grout with lighter white tiles to create a softer modern look. This black and white style choice can also be used for floors, but it will be more eye-catching on your walls.
Another way to use hexagon tile is to create a statement wall, for example, in a foyer, living room or other space where you want to elevate the room's design even further.
You can also embellish shower walls (and floors) with hexagon tiles or sheet tiles. Hex tiles are also a popular option for walls within pools as well.
Backsplash
Incorporating a backsplash is a great way to both protect the walls above your countertops from splashes in your kitchen or bathroom, and simultaneously add a dose of personality to the room. A mosaic is a popular hexagon tile design type, and it makes for a beautiful backsplash with their array of colors and designs composed into one sheet tile. If you find your bathroom or kitchen a bit too monochromatic, a colorful hexagon tile backsplash pops spectacularly. There are also plenty of backsplash hexagon tiles in more subtle tones to match whatever style you want to go for.
Appearance, Color & Material
Tile can be made of natural stone, porcelain or ceramic tile, glass, and even metal--and sometimes multiple materials and finishes in one tile design. On top of that, tile can be designed to look like almost any material imaginable, from wood to metal, matte marble to glossy marble, and even stone and other fabrics. This makes tiles (of all shapes) diverse and versatile.
You can find hexagon tiles in almost any color you can think of, though popular color families include white, beige/off-white, and gray. Sticking with these classic colors for your hex tiles creates a naturally timeless look, which works for modern, industrial, or contemporary aesthetics.
Many hexagonal tiles that come in sheet tiles can also come in an assortment of colors to create a mosaic design. Hexagon mosaic tiles are a great addition to modern, contemporary, or transitional styled rooms too.
The possibilities are truly unlimited as hexagon tiles come in so many different colors, materials, finishes, and designs. You can even mix and match different styles of tile or sheet tiles to create a truly unique look for your home.
Conclusion
All in all, there are quite a few ways that you can use hexagonal tile designs to elevate your home's interior design. Everything will boil down to what style, design and type that you want to match the look and feel you are going for. The important thing will be to select hexagon tiles that are rated for the room and use you need.