9 Easy Bohemian Living Room Ideas to Transform Your Space
If you're looking for a free-spirited, carefree approach to your living room's style, then bohemian design might be right for you.
Bohemian style originated from the eclectic, well-traveled lifestyle of artists and nomads in 19th Century Paris. These creatives favored a relaxed, highly-personalized aesthetic, even if it meant breaking from convention. Although there are no set rules for the style, in practice, bohemian design often combines rich jewel tones with refreshing organic textures and eclectic, layered styling.
The following ideas can get you started on your boho-inspired living room. Just remember, boho is all about personalization. Pick and choose what bohemian living room ideas resonate with you and use that as a jumping off point for your design.
Lighting
When it comes to boho, the more lighting the better, so try to include at least three sources of light. This can be achieved through ceiling lights, wall sconces, or lamps placed throughout your living room. Natural lighting from windows in your living room also creates an inviting space—just be sure to keep your windows clean to receive the maximum amount of light.
As for the lighting's design, look for fixtures with embellished, metallic finishes in gold, silver, or brass. You also can't go wrong with lighting styles that incorporate soft, earthy textures like rattan, bamboo, feathers, or fabric.
Bohemian Lighting Examples:
Who doesn't love a good throw pillow? Throw pillows are wonderful for boho-inspired spaces, especially because they help create a comfortable, lived-in aesthetic and also give you an opportunity to accent the room with vibrant colors and patterns.
For the classic boho look, try to find throw pillows in jewel tones that display interesting patterns and textures. Pillows with geometric prints, paisley patterns, or even embroidery are popular boho options. For more texture, add a macrame throw pillow with extra long tassels.
You can also opt for throw pillows with a subdued, neutral color palette so that your room's other statement pieces—like the rugs, art, and other decor—can take center stage.
Bohemian Throw Pillow Examples: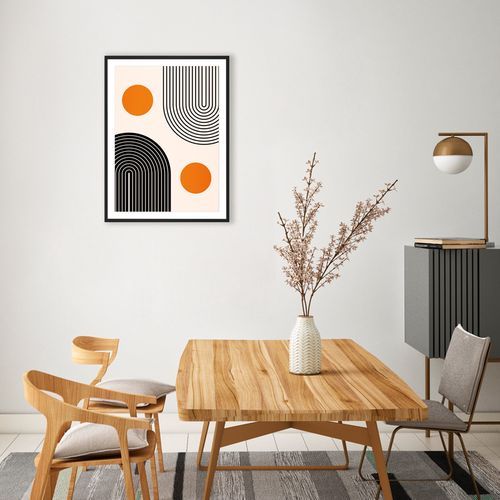 Bohemian design was originally inspired by artists, so it almost goes without saying that decorating with artwork is a staple of boho living rooms. It's also not uncommon to see woven basket wall decor or macrame hangings.
Instead of buying a mass-produced print from your local brand-name store, try to search flea markets for unique, one-of-a-kind pieces. Consider buying something homemade or hand-painted for an added layer of authenticity.
Bohemian Art & Decor Examples: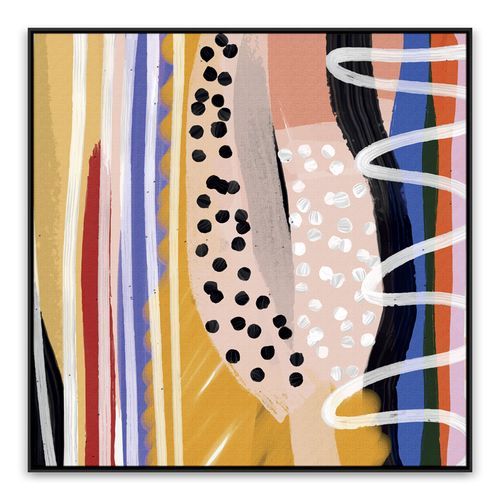 "I love all the natural elements and different textures that are in a boho space. It adds a lot of personality and visual interest to the room." —Andrea, Vevano Home Designer
Picture Frames
Picture frames of varying colors, textures, and patterns can add a boho flair to your living room. Brown wooden frames with white shapes painted on are also a fan favorite for boho picture frames. Consider placing your boho frames against white wall or alongside other neutral-colored frames for an extra level of contrast and visual interest.
Indoor Plants
Indoor plants have become increasingly popular over the years. They improve the overall appearance of a room. Some even say that house plants can boost your moods and increase creativity. You can place small succulents on your bookshelf or coffee table, or have a potted plant in the corner of your living room. Adding a little bit of fresh green to your living room will enhance the boho style and create a fresh, welcoming feel. For another layer of texture, place your large botanicals in a hand-woven basket.
"A linen sofa paired with a natural wood coffee table, jute rug, bamboo shades, and a mix of plants are a great starter kit to designing a bohemian living room!" —Madi, Vevano Home Designer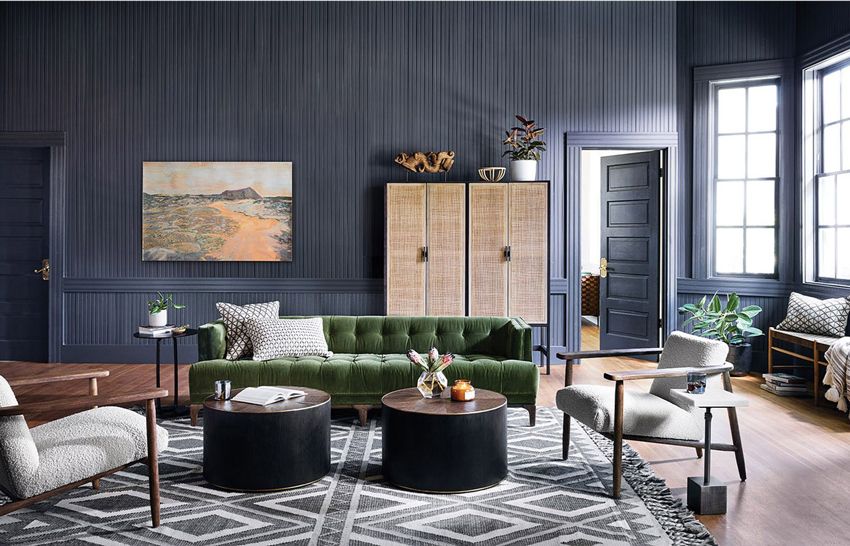 Now that we've talked about accent items like pillows and art pieces, we want to cover some of the main focal points that can really turn your space into a boho-themed living room.
"A true bohemian room can get visually overwhelming really fast. To avoid this, I suggest having many large neutral pieces of furniture (a large white, grey, or cream sofa) and sprinkling in just a few accents to tie in the boho style." —Michael, Vevano Home Designer
In your living room, sideboards can serve as both a beautiful statement piece and a wonderful way to store household items. In terms of bohemian style, sideboards are a great way to display all your souvenirs, novelty items, and other sentimental trinkets you've gathered over the years.
To get the bohemian style that you're looking for, search for sideboards with wood textures or eye-catching designs on the front cupboards.
Bohemian Sideboard Examples:
Like a sideboard, your living room coffee table can play both a practical and aesthetic role for the living room. To keep with the bohemian theme, try to find a table with earthy, wood textures and metallic finishes, such as a wooden round coffee table with iron legs. You could also look for coffee tables with soft, velvety textures.
Bohemian Coffee Table Examples:
The furniture that often takes up the most space in a living room is a sofa. This can be a smaller sofa or a sectional. As we've mentioned a few times, boho style is known for mixing and layering texture and bold colors. With this in mind, a brown leather sectional or a blue velvet sofa in your living room are both great options for a boho living room. To avoid overwhelming the space, you can also choose neutral-toned seating so you don't detract from your boho rugs or other bohemian decor.
Bohemian Seating Examples:
How to Move Forward
Now that you have a good idea of how to design a bohemian living room, you're ready to get started! If it's easiest for you, start with the small accent items, like lighting and rugs. Or you can start with the bigger items, like a sofa or sideboard, as a neutral base and then build from there. We hope that these ten bohemian living room ideas will guide you on the path to designing your dream living room.
Our Vevano Home designers can help you update your space and design your living room exactly the way you want it. We offer free consultations, and we'd love to help you start designing a new living room!