8 Reasons Why You Should Hire an Interior Designer
Any home redesign project comes with a lot of moving parts. One person who can assist you with the bulk of the process is an interior designer. If you're used to DIYing home projects or unsure whether the investment is worth hiring an interior designer, let us assuage your concerns.
An interior designer can be an invaluable asset to seeing your vision come to life, from that first spark of inspiration, to mapping out your future remodel in a 3D rendering, to installing products that fit your space.
Hiring an interior designer to help with your redesign—whether a full remodel or a less intensive renovation—can help you in a multitude of ways you may not expect, from the beginning of your home project to completion.
What does an interior designer do?
An interior designer uses their training and expertise in space planning and stylistic design to create the experience of the space. It's not only about making a room look good but also making sure it functions in a way that serves your household and the people in it.
Whether remodeling your kitchen, updating your bathroom, or renovating any other area of your home, interior designers look at the big picture and the little details to design a highly functional, beautiful space that's easy to use.
What is it like to work with an interior designer?
We're glad you asked! The design process can go much smoother with an interior designer at the helm of your project. While we can't speak to every designer's process, here's what you can expect from Vevano Home's virtual interior design services.
An initial consultation with your interior designer will look at your budget, your vision and style, and what you're looking for in your remodel. Rough dimensions and photos of the existing interior are taken to give the designer an idea of the space.
From your collective brains to the page, you'll be able to get a clear idea of how the new design will look in your space through 3D renderings, architectural blueprint designs, and product samples provided by the designer. Through seeing and feeling samples firsthand, you'll also know the quality of the product you're getting is one you want.
"The quality of the Vevano Home items is incredible. From the vanity and tub to the whole Kohler line of fixtures, they're some of the highest quality items in our home! It makes a huge difference in the overall look, feel, and function. When I walk into that room every morning, I look around and smile. It didn't serve us before and we never loved it. Now it feels like ours!"
- Lauren, A Vevano Home Client
Once the redesign is approved, the designer helps you find and order products in the right amount and at the best prices, keeps track of product stock, tracks shipments, and then communicates and coordinates with contractors and installers—even remotely—for a seamless installation. They can ensure that there are no missing pieces in completing your redesign.
Through this process, your interior designer can help keep the project on timeline and on budget, which is a great way to reduce overall stress during the remodeling process.
8 Reasons to Hire an Interior Designer
Some of the ultimate benefits to hiring an interior designer include saving money and staying on budget, avoiding usual stressors and complications that arise during remodels, and increasing the likelihood of how much you love your redesign when all is said and done.
We've outlined just a few of the many advantages of working with a designer. Keep in mind that some benefits (like architectural drawings) aren't offered by all interior designers. However, all of the offerings below are available through Vevano Home's virtual interior design services.
1. Visualize Your Design Before You Commit
Interior designers have the professional training, tools, and connections to products to see your remodel through in the way you envision it. After all, the most exciting part is seeing everything come together in the end, right?
They can help you visualize your design through product samples, 3D renderings, and concept boards. Then, with the tools and guidance provided by designers, you can see the remodel with the designated blueprints and products before purchasing anything, so you don't waste money or end up disliking the products or redesign too late in the game.
In addition to 3D renderings and concept boards, when you work with a Vevano Home designer, you also get detailed architectural drawings and product lists. That way, even your contractor can have a detailed visualization when they go to install!
2. Avoid Costly Mistakes
An interior designer can save you money by helping you avoid costly mistakes, such as:
Buying too much product
Buying not enough product (which could lead to unmatching batches of product by buying them separately, such as tiles)
Buying products in the wrong measurements
Avoiding post-remodel regret by making sure you love the redesign and products before purchasing
A major benefit of working with Vevano Home interior designers is that they can source and order products for you. You can rest easy knowing you have all the right sizes and correct pieces for a seamless installation.
Plus, our Vevano design team is available to answer questions and virtually assist you or your contractors during the installation process. That way, there's no miscommunication or confusion between the planned design and the completed space.
3. Stay on Budget
Budget is top of mind for most home improvement projects. When you first meet with an interior designer, your budget for your redesign will guide the process as much as your desired style and functionality.
An interior designer is tasked with working with the budget you have, and it's already in their blood to be creative in getting the best bang for your buck in a renovation with quality products.
"Michael provided the best customer service you could imagine. He listened to what I was looking to purchase and then made relevant recommendations with no upselling or high-pressure sales tactics. Just real customer service that was actually helpful. Thanks!"
— Steven R, A Vevano Home Client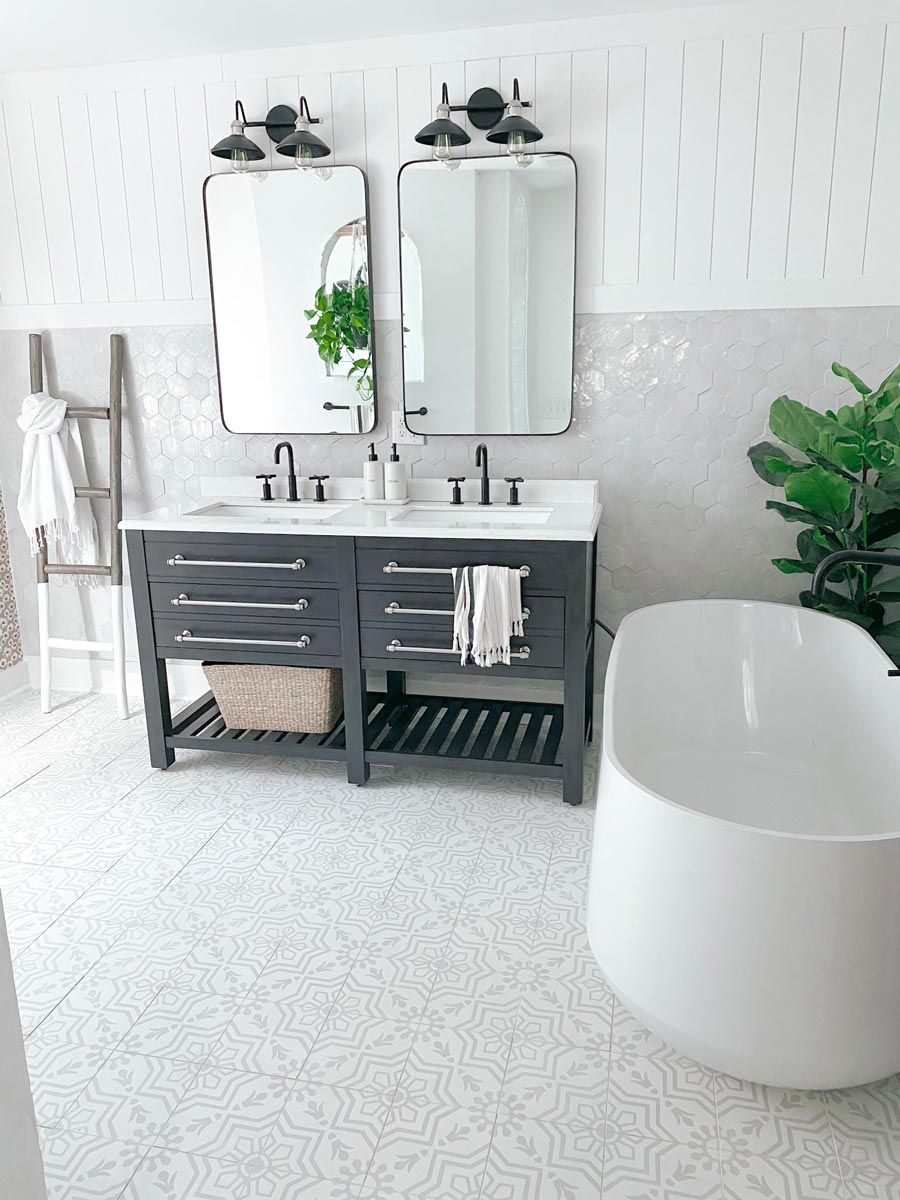 Interior designers can help you find in-stock products at the best prices. They can also secure deals or discounts on products (sometimes depending on how much you buy).
The unexpected can also be managed through your interior designer.
Say, for example, a planned product is out of stock—since that is a legitimate concern at the moment. Your designer will know how to pivot and find a replacement product that still fits your vision, style, and budget that is in stock.
This was the case for one of our clients while she was remodeling her master bathroom and the lights she wanted were on backorder; her designer Martha helped her to find in-stock lighting fixtures that still fit her style needs. Your interior designer can help you find last-minute products in a pinch if your redesign hits an unexpected delay with stock.
"The best part about working with Vevano was just how easy everything was—from the design to actually getting the fixtures to handling something that was out of stock or low— everything was easy."
— Mike, A Vevano Home Client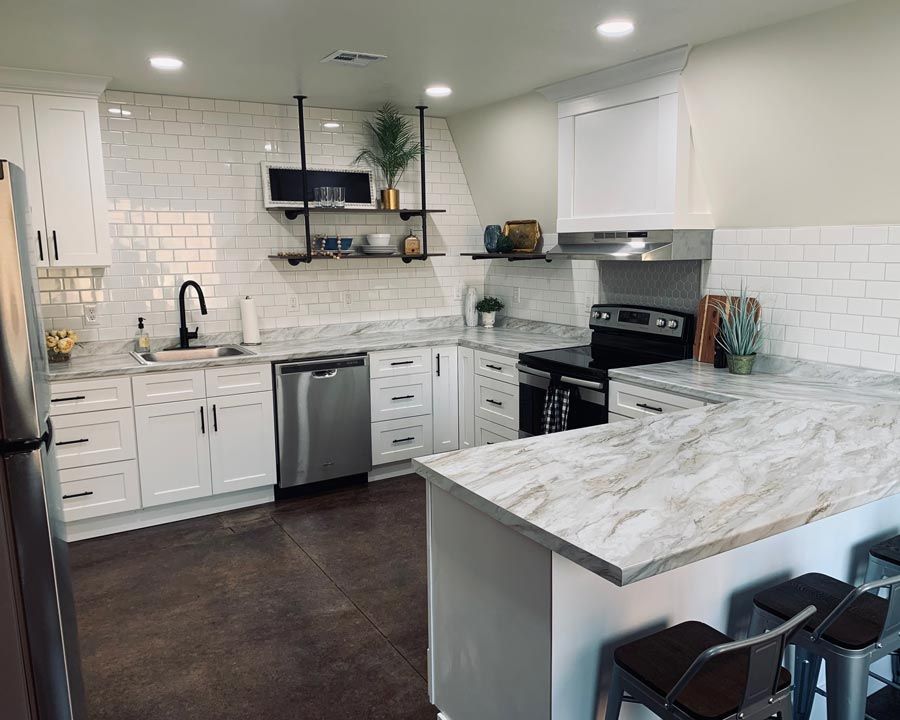 Not only do interior designers help you stay on budget, but they also know what kinds of products, layouts, and functionality will add to the value of your home, which could increase profits when you plan to sell your home.
So, while it may seem like a designer might make your redesign project more expensive, you can save money in the long run. (Plus, if you choose to work with a Vevano Home designer, your design could end up free!)
Not only that, but they know what designs will also transition and sell well no matter what becomes popular to help keep your home marketable if you're looking to sell. A timeless, durable look may also be helpful if you're looking to rent out a part of your home, like another of our clients.
6. Balance Style with Functionality
With so many moving parts in a remodel or renovation, an interior designer can help streamline the process and take some stress from your shoulders.
First off, it may be unfamiliar territory in trying to figure out a functional layout for your remodel, whether that's in your bathroom or kitchen. Finding products that match your design style or fit your budget might feel overwhelming. And that's before you start getting into all the numbers of measurements and all the smaller features that help to make your remodel look and feel like your own.
An interior designer will always approach your remodel or renovation with three things in mind: budget, functionality, and style. Your budget will guide the purchasing choices you make. The functionality should increase with a remodel. And your personal style and aesthetic should shine through too. The balance between all of this is a part of the interior designer's job to ensure that your remodel works for you in every way possible.
7. Exclusive Designer Access to Products
Working with an interior designer could also get you access to designer or "to the trade" products that cannot be found anywhere else.
Interior designers get the inside scoop on the latest and trendiest designs and styles, so they can truly personalize your redesign with exclusive or hard-to-find products that enhance your chosen aesthetic.
8. Unique & Personalized Design
Vevano Home designers will ultimately take your envisioned style and design to help bring it to life.
For example, one of our client's tastes leaned French Country, shabby chic. When she wanted to update her cramped and dated kitchen, her designer Andrea helped her create a more functional kitchen that reflected her unique style.
Interior designers are well versed in a variety of design styles, what's trending and popular, and also what's timeless and classic. With this knowledge, they can help you to customize your redesign with your personal aesthetic in mind.
Whether you have a vision in mind or not, an interior designer will help you come up with unique ideas to match the style you're aiming for in your redesign.
You may have one big-budget feature in mind for a particular style, and an experienced designer might know of a way to achieve that very aesthetic with different features that may fit your budget better, for example. Thinking outside the box is one of Vevano Home designers' specialties!
The goal of Vevano Home interior designers is for you to absolutely love—and love using—your redesigned home.
Interior Design that Pays for Itself
Want even more value from an interior designer? At Vevano Home, your entire design retainer can be used as a credit toward purchase products.
In other words, if you purchase products for your project through a Vevano Home designer, and the cost of the products exceeds the cost of the retainer, then your design is essentially free!
Streamline Your Home Design
Vevano Home designers have decades of combined experience in high-end design to help you bring your home renovation to life. By working with Vevano Home designers, you get:
Not just one designer, but a three-person team working on your redesign!
Highly personalized, not cookie-cutter designs, so you love your remodel.
Virtual access, so no travel fees are necessary, and it's easy to get in touch with your design team throughout your project.
Exclusive access to products beyond what's listed on Vevano.com, including exclusive designer items.
Sourcing, ordering, and shipping exact in-stock products you need to achieve your vision with no missing pieces and in time to complete your project.
Coordination with contractors and suppliers to ensure your installation is completed without a hitch.
Savings! Deduct the cost of your design retainer from products purchased through Vevano–potentially making your design services free!
So, should you hire an interior designer?
While an interior designer isn't needed for all home renovation projects, there are multiple benefits to having an interior designer to assist, no matter what your home redesign project is. Saving money, reducing stress, and loving your design at the end is just the beginning.
If you're completely new to remodeling or renovating your home, an interior designer will be especially helpful for you to help you learn the ropes of what's needed and to help streamline the process to make sure it's what you want.
If you're keen on DIYing your renovation and you have experience with it, an interior designer could help you map out and use the space more effectively or even help with finding exclusive products to make your design unique.
Or, if you just want to reduce the headaches that come with remodeling your home and want someone else to take care of it for you, an interior designer can absolutely help to coordinate the planning and purchasing of products as well as coordinating with contractors to see it through.
If you'd like the assistance of an experienced interior designer to help take your remodel to the next level, you can bring your inspired vision to fruition with the help of Vevano Home's designers by starting with a personalized consultation. We look forward to hearing about your redesign project!