2021 Interior Design Trends to Look For
By the Vevano Home Team
November 6, 2020
What to Know About Interior Design Trends
No matter when you happen to be redesigning your home, it's helpful to know which trends are leaving and which ones are here to stay for a while. Trends shift and change over time, and many seem to loop around for a comeback (or two). So, what kind of interior design trends will be around in 2021?
To say that 2020 has marked a shift in how people spend time in their homes is an understatement. People are seeking both soothing sanctuaries and defined working areas within their homes to provide that sense of separation between their home life and work life. Certain trends have clearly emerged to take interior design in a more functional, intentional, and even "natural" direction.
To illuminate which trends may best serve your design ideas for remodeling, Vevano Home expert designers have shared the interior design trends they expect to see continue in 2021, what is going out of style, as well as their hopes and expectations for the coming new year. Keep an eye out for these trends as you begin to plan your home renovations so you can take advantage of the newer trends and see what could be updated.
Overall Interior Design Trends for 2021
These are the overarching trends and themes that our designers expect to see in 2021...
Going Natural
Bringing the outdoors inside is extremely popular, and expected to only grow in 2021. People seeking to commune with the natural world in a more personal and intimate way within their home. From adding plantlife (whether real, fake, or artwork), using more wood or wood-look features on walls or floors, or using stone floors or countertops. Other options include stick-on wallpaper with a plantlife design, or adding more natural elements, accents, and decor to the overall look of the place.
Raw wood, stone, wicker, rattan, cork, cement, plants, and more will encourage and shape the color palettes of spaces moving forward. More earthy and organic elements coming indoors in beautiful ways to create a sense of calm, grounding, and nourishment. This "going natural" theme creates a warm and inviting home overall.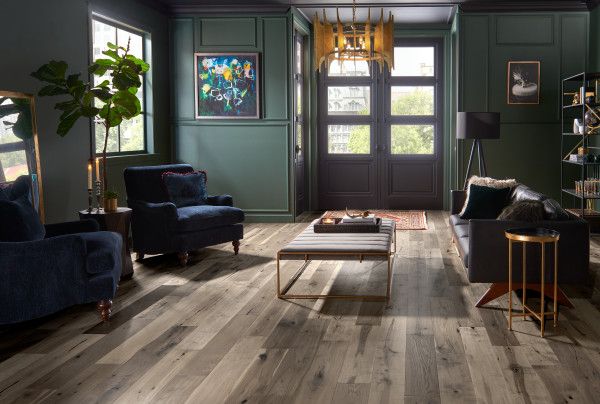 Wall & Ceiling Treatments
Adding texture, patterns, or colors to walls and ceilings is increasing. Our designers expect wall treatments will continue to grow in popularity, such as beadboard (wood paneling with vertical lines instead of horizontal), picture molding, and shiplap plank styles.
White on white, or tone on tone, for treatments and molding is on trend right now. Think about using trim accents in multiple styles, like modern farmhouse or modern traditional.
Statement Pieces
With a neutral backdrop, statement pieces that are bold in color or stand out with unique craftsmanship are sure to be a hit. Handcrafted, antique, or repurposed furniture, artwork, or sentimental pieces that draw the eye are emerging as a popular trend moving forward to add intrigue and a conversation-starter feature in your rooms. People care more about adding quality furniture and artwork to their homes. Our designers expect that pops of color will come through such statement pieces.
Minimalism & Functionality
This coming year, more people are leaning towards making the homes more functional and more organized, carrying a minimalistic appeal. The efforts lean towards making home spaces comfortable and beautiful, but not to excess.
It's possible to work with any and all of these trends throughout your home and in varying styles as we move from 2020 into 2021.
Trends Coming In
Home Offices - One of the Fastest Growing Trends
With more people working remotely from home, there's a demand for functional, beautiful, and comfortable home office or desk spaces. Moving away from a more utilitarian approach to their home work space, people want to be more comfortable while remaining functional. Many people are also seeking home office designs within their home that provides that separation of "going to work", so when you're done with work, you can walk away and leave the work there.
Those working from home in particular are seeking dedicated office space within their home, whether it's a specific bedroom, a study, a corner of the living room, a reconstructed closet, or a nook just off of the dining room. There are many different ways to create a dedicated desk or office design that can work for your home. The trends here lean towards minimalistic home office designs to reduce distractions and provide a clean and clear workspace. Ultimately, it's important to find out what features you most need and desire as you work and which location in the house is best for you.
With the rise of video conferencing, there's more awareness of the space around you. More people are getting creative and putting more attention on their working space to make it work for them by adding comfort as well as a clean and professional backdrop for those online meetings.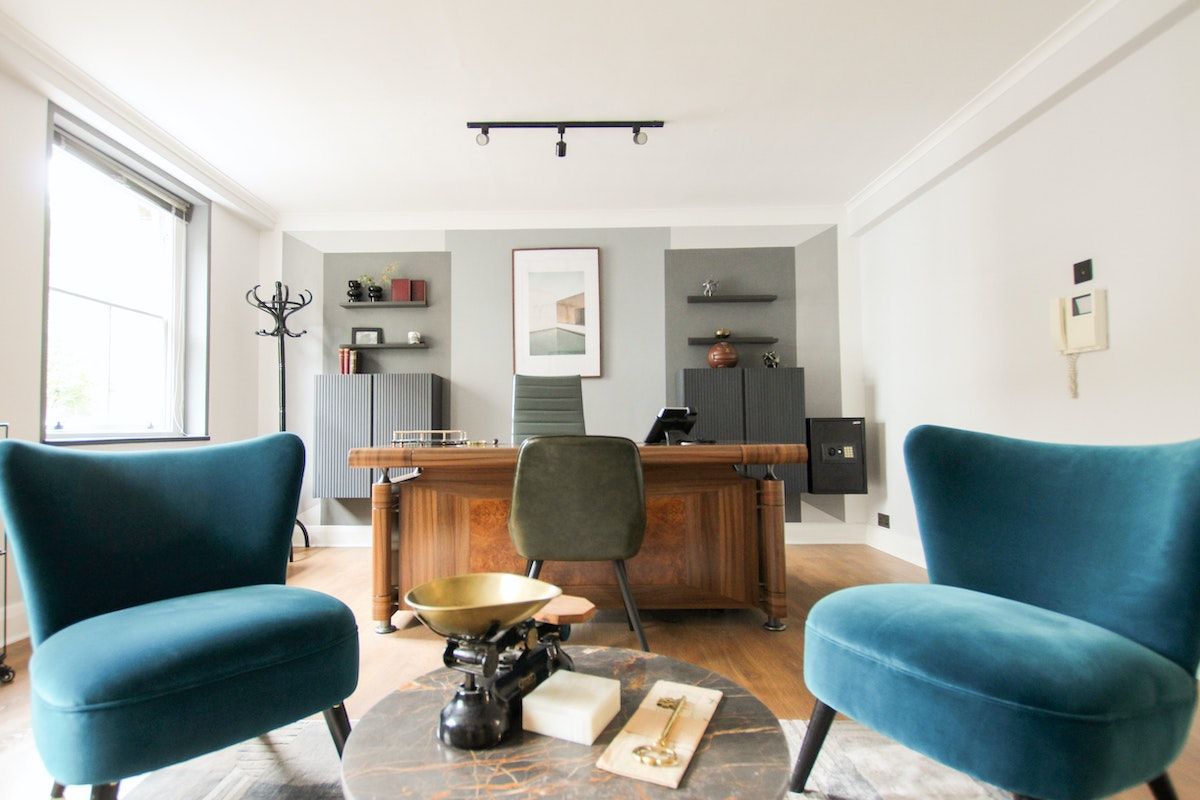 Multi-Purpose Rooms
Our designers are seeing more requests for multi-purpose rooms going into 2021, making them a rising style. Perhaps you'd like a reading nook, an open-flow theatre set-up paired with comfy seating arrangements, a kid entertainment center, or an arts and crafts station — all in your basement or main living area. That way, everyone can be in the same room to create a sense of togetherness without stifling anyone's hobbies.
Along with the idea of multi-purpose rooms combined with wall treatments and molding comes the on-going trend of seeking built-in features, like bookcases, entertainment centers, shelving, storage, and nooks. The built-in features harken back to older styles and offer a seamless and custom experience in the home's design.
Trends Heading Out
Open Concept
Our designers suspect that open-concept floor plans are on their way out as individuals and families are seeking more defined and intentional spaces. People want to have separate spaces — they want the ability to escape and find more privacy within their home. One of the caveats of the open concept design is that noise travels and echoes from one place to another. With people working from home and kids doing school work, there's a growing need for privacy.
Fewer Guest-Oriented Rooms
People are looking for more ways for their family to utilize every space in the house.. As people are home more there's a desire to give intentional use and purpose to each room and space within the house. As a result, guest rooms, guest bathrooms, and pristine front rooms are starting to see changes in layout and design since families are seeking to utilize their space as opposed to "saving" areas for guest use. We're seeing these guest spaces become areas dedicated to hobbies, work spaces, play rooms, and more.
Carpet
Carpet is also starting to see a decrease, and that's mostly due to the popularity, durability, and variety of designs for tile, wood or wood-look, and luxury vinyl tile (LVT) flooring options. Instead, layered rugs might be a way to soften up a room and add a dose of comfort and coziness. Carpet tends to trap allergens and dirt over time, requiring routine vacuuming, washing, and drying. On the other hand, wood, LVT, tile, and vinyl require less maintenance. They're also less prone to staining, which is good news for pet owners and families.
Kitchen Design Trends for 2021
Vevano Home interior designers see kitchens moving away from the white and bright vibe, instead enriching the space with warmer neutral tones and muted jewel colors to make it more homey. For example, light wood in particular is starting to become a common texture in kitchens, whether that's for the floor, wall, cabinets, or furniture. Countertop and cabinet space as well as added organization are continually in demand to increase the function and capacity of the kitchen.
Cabinets: More storage and organization, less clutter when it comes to kitchen cabinets. This includes cabinet layouts and sizes, or the application of more cabinet organization accessories to optimize and organize the space in the kitchen. In terms of color, our designers anticipate that tone on tone (using different shades of the same color) for kitchen cabinets will continue, with lighter tones for wall cabinets and the darker tone on the base cabinets. Though white cabinets are still popular, we're starting to see more color options appear on the market and people gravitate towards more natural-looking cabinets.
Counters: Stone countertops have been around a while and are still a durable favorite choice, like granite and quartz. This also helps contribute to the natural theme taking center stage in 2021. People also want more usable yet beautiful counter space within their kitchen and an island counter certainly fits the bill. Island counters are being sought as "the bigger, the better"—if space allows. Having two islands is also appearing more now to offer more space utilization in the kitchen.
Colors: Our designers also see kitchen trends moving in the direction of more color, so they expect muted jewel tones to rise in popularity to add color and character to the kitchen.
Lighting: Continuing to emphasize natural light from windows will be big for kitchen lighting. Our designers hope that under-cabinet lighting will continue to expand its reach as it makes such an impact in the kitchen for little cost. It's important to have a well-lit kitchen, and it's really useful to brighten up the working countertop space with task lighting from under-cabinet lighting fixtures.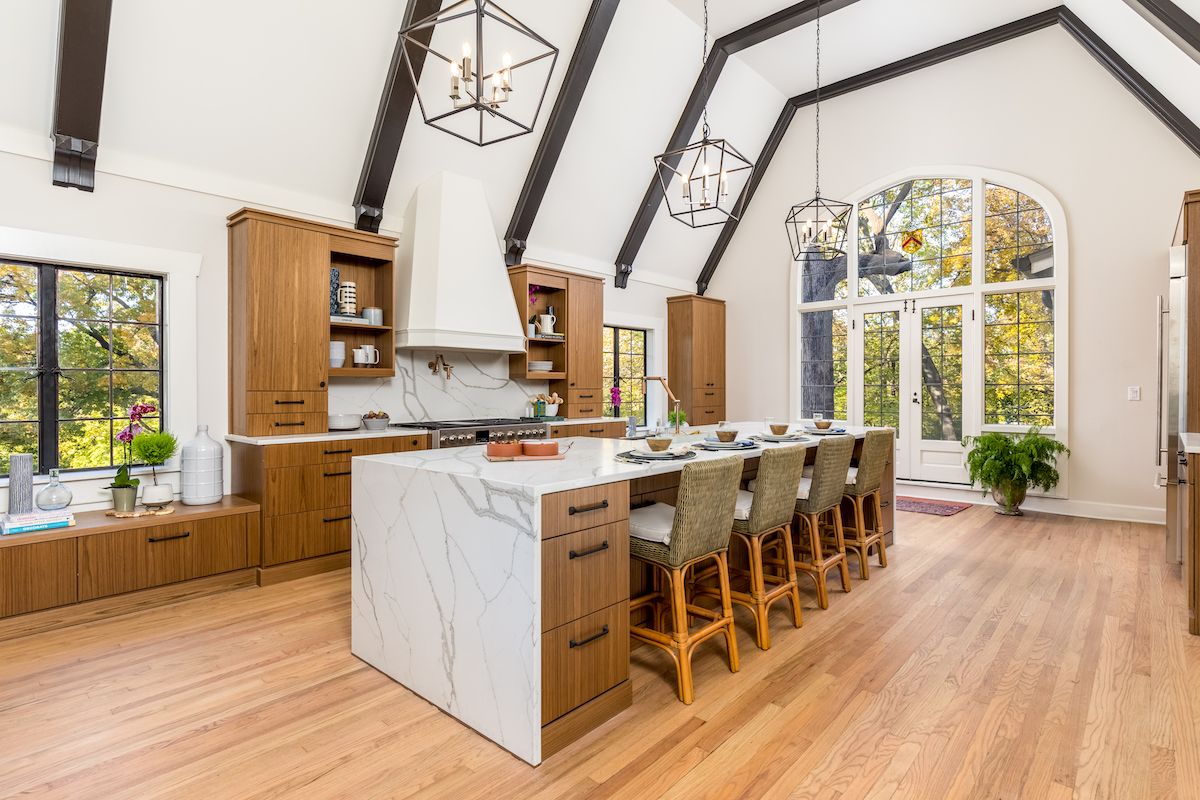 A trend moving out of the kitchen is the open floor concept, with more defined lines and borders to separate the different sections of the room.
Bathroom Design Trends for 2021
Overall, our designers are seeing and expect the theme of lush bathrooms to continue into the new year. No longer are bathrooms simply for function. More people are seeking to turn their bathrooms into cozier sanctuaries for personal care — much like a spa. For example, freestanding tubs are growing in popularity since they are both luxurious and create a beautiful statement piece within the bathroom. To complement that statement, pair a chandelier above the standalone tub. Our designers also see a continued interest in bidet seat attachments moving into 2021. As styles and materials advance, it's easier to turn your bathrooms into more charming and comfortable spaces. People care more about how appealing their bathroom looks and are seeking out more bathroom design ideas. "Everyone can get a bathroom tailored to their aesthetic," says Head Designer Martha.
Tile: Since tile is one of the most sturdy and water-resistant materials to use throughout bathrooms, there are a couple of trends to know about. Subway tiles will continue to be popular since they are a timeless addition to elevate bathrooms. That said, it appears more people are getting more creative and opting away from the standard subway or vertical layout and placing the tiles in other designs, like weaves and angles such as herringbone instead. Subway tiles in other colors besides white are showing up more, so you can think outside the box in how you'd want to apply them to your bathroom (or even other rooms, like a laundry room or kitchen). Patterned tile is sure to stay around, especially with new patterns and styles emerging. Since tile is flexible enough in both use and design, it's here to stay in bathroom trends.
Vanities:

Cabinets: Like with kitchen cabinets, bathroom and vanity cabinets are leaning more towards optimizing organization so the bathroom can be a clutter-free (thus, stress-free) sanctuary. Since there often isn't a closet in the bathroom, tall linen cabinets, or bathroom pantries, are commonly asked for if there's space. Bathroom storage and organization is on the rise, whether that's additional vanity cabinets, cabinet doors, built-in towel racks, or other accessories to organize and hide away your toiletries.
Double Vanities: There's been a positive response to separate vanities in the owner's bathroom suite (formerly known as master's suite), particularly to meet each person's individual needs, whether that's more storage with a drawer, cabinet, extra counter space, or a shorter/taller vanity counter for comfort.
Colors: Bolder vanity colors are in. Choosing a vibrant or rich color for a vanity is a great way to add a splash of color, particularly if neutral colors surround the vanity.

Accessories: A general need for accessories that optimize the use of the bathroom is also popular, such as towel racks, toilet paper holders, cabinet organizers, etc, especially if they are built-in or appear to be.
Colors: You can never go wrong with a white or cream base color in your bathroom, such as for flooring and walls. However, with the lean towards more luxurious and serene colors, blue-oriented mosaic tiles are gaining traction for showers, backsplashes, walls, and even floors. People are also starting to be more daring in their bathroom designs, and since tiles can come in so many styles and colors, we may see more colorful bathrooms moving forward.
Lighting: Sconces are the most requested lighting option for bathrooms and bathroom vanities, and expect that to continue into 2021. Many people find it appealing to have parallel sconces on either side of the vanity mirror to achieve clear, even, and flattering lighting. Sconces also come in many more design options than the vanity bar variety of lights, so there's more room for creativity with overscoring your bathroom with sconces.
Walls: Wallpaper is gaining popularity in bathrooms, especially vinyl wallpaper that can handle the damp environment. Powder rooms and half-baths in particular are seeing more wallpaper, since they are small rooms that are easier to update. Plus, you can be more adventurous since powder rooms don't have a shower or bath contributing to moisture. Another growing trend is wallpaper on the ceiling, or even painting the ceiling with a statement color as opposed to painting an accent wall.
Laundry Rooms: Another trending room to update is the laundry room. Our designers see more requests for increased storage through cabinets, linen closets, or hanger bars. There's also an uptick in people wanting sinks in their laundry rooms to maximize their cleaning capabilities.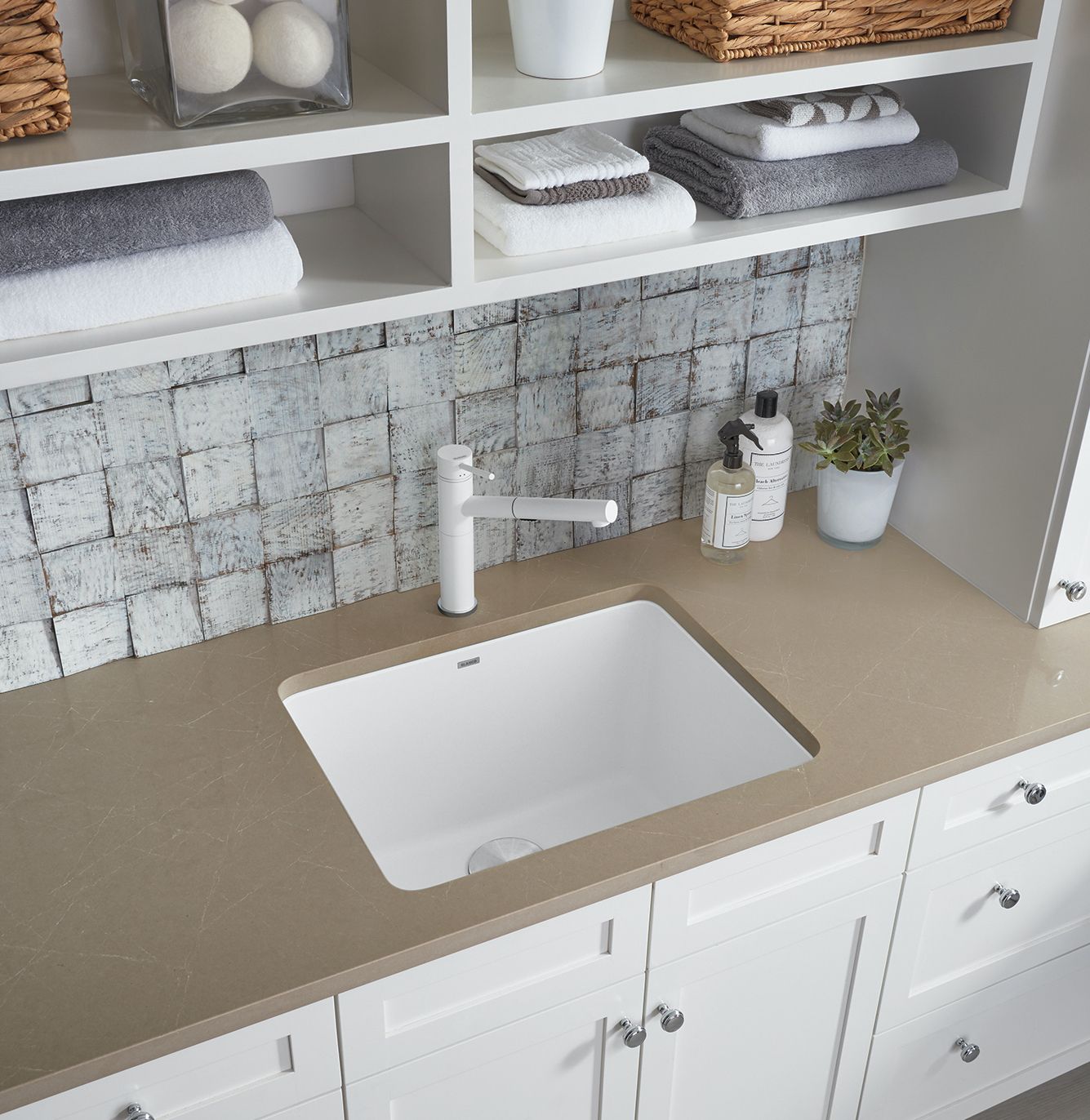 How We Scope Out Trends
What's trending mostly trickles down from bold choices from respected and popular designers, and what sticks is what becomes the up and coming trends. Here are the designers and their Instagram profiles which our own expert designers look to for inspiration:
Madi
Here's to 2021!
The trends in interior design are leaning towards more functionality, nature-based touches and designs, warmer neutral tones throughout, and creating — a comfortable and safe space for you and your family to work and live together.
"Design isn't just about making it pretty," says Head Designer Martha, "but the feeling you create with what you have in your space."
So the question becomes: What do I want to feel in this room? How you feel within the various spaces in your home is an important aspect to think about while planning a renovation. Styles, colors, textures, and shapes all contribute to differing feelings and emotions. What will feel most supportive for the different areas of your house? Allow that to guide your interior design choices and you'll create a home you love.
Expert designers here at Vevano Home are also available to help you transform your home into a more beautiful and functional space.
See how these design trends for 2021 might trickle down to or inspire your own interior design ideas to make a home that feels good to you and your family.
Shop Designer Recommended Products