How to Create an Interior Design Mood Board
If you've spent any time in the interior design space, you have probably stumbled across the idea of a mood board. An interior design mood board is a powerful tool that lets you combine visuals together to create a central theme for your home's design, such as colors, textures, or even artistic or natural elements that evoke a certain feeling. One step beyond a mood board is a concept board, which focuses more on the details of a design. An interior design concept board can include specific pieces of furniture, appliances, hardware, or materials.
Our Vevano Home interior designers regularly rely on concept boards to help clients create a plan for a room. If you're in the early stages of an interior design project and are looking for a way to organize your ideas, this information can help you get started.
Concept Board vs. Mood Board—What's the Difference?
Although both terms can be used interchangeably, interior designers view and use mood boards and concept boards somewhat differently.
A mood board typically includes collage of interior design images, color swatches, and home products that capture the aesthetic or "mood" of your preferred design style. A concept board is a more focused, detailed version of a mood board that includes specific products or home decor you want in one part of your home. Think of a concept board as the action plan for achieving the aesthetic that's in your mood board.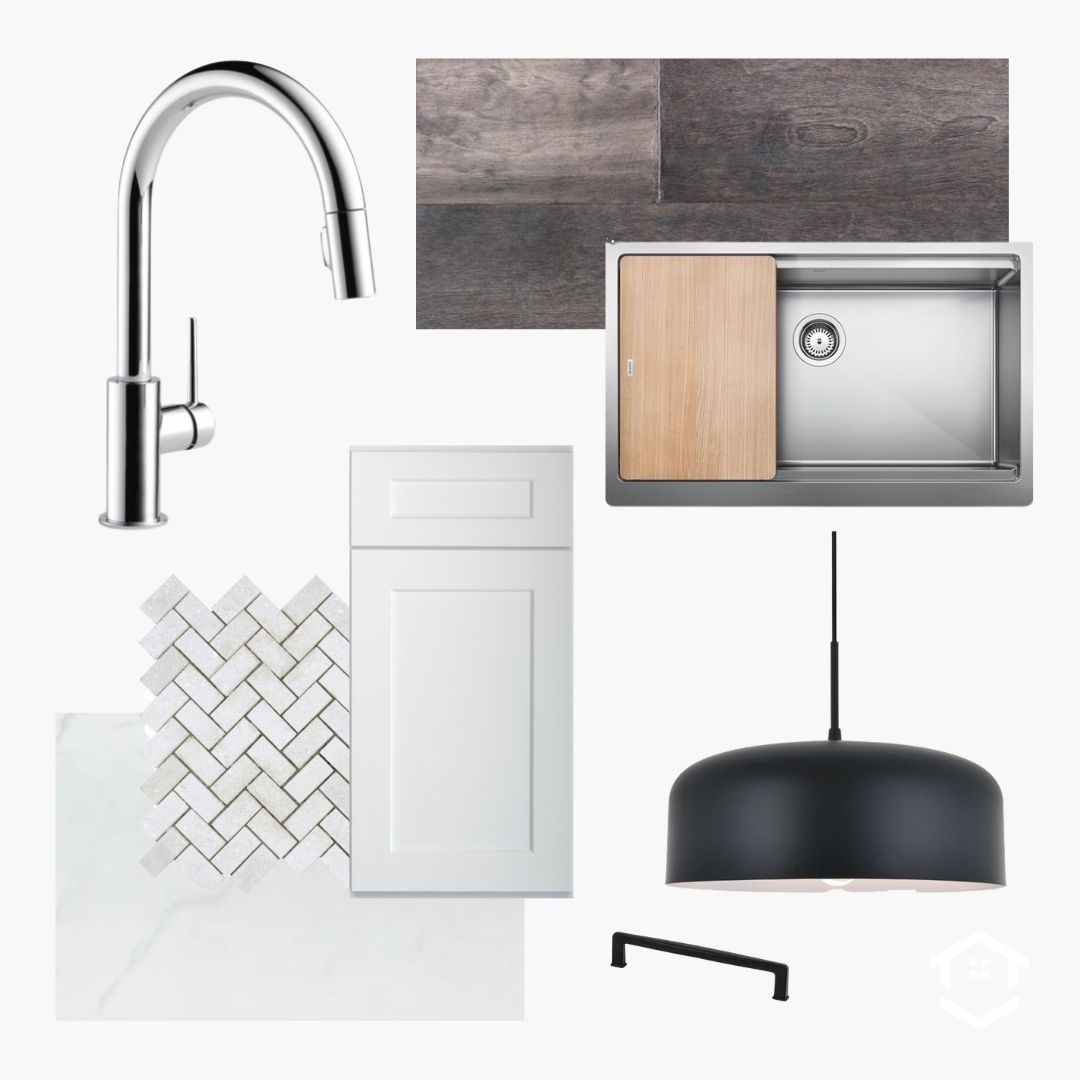 Concept boards allow you to both figure out the overall feel and theme of a room and begin visualizing a layout. By pulling together products and images, you can identify how well different elements fit together and find more pieces to complete your vision.
How Do Interior Designers Use Concept Boards?
"I go back to the concept board as my key for everything." —Andrea, Vevano Home Designer
Interior designers frequently use concept boards to gauge client tastes and identify possible items to purchase. For example, while remodeling a waterlogged kitchen for a client, our Vevano Home designer Andrea presented the client with concept boards of specific product samples to choose from.
By pulling different cabinets, flooring materials, countertops, and pieces of hardware together, professional concept boards help you decide on a look you like and narrow down possible products.
After using concept boards to figure out the products or styles a client would like to use, Vevano designers can create a 3D rendering of the space showing how the intended design will look. If there is anything about the layout you don't like, you can easily swap it out, rather than realizing you want to change things up after the work has been done. Here's an example of how Vevano designer Madi used a concept board to help design a client's basement apartment kitchen:
How to Make an Interior Design Mood Board
1. Decide on Your Approach: Concept Board vs. Mood Board
Decide whether a mood board or concept board would better meet your needs. A mood board is a good starting point for anyone who needs help understanding their design preferences. They're also a great reference and inspiration for future design projects. However, if you're currently in the process of redesigning a room in your home and need more specificity, then a concept board will be more useful than a mood board.
That being said, if you plan to work with a designer on your upcoming project, we recommend putting together a mood board instead of a concept board. A mood board gives your designer a starting point in terms of your style, which they can use to create a concept board with specific products or changes that can help you achieve that style. Your designer might also ask you to put together a concept board if they want to compare the products they have access to with items you have your eye on.
"Clients are paying me to give my expert design opinion on the direction of their design. A lot of people will have an idea in their mind, but not really understand how it's going to feel when you walk into this space." —Madi, Vevano Home Designer
2. Choose an Application
Whether you're creating a mood board or concept board, you need somewhere to put your collection of images and ideas. Don't feel obligated to spend money on a new tool just to create a concept board—use whatever you're most comfortable with.
You can use Canva, Adobe Spark, Adobe Illustrator, Google Slides, Powerpoint (which is what our designers use), or a specialized concept board app. Illustrator is available through a monthly subscription to Adobe Creative Cloud. Canva and Spark can both be used for free, or you can purchase additional features if you need them. Canva also has its own built-in, easy-to-use mood board template.
3. Start Exploring
Once you've picked a platform for your board, it's time to start exploring design styles! At this point in the process, don't worry about being too picky. Save any images, color schemes, or ideas that appeal to you.
Pinterest is a popular way to explore themes, color schemes, layouts, and styles and identify what you like. However, Pinterest can also be overwhelming. You might end up going down a rabbit hole of design options that don't match your budget or even your taste.
One way to start exploring your design preferences is to learn about each interior design style. This is a great way to introduce yourself to a variety of new styles and gauge what you like and dislike. The following list can get you started:
Also, not every image has to be interior design related. You can include pictures of nature or objects that capture the aesthetic or "mood" that you want in your design.
4. Identify Patterns
Now that you have a number of saved inspiration images, it's time to start identifying patterns. Mood boards are a wonderful tool for refining and narrowing down your interior design preferences. As you look over your mood board, try to identify common themes between the colors, textures, materials, shapes, furniture styles, and other design characteristics.
Here's a checklist of what design characteristics to take note of when you look at your collection of images:
Base colors—What are the colors of the wall, flooring, cabinets, and large furniture items? Are the colors warm or cold?
Accent colors—What are the colors of the throw pillows, art pieces, and statement decor?
Shapes—Do you mainly see clean lines or rounded profiles?
Decor or Art Style—What types of decor hang on the wall? What style of rug, throw pillow, and other accessories are used?
Fixture Finishes & Texture—Do you see more metallic or wood finishes? Are the metallic finishes steel, cast iron, nickel, chrome, or something else?
After you've narrowed down the design characteristics that most appeal to you, try to find common product pairings or pinpoint how certain materials are being used. For example, you may notice that your favorite inspiration images have glass coffee tables paired with black leather couches. Or you might notice that you like sage green kitchen cabinets but only when used on shaker style cabinets.
As you learn more about what designs inspire you, consider replacing some of the original images that you gathered with photos that better capture your design interests and aesthetic.
5. Pick Your Products
Your interior design inspiration board is essentially complete after the last step. However, with a little more research and refining, you can turn your mood board into a concept board for a specific room.
Unlike your mood board, this interior design concept board will showcase the specific products and features you want in a space you're designing. For example, a kitchen concept board usually includes product images of a cabinet door, flooring, backsplash, cabinet hardware, countertops, lighting fixtures, sink and faucet, and anything else you plan on adding to the space.
"When creating a concept board, I always start with the most important piece to me. In the kitchen, if having a certain type of countertop is the most important to me, then I put that on my concept board first and then find cabinets, flooring, and backsplash to match." —Michael, Vevano Home Designer
Start by figuring out your focal point for the room, then build the rest of the board around it to develop a cohesive design scheme. If you're working with a designer, offer a few different options. If you're working on your own, make sure you can find the price and store information for all the products you want to buy.
Compare Your Design to the Adjacent Rooms
You don't want your new concept board design to clash with the existing design of your home, so try to imagine how the new products and design will look compared to surrounding rooms or areas. For example, if you have an open floor plan, consider how your new kitchen cabinets and hardwood flooring would look next to the color scheme, flooring, and furniture of your living room and dining areas. If you're struggling to pick between two different kinds of kitchen pendants, consider which lighting fixture would pair best with the lighting styles throughout your home. Not only will your home feel more cohesive, but you might have an easier time deciding what products to buy.
Meet with a Professional
No doubt about it, finding the perfect combination of new flooring, fixtures, furniture, and home decor is daunting! When it comes to a major remodel or renovation, consider meeting with a professional interior designer to help you select products and plan your new design.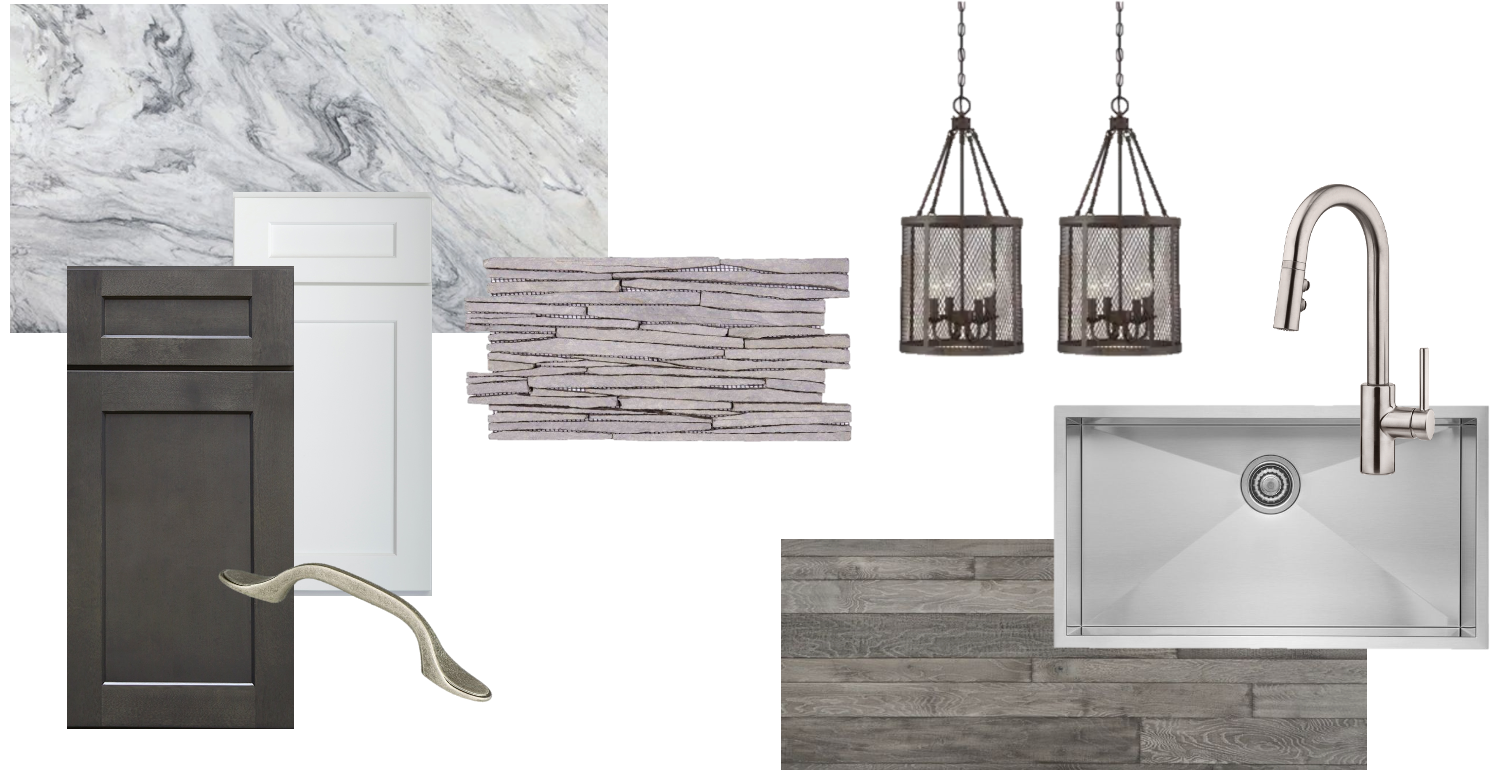 Not only will our Vevano Home designers create a concept board based on your design style, but they'll also provide a 3D rendering and product samples so you know exactly what your design will look and feel like. Plus, any products you buy from Vevano are deducted from your retainer, which makes our design services essentially free!
Learn more about our expert design services or sign up today for a free consultation with one of our interior designers.