How to Arrange a Living Room — Designer Tips & Layout Ideas
The blank canvas of an unfurnished living room usually sparks a new homeowner's creativity, but if your living room is oddly shaped or awkwardly located in the house, you might be experiencing designer's block.
With some careful planning, your living room can be arranged to meet your needs perfectly, regardless of the room's size or shape. Many of the same tips that apply to arranging a living room in general will apply here as well—all you need is some extra intention.
We sat down with interior designers Michael, Madi, and Andrea for expert tips on how to arrange a living room. With their help, we've outlined a few simple steps that will help you approach your living room design in a thoughtful and strategic way.
Step 1: Establish the Room's Purpose
Depending on your lifestyle and the layout of your home, the living room might be the center of the home, the primary location for spending time with your family. Or it might be a space set aside for welcoming guests. Do you plan to use the room to host Super Bowl parties, entertain your children, take a moment for yourself, or all of the above? Your goals for the room will determine the ideal layout.
For example, if you and your family intend to use the room primarily to watch TV, the television should be the focal point and easily viewed from every seat. If it's meant to be a space for catching up with friends, help facilitate those conversations by placing couches and chairs that face each other. Families with young children may want to include multiple options for stowing toys or blankets, like a sideboard or storage basket.
"Ask yourself how many people you're planning on having in that space, because that will influence the seating you decide on, whether it's a sectional or a couch and some chairs." —Madi, Vevano Home Designer
Step 2: Pick the Focal Wall
Having a focal wall roots the room and gives your layout a sense of stability. It gives you a starting point for arranging the rest of the room. Sometimes the focal wall will be obvious; for instance, a large fireplace will always draw the eye. Walk into the room and pay attention to where your eye is immediately drawn. If it's the same spot every time, that area is the clear focus.
If there isn't an obvious focal wall, like in a room with entrances at odd angles, think about where you would like to draw people's attention. Try to choose a wall that doesn't have doors or windows, as those can break up the flow and be distracting. In a rectangular room, emphasize one of the longer walls, if possible. Focusing on a short wall will increase the feeling of narrowness in the space while leading the eye to a long wall makes the room feel more open. Use the positioning of your furniture and your decor to create sightlines toward the wall you want to be the central point.
Step 3: Measure Your Space & Furniture
Once you've decided on your room's purpose and picked a focal wall, you're just about ready to start planning your furniture placement. But first, our designers recommend you measure your space and any furniture you plan to put in it.
Use this as an opportunity to take inventory of what furniture you already own and what furniture you're thinking about adding to the space. If you plan on replacing or buying new furniture, take down the measurements of pieces you want in your new space.
It's always smart to measure your space and your furniture before bringing the pieces into your home, but this step is especially vital when your living room is smaller than you're used to, has low ceilings, or has an uncommon shape.
Step 4: Plan the Living Room Layout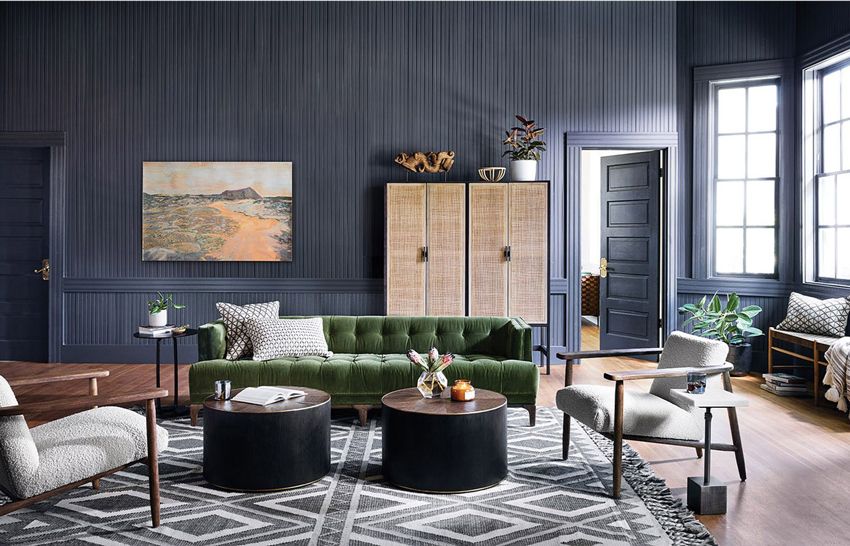 With accurate measurements of your room and furniture in hand, it's time for the fun part: planning your layout!
One way to plan the layout is to get a piece of graph paper, with each square representing one square foot. Sketch an outline to indicate the walls of the room. Using another piece of graph paper, cut out shapes to represent the furniture. Lay those pieces over your room outline to see how well the furniture fits and how it looks in different positions. You can also use masking tape or another removable material, like stacks of books, in the room itself to demonstrate where you want to put each furniture item.
It may be tempting to buy your furniture first and then see how it fits in your living room. However, we recommend taking down the measurements of the pieces you want and then following the layout sketching or taping suggestions above to get a feel for how the furniture will fit in the room.
As you plan out your space and consider the furniture you want to include, keep in mind the following expert tips:
Consider the Flow of Traffic
In addition to making sure your furniture layout fits the goal of the room, you'll want to consider the traffic flow. If you have two entrances, leave space around your couches and chairs so people don't have to walk through conversations or in front of the TV. If there's only one doorway, make sure the area in front of it is clear and most of the furniture is arranged in the back.
"Think of how you enter and exit this room. If the room already has furniture, try and go from one entrance to the next. If that is difficult in any way, shape, or form, then you probably need to rethink your arrangement."—Madi, Vevano Home Designer
Set Boundaries with Your Furniture
If your home has an open floor plan, arrange your furniture so that it helps create boundaries. Anchor the layout on one of (or the only) available wall with either a large couch, bookshelf, cabinet, or TV, then line the designated "living room" space with other seating options to add some structure to the space.
Create Furniture Groupings
You can also group different pieces of furniture together to indicate different purposes. Maybe you want most of the furniture to be focused on the TV, but the living room also has a small alcove that would fit a bookshelf, armchair, and lamp. Or you may want to set aside a space just for kids' toys and furniture separate from the main sitting area.
Use Empty Space to Your Advantage
As you plan your new living room arrangement, don't feel compelled to fill every inch of space! Be just as intentional about your empty space as you are about your furniture placement. Not only will you have a better flow of traffic, but your room will feel more balanced and breathable.
In fact, rooms with space restrictions, like rooms with low or sloping ceilings, benefit from sparse furnishings and intentional empty space. Choose a few minimalist or modern pieces that won't take up too much space or create competing focus points.
"Empty space is good. Don't be afraid of leaving space. It helps balance all of your furniture and can help bring the attention back to what you really care about." —Michael, Vevano Home Designer
Step 5: Find Your Furniture
By this point, you've measured your space and sketched out potential arrangements. Once you've nailed down a design you like, it's time to pick out the furniture that's going to pull it all together. When it comes to choosing the living room furniture itself, there are a few factors to consider.
"I think you can always go bigger on the rug. A large rug is going to make the space look bigger, but a small rug is going to shrink everything. Go as big as you possibly can." —Madi, Vevano Home Designer
Think about how many people the room can comfortably hold, and how much seating that would require. If you're planning to have a TV, consider whether the room has space for a media console, or if you will need to mount the television on the wall.
Before you buy any piece of furniture, think about who will use it and how it will be used. This may influence the kind of materials or styles you select. For example, if you know that pets or children will be using the item frequently, then you may want to select durable, stain- or scratch-resistant couch material.
"If you have kids, take that into account when selecting your furniture. Avoid glass surfaces, white surfaces, and sharp surfaces. Look for rugs that can be cleaned easily." —Michael, Vevano Home Designer
Style
You want your furniture and decor to feel cohesive. Avoid buying furniture items that will clash with existing furniture and decor styles or materials. If you want some style help, check out our Design 101 interior design style series.
Whether your living room is large, small, secluded, open, or L-shaped, our Vevano Home designers can help you feel more comfortable in your home. Reach out to us today to schedule a consultation.