Hygge Interior Design: Creating a Cozy Hygge Home Year-Round
By Jessica Grimaud
January 26, 2022
There's nothing quite like sitting beside a crackling fire, sipping a warm beverage, and enjoying the presence of loved ones nearby. In Denmark, these moments are often described as hygge (pronounced "hyoo-guh"), a Danish word that most closely resembles the English word "cozy."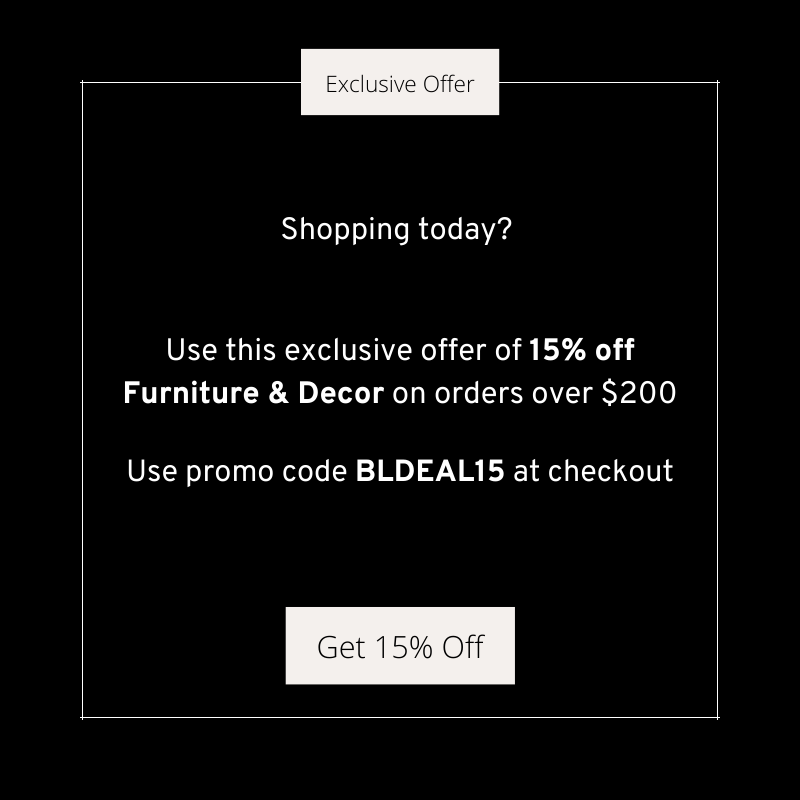 However, saying hygge translates to "cozy" ignores the full meaning and beauty behind this Danish expression and cultural phenomenon. As one book describes it, cozy is a physical description, but hygge is "a state of mind."
Although Hygge is an experience that can't be bought or forced, it can be cultivated, according to Danish citizen Louise. As a lover of all things hygge, Louise shared some of her advice on how to bring the true meaning of hygge to our homes.
Hygge is a Danish word that roughly translates to "a cozy quality that makes a person feel content, comfortable, and joyful." Hygge can be experienced anytime, anywhere. More often than not, it's the feeling that arises from enjoying the simple pleasures of everyday life, like chatting with an old friend, enjoying a candlelit dinner, or reading a favorite book in a comfortable chair.
One Danish citizen puts it this way: "In essence, hygge means creating a warm atmosphere and enjoying the good things in life with good people."
What is Hygge Decor & Interior Design?
Hygge interior design, while not an official design style, is usually depicted as a combination of the Scandinavian and minimalist rustic interior styles. Although hygge is often associated with winter, hygge home style can be achieved year-round—although it's especially helpful in bringing warmth to long winter nights.
How to Design a Hygge Home
1. Create Adjustable Ambient Lighting
In Denmark, candles and fireplaces abound for their hyggelig (pronounced "hyoo-guh-lee") qualities. Even artificial flames, such as a rechargeable LED candle, can help create that "cozy contentment" of hygge.
But it's not just the mesmerizing flicker of fire that can lead to a hygge home. As Louise explained, "Task lighting is still important. You still want to have light you can adjust throughout the day."
As much as possible, embrace natural light during the day and opt for soft, moody lighting in the night. Consider turning off any direct, bright overhead ceiling lights and switching on a floor lamp with even, dispersed lighting instead. Lampshades, wall sconces, or vesper lamps help cast soft, even lighting, while angled down 60s style Library floor lamps have the benefit of creating the ideal task lighting for reading a book (the ultimate hygge activity!).
In the kitchen, under cabinet lighting acts as practical task lighting while also creating a soothing glow. Similarly, bathroom mirrors with integrated LED lights provide subtle, clutter-free ambient task lighting during your morning and evening bathroom routines.
Of course, it's hard to beat the simplicity and elegance of a well-placed candle casting soft shadows throughout the room whenever possible.
2. Opt for a Light Neutral Color Palette
The standard 60-30-10 color rule recommends 60% of the room be your base color, 30% a secondary color, and 10% an accent color.
For hygge interior design, we recommend your 60% base color be a light, soothing neutral such as white, cream, tan, or gray—similar to what you would implement in a Scandinavian interior. While on the outset, this color palette may appear cold and uninviting, having versatile base colors are a wonderful way to set the stage for the hygge home accents you add along the way.
"In Scandinavian design, we like to have these neutral colors as a backdrop for interesting accents that we can edit over time," Louise explained. "Scandinavian design is very clean, minimal and slightly industrial, but it gets this warm feeling by proper placement of furniture and by those little details that keep changing with the seasons and your personal design taste."
Rather than buying new couches or painting the walls when you're ready for a change of color, having a neutral base gives you more flexibility to refresh your space throughout the year.
3. Accent with Warm Wood Tones
Wood tones and textures are an ideal secondary or accent "color" for hygge interiors. Wood accents add warmth to the space, especially if your main wall colors and furnishings are light neutrals, as discussed in the previous section.
"In Denmark, we don't want to disconnect ourselves so heavily from the earth, so we try to bring in things that feel a little rustic, a little old, and a little natural," Louise said. "We try to stay connected to the earth through natural materials. That's part of why we like to include exposed wood—to bring in warmth or that rustic look."
Flooring is an easy way to bring wood tones to your space, whether you're looking for engineered hardwood flooring or a luxury vinyl tile look-alike. Live-edge furniture is another trendy way to add wood accents that double as unique statement pieces, but a classic coffee table made of reclaimed wood can add just as much warmth.
As a cross between Scandinavian design and rustic sensibilities, the ideal hygge home incorporates raw, natural materials wherever possible. We already mentioned adding wood accents, such as exposed wood beams or live-edge furniture, but you might also want to consider incorporating other organic materials like a rattan accent chair or live plants.
These organic home materials and decor have the benefit of both connecting us to nature and being more sustainable in their construction—which is a big part of Scandinavian design and creating hygge at home.
"The reason why you're creating hygge for anybody in the first place is to feel connection, not just with the people around you, but also with the society you're in and the environment you enjoy. It's about working toward common care," Louise said.
5. Change with the Seasons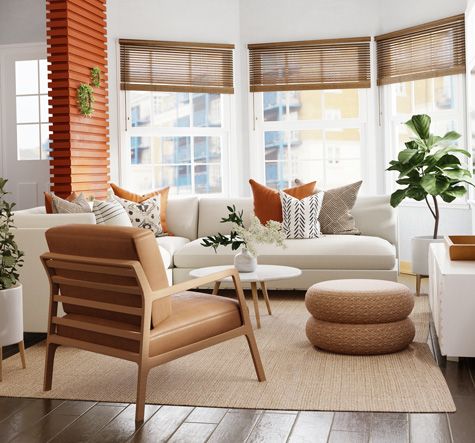 Your neutral color palette and versatile wood accents offer the perfect base for hygge home decor you can adjust throughout the year. You breathe life into your space when it changes with the seasons.
"It's almost an organic feeling, the changing of that living space," Louise said. "The beauty of this space is keeping it simple enough so you can rotate the accent pieces that you love. You're not going after a quick, cheap style. You're going after a look that's timeless that you can then slightly change over time."
Just as hygge is discovered in simple, everyday moments, hygge home decor utilizes simple, subtle changes that make a meaningful impact. It could be displaying a fresh bouquet of flowers that are in season, swapping out your throw pillows for different accent colors, or hanging a wreath each winter.
"A lot of Danes like to change up their style with the seasons," Louise explained. "It's another way to make you feel connected with nature."
6. Arrange for Conversation
One of the best ways to invite more hygge experiences into your home is to arrange for better conversation and connection with loved ones. This could mean shifting your furniture around so it's easier to face each other when having a conversation, or making sure every spot where someone can sit has a place to set down their food and drink for easy access.
"It's also why you want to invest in a good couch because you are going to spend lots of hyggelig time there!" Louise said.
In general, when it comes to arranging your living room for social gatherings, we recommend either moving your couches so they parallel each other or arranging living room seating around a central point (like a coffee table) for ease of conversation. Make sure there's enough room around couches, coffee tables, and other furniture for people to comfortably move around.
You can create small "social pods" (as Louise put it) or furniture groupings throughout your home, such as angling two reading chairs toward each other or setting up a small patio table and chairs outside for smaller gatherings.
7. Layer in Throw Pillows, Blankets, and Other Soft Textures
Soft or plush textures, like a faux fur rug or large chunky blanket, are a perfect way to create a warm and inviting space where hygge can thrive. These cozy textures not only make the space more comfortable and visually appealing, but items like rugs and other velvety furnishings can help absorb and dampen sound within the room.
You can experience hygge even when you're alone. It usually occurs while you're enjoying a favorite hobby or taking a quiet, comfortable moment to appreciate your surroundings.
For that reason, we recommend designing intentional, niche spaces where you can enjoy your favorite hygge activities, like reading a good book or sipping a cup of hot cocoa. Louise referred to these nooks as "little cocoons of hygge in the home."
All of our former tips apply: make sure you have ambient lighting, a comfortable place to sit or lounge, a soft warm blanket or other inviting textures, and anything else that makes you feel that Danish-inspired cozy contentment.
If it's a reading nook you are after, be sure to have a velvety soft chair or even a chaise lounge for maximum comfort. Supplement with a stylish Scandi floor lamp for optimal reading light, and make sure to have a side table or nearby bookshelf to set down your book or reading glasses.
Your cozy nook doesn't have to be inside, though. If you have a balcony or outdoor living space, consider investing in comfortable all-weather outdoor furniture such as an outdoor couch and a durable rug. Don't forget to string up some fairy lights or light a scented candle while you enjoy your outside views!
Just remember, it's not enough to have a cozy nook to experience hygge—you need to use it! "You still need to bring your cup of tea or your little bowl of nuts and read that book or invite friends to come sit," Louise said.
9. Invest in a Timeless Piece
A hygge interior is a space that—for lack of a better phrase—feels like home. Hygge interior design isn't about chasing trends. Rather, hygge interiors are created when we design for meaningful experiences that bring us happiness.
Part of this process is investing in statement pieces that we'll love for years to come.
"Most danish people invest in an heirloom piece for their space—something that's timeless and that shows you value spending your money on things that are sustainable and that will last beyond your lifetime," Louise explained. "It's part of making the space yours—something you are proud to invite and host friends and family in."