Art deco first got its start around 1908, rising in popularity after WWI. It went on to define the 1920s and 1930s, fading away towards the end of WWII as mid-century modern started to rise. This period of the 20th century saw many technological and anthropological advancements. Improvements in mass production brought more goods, including cars, to the masses. The beginning of flight would revolutionize the way people traveled. Steel and architectural techniques would help us erect soaring skyscrapers. Historical discoveries such as King Tut's tomb in Egypt would inspire art and culture around the world.
All those discoveries, occurring so close together, would change architecture, art, and the design of the art deco period. While this style is a century old, it holds a timeless charm and continues to influence interior design today.
The Definition of Art Deco Interior Styles
Art deco is short for the French term Arts Décoratifs, or Decorative Art. It's creative elements of the past fused with cultural discoveries and technology. With that in mind, the goal is to push the boundary with art deco style, for a room to make a grand declaration of sophistication and style. Nothing is too much, too fancy, or even too odd. Mix a parquet floor with an exotic animal print rug. Paint the walls in bold jewel tones with metallic accents. The beauty is in the contrast as well as the details.
Characteristics of Art Deco Interior Design
Art deco, with its special emphasis on the use of contrast, is all about self-expression without limitations. The best part of this style is its flexibility. It works with extravagance as well as understated elegance, or a combination of the two. Deco color palettes are one of the most widely varied among the categories of interior design. Use anything from solid colors to geometric shapes and chevrons. Add some pieces with beautiful woodwork, mother-of-pearl, or metallic finishes to complete the look.
To help remember art deco characteristics we made this handy graphic to your device or your Pinterest boards for easy reference.
"Art Deco is a melting pot of influences from around the world meeting together to elevate this style. The key is to strike a balance between colors, patterns, and décor so they don't overwhelm the space." – Martha McNamara, Director of Design and Product, Vevano Home
Blend of classic, antique elements from around the globe mixed with newer, more luxurious materials.
Comfort, symmetry, and sophistication are important to keep in mind.
Bold statements and arrangements are ideal for this style. Think metallics, reflective surfaces, contrasting tones and colors.
Color Palette:
"In general, it involves monochromatic neutrals such as black, white, beige, cream, gold, bronze, and silver. Accent colors in highly saturated and contrasting colors and patterns in vivid arrangements in blues, purples, reds, yellows, and greens can also be found." Claire Tamburro, Interior Designer and Principal, Tamburro Interiors
Colors should show contrast, with a mix of monochromatic tones paired with vivid colors.
For main colors think black, white, grays, or beiges and creams as they also work well within this style.
For accent colors, choose a tone that contrasts or complements your main color. For example, you might pair the beige with bold jewel tones such as golden yellow, sapphire blue, ruby red, amethyst purple, or emerald green.
Metallic accents in gold, silver, brass, or chrome are also perfect accents that add a spark of glam.
Décor:
"Fabrics are usually solid or geometric patterns in luxurious textiles like silk and velvet. Incorporate materials such as mirrors, marble and glass to accentuate the theme." – Doreen Amico-Sorell, Interior Designer, Sorell Interiors
Add pieces with sharp angles, sunburst, and trapezoidal shapes throughout design and décor.
Angled patterns like chevrons or animal prints on furniture, walls, or throws to add more patterns to the room.
Use lighting fixtures and rugs to make statements while also adding dashes of elegance. Like pairing a gilt mirror with matching wall sconces.
Include pieces with reflective surfaces such as lacquer, mirrors, or chrome for some glitz.
Perfect opportunity to highlight pieces from any traveling you may have done. This style takes inspiration from influences around the world.
Opt for furniture with curved lines or inlaid wood, it provides a lovely contrast with any geometric patterns or shapes in the room.
How to Create the Art Deco Look in Your Home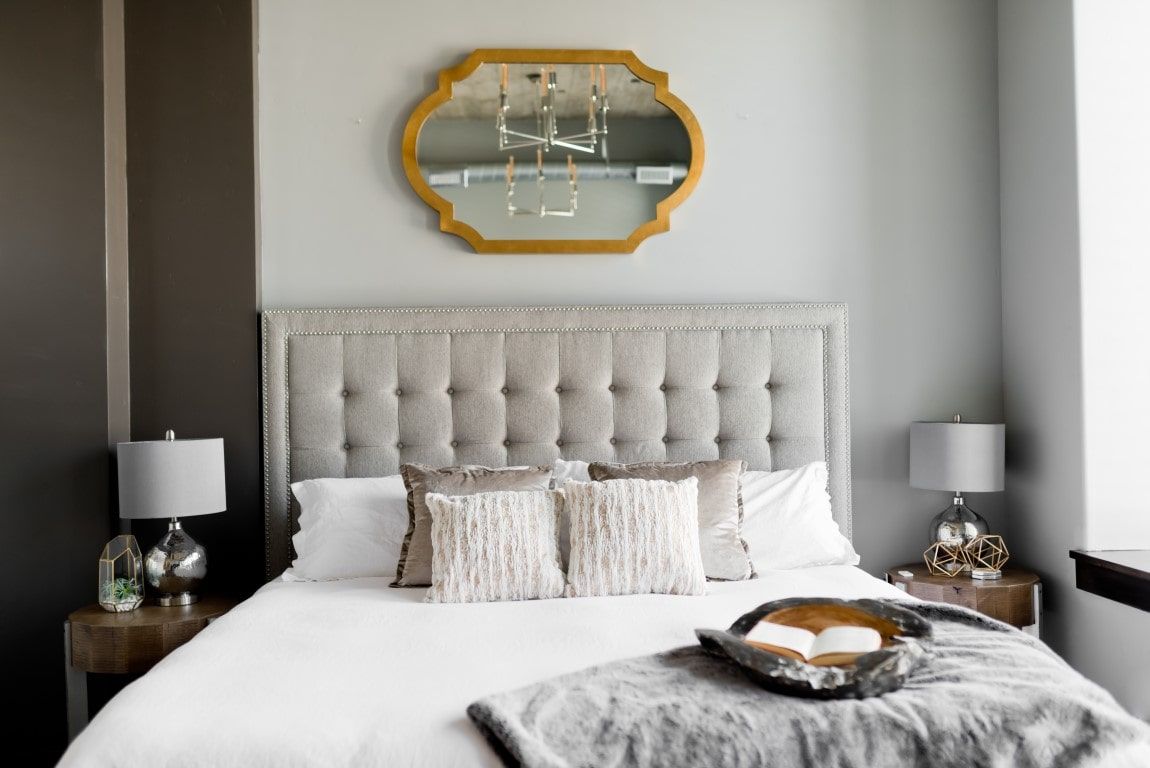 Art deco interiors are focused on creating an atmosphere of glamour and panache. Through the use of color, patterns, and polished artistic pieces, this style balances the classic with the new in a striking way. To learn more about other styles of interior design, check out the rest of this series at the Vevano Home blog.