Home Interior Design Styles: What is French Country Design?
Comfort blended with understated elegance
RaShea Drake
September 12, 2019
*We interviewed multiple interior design and home professionals to create a series on the most popular interior styles. When you've finished with French country, you may be interested in transitional design.
A Brief History
A classic since the 17th century, French country is older than many other popular styles. Much like a fine wine, it only gets better with age. It's based on a particular spot in France, one that is beautiful but also inviting. Provence, in southeastern France, is known for its beautiful lavender fields, sprawling vineyards, and olive groves. It's the color palette, motifs, and overall ambiance of this area that would define French country as we know it.
The Definition of French Country Interior Styles
French country is defined by its ability to blend elegance and comfort into a room. It's a style that embraces additions like décor, furniture, or accessories. More is more, and each piece should strive to make the room more inviting, more personal, and more beautiful while maintaining a sense of refinement.
Characteristics of French Country Interior Design
The key with French country is to balance the old with the new. With some pieces being fresh off the showroom floor, others might be vintage finds or an heirloom that's been passed down. Lines are curved, with a mix of simple and complex designs. Materials are simple, but it's the patterns that are typically complex. Wood chairs upholstered in an intricate linen print, a mirror in a new ornate frame, a vintage rug on a new hardwood floor — all embody the French country aesthetic.
Here's a handy graphic about the French country characteristics that's easy to reference back to. Save it to your device or to a Pinterest board for later.
"French Country Design is one of the most romantic settings of classic movies, and it features several unique traits that we call perfectly imperfect aesthetic. Can be notably ornate, elegant, sometimes over the top but also relaxed, distressed and subdued. The overall mood when you enter a house is always rustic, old-world, and makes you want to sit and have some warm bread." – Noah Myint, Vogue Homes
Overall, the room should be inviting and comfortable with a lived-in appeal.
Walls should be simple, focusing on subtlety to let the décor and accessories speak for themselves.
This style features natural materials such as wooden beams and stone or wood floors.
Colore Palette:
"I see true French country style as casual yet refined and always comfortable. In France they use shades of grey and beige better than I have ever seen and often use them together. Main house or interior colors are soft and warm – not cold." – Rebecca Green, Broker, Hasson Company Realtors
Embrace patterns toile fabrics such as linen and cotton. Pattern styles range from simple stripes to plaids to complex patterns that depict natural or vintage lifestyle motifs.
Use both new and old furniture and accessories to increase that sense of comfort and contrast.
Antiqued wood, ceramics, rugs, and baskets all add to the French country style.
Furniture should have curved edges and be comfortable.
Add a couple ornate pieces such as a gilt mirror, large wall clock, or chandelier to add elements of refinement.
French Country vs Farmhouse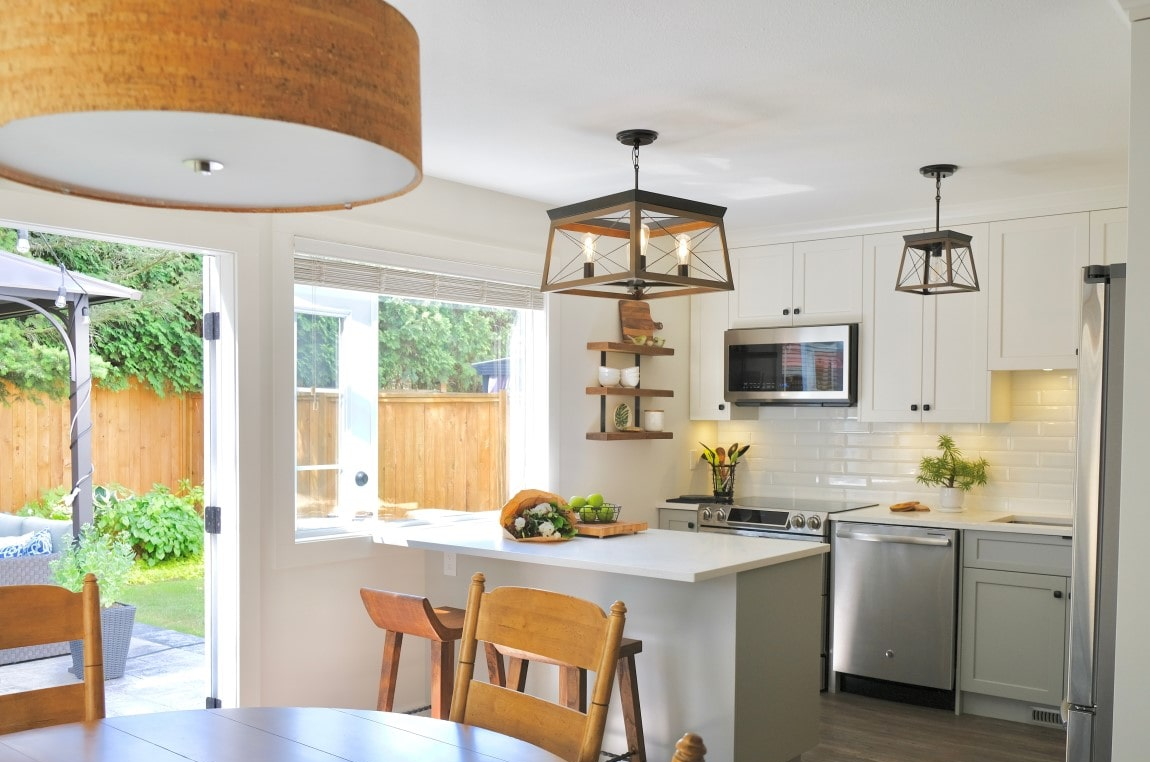 After looking at farmhouse and French country characteristics, they seem similar. Both emphasize neutral colors and natural elements such as wood and stone. Both styles embrace mixing new elements with vintage finds. However, the way each style accomplishes those goals is different.
Farmhouse is clean and simple with hints of rustic charm rooted in US history. The furniture lines are straighter with more definition. The goal is for clean lines and an inviting atmosphere with comfort and practicality top of mind.
French country is a blend of well-loved antiques and intricate, swirling patterns. The furniture embraces curves and decorative embellishments. There is still an emphasis on comfort, but also just enough lavishness to elevate the style while not going into a fully traditional style.
How to Create the French Country Look in Your Home
Conclusion
While French country has seen a dip in popularity in recent years, it is an absolute classic. It finds that balance between relaxed and sophisticated while allowing some measure of flexibility. Don't forget to see the rest of the series on home interior styles at the Vevano Home blog.