The Ultimate Guide to Sinks for Your Home
By RaShea Drake
January 29, 2020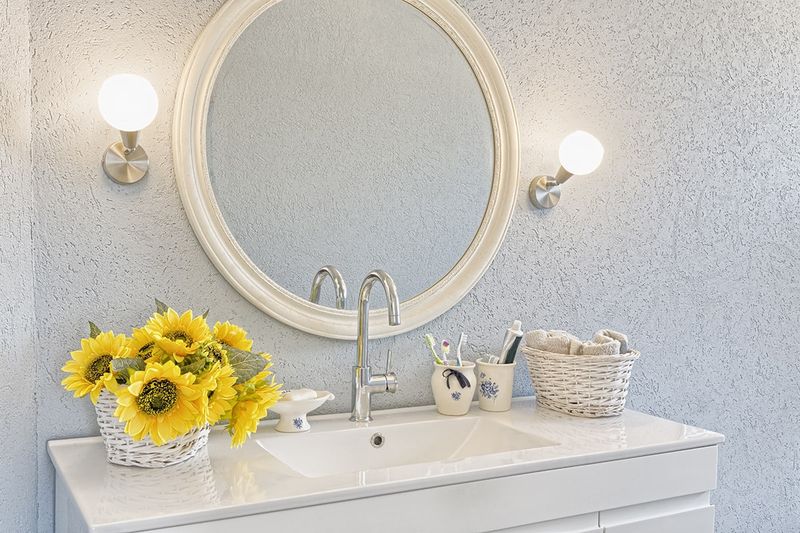 Kitchen
The kitchen sink needs to withstand just about anything you throw at it (or in it). Hot pans, pots, bakeware, dishes, spoons, forks, and knives take a toll on aging sinks. When you're looking for a new kitchen sink, it's important to find the right one to handle the day-to-day wear that comes from dirty dishes and pans.
Bathroom
Bathroom sinks see a different type of daily wear than kitchen sinks, like dried toothpaste and hot curling irons. As such, vanity sinks tend to focus on either easy-to-clean shapes or striking decorative styles. And sometimes both.
Laundry
Laundry sinks largely come in the same styles as kitchen sinks, but they reside in the laundry room instead of the kitchen. Sizes vary, but these styles focus on durability to handle stains, handwashing, and getting mud or other outdoor nuisances off.
Bar
Bar sinks go in wet bar areas but are often used as prep sinks in a kitchen. This type of sink is either smaller or in a unique shape to be more decorative while still being useful.
2. Sink Materials and Colors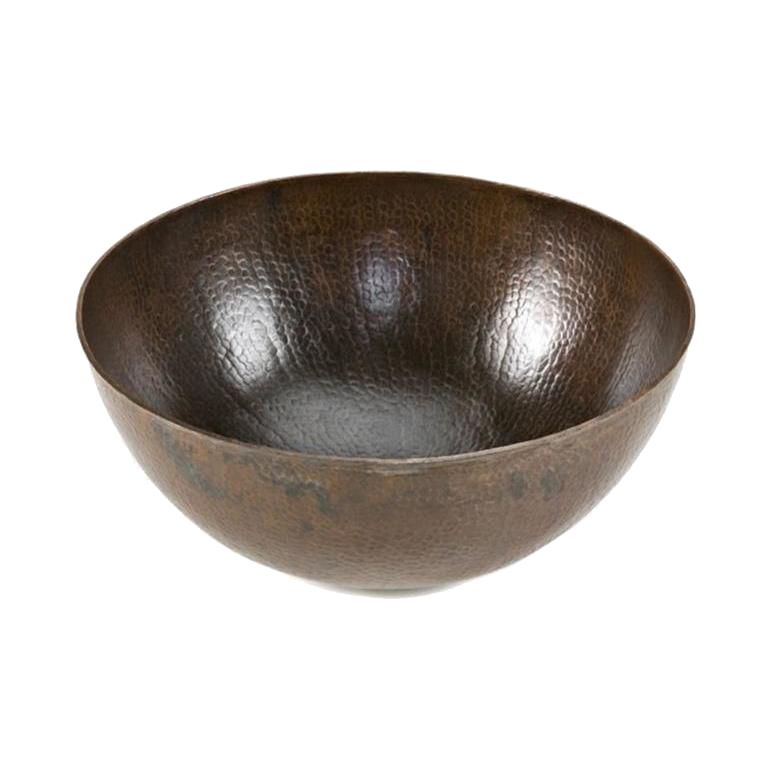 Sinks come in many materials and colors. Each sink material has its pros and cons, and some materials withstand the rigors of the kitchen where others fit better in a bathroom or bar. The best way to choose the right material is to think of your habits within your kitchen, bathroom, laundry, or bar area to decide what works best for your lifestyle and budget.
Stainless Steel
Most people are familiar with stainless steel, it's one of the most popular materials to use for kitchen and bar sinks. It's resistant to rust and antimicrobial, so you can thaw a frozen chicken without problem. It's durable enough to withstand the heavy drops inherent with pots and pans. It's resistant to heat and stains, making it easy to clean. And the neutral sheen matches most interior designs.
Stainless steel's main drawback is noise, though many come with noise-dampening pads attached to the exterior of the sink to minimize vibrations when running water hits the sink or silverware is dropped in unceremoniously. You can also install these dampeners yourself. Stainless steel is also prone to scratches and dents. It's also limited as far as color choices go – your options are basically the standard stainless steel or a dark stainless-steel tone.
Cast Iron
Cast iron sinks are heavy duty, with an emphasis on heavy. Since these are heavy sinks, we recommend a professional installation, as additional reinforcement may be needed for your sink cabinet.
Cast iron sinks are known for their durability and their beauty because of a non-porous enamel coating. The porcelain like surface is made by fusing an enamel fused to the iron through high heat. The enamel coating means this type of sink is available in many colors, but white is the classic choice because it's easy to match most interior designs.
While the enamel is beautiful and easy to clean, it requires more frequent cleanings with mild detergent since it's less durable than stainless steel. While non-porous and stain-resistant, abrasive cleaners and harsh chemicals can cause the surface to stain. In addition, the enamel is susceptible to chipping or scratching from sharp objects or heavy pots and pans, which could expose the underlying iron to rust. Add a grid to the bottom of the sink to prevent damage from heavy or sharp objects and regularly clean the sink to prevent stains using mild cleaners or detergents such as baking soda.
Granite Composite
Granite composite sinks combine granite with acrylic resins to create one of the strongest sink materials available. It's robust yet easy to clean, featuring a smooth matte finish available in multiple colors.
Granite composite is resistant to heat, scratches, and chips, and staining, making it a kitchen workhorse. Unlike metal sinks and ceramic sinks, granite composite make for a quieter sink with less clanging.
Much like cast iron, granite composite sinks are heavy and may require additional strengthening for the cabinets. Granite composite sinks should also receive regular cleanings to keep the surface clean and beautiful.
Solid Granite
Solid granite is like granite composite in many ways, though more expensive and more unique. It's durable but made completely of natural stone with no resins. Each sink is unique because it's made from a distinctive slab of stone, whereas granite composite is mixed and uniform-looking. But their properties are still very similar – resistant to heat, scratching, and stains.
Solid granite does have some issues to consider, however. Natural stones are porous, which makes them susceptible to stains if not sealed. As such, solid granite sinks need to be resealed every few months because of how much water they're exposed to.
Engineered Quartz
Much like granite composite, engineered in that quartz is mixed with other materials to create a durable material that's more affordable than solid natural stone. Since it's wonderfully durable and non-porous, germs and odors don't seep into its surface – they're washed right down the drain instead. In addition, it's not as susceptible to damage from dropped pots and pans because it doesn't chip or crack like porcelain.
The main drawback with engineered quartz is it's so tough, you can actually break fragile items, like fine china, if dropped into the sink. Take care when washing or placing items in the sink to make sure they don't get damaged – the sink will be fine, though.
Copper
Copper sinks are a unique high-end material. Thanks to the natural properties of copper, the metal develop a natural patina over time or when exposed to high heat. While some prefer a shiny copper sink, others highly value the patina look because it adds vintage character. For this reason, copper typically retains its value over time since they are handcrafted, which is a nice perk.
Another reason copper is a high-end material for sinks is the natural antimicrobial properties. This is excellent for thawing steaks in your sink. Since germs can't grow in a copper sink, there is less chance for contamination when preparing food.
Maintenance is a consideration with copper sinks. Hot utensils, as well as acids, can affect color or stain the copper. Acids includes food or beverages that are acidic in nature (we're looking at you, orange juice).
Brass
Brass sinks are like copper ones. In fact, it's simply an alloy of copper and zinc. Much like copper, brass has natural antimicrobial properties, and each develops a unique patina over time. Brass carries a beautiful, timeless look to it, adding an almost-gold tone to the room.
While brass is beautiful and durable, it is susceptible to dents, dings, and scratches. It is definitely more decorative than functional, requiring more maintenance than other metals. So, keep that in mind if you're looking at brass.
Fireclay
Fireclay is pretty much what it sounds like – Clay is shaped and fired at high temperatures to forge a durable, hardy material. Fireclay is a popular choice for sinks because it's strong against stains, scrubbing, and high temperatures from pots and pans fresh off the stove. It's also resistant to rust, acid, and fading. And maintenance is easy. Simply clean with standard dish soap and water or use baking soda for tougher dirt spots.
Fireclay's biggest weakness is from dropped objects, whether they're heavy or sharp. Since there isn't an iron core, they can crack the sink, which requires replacing the sink. The surface can also chip over time. We recommend using a grid on the bottom of the sink as well as regular cleaning.
Porcelain
Porcelain is the hardest ceramic available, and one of the more popular choices. Porcelain sinks are available as pure porcelain, porcelain coated steel or iron, and porcelain coated with Vitreous China (a protective coating for porcelain). It comes in a variety of colors, though white is a long-standing favorite thanks to its timeless appeal.
While porcelain is easy to clean, it is susceptible to cracking or chipping from dropping heavy or sharp objects. For bathrooms this isn't as much of an issue, but with kitchen sinks we recommend using a grate on the bottom of the sink to prevent harsh drops.
Vitreous China
Vitreous China is a porcelain ceramic fused with a protective enamel through a high-heat process. It's stain-resistant, scratch-resistant, easy to clean, and provides a glossy surface that's particularly popular in bathrooms. It's also available in multiple colors, with white being the most popular.
The biggest weakness with Vitreous China is like to porcelain, heavy or sharp objects can chip or damage the pristine finish.
Glass
While more than durable enough for bathrooms and powder rooms, glass sinks are not quite up to the daily wear and tear of kitchens. Glass is excellent because it's stain-resistant, easy to clean and maintain, and is durable enough to last for years when properly cared for.
Glass comes in a variety of shapes, styles and sizes. Colors range from clear to rich, opaque colors, to a combination of patterns and color mixing. It's the perfect material when you want to feature a statement piece in your bathroom or powder room.
What's glass's biggest weakness? Well, it's glass – it can shatter. Sharp and dropped objects damage glass easily, so take special care with glass. That said, since glass sinks are made of tempered glass, a process of heating and rapidly cooling glass, you don't have to worry about your sink shattering into dangerous shards. Rather, it shatters similarly to a car window.
Specialty Materials – Marble, Lava Rocks, and Petrified Wood
Looking for something that's eye-catching to make a statement? Then you may want to check out sinks made of specialty materials. Marble, lava rock, and petrified wood are all unique, natural materials. Not only do they add an organic touch to any washroom, no two pieces are the same.
With specialty materials, each sink is handcrafted by artisanal experts from one solid piece of marble, lava rock, or petrified wood. Even if you were to order two petrified wood sinks, they would each have their own distinctive shapes and features.
While stunning and luxurious, natural stone does require care and maintenance over time. Make sure to clean with a damp cloth and mild soap, resealing when needed.
What Color Choices Are There for Sinks?
While it depends on the material, sinks come in a variety of colors including beige, black, brown, cinder, clear, copper, cream, gray, metallic, nickel, off-white, stainless steel, taupe, and white – definitely enough options to find the right color for your aesthetic.
The most common colors are white and stainless steel. The two are so timeless that they tend to blend and match almost anything else in a room. Black is also gaining popularity, it's a different aesthetic, and also doesn't just as much dirt as lighter colors. Copper adds a unique look, especially as it ages, the patina continues to add character.
3. What Are the Different Types of Kitchen Sinks?
How to Shop for a Kitchen Sink
There are three main considerations when shopping for a kitchen sink: function, design, and price. What are your kitchen habits like? Would a single-basin farmhouse sink, or a double-basin stainless-steel sink be better for your home? What's your budget? Do you prefer a certain look? Or do you prefer a utilitarian approach? Keep these questions in your mind as you find the right fit for your kitchen.
Kitchen Sink Mount Types
There are a handful of mount types for kitchen sinks, with each having a specific functional value. While some kitchen sinks are stylish, prioritize functionality first.
Farmhouse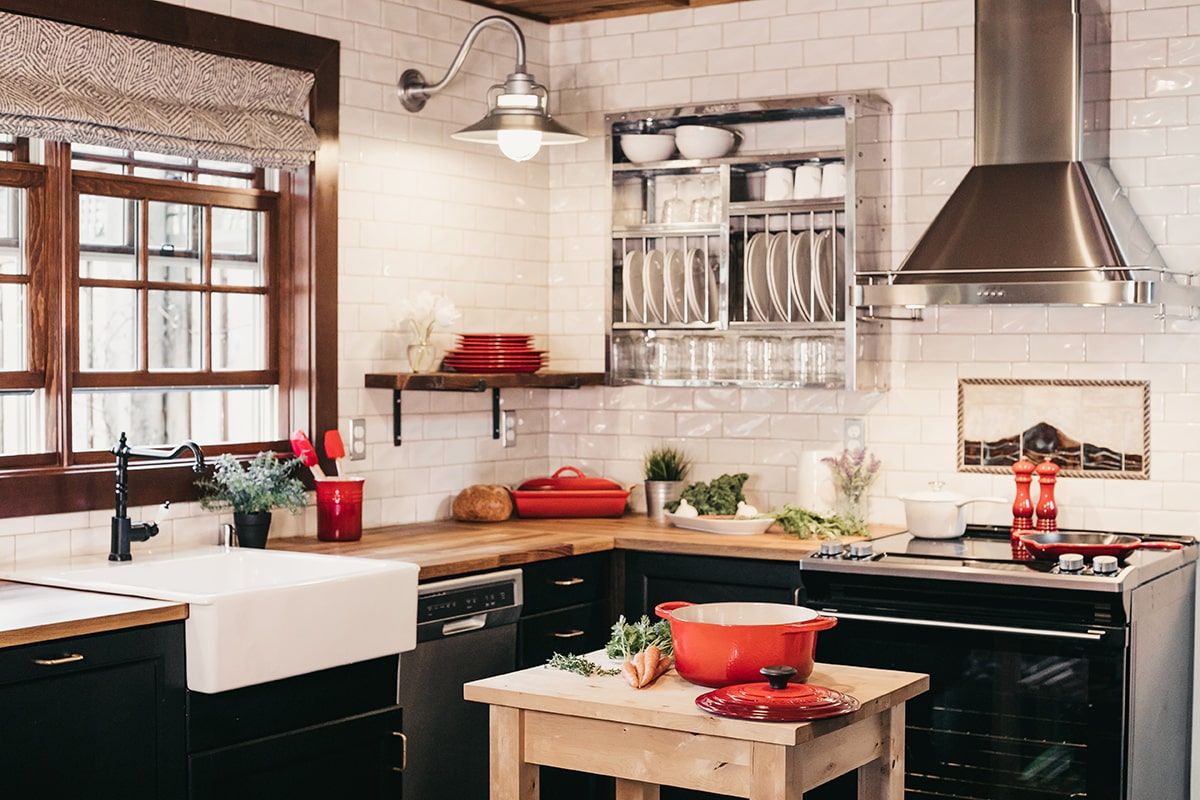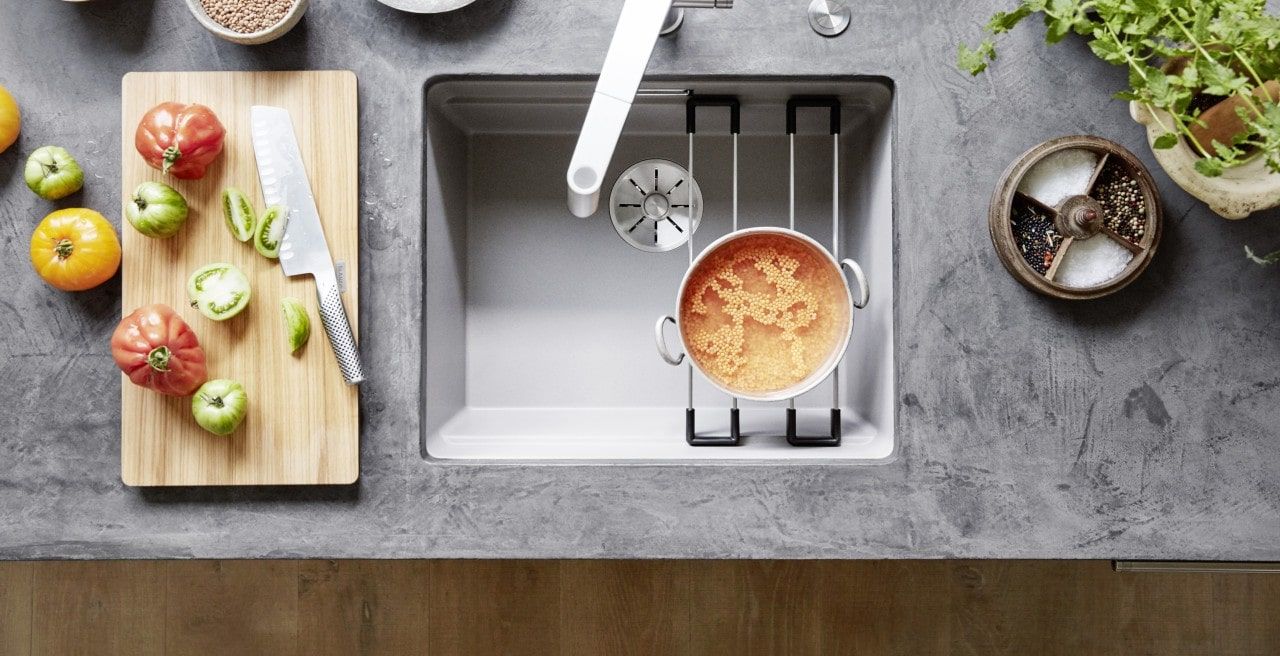 Undermount sinks provide a beautifully seamless transition from counter to sink, which makes cleaning both the countertop and the sink a breeze. To do this, the sink is mounted from below the countertop and attached with clips, epoxy, caulk, and sealants. The sink attaches to the countertop with epoxy, caulk, and other mounting accessories. This also prevents moisture and grime from collecting around the edges of the sink to facilitate cleaning and maintenance.
Undermount sinks are best used with heavy countertops capable of providing the support needed to hold the sink. Granite, quartz, concrete and other natural materials are excellent options because they don't bend or warp.
Drop-In
A single-basin sink is just one large bowl. The simplicity of the design makes it easier to wash more dishes, large pots and pans, or even pets or small children. These come in a variety of styles as well, like farmhouse, undermount, or drop-in.
Typically, the plumbing is simple, with a garbage disposal (if you have one) being the most complex scenario. It's also easy to compartmentalize to fit your needs by converting single-basin sinks into a workstation by adding a grate, cutting board, colander, dish rack, or storage basket.
Double-basin sinks feature two distinctive sink bowls to help you organize your kitchen tasks. You can soak dishes in one side and scrub in the other, or prep food in one while rinsing in the other. Either way, double-basin sinks are about multitasking.
The most common style for double basin sinks is a 50/50 split where both basins are the same size. There are also 60/40 splits and even some 70/30 splits, depending on your preferences. However, the plumbing is more complex, usually with one basin featuring a standard drain while the other basin has the garbage disposal.
Much like single-basin sinks, double-basin sink configurations come in a variety of designs and materials. If you're not sure if you want a single basin or double basin, consider a sink with a low-profile divide. Rather than two basins separated equally, a low-profile sink has two basins, but the wall between the two basins is significantly lower than the top of the sink. This gives the sink the multi-tasking functionality of a double-basin sink with the ability to fit more dishes like a single-basin sink.
Sink and Faucet Combos
Finding the perfect faucet for your sink is not as easy as choosing the first fancy faucet you see. It takes careful considerations of the size of your sink, the placement of the drain, and your personal preferences. So, if you're unsure about how to pair a faucet with a sink, save time with a sink and faucet combo. Manufacturers often create curated combinations of sinks and faucets, ensuring you get the perfect fit without having to measure anything. So, if you're looking for a farmhouse sink and want a faucet that matches, there's a combo for that. Looking for a modern faucet and sink? No problem. We examine sink sizes and faucet heights, along with style and configurations to make sure everything matches the way it should.
Kitchen Sink Depths and Sizes
You may have certain size requirements, depending on the size of your kitchen, island, or counter. But this isn't a problem. Kitchen sinks are made in a variety of sizes and depths, so there's usually a sink to fit your requirements.
When measuring from front to back, you can find styles as small as 10" ranging up to 32". From left side to right side, sink widths span from 11" to 45". Depths are as shallow as 5" and as deep as 14" inches. With so many variances in size, there are a variety of options available, whether you're looking for a large sink or a small one.
Kitchen Sink Shapes
Another feature to consider is the shape of the sink. This comes down to personal preference on what you work best with and what will fit with your countertop. Most kitchen sinks are rectangular because they provide the most space on countertops with limited depth to the wall. Square and circles are popular shape for prep sinks where space is limited. There's also the D-shaped style, which is rectangular towards the front, while the back of the sink curves like the rounded part of a "D". With limited counterspace, the curve provides a portion of countertop space for a faucet, which is why D-shape sinks are often included with double-basin sinks. Some people like how the curve of the D-Shape sink helps pots and pans fit better into the sink.
4. Which Vanity Sink Works Best for Your Bathroom?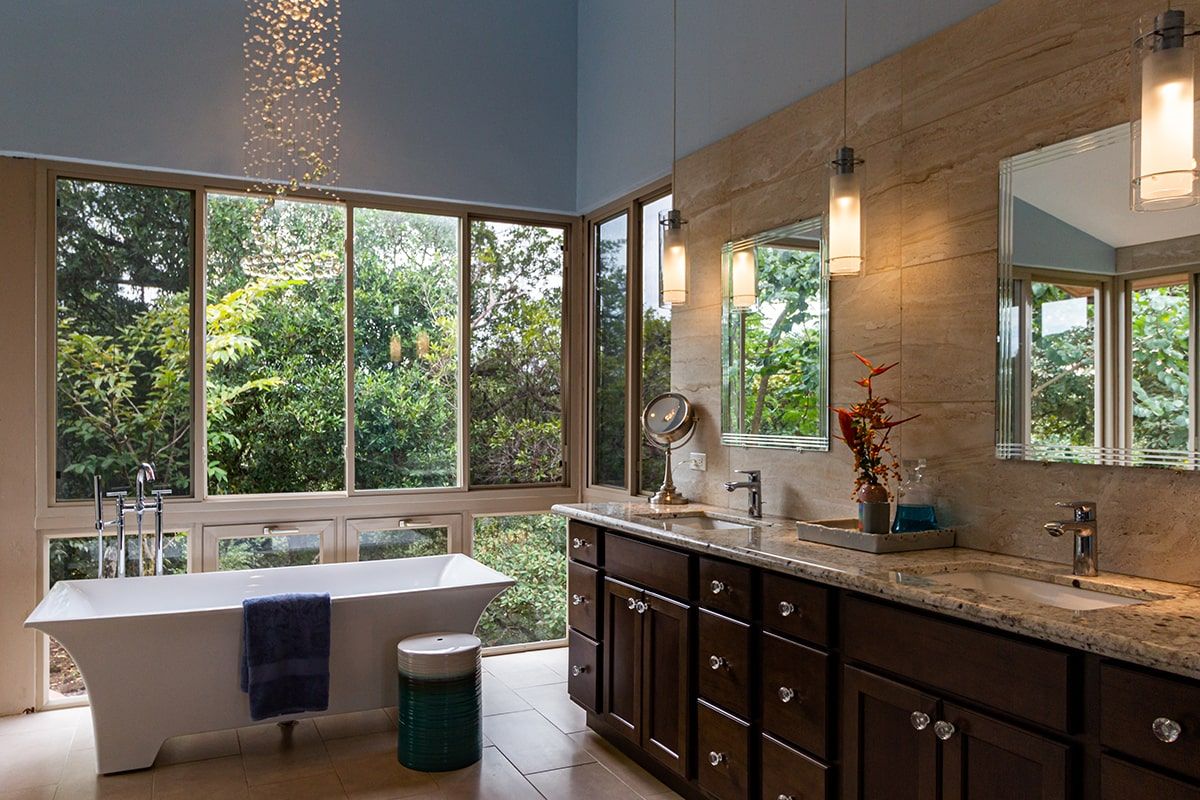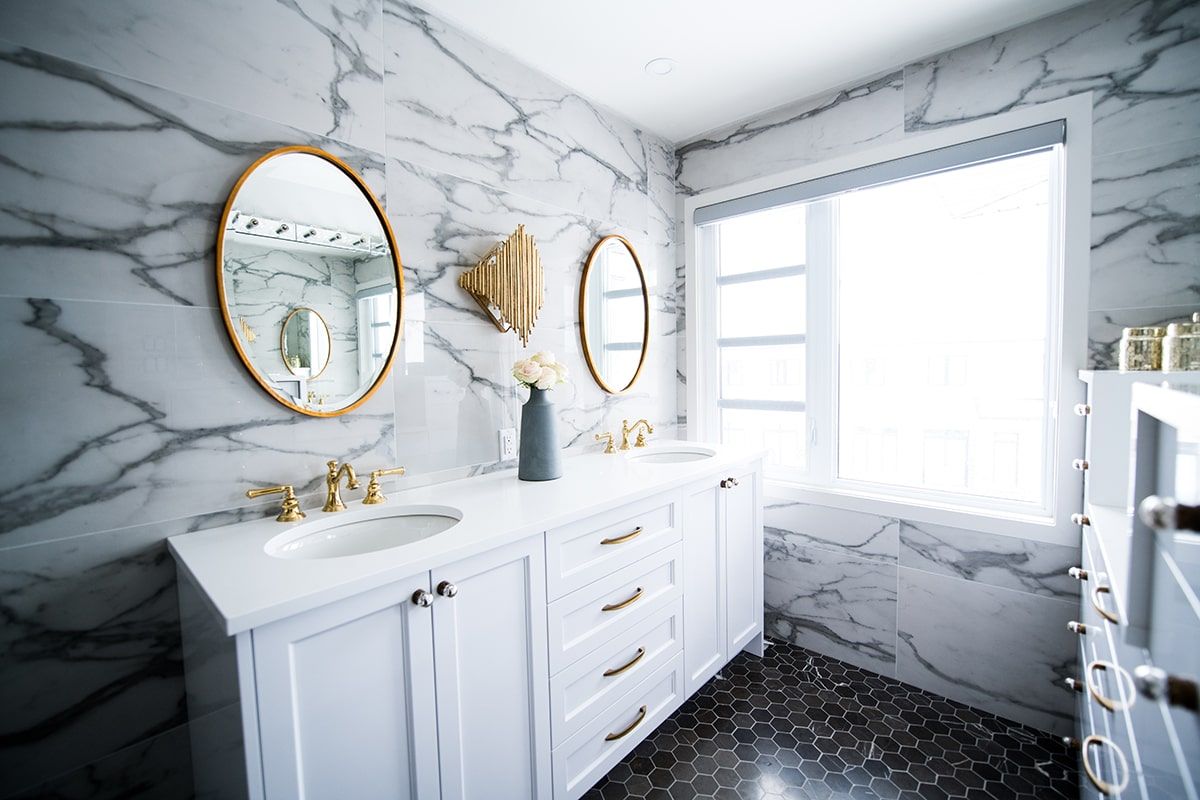 Drop-In
Bathroom drop-in sinks feature a lip, or rim, that rests directly on the vanity top itself and sealed into place. The sink is dropped into the vanity top hole, so there is some flexibility in choosing an appropriate size. Drop-ins are also known as top mounts, both are accurate depictions of what this style is and how it's installed into the vanity top.
While this style is typically more affordable than the others and relatively easy to install, it is easy for grime and dirt to build up around the lip of the fixture, making regular maintenance a minor hassle compared to other mounting types.
Undermount
While drop-in sinks are mounted to the vanity from above, undermounts are mounted from below. They're attached to the underside of the countertop, creating a seamless transition from the countertop to the sink. While this style tends to require a more involved installation process than a drop-in sink, cleaning up both the vanity and sink is easier and faster. Wipe up spilled makeup, water, or mouthwash quickly into the sink with no worry that it might catch on the rim of the sink.
Vessel
Vessel sinks sit on top of the countertop. Of all the types of sinks, this one features the most variety of shapes, colors, styles, and sizes. Vessel sinks range from a couple inches in height up to over 8", meaning plenty of options to find the best fit for your home. Some styles also come with built-in faucets and handles for added convenience.
Shapes for vessel sinks include rectangular, square, round, circular, oval, bowl, and what we call irregular – shapes unique to the natural materials, like petrified wood sinks and natural stone sinks.
Pedestal
Pedestal sinks save space while adding a tasteful element, especially in powder rooms or guest bathrooms. There are two options with pedestal styles: a combination where the sink and faucet are included, or pedestal all on its own where you can choose a separate sink to pair with it.
The only caveat with pedestal styles is the lack of storage space. You can't even store items below the sink because of the pedestal. But what you sacrifice in storage space, you gain in style.
Integrated
Integrated sinks are where the vanity top and sink are combined into one unit. It's a convenient way to update the countertop without having to get a separate sink.
Much like undermounts, integrated sinks feature a seamless transition from vanity top to sink for a beautiful look and easy cleanup.
Styles include single basin or two basins for a Jack-and-Jill style bathroom. Materials vary, but they include Vitreous China, granite, and marble for a high-class look.
Wall Mount
Wall-mount sinks attach directly to the wall, saving space in smaller bathrooms or powder rooms, like pedestal sinks. Many have the added benefit of including the faucet and handles as well, making them a cost-effective choice.
The main drawbacks with wall-mounted sinks are the limited styles and little storage, though you can use a container under the sink (something you can't do with a pedestal sink) for storing toilet paper or other toiletries.
Vanity Sinks Sizes & Shapes
Sizes
Much like kitchen sinks, vanity sinks are available in a wide variety of sizes, and an even wider variety of shapes. You can find vessel sinks at a depth of just 2" and pedestal sinks with depths of 8". Lengths begin at 10" and go up to 24". Then there are all the sizes in between for a wide selection to choose from.
Shapes
In addition to the sizes available, there are also many shapes to choose from for bathroom sinks. Circular is the classic shape, but rectangles, ovals, and squares are common too. Shape is really about your personal aesthetics. If you want to go for a contemporary look, go with irregularly shaped pieces such as petrified wood or marble bowls which are carved into their unique shapes.
5. Laundry Sink Types and Styles
In addition to handwashing delicate garments, laundry sinks are helpful for pre-treating, soaking, and scrubbing stains. It's especially useful if you have children who use their clothing as napkins. If you have the room for one in your laundry room, we recommend one to keep up with your family's busy lifestyles without having to trek back and forth to the kitchen or vanity sinks.
How to Shop for Laundry Sink
The first consideration when looking at laundry sinks is to think about size. Perhaps a small square sink would be best for a small laundry room, while a large two-basin utility sink may be best if you find yourself pretreating, scrubbing, and handwashing often.
Another important factor is material. We recommend stainless steel, fireclay, enamel, Vitreous China, or granite composite given their stain resistance and easy maintenance.
Laundry Sink Mounts
Laundry sinks come in similar mount styles as kitchen and vanity sinks. The most popular types of laundry sinks include: farmhouse, undermount, drop-in, single basin, double basin, free-standing, and wall mount.
· Farmhouse styles lend a certain charm to the laundry room, but they also offer a more accessible design thanks to the apron-front styling. There's no countertop to lean over and dig into the stomach, making this a popular style.
· Undermount sinks because they mount under the countertop, meaning there's no lip or rim for fabrics or threads to snag onto. This is especially helpful with blankets, dresses, or other large items that may hang on the counter while you clean one specific area.
· Drop-in sinks are typically the easiest sinks to install since you lower them into a hole in the counter.
· Wall-mount sinks save space in the laundry room by mounting directly to the wall.
Single or Double Basin – Which is Right for You?
Laundry sinks come in either single basin or double basin designs. While either one makes a great fit, it all depends on what you plan on using the sink for.
Single-basin styles work well for washing large, bulky items like blankets or spraying mud off boots. It provides plenty of room to clean or rinse.
Double basins, on the other hand, work well for the laundry workflow. Fill one basin up for items to soak while the other is for scrubbing and rinsing.
While both types work well, choose the one that best fits the needs for your laundry room and your lifestyle.
6. Sink Accessories and Disposals
Once you've found the right sink, don't forget about the disposal and accessories to go with it. There's a selection of additions and fixtures to improve the flow of your lifestyle, from preparing food to cleanup afterward.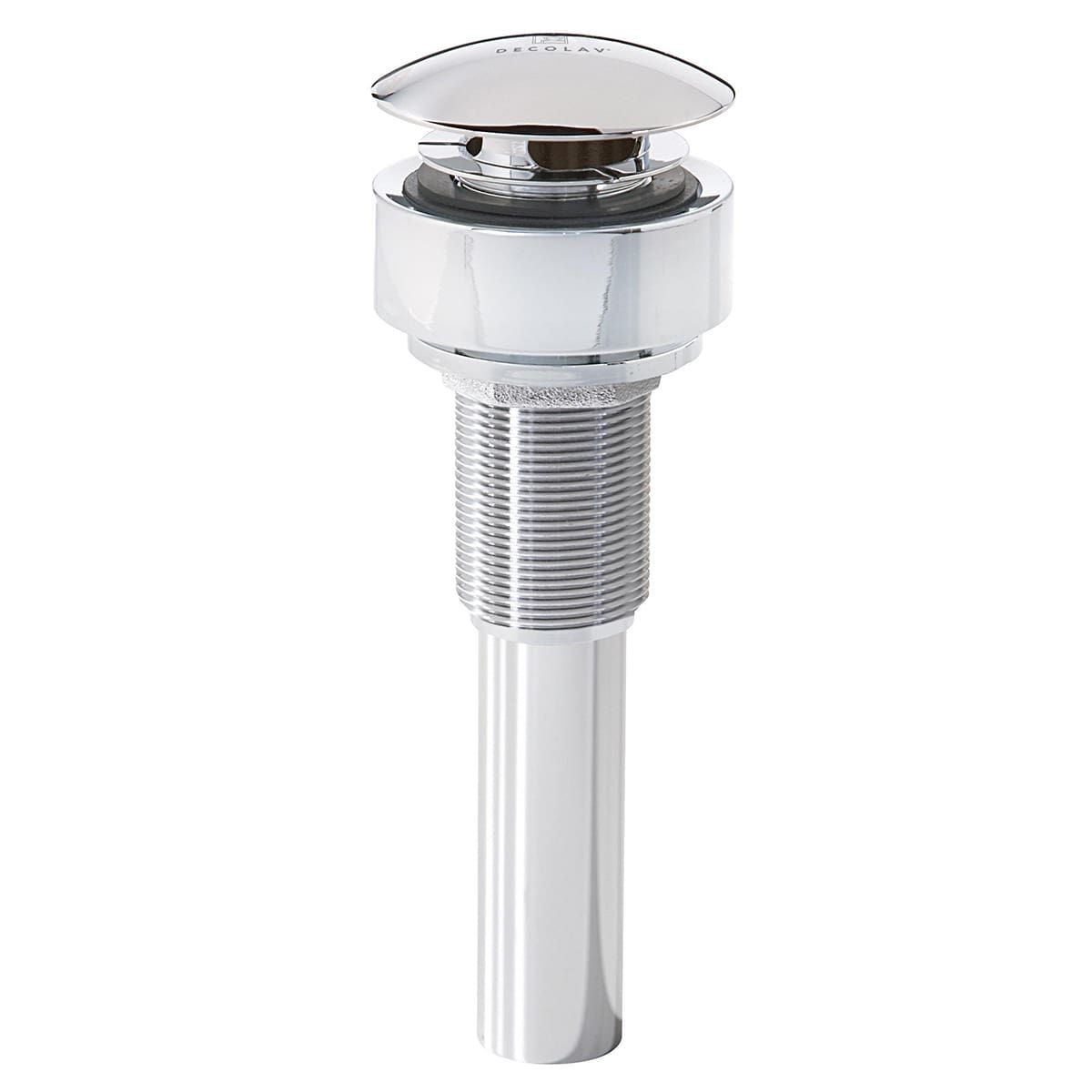 Sink Accessories
Sink accessories increase kitchen organization and efficiency by making the most of your sink layout, whether you have a farmhouse sink, undermount, drop-in, single basin, or double basin. Create your own personal workstation like a professional chef by utilizing colanders, sink grids, baskets, or cutting boards to keep prep and cleaning in one central location. Pasta night is so much easier when you have a couple colander baskets to drain pasta, wash salad, and keep all the mess over the sink rather than all over the countertop. Likewise, cutting fruits and vegetables on a cutting board over the sink makes cleanup simpler.
Other accessories to check out are sink flanges and strainers. The flange the circular metal piece that goes in the hole at the bottom of the sink. You can add a strainer to the flange, which is helpful if you don't have a garbage disposal. It catches all the leftovers so they don't clog up your plumbing.
7. Sink FAQ
We found some of the most common questions people have about sinks. Check out the answers below or send us your question to design@vevano.com.
What are the best sinks for small areas and spaces?
Luckily, we keep a wide variety of sinks in different sizes and shapes. While this question also depends on where the sink is going, we typically recommend a single basin sink that you can pair with accessories like baskets and colanders to make every inch count.
Which sink is best for kitchens?
Since kitchen sinks go through quite a bit of wear, for a strong material we recommend stainless steel, granite composite, cast iron, or fireclay. With cast iron and fireclay, a sink grid is great for preventing chips from heavy or sharp objects.
As far as type and style, farmhouse sinks are a popular choice because of the large work area they provide. They also have a charming aesthetic.
Which sink is best for bathrooms?
This question depends on the type of bathroom and who uses it. It really depending on whether it's a master bath, a shared bathroom, a guest bathroom, or a powder room.
For master bathrooms, your options are vast, and it's best to choose whatever you like most. Family bathrooms and guest bathrooms, on the other, require a little more care when choosing. An undermount style sink is excellent for this because easy to clean and doesn't have that overhanging lip that rests on the vanity. For powder rooms, pedestal styles, wall-mount styles, or vessels are great for a more decorative look.
What is the best gauge stainless steel for kitchen sinks?
Thicker gauge steel is stronger, less susceptible to denting, and quieter because it doesn't vibrate as much. A 16 gauge is thicker than a 22 gauge, so smaller gauges equal thicker steel. However, the thicker the steel, the more expensive the sink. So, it also depends on your budget.
What kind of kitchen sinks are in style?
The farmhouse sink with its apron front is definitely on trend. Instead of leaning over a counter to reach the sink, the apron-front style is more accessible to most people since the counter top isn't in the way.
As far as materials go, fireclay, cast iron, copper, and granite composite are all contenders for what's popular right now.
What's the best material for a laundry sink?
Laundry sinks needs to be able to hand a variety of cleaners as well as substances that cause stains. With that in mind, stainless steel is the best material for laundry sinks because of its durability. Granite composite sinks are also great at resisting staining and high heats.
How deep is a laundry sink?
Laundry sinks range in size from 8" deep to over 24" deep. Choose the best size that makes sense with the space you have in your home.
What's the difference between a farm sink and apron?
There's no difference between the two. It was first known as an apron sink, but as the farmhouse look has grown in popularity it's been dubbed a farmhouse sink.
Are vessel sinks still popular?
Yes, vessel sinks are still widely popular. However, current styles, shapes, and materials vary and have changed since the vessel design first became popular.
Can you put an undermount sink on laminate counters?
Though this is possible, it does often require additional reinforcing of the counters, and sometimes the cabinets as well. We recommend consulting a professional before attempting to do this.
Need a Sink for Your Home? We Can Help
Now that you know exactly what types of sinks there are, as well as materials, styles, and materials, you can find the ideal sink for your needs. Browse our collection of kitchen, vanity, or laundry sinks today, or contact our design team for free consultations on which one would work best in your home.