When to Replace Your Kitchen Faucet
By the Vevano Home Team
June 9, 2020
Nothing lasts forever, especially not the faucet on your kitchen sink. Typically, kitchen faucets can last between 15-20 years. Lifespan depends on their quality and other factors such as whether or not it was installed properly and how hard the water is. How much wear and tear it gets can also affect how long your kitchen sink faucet lasts.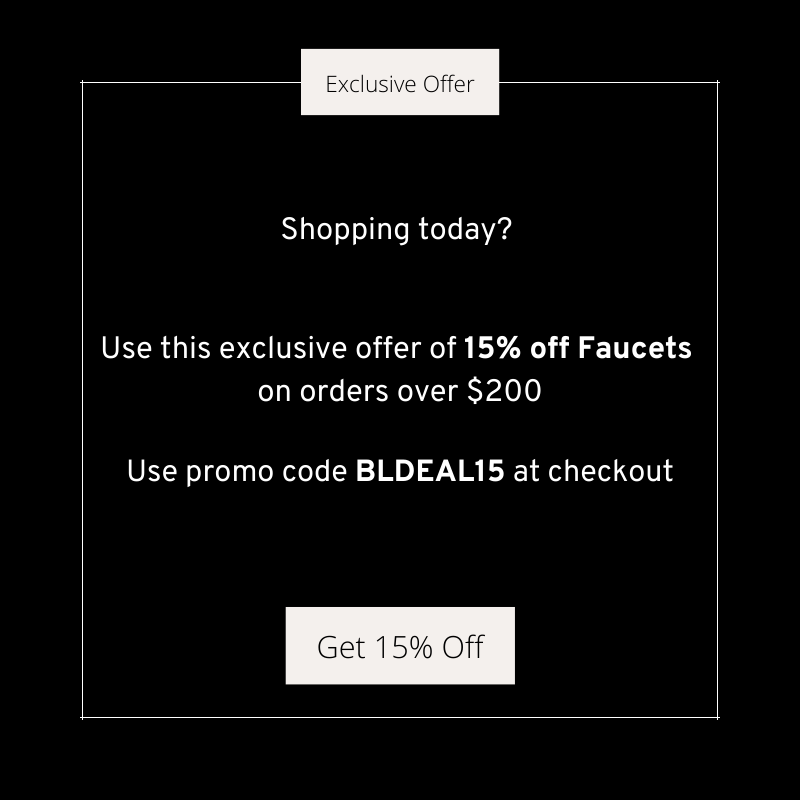 So, how do you know when it's time to replace your kitchen faucet? We have six tell-tale signs that it may be time to reassess and replace your faucet.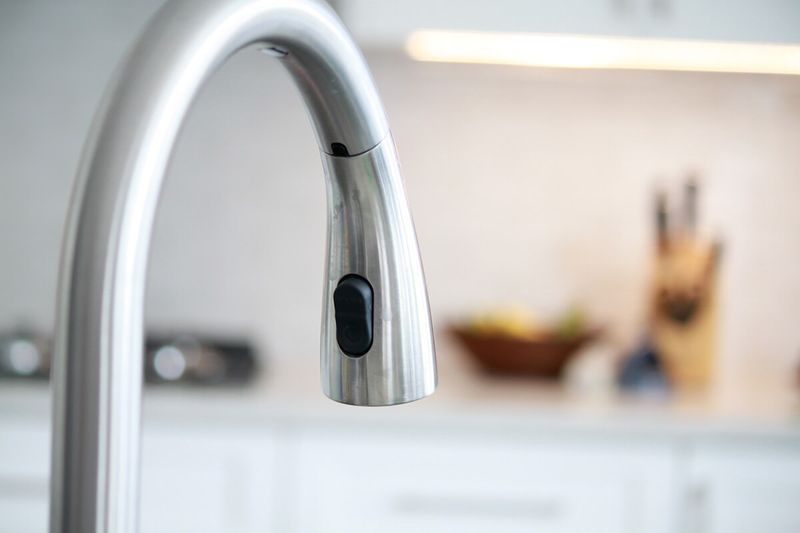 Is That Leaky Faucet Causing Problems Again?
You know that repetitive drip, drip, drip sound from the faucet. Though a faucet could be leaking for any number of reasons, if it tends to drip soon after you fix it, a new faucet may be needed.
Possible leaks could stem from 0-Ring issues, a corroded valve seat, a corroded washer, or a worn-out washer. However, fixing a drippy faucet is not as expensive as you might think. Just remember to first shut the water off before dismantling the faucet.
A high sign that it's time to replace your sink faucet is when it's constantly leaking, despite multiple attempts to try and fix it. If you've replaced the valve, washer, or cartridge inside the handle a couple of times and it's still leaking, it's time to look into a new faucet.
Is Rust or Mineral Buildup Around Your Kitchen Sink Faucet?
Rust can indicate the wearing down of the faucet from the inside out. Signs of internal rusting and corrosion in your faucet may look like water taking more than a couple seconds to run or the handles sticking and cracking upon trying to turn them.
If your sink processes hard water, the mineral buildup will develop gradually and will start to look like caked-on, dried toothpaste. Though mineral buildup can be removed from the mouth of the faucet with a water/vinegar solution, it can cause problems if it's not addressed and it spreads.
Both of these issues lead to your kitchen sink faucet to run far less than optimally and wear it down over time. However, once rust and/or mineral buildup work their way into and impact the inner cogs (gasket, filters, etc) and it's visible on outer parts of the faucet it's time to replace it.
Have Your Kitchen Sink Needs and Functionality Changed?
Maybe you've decided you want to spend more time in the kitchen cooking, and your basic faucet is no longer cutting it for you. Perhaps you want a spray function in your sink, so you need to upgrade your standard faucet to a pull-down, pull-out, or pre-rinse faucet instead. Certain sink styles may also call for certain styles of faucets. For example, if you've selected the classic and popular farmhouse sink for your kitchen, there are certain faucets that pair best with your new sink.
Here are a few of the possible kitchen sink faucets that may help to suit what you'd like your kitchen sink to do (keep in mind that a kitchen sink faucet could inhabit multiple types):
Single-handle faucets — Single-handle faucets are the most popular choice for a kitchen faucet as you can turn on the water, adjust the temperature, and the flow all in one motion with one hand. High-end, single-handle faucets can come with motion or touch sensors for your convenience. Easy to install, though they can be more prone to leaks as compared to the two-handle faucets. Often comes in a pull-down style.
Pull-down faucets - Combining the power of a maneuverable side-sprayer and a standard spout, the pull-down faucet contains the best of both functions. Hoses vary in length, so you'll want to get one that can reach to all corners of your sink. As they tend to have heavy spouts, models with magnetized docking are recommended to hold the spray in place while it's docked.
Pull-out faucets — Similar to its pull-down sibling, pull-out faucets utilize spray heads attached to a hose to pull away from the spout. However, pull-out spouts have shorter spouts, requiring longer hoses for reach and flexibility, which may come in handy if you have less headspace around your kitchen sink due to cabinets or other features. Watch out for kinking the hose though, since you'll likely have to move the spray nozzle around more than the pull-down faucet.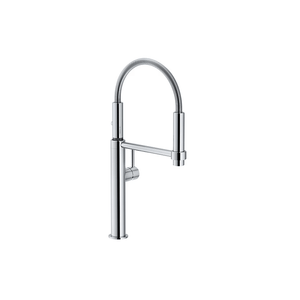 Pre-rinse faucets — Desired for their high-pressure water performance, pre-rinse faucets are gaining traction in residential spaces though they originated in commercial kitchens.This faucet is high value as it's great for cleaning dishes, conserving water, and filling pots quickly. Most pre-rinse faucets come made with a rotoflex gooseneck spout, meaning the curve is made from a spring, so it's flexible and adjustable. This is a popular faucet choice for the popular farmhouse sink.
Bridge faucets — A more stylistic choice, two-handle bridge faucets are usually chosen for its traditional nineteenth-century style than function as it reveals the upper plumbing of the faucet and the hot and cold pipes. To add functionality, you could install a side-sprayer or select a more modern style that implements a pull-down spraying spout.
Bar faucets — Bar faucets are the younger sibling of the standard sink as they are smaller in size and can come in a variety of styles, from bridge faucets, two-handle faucets, or even gooseneck. If it's for prep, a pull-down spray nozzle is convenient . These faucets should be proportional to the size of the sink.
Does Your Faucet Clash With Existing or Updated Decor?
Does the faucet material clash with the material of, say, your kitchen cabinet handles or the material of your new sink? When it comes to decorating your kitchen, uniformity is appealing to some in terms of the materials on display around your kitchen. Selecting a material or finish to match the surrounding appliances, handles, or countertops may be a reason to replace your existing faucet. Consider the following finishes to coordinate everything in your kitchen:
Chrome: Most durable, easiest to clean and polishes well. Resistant to those grimy fingerprints.
Stainless Steel: Similar to chrome, but with flatter shine, and typically a little more expensive.
Nickel: Comes in a variety of textures, such as polished, satin, or brushed, but prone to gathering fingerprints and stains.
Flat: Matte black and oil-rubbed bronze are hot flat finishes right now, however, the epoxy coating is vulnerable to scratches and chipping.
Or simply… Time's up!
As a general rule of thumb, if the 15-year mark has hit, consider replacing your faucet sooner rather than later. The material and model of the faucet determines its average lifespan, though how much it's used is also a factor. Keep tabs on how the faucet is running to know if it's lifetime is coming to an end.
Sometimes You Just Want a New Faucet and We're Here for That Too
Who wouldn't want to upgrade the function and aesthetic of their kitchen faucet to elevate their kitchen sink to new heights? You can save time and effort by taking a look at our recommended collection of sink and faucet combinations to fit the desired style and utility of your kitchen.
Don't forget to take into consideration faucet size, spout reach, spout arc, sink size, how many faucet holes your sink has (3-4 holes), drain placement, and whether or not you want hands-free convenience when picking out a new kitchen faucet.
If you'd like to streamline the process of selecting a faucet for your needs, we have a team of experienced interior designers that can help you pair a faucet that fits your space, matches your kitchen sink and appliances, and has all the functionality you desire. For more detailed information, check out our ultimate guide on kitchen faucets.