8 Types of Countertops: How to Choose the Best Countertop for Your Kitchen
By Mikael Short
April 5, 2022
As the primary working surface in your kitchen, countertops are a workhorse and a critical component of a functional kitchen. Countertops have even started taking the main stage as a statement piece in the kitchen—yet another reason why purchasing the right type of countertop is so essential!
To choose the best countertop for your kitchen or other room in your house, here is a guide about the best kitchen countertop materials and how to coordinate them with your chosen aesthetic.
Top 8 Types of Countertops
1. Quartz (Engineered Stone) Countertops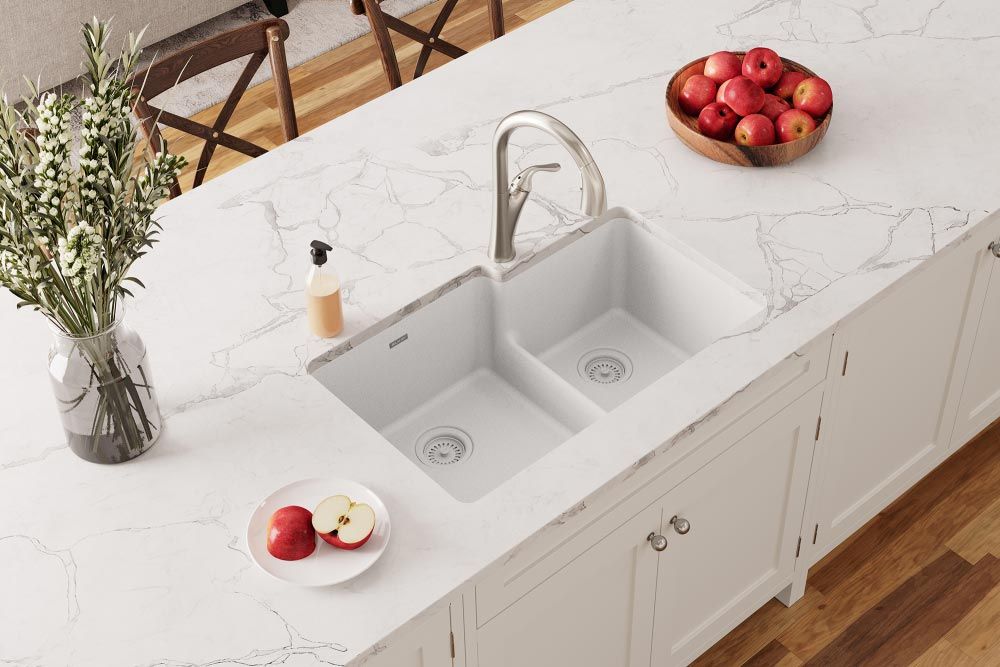 ✅ Beautiful appearance
✅ Extremely durable
✅ Resistant to scratches and stains
✅ Resists mold, mildew, and bacteria
✅ Doesn't require sealing
✅ Longevity
✅ Low maintenance & easy to clean
✅ Great for kitchens and bathrooms
❌ Prone to heat damage or melting
❌ Can be scratched
❌ Direct sunlight can fade color
One of the most popular and best kitchen countertop materials is quartz, or engineered stone. Quartz is incredibly sturdy and resistant to many of the issues that may plague other countertop materials, making it hygienic and easy to maintain.
When most designers say quartz countertops, they are not 100% solid quartzite (which would be very high maintenance). Rather, quartz countertops are usually in the 90% range of pure quartz combined with other resins or composites to create a gorgeous, durable, non-porous surface for your countertops.
Caring for quartz countertops is incredibly simple as they are one of the more low-maintenance countertop options available. Soap and water should do the trick. No sealing necessary.
Available in a wide variety of colors and textures thanks to being an engineered stone, quartz is a very popular option for countertops due to its versatility and general appeal. It comes in veined, fine-grained, coarse-grained, or plain designs.
Marble-look quartz is very popular as it features the beauty of natural marble but the resilience and lower maintenance of engineered stone.
Quartz countertops fit right in with sleek contemporary and modern kitchen designs, among others.
✅ Extremely durable and hardy
✅ Desirable appearance
✅ Easy to clean
✅ Resistant to chips and scratching
✅ Resistant to heat
✅ Versatility in design
✅ A value-adding home upgrade
✅ Longevity
❌ Can be expensive
❌ Requires regular sealing
❌ Possibility of staining or discoloration
❌ Heavy, labor-intensive
One of the most popular countertop materials, granite is a highly desirable countertop material for its durability, hardiness, and distinct appearance.
Due to granite's popularity, it's more widely available and more affordable than it used to be, though it's still on the upper end of the spectrum since it's natural stone.
Natural stone countertops, whether granite, marble, or other stone, require regular maintenance and care. Granite is a porous stone, so it requires regular sealing. Depending on the strength of the sealant applied, a new sealant might need to be applied every 1-5 years. With proper care and sealing, granite can last decades.
Some granite countertops will come professionally sealed and will likely not need sealing for up to several years. Sensa granite countertops are sealed with a proprietary protective coating that doesn't require annual sealing.
Granite comes in a wide variety of colors and patterns, so it's easy to personalize with your cabinets and flooring. Keep in mind that granite countertops can also feature multiple color tones, so pay attention to the shades to create the aesthetic you want.
This in-demand stone can work with just about any style depending on the grain and colors. It's about coordinating similar or contrasting colors to pair countertops with cabinets and flooring.
For example, black granite countertops pair very well with white cabinets to create a beautiful contrast in modern styles. Black granite countertops also have a home in traditional and rustic styles when paired with wood kitchen cabinets or other organic elements.
✅ Unique & beautiful natural stone
✅ Luxurious material
✅ Durable
✅ Resistant to cracking and breaking
✅ Heat resistant
✅ Longevity
❌ Expensive
❌ Prone to etching and scratches
❌ Annual sealing required
❌ Susceptible to acid staining
A very trendy and beautiful countertop material, marble countertops are another desirable natural stone option on the high-end side. Marble comes in two forms: honed and polished. Honed marble is porous and has a matte appearance, where polished marble has a protective surface with a shiny sheen.
One way to reduce the cost of marble countertops is to use marble tiles instead of slabs.
It's a high maintenance natural stone, so follow manufacturer's instructions for daily care, cleaning, and sealing for marble countertops. Like other porous stone countertops, marble requires regular sealing to maintain its good looks for a long time.
Marble comes in a variety of natural colors, making it versatile when it comes to styling. It often features veining or natural mineral deposits that are quite stunning. Note that the more popular or appealing the marble, the higher the cost.
Bold marble patterns have grown popular lately, especially the white and gray Calacutta varieties with bold veining that can work with many kitchen styles.
As a high-end stone, marble fits in well with contemporary and modern styles.
Relatively new on the scene, Dekton countertops are an engineered material combining natural stone, porcelain, and ceramic with heat and pressure to create an incredibly durable countertop material, some say almost indestructible. It was constructed to surpass even engineered stone (quartz) resilience, which makes it a great choice for kitchens, bathrooms, bars, etc.
Dekton requires no additional sealing, and simple cleaning can be taken care of with mild soap and water.
Full body colors, marble veining, or other patterns are available in Dekton countertops. Three textures can be applied: Xgloss, Ultramatte, and Ultratexture. Other finishes can also be applied to enhance your chosen aesthetic.
The color palette for Dekton tends to run in neutral, natural, and earthy tones, some even metallic. This palette lends itself well to contemporary, modern, industrial, farmhouse, and rustic styles.
5. Natural Stone Countertops
✅ Beautiful appearance
✅ Hardy & durable
✅ Resistant to heat
✅ Long lifespan with proper care
✅ Some are antimicrobial
❌ Can be very expensive
❌ Periodic sealing/waxing may be needed
❌ Can be high maintenance
Aside from marble and granite, other natural stones can be found in countertops, from quartzite, limestone, travertine, soapstone, slate, lava rock and others.
Natural stone countertops are a stunning premium option for your kitchen, though they tend to be divas when it comes to caring for them.
Most natural stone countertops can be cleaned with pH-balanced water and very mild soap. Many require sealing or waxing to prevent moisture getting trapped in porous surfaces.
For a lower-maintenance natural stone, look at beautiful slate (in tiles to get more bang for your buck).
Each natural stone will come with its own color, texture, and veining/pattern, guaranteeing a beautifully unique working surface. Also varied between different natural stone types are specific properties that may enhance their functionality, such as antimicrobial properties, or require more maintenance.
For example, the farmhouse-friendly soapstone is non-porous so it doesn't require sealing, though it's naturally softer than other stones so it may chip or crack more easily.
Laminate countertops are easily maintained with water and mild soap.
Laminate countertops can be made-to-order after measuring, so the design possibilities are extensive. Laminate can take on the appearance of stone, wood, solid colors, or patterns, making it flexible in terms of styling.
7. Butcher Block Countertops
✅ Antimicrobial
✅ Easy to install
✅ Adds a natural, organic element
✅ Warm and inviting
✅ Can be environmentally friendly with reclaimed wood
✅ Sanding can fix most surface issues
Another fairly affordable countertop material is butcher block, which can be applied to one section of your countertop or the whole of your base cabinetry layout, depending on the functionality you want in your kitchen counter.
Butcher blocks are often composed of natural wood slabs like maple, oak, teak, ash, or even bamboo—each of which comes with their own unique appearance and properties.
Butcher block can come sealed or unsealed, however, sealed butcher block isn't recommended for bare food prep due to chemicals in the sealant.
Butcher block requires regular oiling to prevent stains. Since wood is naturally porous, any spills should be cleaned up as quickly as possible to prevent damage.
Concrete is naturally porous, so sealing and waxing is needed to prevent damage and to maintain its stain resistance. Spills also need to be wiped up swiftly.
Pigmenting can be added to the cement to change its shade. And once it's installed, concrete countertops can be acid-stained, polished, or stamped to be further personalized.
Concrete countertops fit in nicely with industrial, modern, or rustic styles.
Depending on the material, countertops may cost between $20 - $300 per square foot, with luxury natural stones at the top range (like lava rock) and materials like laminate and tile at the lower end of the spectrum.
It's not only the material that will determine how much your investment will be in your countertop renovation. Here are other accompanying factors will affect the cost of new countertops:
Amount and thickness of countertop material
Installation and labor
Custom countertop shapes or designs
Removal of existing countertops
With this in mind, you can plan for a budget that allows you to purchase a durable and beautiful countertop that you can stay on top of maintaining.
Choose a Countertop Material that Works Best for You!
We hope with guidance around the most sought-after countertop materials, their properties, maintenance requirements, style recommendations, and budget range, you can identify which countertop materials will work best for your home and kitchen.
For assistance with your kitchen remodel, Vevano Home designers can help you style and see your remodel through to the finish line. Contact us today for a free initial consultation.