By Mikael Short
September 30, 2021
Nothing is quite so relaxing as a day at the beach. The coastal interior style brings a calming seaside aesthetic that's pleasing to the eye with neutral tones, natural colors, and textures that you might find on the shore. To design a coastal kitchen, you only need a few simple elements to bring that beachside peace right into the hub of your home.
The key to designing a coastal kitchen is a soothing environment, free of clutter, with clean lines and calming textures. Think easy, breezy, and natural—a refined simplicity that can be both timeless and current.
At the same time, we know beach-themed kitchens can sometimes come off as tacky or overdone. To avoid this, our Vevano Home interior designers Michael and Andrea provided the following insights on how to design a tasteful, soothing coastal kitchen.
What is a Coastal Kitchen?
Coastal or beach-themed kitchens are kitchens that take inspiration from the colors, textures, and overall aesthetic of the coast and, in some cases, ships on the ocean. Though coastal kitchens incorporate some elements of popular design styles like the modern farmhouse kitchen or rustic interiors, coastal kitchens stand out for their sandy tones and nautical accents.
While there is a variety of coastal designs based on location—California, New England, Florida, Washington, etc.—many of the qualities translate among the different types of coastal styles.
"Your coastal kitchen will age and transition well if it's done tastefully and in a balanced way." —Michael, Vevano Home Designer
The signature colors and effects are similar among coastal styles. Plus, no matter where you live, you can likely bring a bit of the beach to your kitchen by incorporating influences, textures, and pieces from your favorite seaside hangout.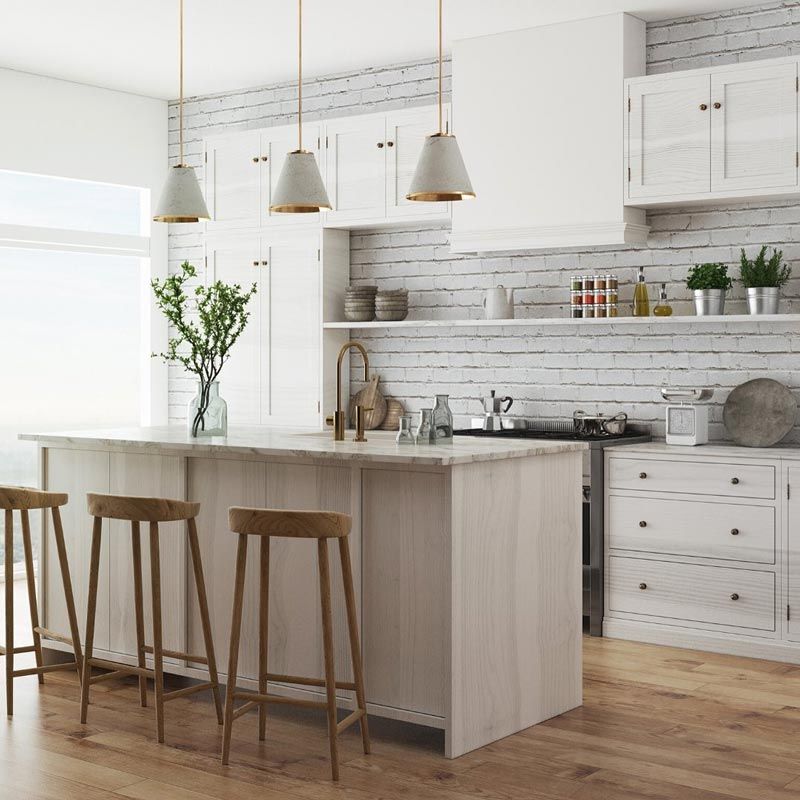 "When I think of coastal, I think of calming, relaxing, lighter colors." —Andrea, Vevano Home Designer
When deciding on a color scheme for your coastal kitchen, think of the colors you might find at the beach. Colors that fit the overarching coastal style include white, off-white, cream, tan, beige, and blues, inspired by the sand, ocean, and sky. Coastal designs contain a very natural and often minimal color scheme.
The main colors in a coastal kitchen should be white or give the impression of sand—but without all the mess of actual sand. So adding in layers of beige, tan, cream, or even warm gray can help bring that natural warmth reminiscent of a walk on the surf.
Navy blue is a favorite for accents in coastal and nautical kitchens, particularly New England and East Coast styles. Other accent colors befitting a coastal kitchen may include those you still find on the sea: aqua, seafoam green, sea glass blue, coral, and gray.
The East Coast coastal style may lean more into the contrast between whites and navy blue. California coastal style is more relaxed than the East Coast counterpart, with more warm tones like tans and creams.
The Florida coastal kitchen style is more similar to California styles than East Coast, but "with a kiss of Hawaii" or a tropical touch, Michael says. That's where you might find the bolder "birds of paradise" colors and vibrant greens implemented into a coastal kitchen.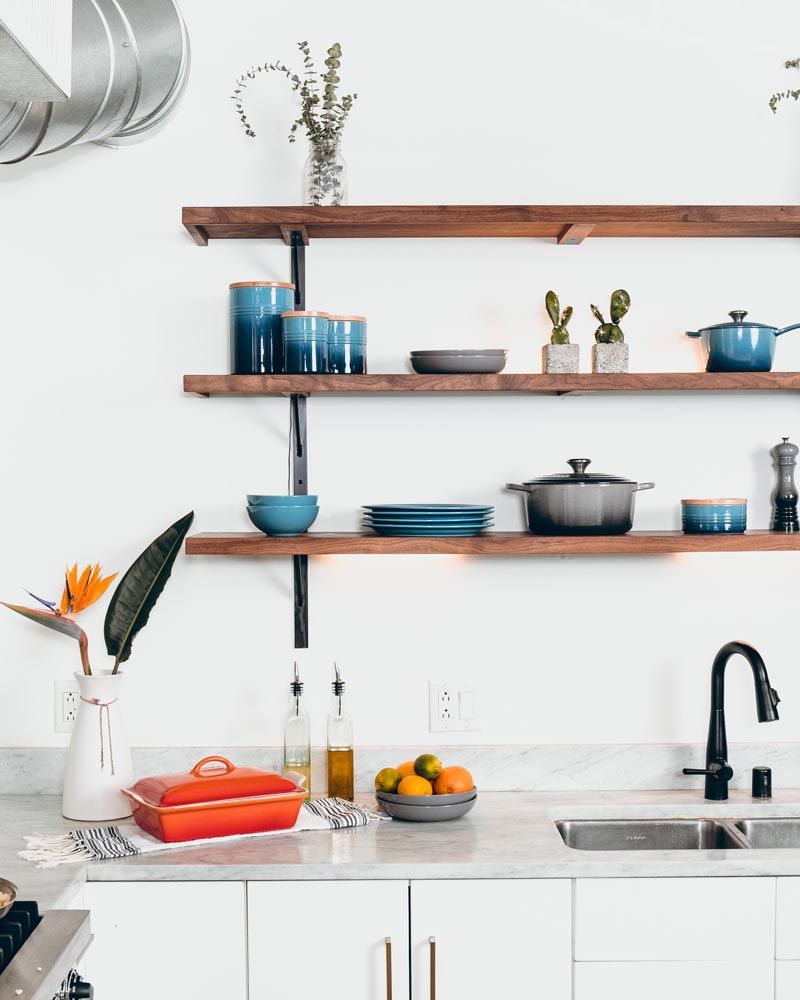 If you're opting for a Washington or Oregon coastal style, you may find more grays and greens to reflect the rocky shorelines and forests up the west coast.
For a lakehouse coastal style, you might use rich greens and wood colors to represent the rich foliage surrounding a lake.
"Anything that has water in the name is going to work in the coastal kitchen." — Andrea, Vevano Home Designer
Colors that may not work in the light and breezy coastal kitchen would be dark colors, like blacks or dark browns, since they might weigh down the airiness inherent in coastal styles. For a bit of coastal context, wood that's left in the sun on the beach would have more of the bleached wood or weathered wood look. So the wood colors you're more likely to find in coastal styles are lighter in tone.
Best Cabinets for a Coastal Kitchen
Kitchen cabinets with clean lines will work best in a coastal kitchen since refined simplicity is at the core of coastal designs.
Our expert designers also recommend slab cabinets or shaker cabinets in light colors like white, off-white, cream, or light woods to stick with the coastal theme. White kitchen cabinets are popular in coastal styles and also transition easily to other styles as well.
If you want to get creative with color, you can pair light-colored cabinets with a navy blue or even sea blue or green cabinetry. Pairing blue base cabinets with white cabinets on top is one way to play with that contrast. Another way is to have a navy kitchen island cabinet surrounded by white or light-colored base cabinets.
For a modern California or Florida coast kitchen, glossy white cabinets fit right at home. In contrast, the old-school sophistication of the East Coast might be achieved with a cabinet with minor detailing or even a glaze. New England coast styles in particular will lean more into traditional elegance. For Florida or Hawaii coast kitchen style, more tropically adorned cabinets might play into that scene.
Best Flooring for a Coastal Kitchen
Wood or wood-look flooring is an excellent choice for a coastal kitchen, particularly light woods like oak.
Light gray, white, or cream flooring, whether in luxury vinyl tile or tile, would also fit well for the classic coastal coloring while also providing underfoot a sturdy, easy-to-maintain floor.
Also, think about which coast you are trying to invoke, suggests Michael. For example, if you opt for a Mediterranean coast vibe, that's where travertine tiles can make a statement.
Best Countertops for Coastal Kitchen
A countertop that stays within the main color scheme of whites or creams will likely fit best within a beach kitchen.
The most popular coastal countertop right now is a marble-looking quartz countertop with a white color base. However, a gray or cement countertop might work well within a coastal kitchen, especially one themed after the west coast Washington or Oregon aesthetic.
A butcher block countertop would also suit a coastal kitchen with its natural element and light wood coloring.
Best Sinks & Faucets for a Coastal Kitchen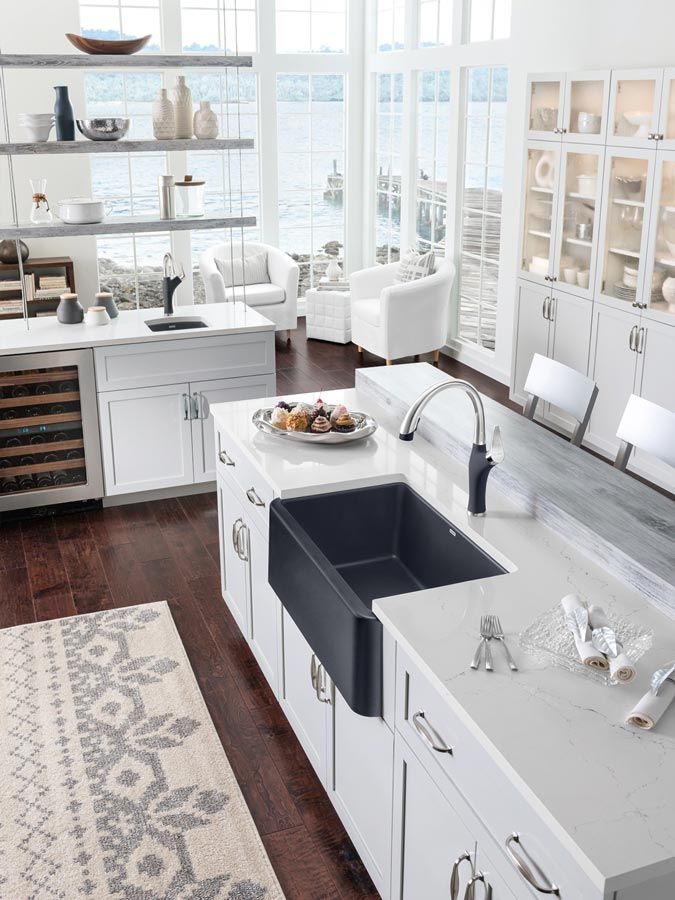 Our experts all agree that white porcelain or white granite sink would work well in a coastal kitchen. However, in terms of style, an undermount sink or farmhouse sink could fit right in.
Avoid dark-colored sinks, such as black granite or the beautiful-yet-finicky copper sink, as those might stick out among the lighter colors a beach kitchen will have. On the flipside, a dark sink can be your statement kitchen piece, as long as it's balanced by a fairly light-colored background.
For a faucet, stick to streamlined functionality, like a simple pull-down faucet in brushed nickel or chrome, to stick within the simple coastal style.
Our designers recommend avoiding faucets with coils or a lot of detailing, as that may trend more traditional or, in the case of coiled pre-rinse faucets, too industrial.
Best Lighting for a Coastal Kitchen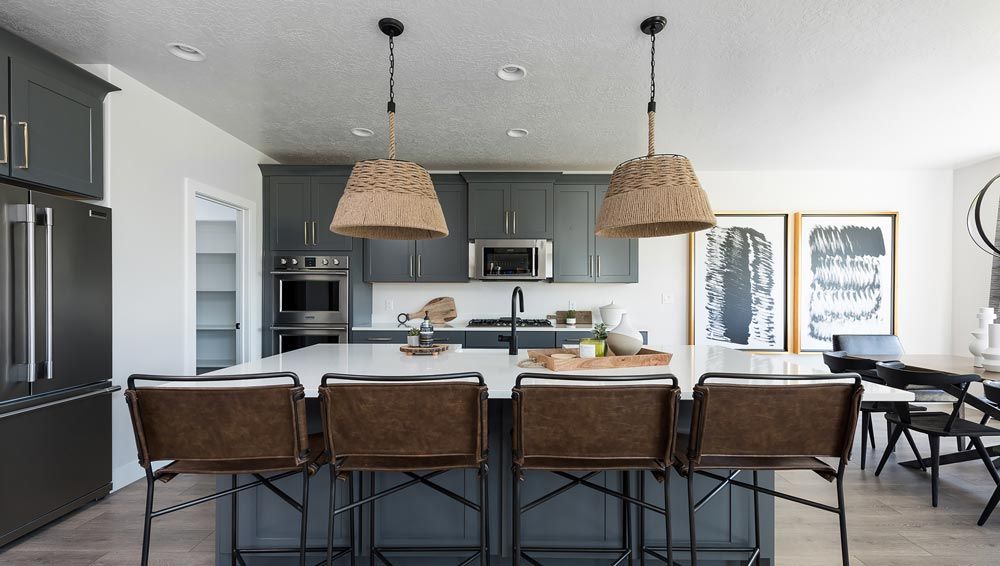 "Light fixtures in coastal designs are going to be softer and more neutral. You see a lot of glass on the beach, and so glass lighting is an easy way to tie that back in." —Andrea, Vevano Home Designer
When choosing lighting for a coastal kitchen, opt for lighting that flows with the beachy environment you're creating. For example, glass light fixtures would be a seamless addition to a beach-themed kitchen. Lighting with ropes as an accent would also contribute to a beachy feel.
Vevano Home Designer Andrea suggests that finishes like brushed nickel and chrome for lighting fixtures will blend right in with a beach or coastal kitchen.
On the other hand, bold or bright lighting fixtures may contrast too much with the light, airiness of a beach kitchen.
Beach Kitchen Decor & Accents
"Think 'what am I going to see and feel at the beach?' and try to bring that into your kitchen." —Michael, Vevano Home Designer
The beach comes with very prominent and recognizable textures and shapes. When choosing beach decor and accents for your kitchen, think about how to bring in the textures of shimmering water, weathered wood, water-eroded seaglass, and woven sailing ropes. Consider what decor and other designs will mimic the fluid and organic movement of the ocean and coastal winds.
Here are some textures and accessories to put the finishing touches on your coastal kitchen renovation.
Glass is sure to elevate any coastal kitchen as glass is reminiscent of water's reflective qualities and contributes to an open-air feeling. The translucency of a glass table, for example, makes the space still feel big while serving a purpose. Glass features can trend modern while still looking classy and clean, depending on other decor.
Other glass accessories can further accentuate the coastal look, such as lamps, jars, or mirrors.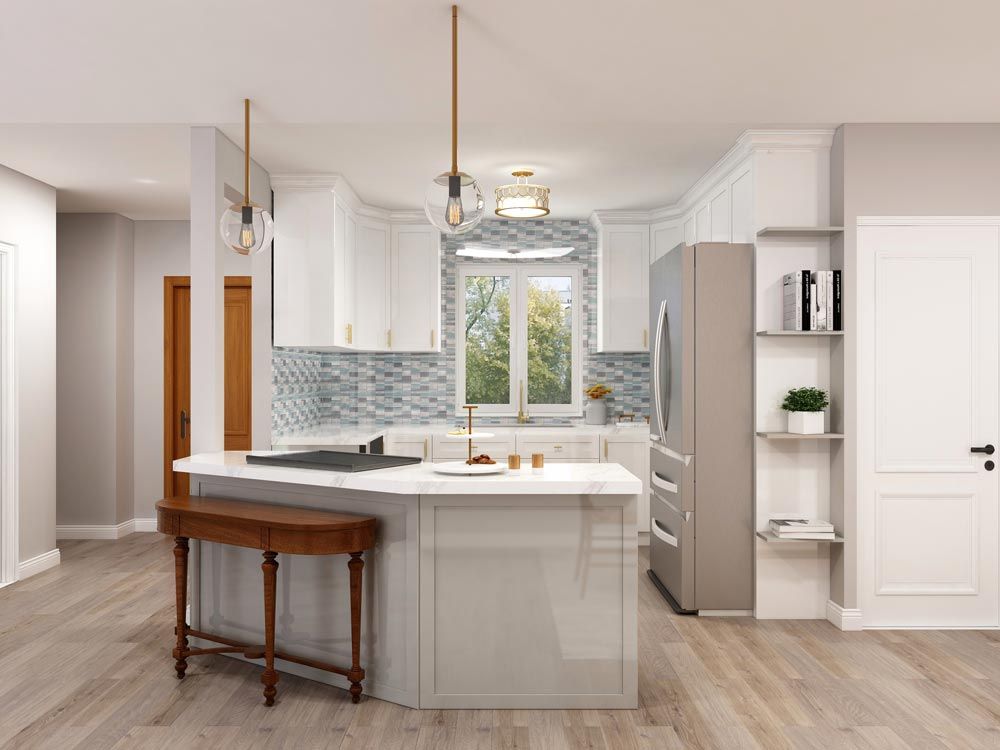 Glass backsplash, in particular, can be a great way to use this popular texture in a coastal kitchen. A mosaic sea-glass-looking backsplash could be a beautiful accent for your coastal kitchen while leaning into the reflective surface aesthetic. Even glass subway tiles or glass hexagonal backsplash could work well in a beach kitchen.
Coastal kitchen decor should highlight different things that you might find at a beach. However, be careful with going overboard. A coastal kitchen harkens back to simplicity and relaxation, so too much clutter or too many beach tokens may take away from that essence. It's about striking a balance between your textures, decor, and accessories.
Make your beach-inspired kitchen controlled, purposeful, and intentional—not simply putting seashells everywhere.
"Be careful not to go too far with the design. You want there to be a hint of the beach or a touch of the coast, not, 'Oh, we went to the party store and threw a bunch of starfish and shell decor everywhere!' Your coastal kitchen will age and transition well if it's done tastefully and in a balanced way." —Michael, Vevano Home Designer
Can You Design a Coastal Kitchen Even If You Don't Live By Water?
You absolutely can! Many people find the coastal style or beach aesthetic calming and peaceful, so that's how they bring that kind of vibe home with them—by incorporating a coastal design into their kitchens or even bathrooms. Who doesn't love a relaxing space within their home reminiscent of the beach?
"You can do whatever you want, anywhere. Follow your bliss. If you are in the middle of the desert but you want to do coastal, then do it!" —Michael, Vevano Home Designer
How Do You Want Your Coastal Kitchen to Feel?
This is the most important question to ask yourself for your kitchen remodel if you're seeking to go coastal with the design. This will determine which coastal vibe matches what you want.
Keep it simple, keep it relaxed, and keep it light. After all, that's what we all love about being at the beach, right? If you'd like an expert designer's help to bring your coastal kitchen dreams to life, reach out today.