10 Cabinet Organization Ideas + How to Organize Your Kitchen Cabinets in 3 Steps
Knowing how to organize your kitchen cabinets can add both practicality and style to the main activity hub of your home. Organizing your cabinets keeps your kitchen supplies and materials handy when you need them while also optimizing the storage available to you. It's all about making your kitchen storage space work for you.
It's easier than ever to truly customize your kitchen cabinets, thanks to a variety of styles and options of cabinet and drawer organization tools available. Taking your cabinet organization to the next level will ensure a clutter-free zone for cooking and hosting.
Kitchen cabinet organization will ultimately boil down to what will most help you in the kitchen, where, and when. Give every item in your kitchen a place to live, and you'll always know where to find it and where to put it when you're done.
Whether you have many kitchen cabinets or a tight-and-mighty few, there are ways to optimize and organize the storage space in your cupboards so it supports your activities in the kitchen.
Kitchen Drawer & Cabinet Organization Ideas
You don't need to have built-in features to create custom cabinets or drawers for your kitchen. Drawer and cabinet organizers come in different sizes and styles to assist you in organizing your existing cabinets and drawers. If you need help figuring out what will fit your cabinets to optimize the space, reach out to our designers and they can get you set up with the right kitchen cabinet accessories.
Lazy Susans are the corner cabinet's best friend. The swivel shelf is ideal where it may be an awkward fitting cabinet that's hard to access. Just a turn of the Lazy Susan and items in the back come to the front for easy grabbing! Lazy Susans work great for storing pots, pans, Tupperware (be sure to pair the lids and containers together), or even snacks or easy-to-access food. They are also super easy to clean when you pop out the spinning shelves, so Lazy Susans are also nice for food items that might be prone to spilling.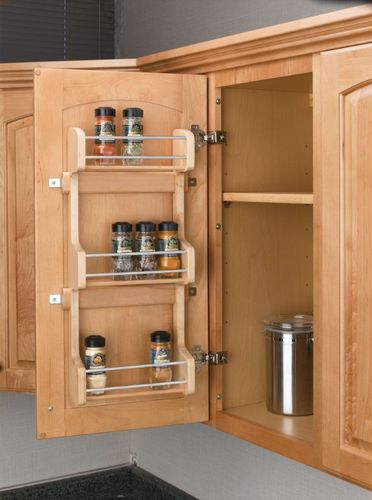 What is a meal without spices? Keep your spices handy in your cooking or prep area with a spice rack. Spice racks come in a wide variety of styles, from drawer spice organizers to cabinet door-mounted spice racks. The latter works excellent as an upper shelf attachment as it puts your spices at eye level. There are also space rack base cabinets available, which are narrow pull-out drawers specifically designed to store spices.
For added functionality, door attachments and door inserts that mount or latch onto cabinet doors provide additional options for storage–--to hold lids, for example.
You can use tray dividers to organize and easily access your cutting boards, sheet pans, pot lids, and other kitchen items.
Drawer organizers and drawer inserts are a great way to safely store your utensils, flatware, and other small dishware. Utensil trays, for example, are great for storing and organizing spoons, forks, and butter knives. For easy access, store utensils used for similar types of cooking together.
Peg-Board Inserts and Tension Rods
Larger deep drawers are well equipped to handle stacked plates and bowls, mixing bowls, food storage containers, and other supplies so your countertops can remain free of clutter. For these larger drawers, peg-board inserts or tension rods can help divide up the sections and hold larger items in place.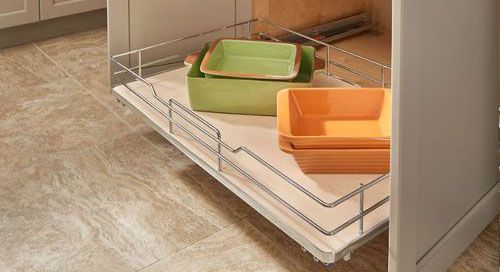 For your pots, pans, and corresponding lids, shelf organizers can help keep them organized while maintaining a tidy cabinet. Rollout shelves, in particular, are helpful for accessing larger items, especially when used in base cabinets.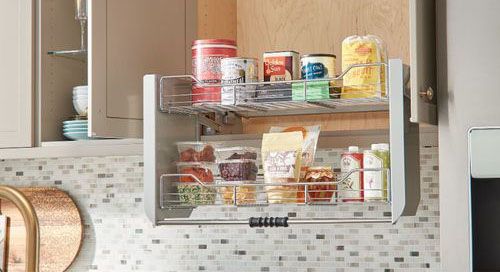 For items higher up, such as dishware and serving dishes for special occasions, pulldown shelves make it easier and safer to access high items without having to use a step ladder.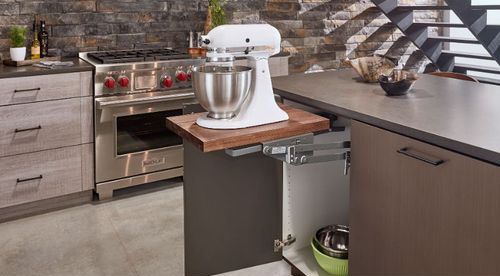 Similar to a pulldown shelf, but in reverse, you can install appliance lift shelf in your base cabinets. Not only do lift shelves provide an easy, accessible way to store an appliance like a kitchen aid, but the shelves also offer more counter space!
Floating shelves that are not contained in cabinets can add additional storage while creating variety in your design—providing a home for your commonly used items, such as bowls, mugs, etc. These work great when placed at eye level.
Whether within or outside your cabinets, you can further optimize your organization system in your kitchen with hooks or racks to hold various items. A pot or pan rack, hanging or mounted near the stove, can make a statement as decor while also providing an easily accessible storage place for small to moderately sized cookware.
Similarly, a wine or stemware rack attached underneath a cabinet provides an attractive storage solution for your glassware.
A towel rack attachment on the cabinet door beneath the sink may also come in handy.
How to Organize Your Kitchen Cabinets and Drawers
How to Maintain Kitchen Organization
The initial organizing of your kitchen cabinets is a great starting point, though regular cleaning and tidying up maintains that sense of organization. Once an area is organized, it's easier to keep organized—but that doesn't mean maintenance isn't needed.
Return your kitchen items to their designated drawer or cabinet after they have been cleaned. Regularly wipe down countertops, shelves, and handles so crumbs and germs don't stick around.
By keeping basic tidying rules in place and not simply tossing items wherever you have space, you can easily maintain the organization of your kitchen cabinets and drawers.
It's good to do a general clean-out of your kitchen cabinets once a year.
By using kitchen cabinet and drawer organization accessories, you can optimize the storage and functionality of your kitchen spaces. With a wide variety of organization tools available, you can truly customize how you organize your kitchen to suit your needs.