The Ultimate Lighting Guide: Everything You Ever Wanted to Know (and then Some)
By RaShea Drake
November 25, 2019
What you need to know to find the right light.
1. Introduction to Lighting
2. Lighting Basics to Guide You
Types of Lighting for Your Home
Every light in your home falls under one of the following categories: general, task, or accent lighting.
General lighting refers to the main light in the room. Also known as ambient lighting, this type includes both light fixtures as well as natural light coming in from skylights or windows.
Accent lighting illuminates a specific area of a room. Think of a reading chair, a kitchen island, a dining room table, or a beautiful piece of art that you want to highlight. Accent lighting targets those areas and provides enough light to cover that element without overwhelming it.
Task lighting uses light fixtures and lamps to add light to a work area. Think of a desk lamp in the office for paperwork, vanity lights to apply makeup, or a light above the sink for dishwashing. Sometimes a light falls into multiple categories. Kitchen island lights could be both accent and task lights, while track lights could be general or accent lighting. Add dimension and depth to a room by layering multiple light types together.
Which Light Temperature Works Best in Your Home?
Light bulb temperatures are measured in Kelvin (K) and most homes feature light bulbs that are in the 2,000K to 6,500K range. While the scale spans from 1,000K to 10,000K, neutral tones are around 4,000K to 4,100K. Temperatures below 4,000K shine warmer and temperatures above 4,100K glow cooler.
Warm Tones
2,000K Warm Candle Light – Very warm tones, similar to the golden glow of candlelight.
2,700K Warm Soft Light – A soft warmth that's cozy, but not as strong as candlelight. This tends to be a popular choice because of its warmth and flattering color.
Cool White/Neutrals
3,500K Bright White – Tinged with yellow for a brighter aesthetic.
4,100K Neutral White – A clean white closer to neutral without blue or yellow.
Daylight
4,500K Daylight – This is a vivid tone that skews cool, mimicking the look and brightness of daylight.
6,500K Extra Bright Daylight – Brighter than 4,500K, this temperature is dazzling with blue hues.
While color temperature preferences are personal, we do have some recommendations to get you started. Soft, warm lights work well in bedrooms, dens, and family rooms – places where you want an inviting, comfortable feeling.
We recommend bright or neutral white bulbs for areas where you need a bright, clear light, like the kitchen, bathroom, or powder room where it's important to see details.
Daylight bulbs are typically reserved for areas or workspaces where you extra bright light is helpful, like garages, basements, or with vanities.
Lumens and Watts
Lumens measure brightness levels and is especially important for LED bulbs. The higher the lumens the brighter the bulb.
Watts refer to the amount of power a bulb uses, which is important for fluorescent, incandescent, and halogen bulbs. The higher the wattage the more power the bulb uses.
Light Bulb Types: Which is Best?
Different types of light bulbs have distinct lifespans and uses, each with its own share of pros and cons. Find out whether incandescent, halogen, fluorescent, or LEDs are right for your home.
Incandescent
This type is a popular choice thanks to its beautiful warmth and how budget-friendly it is. The main drawback of incandescent bulbs is their inefficiency. Much of the wattage is turned into heat rather than light, and the average lifespan of an incandescent bulb is 1,000 hours, shorter than most other types.
Lifespan: 1,000 hours
Light Temperature: 2,700K to 3,000K
Dimmable? Yes
Halogen
A different type of incandescent with a similar lifespan. Halogen bulbs give off a bright white color, closer to daylight than standard incandescent styles. It's best to handle halogen bulbs with gloves instead of your bare hands as the oils from your skin can damage the glass, especially when the bulb is hot.
Lifespan: 1,000 hours
Light Temperature: 3,000K to 3,300K
Dimmable? Yes
Fluorescent and Compact Fluorescent Bulbs (CFL)
CFLs are 75% more energy-efficient than a standard incandescent bulb and last much longer. Fluorescent lights are also available in a range of color temperatures from 2,700K to 6,500K. However, fluorescent filaments contain traces of mercury, so keep them intact and recycle any used bulbs.
Lifespan: 8,000+ hours
Light Temperature: 2,700K to 6,500K
Dimmable? Not usually
Light-Emitting Diodes (LED)
By far, LEDs are the most energy-efficient and longest-lasting bulb type. Most LEDs are rated for at least 25,000 to 50,000 hours. While they are more expensive, they recoup the cost with their efficiency. Some models even change colors with remotes or apps. Read more info about smart bulbs in the next section.
Lifespan: 25,000+ hours
Light Temperature: 2,000K to 6,500K
Dimmable? Yes, but with requirements
Smart Light Bulbs
All smart bulbs are LEDs, but not all LED bulbs are smart bulbs. Install smart bulbs in your existing light sockets to take energy efficiency to the next level. Use a remote or smartphone app to control dimming, change the color of the bulb, or set up a schedule for your lights to conserve energy. Forget to turn off the kitchen light before bed? No problem, turn off lights from your phone. There is a higher upfront cost for smart bulbs, but the investment pays off in convenience and lifespan.
Lifespan: Varies
Light Temperature: All
Dimmable? Yes
Light Environment Ratings – Dry, Damp, and Wet
Both light bulbs and fixtures have safety ratings indicating what type of environment they are best suited for, depending on your home's floorplan and climate.
Dry Rating – Dry lights are only safe to use indoors. Place these lights in rooms without condensation or water like hallways, dining rooms, kitchens, living rooms, and closets.
Damp Rating – This type features additional seals and materials to keep moisture away from the electrical circuits, wiring, and filaments. It's designed for places with steam, moisture, or extreme temperatures. Great for bathtubs, vanities, porches, cold storage closets, and covered patios.
Wet Rating – Similar to damp rated bulbs, wet rated lights take seals and protection from water a step further. This rating works best in showers, or in outdoors light fixtures for landscape lighting, deck lights, wall lights, or any other light that is exposed to direct water, rain, or snow.
3. Lighting for Ceilings, Walls, and More
From grand chandeliers to petite lamps, we carry a wide variety of lighting options for your home. Pair different fixtures together to create a brilliant design.
Chandeliers
A stylistic centerpiece for hundreds of years, chandeliers are as popular as ever. In addition to the timeless crystal chandelier, styles have evolved to include modern, farmhouse, rustic, wood, beaded, rectangular, and even chandeliers with fans (charmingly called fandeliers). Chandeliers are most common in front entry rooms, dining areas, and living rooms, but with so many options you can easily add a statement to any room. Add one to the foyer to greet your guests, add one to the bedroom for a touch of sophistication, even add one above a bathtub for a luxurious feel. The best part about chandeliers? They are as elaborate or as simple as you like, with styles ranging from small and subtle to large and detailed.
Pendants
Flush mount lights are named for the way they hug the ceiling, making them ideal for lower ceilings. This style includes semi-flush mounts as well, which may hang a few inches from the ceiling, but not as low as a pendant or chandelier. These are one of the most flexible types of lights, best for entryways, porches, closets, basements, and bathrooms. Designs range from subtle and sleek to ornate and eye-catching.
Recessed Lights
Recessed lights are popular with both low and vaulted ceilings since they provide an even amount of light. Use a single light or group multiple lights three to six feet apart to provide full, even lighting across a room. These work especially well when paired with pendants or chandeliers, adding an extra layer of illumination without interfering with the style. The simple design of recessed lights makes them a popular choice for kitchens, living rooms, and bathrooms.
Track Lighting
Track lighting is a flexible lighting style with multiple light heads, or pendants, on a track to highlight specific features in a room. They work as general, task, or accent lighting depending on the number of heads you use. Tracks are available in straight or curved styles, with a selection of accessories available for turns, curves, or joining multiple tracks together. If you're looking for a way to customize the lighting in your home, then this style is a great choice. Since light heads are flexible, you can reposition and rearrange them to customize your room. The most popular uses for track lighting include highlighting art, photos, or workspaces.
Lights with Fans
Solve two problems with one fixture when you buy a ceiling light with a fan. Fans help keep energy costs low by circulating air around the room, while still providing light when needed. This is a great choice for bedrooms, family rooms, and patios. The bigger the fan, the more air it circulates to keep the area cool. These styles also range from classic to modern, with multiple colors to fit your home aesthetic.
What About Wall Lights and Sconces?
Bathroom Vanity Lights
Vanity lights mount above the mirror in a bathroom or vanity area. There are two different types of vanity lights: bar lights that install above the mirror and sconce lights that install on either side of the mirror. Choose above-mirror vanity bars that are shorter or as wide as the vanity and installed about 75 inches on the wall above the floor to provide the best illumination to your face. Install sconces at eye level if possible, between 60 and 70 inches from the floor. They help with morning and evening routines like shaving, hair styling, brushing your teeth, flossing, applying or removing makeup, or any other task where full, even lighting is important.
Sconces
Sconces are a perfect way to accent other lights in a room. They work well with bathroom vanities, but they also have other applications. Sconces pair well with reading nooks, bedsides, hallways, living rooms, bedrooms, and kitchens. They look great alone or paired with art, photographs, mirrors, fireplaces, or chandeliers. They have the uncanny ability to look traditional yet contemporary, making them design chameleons and a popular choice for your home.
LED Mirrors
LED mirrors integrate the energy efficiency of LED directly into the mirror itself. This provides lighting all around the mirror, giving you consistent, even light over the length of the mirror. They lend an upscale look to your room and provide a larger reflective area than smaller LED beauty mirrors. LEDs are rated to last for tens of thousands of hours, so they're a solid option for your vanity.
Lamps & Shades
Where lights you install are meant to be lasting fixtures, lamps and shades are easier to replace as your style and needs evolve. Add a table lamp to complete an office, reading nook, or bedroom. Thinking about a new rug or color palette? Simply change the shade and keep your favorite lamp base. Lamps come in all shapes, sizes, finishes, and styles, from floor lamps to desk and table lamps. Combine furniture and light together to create eye-catching yet functional décor. The options are endless.
4. Lighting by Room
Each room has a different purpose, and the lighting you choose affects the kind of environment you want to create. Your kitchen has a different aesthetic than your bedroom, which is different than your bathroom. Find out what works best where below.
What to Think About for Your Kitchen Lighting
Kitchens usually feature more lighting than any other room. It's the epicenter of conversation, cooking, food prep, eating, cleaning, and storing food and utensils. Because it serves so many purposes, there's a range of kitchen lighting options available. A good guideline to follow is to make the space look as open and bright as possible since shadows have a dimming effect on the entire room.
To accomplish a bright, clean look, layer different light types together. For general lighting, which is the main light in addition to windows, install recessed lights, flush mounts, or larger light fixtures. Then with accent and task lighting, include island lights and lights over the dining table to highlight these elements. Place lights under wall cabinets to chase away shadows and create a brighter counter space. By layering lights together, you create a more inviting atmosphere.
Vivid Lighting for Your Vanity and Bathroom
The most important thing for installing bathroom lights is to use fixtures rated for damp or wet areas. Check product descriptions as you shop to find the listed safety ratings. Other than that, bathroom lights are flexible as far as style and type are concerned. Recessed lights above showers and bathtubs are common and reliable choices to provide even illumination. To add a stylistic touch, check out pendants or chandeliers to hang above drop-in or freestanding bathtubs.
Pair other light types above with sconces, vanity lights, or LED mirrors to complete the look of your bathroom. Vanity lights are perfect if you have a narrow vanity or small bathroom, while sconces work best in pairs to provide even lighting.
Beautiful Bedroom Lighting
Where kitchens and bathrooms rely on bright, even lighting, bedrooms are all about comfort and coziness. Bedroom lights range from warm and simple to brilliantly decorative, every detail contributing to a sense of contentment. For simplicity, add a ceiling light as the main fixture with a pair of bedside sconces or table lamps. For an ornate look, add floor lamps, recessed lights, or track lighting to brighten up the room and add more focal points.
Lovely Living Room Lights
Living rooms are an ideal area to layer general, accent, and task lighting. Where a kitchen features practical lighting for cooking and entertaining, living room lighting showcases your personality. Pair a lighted ceiling fan or a flush mount with some lamps for a classic look. Add a large chandelier to make a statement, go more subtle with recessed lights, or pair both together for a dazzling atmosphere. Highlight art pieces, photographs, or your favorite chair with accent lighting, or create the perfect nook with task lights. Where the bedroom is your haven away from the world, the living room underscores your style and home for all to see.
Exceptional Entryway and Hallway Lighting
Entryways are the first impression of your home's interior, whereas hallways lead to other rooms. In these areas, your eyes are looking for something to draw their attention. A chandelier or pendant in an entryway makes a welcoming statement. For lower ceilings check out flush, semi-flush mount, or recessed lights. For an art gallery effect, add sconces or track lights to highlight photographs, posters, hangings, or interesting décor.
Outstanding Outdoor Lights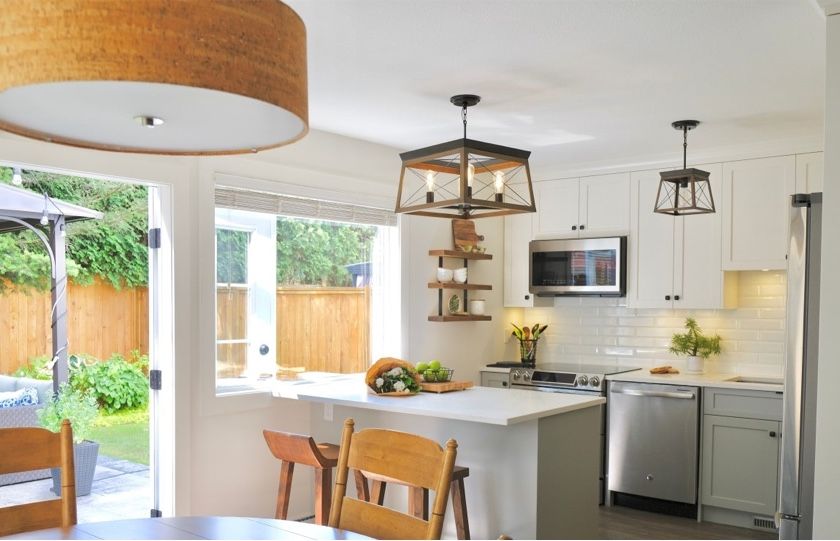 Farmhouse lights have a rustic simplicity to them, relying on clean lines and bright light. Wood, iron, matte black, and antique white are all popular farmhouse finishes. Farmhouse lights include chandeliers, pendants, sconces, flush mounts and ceiling fans.
Modern
Modern lights focus on bold statement pieces in shiny chrome, glass, black, or metallic finishes. They celebrate clean lines, avoiding additional ornamentation like crystal, relying instead on minimalism to make a statement. Modern lights are available in chandeliers, pendants, flush mounts, sconces, track lights, and ceiling fans.
Transitional
Transitional lights are flexible, borrowing design aspects from other styles like traditional and modern to create a unique look. Since this design is characterized by combining styles, almost every kind of lighting fit within this aesthetic. Check out transitional lighting, including pendants, flush mounts, chandeliers, and more.
Classic
Classic lighting holds a timeless charm, emphasizing traditional finishes like satin nickel, polished brass, oil-rubbed bronze, and iron. This style highlights extra little details that add character to a piece, like crystal, candelabra bulbs, and shades. Browse through classic chandeliers, pendants, sconces, flush mounts, and more.
Cottage