What is a 10x10 Kitchen Layout? Compare 10x10 Cabinet Remodel Costs
By Mikael Short
April 13, 2022
While planning for your kitchen remodel, it may be helpful to know what the different specs and dimensions of cabinets mean so you know what to look for.
A term you might see while shopping online for new kitchen cabinets is a 10x10 kitchen layout or a 10x10 kitchen cabinet collection.
Both of these indicate a base set of cabinetry that can fit many kitchens, however, the 10x10 kitchen cabinet serves a specific purpose—one that will help with budgeting for your new cabinets.
What is a 10x10 kitchen layout?
The 10x10 kitchen layout is a standard dimension that cabinet retailers use to help you estimate and compare the cost of new cabinets for your kitchen. The 10x10 represents the square footage of a kitchen, 100 square feet in total—the size of most small to average kitchen layouts.
Although your own kitchen may be more or less than 100 square feet, this 10x10 cabinet pricing estimate can help you narrow your search down to a cabinet collection that fits your budget, functionality, and desired design.
While a 10x10 kitchen gives a good starting point for price, most kitchen renovation projects will require a custom cabinet quote and design from a professional so that the cabinets you order fit the actual dimensions of your kitchen.
Still, browsing 10x10 kitchens is a fantastic way to start estimating and comparing the cost of cabinets for your kitchen remodel. You'll have a better understanding of how the cabinet door style, material, finish, and overall design of the cabinet affect the price.
Cost of a 10x10 Kitchen Remodel
A lot goes into remodeling a kitchen. Since your personal needs and desires guide your remodel, we cannot give a definitive answer for individual kitchen remodels. But we can help you calculate an estimate for how much a kitchen remodel costs.
Low-cost remodel: $100+ per square foot
Refreshing kitchen features, painting, and updating to lighting, sinks/faucets, or backsplash, keeping the layout intact

10x10 kitchen layout cost = $10,000+
Mid-cost remodel: $200+ per square foot
Replacing considerable kitchen features like cabinets, flooring, countertops, or appliances with other updates

10x10 kitchen layout cost= $20,000+
High-cost remodel: $300+ per square foot
Redesigning the kitchen layout, custom or high-end cabinetry, and replacements to completely transform the kitchen

10x10 kitchen layout cost= $30,000+
For context with the rest of your budget, replacing cabinets fall in the mid-range remodeling category, and they may take up about 30% of your remodeling budget, according to the National Kitchen & Bath Association (NKBA).
What do 10x10 kitchen cabinets cost?
A 10x10 kitchen cabinet layout has a range of prices, and that price will largely reflect the quality of the cabinets themselves, determined by the cabinet material and design.
For example, the classically sturdy solid wood cabinets will have a higher price tag than melamine or laminate cabinets. In terms of cabinet door styles, slab cabinet doors may also be more affordable than recessed, raised, or Shaker style cabinet doors due to less attention to detail during manufacturing.
The cost of cabinets is also greatly affected by whether they are stock, semi-custom, or custom in design.
Stock Cabinet Pricing: $100 - $300 per linear square foot

Semi-custom Cabinet Pricing: $150 - $650 per linear square foot

Custom Cabinet Pricing: $500 - $1,200 per linear square foot
Stock cabinetry means they are readily available as well as quick to ship and install (not low quality like some assume). Semi-custom is a happy medium between stock and custom cabinetry, where you have more finishes and variety in sizing available, though it may take a little longer to get to you with the personalized touches. And custom cabinetry is where cabinets are made to order for your desires and specifications, so the cost and the wait time are higher.
On the low end of the cost spectrum, you might find 10x10 kitchen cabinets for $2,000. The cost of 10x10 kitchen cabinets goes up from there, with the average for high quality semi-custom cabinets in the $4,000-$6,000 range.
Vevano Home carries 10x10 kitchen cabinet collections that range in price from $1,999 to about $4,300.
Depending on how you need or want to customize your cabinets and kitchen layout, the total cost may go up or down from the 10x10 kitchen cabinet estimate.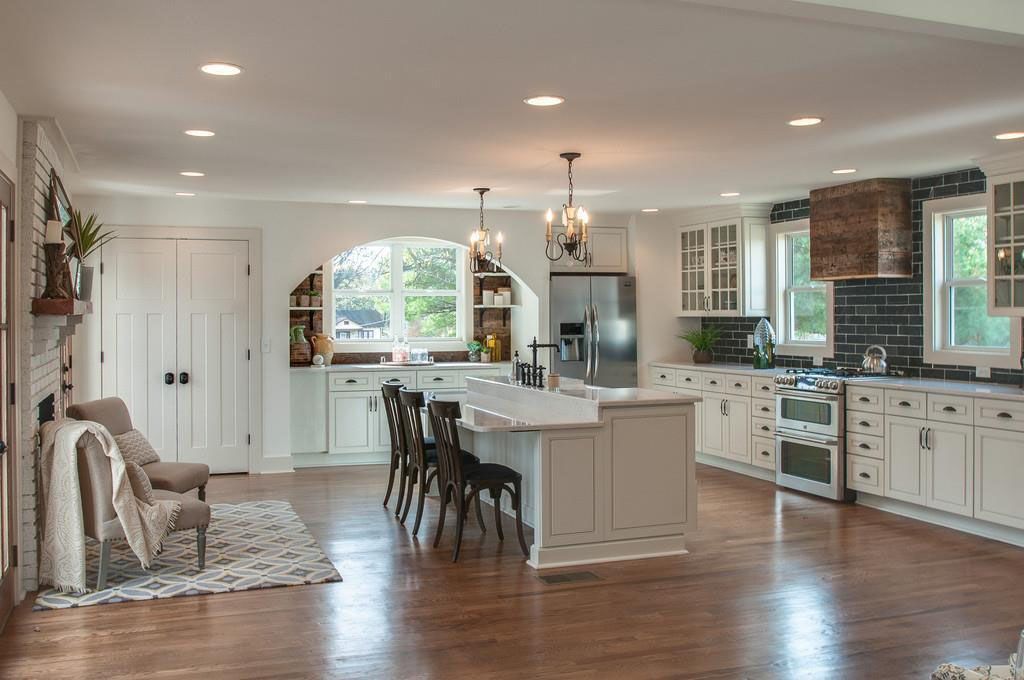 Lastly, how the cabinets are delivered will also affect overall cost. RTA (ready-to-assemble) cabinets come in flat packaging for easy shipping and typically cost less than pre-assembled cabinets. However, pre-assembled cabinets come with professional grade construction, though they cost more for the upfront labor of pre-assembly and cost more to ship due to their bulk.
Quality kitchen cabinets can last for decades, so that initial investment can go a long way. Just remember to factor in labor and installation costs as well, which could add 20-30% to your new cabinet installation.
What is included in a 10x10 kitchen cabinet collection?
The standard 10x10 cabinet collection often has 10-12 specifically sized cabinets in total, including base, wall, and tall cabinets plus accessories (toe kicks, etc.), most often to fit an L-shaped kitchen layout.
Your cabinet order may include more or less based on the size of your kitchen, the cabinets you select, and any customization added (such as adding in a Lazy Susan or other built-in cabinet organization tools).
The price of a 10x10 kitchen cabinet collection does not reflect the cost of installation, labor, or other features needed to complete the look and function of your kitchen such as the countertop, appliances, sink/faucet, additional hardware, decorative door panels, or crown molding.
What is the typical layout of a 10x10 kitchen?
Most 10x10 kitchen cabinet collections are found in the shape of an L-shaped kitchen layout—a classic kitchen layout that optimizes space, functionality, and efficiency in the kitchen.
There are other kitchen layouts available in 10x10 kitchen cabinet collections, such as a galley kitchen, but L-shaped is the go-to industry standard for cabinet sales.
Each kitchen is unique, so the standard 10x10 kitchen cabinet set may not fit perfectly. However, the L-shaped kitchen layout offers each of the different kinds of cabinets available to adorn and optimize your kitchen.
Getting accurate measurements of your space are essential to find a cabinet set to fit. Many 10x10 kitchen cabinets can be adapted for your space with dimensions and careful planning.
Find the Perfect 10x10 Kitchen Layout Fit
To sum up: Looking at 10x10 cabinet selections is a great way to easily compare total prices on the material and style of cabinetry you want. They also provide basic cabinetry required in any kitchen, to your needs and specifications.
Once you have an idea of the style and material, we highly recommend working with an interior designer to help you ensure the proper fit and the best use of the space in your kitchen with your design & functionality needs and budget in mind.
An interior designer can help you ensure proper measurements and provide 3D renderings and samples to ensure the layout and the design fit what you want. Interior designers also have the training and intel to offer more budget-friendly solutions that still match the vision you have.
To get started on your kitchen remodel with an expert designer, reach out to our team for your free consultation today.