10 Modern Kitchen Ideas for a Sleek, Cutting-Edge Design
November 11, 2021
Mikael Short
When it comes to designing a modern kitchen design, the motto is form follows function. In other words, the shape of the object should relate to the purpose it serves. In modern designs, everything should serve a purpose, and what better place to optimize function and style than the busy hub of your kitchen?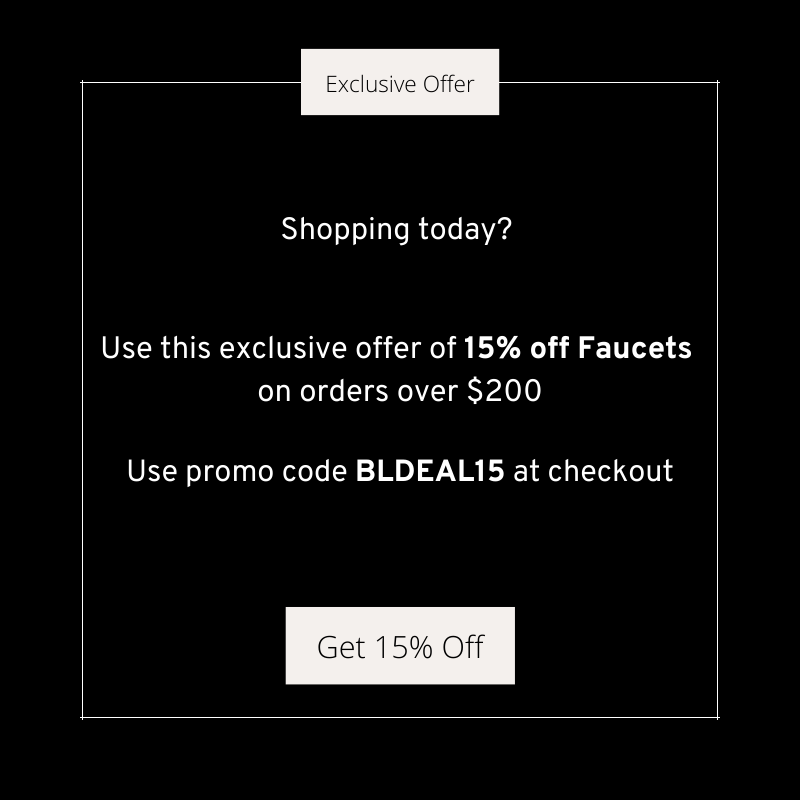 The standard modern aesthetic is sleek and minimalistic in nature, with clean, straight lines throughout and open areas. Modern kitchens are known for uncluttered, functional spaciousness. The openness is used just as much as any decor, and everything has its place to minimize clutter.
"Modernistic style really comes down to two things: simplicity and functionality. Make sure everything has a purpose." —Martha McNamara
While modern style has been around for some time, it's seeing a resurgence in popularity, especially since hybrid styles lean on the clean lines and functionality the modern style brings. The kitchen is also a prime place to allow the modern style to highlight beautiful sleek designs and optimal functionality.
What is Modern Kitchen Design?
The beauty of modern design lies in its functional simplicity: straight lines, neutral colors, and uncluttered surfaces and textures. These features are easily translated into a kitchen.
Open spaces are also a signature of modern designs. Relying on natural lighting from windows contributes to that spacious feel in a modern kitchen.
"Natural light is key to achieving a modern interior style. Windows open up the room and help to provide those essential vertical and horizontal lines." —Martha McNamara, Vevano Director of Product and Design
The primary shapes in a modern kitchen are straight lines, whether vertical or horizontal. You can create this effect with simple, streamlined cabinet designs, solid yet neutral colors, or simple linear patterns.
The point in modern design is that everything serves a purpose and everything has its place. Another popular descriptor is raison d'être, which means "reason to be" in French. No clutter means cleaner lines to emphasize a modern aesthetic.
Like minimalist designs, which are a bit more extreme and stark, modern designs take inspiration from Scandinavian design styles where style follows function. Less is more when it comes to modern design.
Modern Kitchen Color Palette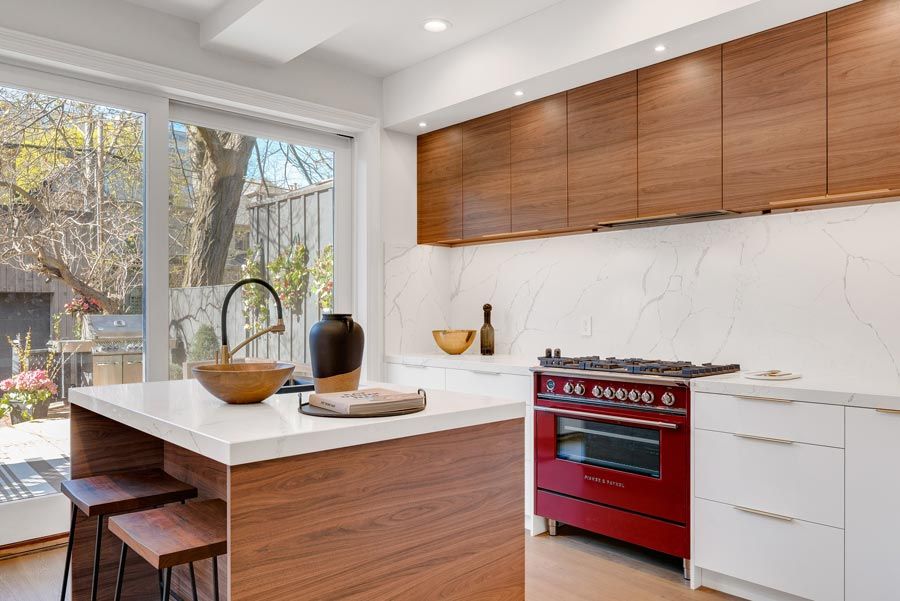 The colors that make up a modern kitchen design are primarily neutral with bold splashes or pops of color. The colors you'll most often find in a modern kitchen are whites, blacks, grays, and other neutral or even natural tones, like light wood.
In terms of accent colors to draw the eye, bold colors are welcome in small amounts in modern design, such as bright primary colors like red, blue, and yellow.
"When it comes to colors, neutral tones should take priority, followed by shades of white, then black. Embrace natural elements such as wood grain and leather." – Martha McNamara
Modern takes pieces from both natural and industrial to enhance its form-follows-function design.
Modern finishes for your kitchen might include chrome, steel, glass, and even wood. Reflective surfaces and fixtures are perfect for reflecting modern stylings. Whereas, if you're craving a bit more warmth in your modern kitchen, wood-look and wood colors can help to soften up the room too.
Pairing steel fixtures and elements with wood is not unheard of in modern styles. Leather could also be a complementary texture in a modern kitchen, especially in upholstery like dining chairs or stools.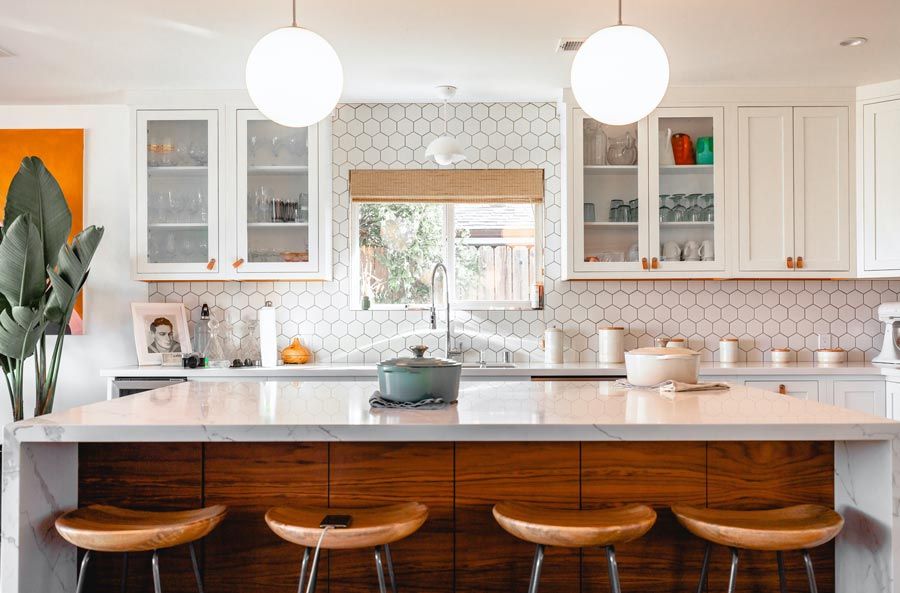 Modern design is often incorporated into other kitchen design types thanks to its simple and sleek appearance, clean lines, and functionality. For example, the modern farmhouse kitchen is also a very popular design style for its beautiful simplicity with warmer decorative touches. And mid-century modern harkens back to modern's clean lines and functionality but with more variety in shapes and contrasting natural materials.
Know that modern style is different from contemporary style, even if both modern and contemporary mean the same thing in the dictionary. Contemporary styles rely on what designs are trending at the moment and change with the times. In contrast, the modern style has a distinct look and function that emerged in the 1930s with clean lines, a neutral color palette, and utility as a priority.
10 Ideas to Make Your Kitchen More Modern
The sleek and minimalist modern vibe is popular to create a clean and clear kitchen to work from. You can absolutely achieve a modern style in your kitchen through minor renovations.
In modern styles, furniture and décor should be both beautiful and purposeful in design and placement. The key is that you should only see the cabinets and the countertops. Vevano Home Designer Michael says, "You shouldn't see very much stuff."
If you're looking to update your outdated kitchen, here are ten modern kitchen design ideas to transform your kitchen with a minimalistic yet functional modern flair.
1. Opt for Minimally Designed Cabinets
Modern kitchen cabinets are simple in style yet highly functional. They often lack ornamentation or other decorative features, opting for streamlined and straightforward styles.
Slab-style frameless doors are the most popular modern cabinet door style. If you don't want to replace your cabinets entirely, you can always replace just the doors to achieve the modern style you want.
Modern kitchens will highlight cabinets in neutral colors, if not white or gray tones. White gloss cabinets, in particular, are quite popular in modern kitchen designs, though matte white also fits in.
Contrasting the colors of your cabinets with floors, wall paint, and décor is another great way to add modern flair to the main hub of your home. Some ideas to add contrasting modern flair might be to pair white cabinets with a navy blue kitchen cabinet island or dark gray or black cabinets with a white countertop. Using the contrast of light and dark colors is a modern technique to draw attention or intrigue in a monochromatic kitchen.
Another way to add modern flair to your kitchen cabinets is to consider cabinets that function in unconventional ways that still offer functionality. Some modern cabinets open up rather from left to right!
"Instead of upper cabinets that open with hinges, you could have flip-up door cabinets—something that shows you're thinking outside of the box. You can take normal, standard designs and make them even more functional." —Madi, Vevano Home Designer
Less is more with modern cabinets, so select a collection without recessed or raised panels. We have various frameless cabinets that work well with a modern design style, as they have clean, straight lines.
Form and function are essential in modern cabinetry so select base cabinets with rollout shelves or hidden trash compartments to maximize space and add convenience.
2. Ramp Up Your Cabinet Organization
Even if you don't see the functionality through the minimalistic modern design, the sleek exterior of modern cabinets could open to reveal a host of organizational tools that maximize the space in your cabinets.
You can strategically organize your cabinet and drawer space with lazy-susans, pull-out shelves (like a between-cabinet pull-out organizer), spice organizers, blind corner optimizers, and so much more. To make your heavy items stored in cabinets easier to access, base cabinet appliance lifts are also available.
In-cabinet storage space will allow for clear countertop space and clean lines to prevail in your kitchen. Give your cabinets a modern upgrade with utility to spare with such cabinet organizers.
Nowadays, a wide variety of cabinet organization ideas and tools are available to keep your cooking tools out of sight but ready to pull out!
3. Brush Up Your Hardware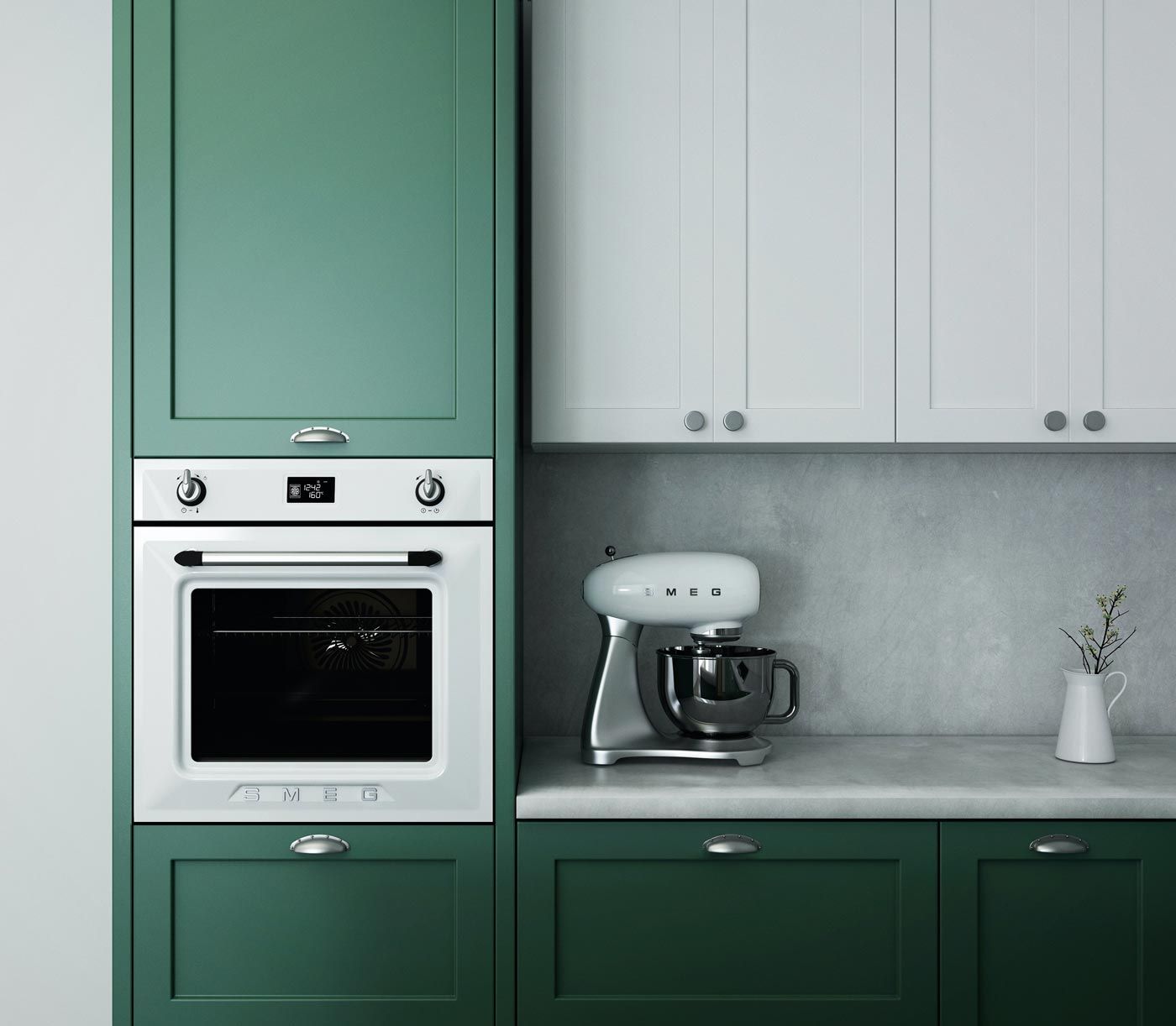 Replacing the hardware in your kitchen is a quick and easy way to modernize your kitchen.
Pulls and knobs are welcome in modern styles, though pulls are a more popular choice. Handles that lean industrial or farmhouse in style may also work well in a modern kitchen. Look for straight, angular lines to match the modern theme.
Hardware with too much ornamentation or swirling decorations may look out of place in a modern kitchen unless you're going for a modern farmhouse look.
Chrome and steel, as well as other metals, are mainstay hardware finishes in modern styles. Textures such as brushed, polished, matte, or satin are also very popular with modern kitchen cabinet designs.
Easy-to-grab pulls with simple designs are best for continuing the pure-modern aesthetic of your kitchen.
Use as much natural light as possible before you add in other light fixtures. Natural light from windows will open up a room and make it look bigger. Square or rectangle windows will work well in a modern kitchen, thanks to their straight lines.
From there, use lighting for functional purposes, such as under-cabinet task lighting or a pendant light over the kitchen island.
Ideal finishes for modern lighting fixtures include metals, glass, and wood.
A statement lighting piece is a great way to add your personality to the sleek modern style. One way to make your lighting fixture pop would be to maintain a matte black finish on the rest of your kitchen hardware and then using a gold finish on your lighting fixture.
"You could have a super sleek, minimalistic kitchen but a very expensive light fixture or elaborate island. You can channel your expenses into a statement piece to make it pop in your modern kitchen." —Michael, Vevano Home Designer
In terms of what to avoid in lighting to stay modern, our designers recommend avoiding lanterns or crystal chandeliers that would come across as too traditional.
The idea of a modern countertop is simple—keep it clear and clean.
Quartz or marble would be welcome materials in a modern kitchen, particularly engineered quartz countertops.
When it comes to color, select countertops with neutral tones to enhance your modern kitchen. Anything too bold in color or overly veiny doesn't necessarily fit the neutral modern color scheme.
For a dramatic modern contrast, Vevano Home designers say that black quartz with white veining countertop would pop deliciously among white cabinets.
6. Find Your Faucet & Sink
Minimalistic styles and simple shapes for faucets and sinks are ideal for a modern kitchen.
Our designers recommend a sleek pull-down faucet to fit a modern sink, such as the touch-less pull-down faucet in matte black.
Undermount sinks are "the way to go," as our designers suggest maintaining clean lines from the countertop into the basin. Stainless steel works great for functionality and for a modern sink material.
Our designers recommend avoiding farmhouse sinks and drop-in sinks since they don't provide clean, straight lines inherent in modern styles, and they may be more fitting for traditional or farmhouse style kitchens.
Since functionality is king, you can optimize your sink area with cutting boards and other integrated accessories. Look for sleek, minimal sink accessories so your sink doesn't look too cluttered.
7. Back It Up with Backsplash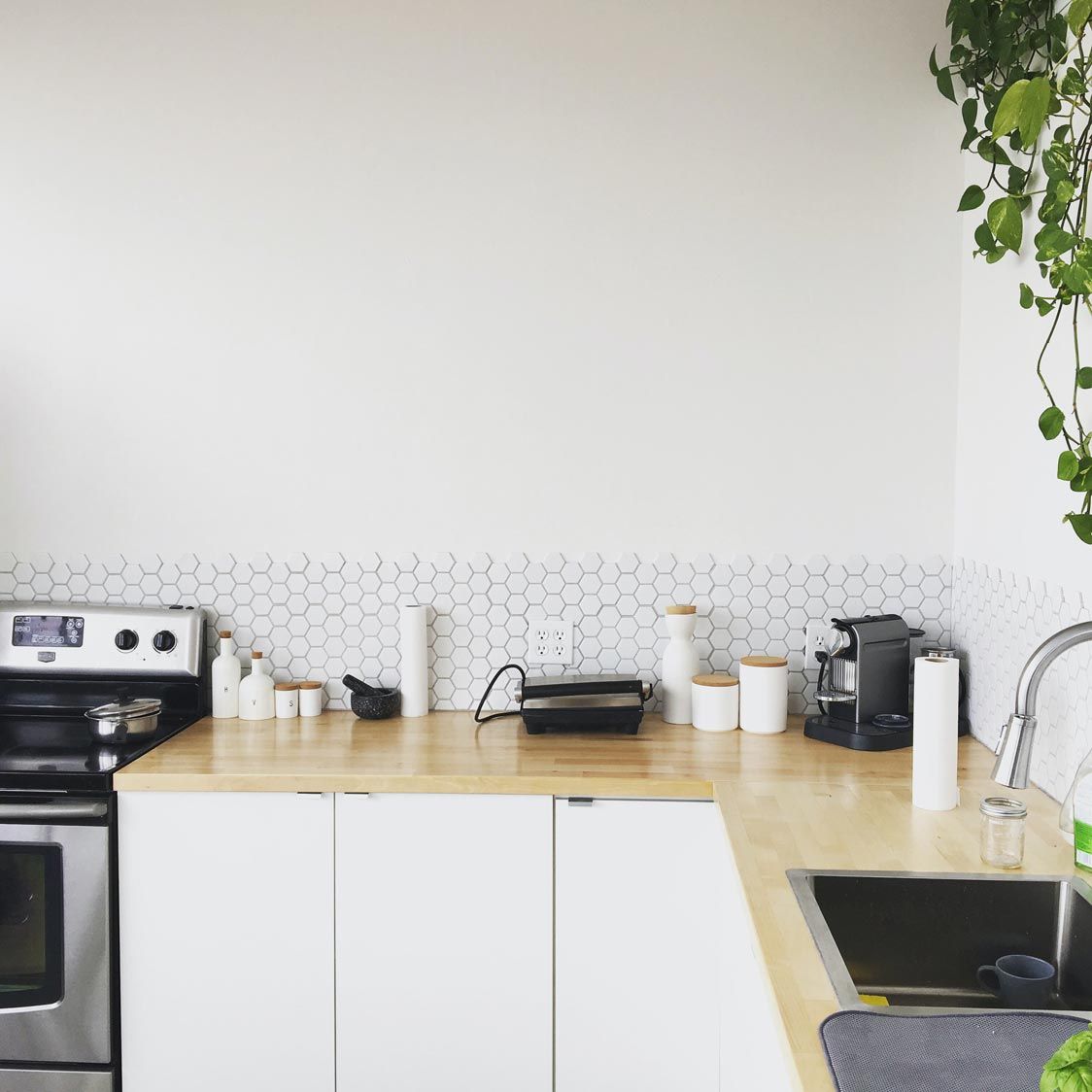 Some people like to use a backsplash to add a pop of color to their kitchen. For a modern kitchen, it's better to keep backsplash tiles neutral in color and simple in shape.
Vevano Home designers recommend hexagonal tiles or a linear glass tile for backsplash in a modern kitchen. Another idea would be to extend the countertop material up the walls to keep the design uniform.
While subway tiles could be used in a modern kitchen, our designers say they may suit other styles better, such as contemporary or farmhouse.
8. Neutral Floors for Focus
In a modern kitchen, it's unlikely your floor will be a statement piece. A neutral-toned floor would best underscore a modern kitchen to allow other focal points to draw your attention. Whites, light grays, or black floors would be ideal in a modern kitchen.
Natural elements or colors work well as modern floors, particularly natural wood tones, which can be achieved through luxury vinyl tile (LVT) or tile. Light wood would also feature well as a flooring color in a modern kitchen since it's neutral enough in tone to fit in the modern color scheme.
Artwork is one of the preferred ways to add a small pop of color to a modern kitchen.
Deco art that fits within the modern style would be one to three art pieces featured on the walls, such as abstract art or a short photo series.
Stick to simple frames or frameless art pieces to keep with the modern theme. Similarly, it's best to avoid art with added ornamentation or complex detailing.
"Instead of the whole canvas being colorful, choose a mostly gray or neutral-colored art piece with a stripe or pop of color." —Michael, Vevano Home Designer
10. Clear Up Your Windows
Natural light from windows helps contribute to an open space that is befitting a modern kitchen. To maintain a modern aesthetic, keep your window treatments like curtains and shades minimal, if not simple and streamlined.
Focus on highlighting clean and straight lines from your windows to optimize the light and make the kitchen feel more spacious.
In the end… A modern kitchen is sleek, clean & functional
With these modern kitchen design ideas, you have plenty of options when it comes to transforming your kitchen into a modern masterpiece.
Sticking to a neutral color palette of whites, grays, and blacks with a little pop of color, as well as focusing on straight vertical and horizontal lines, will do the trick to achieve a modern aesthetic.
You can keep it simple by cleaning up the lines in the kitchen layout by replacing your cabinet doors, streamlining your hardware, or adding useful cabinet organization tools. Or you can go big and replace your cabinets, countertops, and other finishes in your kitchen to create a modern kitchen.
If you'd like guidance in modernizing your kitchen, Vevano Home designers would love to support you. Reach out today to see how you can elevate your kitchen to a modern style!