How to Design a Modern Farmhouse Kitchen
By Mikael Short
September 23, 2021
We interviewed multiple design professionals to create guides about the most popular interior design styles. After you've finished with modern farmhouse design, check out other styles on the Vevano Home Design 101. If you like modern farmhouse, you may also be interested in transitional design.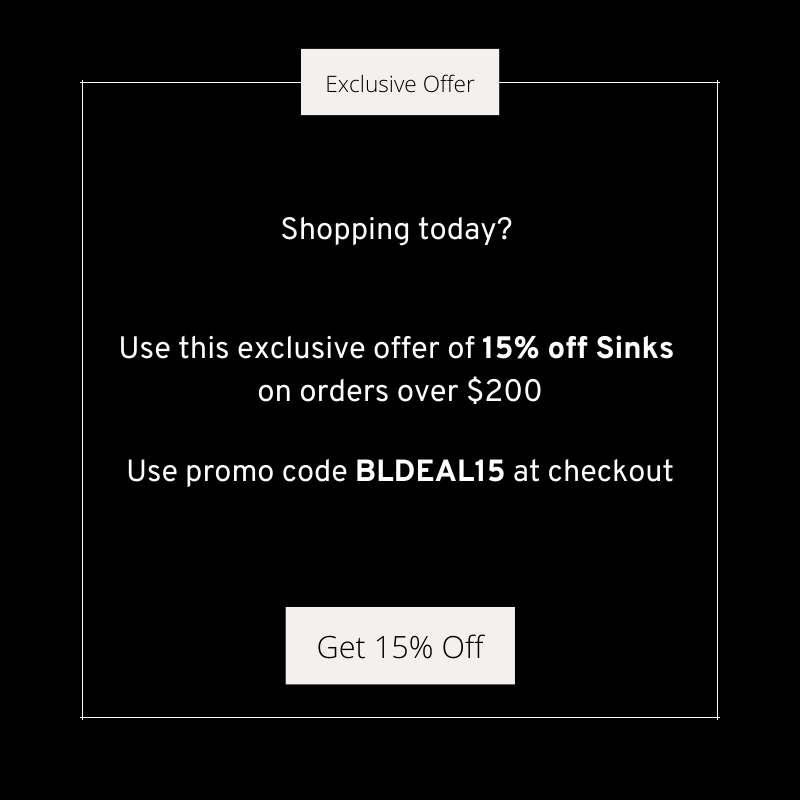 Want the charm of a traditional farmhouse kitchen with the sophistication of minimalist design and modern functionality? If so, you've come to the right place. With the help of expert interior designers, we've outlined everything you need to know about designing the perfect modern farmhouse kitchen for your home.
What Is Modern Farmhouse Style?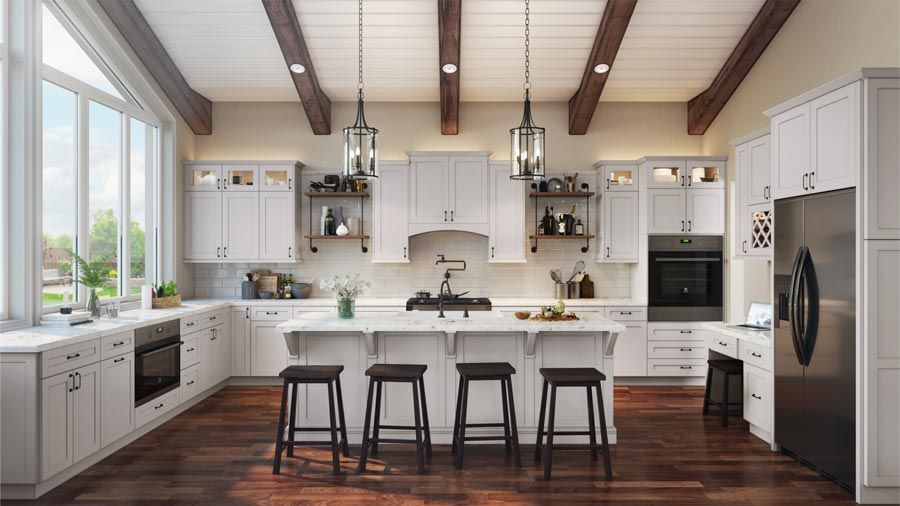 At its core, the modern farmhouse style has the foundation of traditional farmhouse style—practicality and comfort, focusing on natural elements—topped off with modern designs and features. Modern farmhouse design balances the clean, streamlined approach of contemporary styles with warm, rustic callbacks to traditional farmhouse decor.
Modern Farmhouse vs. Traditional Farmhouse
The traditional farmhouse style encourages warmth by using natural elements—wood, iron, metal, etc.—and vintage features to create a cozy yet practical feel. Traditional farmhouse design might be described as "shabby chic" or because the style often incorporates aged or antique decor for a more inviting, homey interior—similar to cottage interior design.
The modern farmhouse kitchen displays minimal details and modern finishes.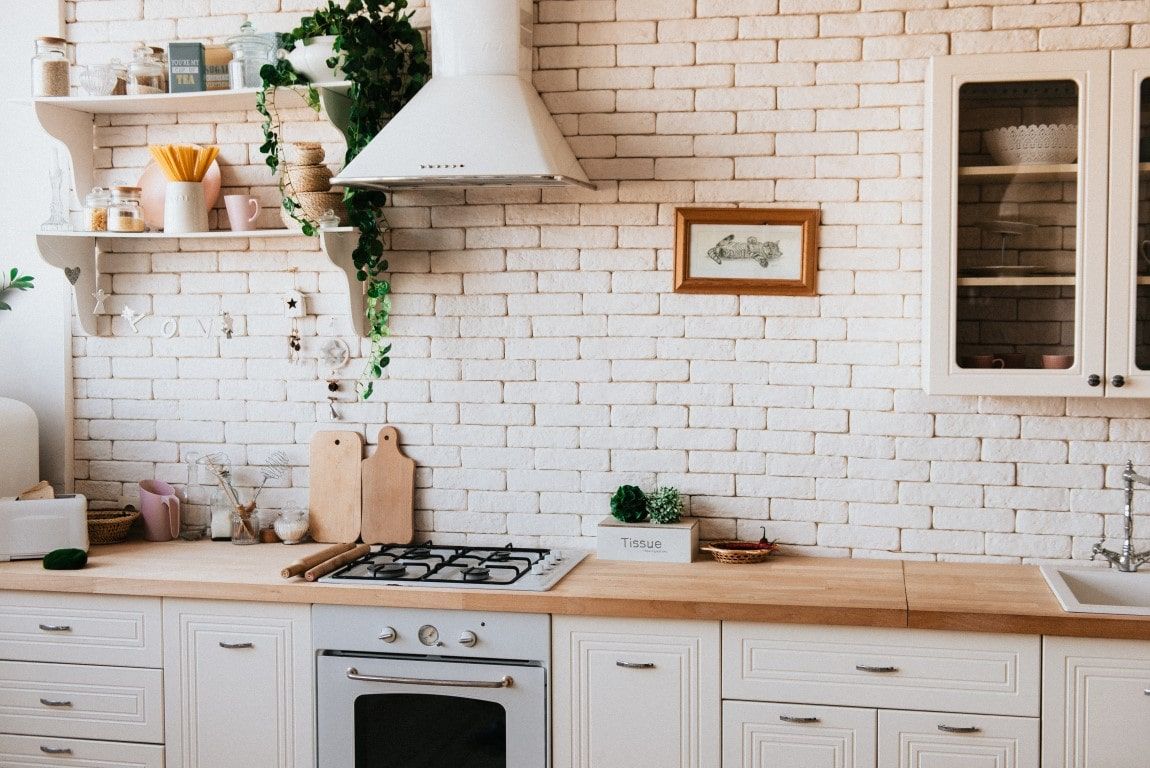 This traditional farmhouse kitchen opts for traditional detailing on the cabinet doors and vintage fixtures.
The traditional farmhouse style is less uniform than modern or contemporary styles, which relies on straight, clean lines and a minimalist, form-follows-function approach to design.
Modern farmhouse takes the traditional farmhouse style and makes it more streamlined with cleaner lines since the modern style focuses more on simple and functional features. Modern farmhouse styles are unique in that you may find a blend of modern, industrial, and contemporary design choices to create a truly unique kitchen that maintains the warmth desired from farmhouse designs.
"You can approach modern farmhouses in a couple of different ways. You can buy items that are a blend of modern and farmhouse (think modern Shaker cabinets), or you could have a traditional fixture paired with fully contemporary designs, like having a very rustic farmhouse light in a kitchen with modern frameless cabinets." — Michael, Vevano Home Designer
With a focus on a blend of natural elements, colors, simple designs, and rustic or even industrial touches, the modern farmhouse has a variety of options available regarding features that will bring out a unique modern farmhouse aesthetic.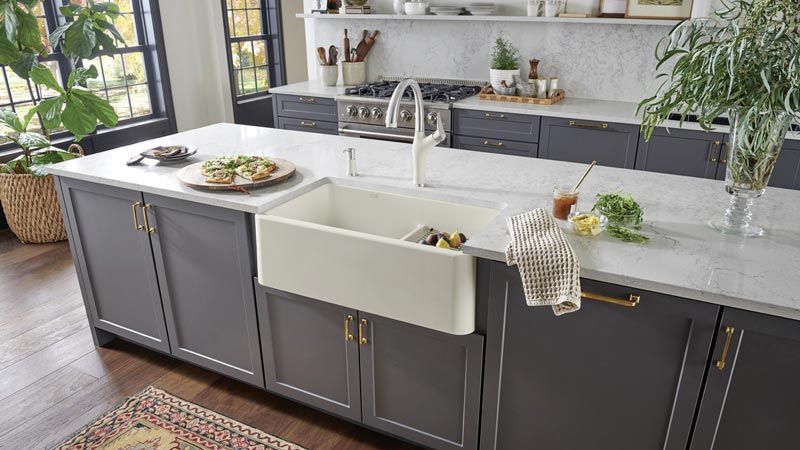 The modern farmhouse color scheme features mainly whites, blacks, grays, and other neutral tones. Wood tones are also popular as its timber was commonly used in traditional farmhouse designs, light or dark.
For pops of color, shades from the outside world work best to keep with a natural theme: navy blue, robin's egg blue, sage green, forest green, sunny yellow, etc.
The trick for modern farmhouse colors is to find the right balance between warm and cool tones. If the kitchen has almost all warm tones, it will feel more like a traditional farmhouse style. On the other hand, if all the shades are cold, the kitchen may look too modern (natural wood floors or fixtures would warm it up). That's why natural elements like wood flooring or cabinets help to soften up the modern farmhouse look.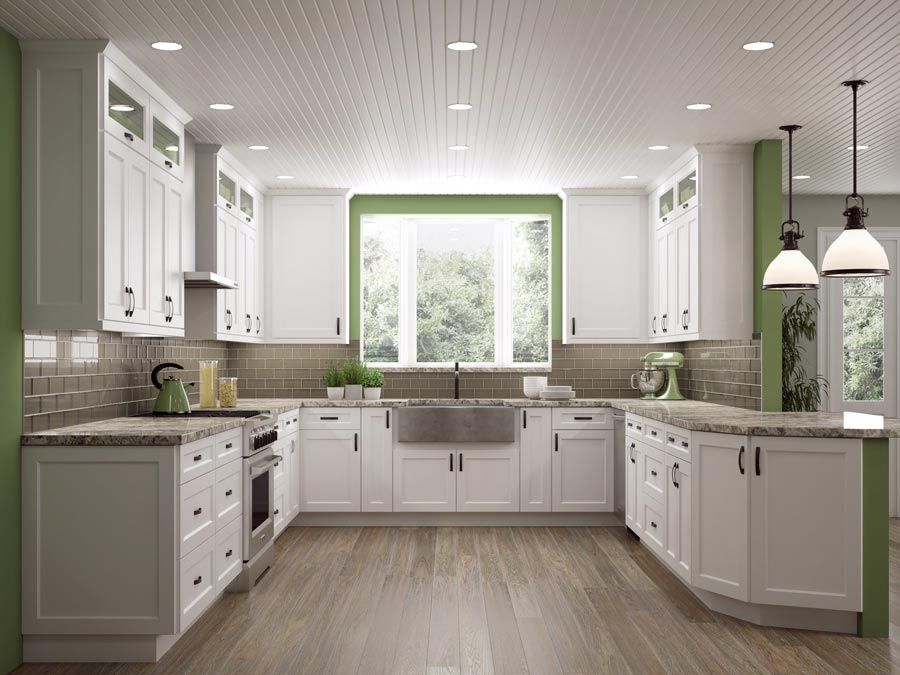 Modern farmhouse kitchen cabinets typically run in the middle of the lane in terms of style: not too minimalist in design, but not too much detail either. For this reason, modern Shaker style cabinets are popular in modern farmhouse kitchens because of their sleek, contemporary twist on the traditional recessed door style.
Though traditional Shaker doors often included rounded bevels or glazed panels, the modern Shaker cabinet keeps it simple, offering up clean lines and minimal detailing that's better suited to a modern-leaning farmhouse kitchen.
"The white modern Shaker cabinets give you a good base. Then, from there you can add in little decor pieces whether it's a rug or artisan pots for more of the farmhouse."—Madi, Vevano Home Designer
For the staple modern farmhouse look in your kitchen, white Shaker style cabinets seal the deal. Though white is the most popular choice, cabinets in Shaker Dove or Shaker Grey also work well.
For those who seek a more traditional farmhouse style for cabinets, Cobbleridge White cabinets have just enough detailing to hit the mark without too much embellishment to be considered truly traditional.
Another option for cabinetry in modern farmhouse kitchens is open wooden shelving so you can show off your collection of vintage dishware in an accessible and stylish way.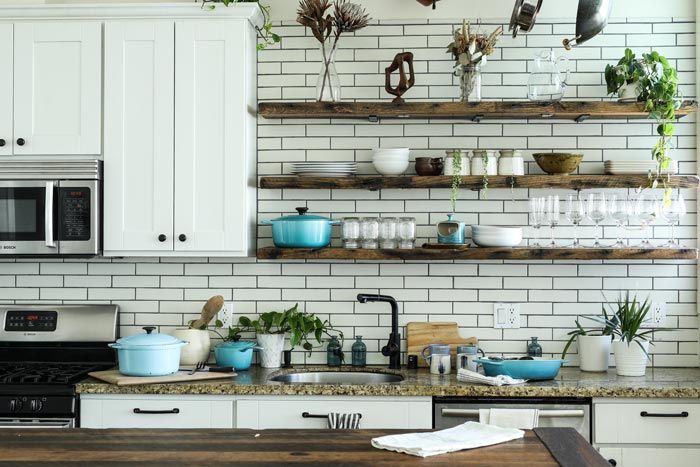 A way to add modern contrast and intrigue to your modern farmhouse kitchen would be to have dark cabinets highlighted either on your base cabinets or island cabinets, surrounded or topped with white Shaker cabinets.
What to Avoid
Cabinets like Eastland Antique White may lean too far traditional in terms of embellishment and color. On the other end of the spectrum, Monte Carlo Gloss may lean too far modern with its slab design and glossy finish.
Countertops
Our designers recommend a couple types of countertops to fit the modern farmhouse style.
Andrea recommends a beautiful and hardy white or gray quartz countertop, especially one with a grayish-blue vein. A cooler undertone for countertops will help balance any warmth from a wood-look floor or other wooden features to master the blend of farmhouse and modern.
Here are some examples of this:
Another countertop option might be the functional and stylish butcher block countertop that you can find in many modern farmhouse kitchens.
What to Avoid
Countertops with warmer undertones, such as granite with yellow or brown tones, are more befitting for a Tuscan or traditional farmhouse style than a modern farmhouse.
There is a range of ideal lighting fixtures for modern farmhouse style, depending on whether you want the lighting to be a statement piece or simply serve its function. Overall, our designers highlight lighting that fits farmhouse or industrial styles or are modern minimalistic.
When it comes to pendant lighting over your kitchen island, our designers recommend the black dome pendant or a linear pendant to highlight function while still having a simple modern style.
For more farmhouse lighting styles, consider what may have been in farmhouses back in the day—like lanterns and candles. Lantern lighting fixtures are particularly popular for modern farmhouse kitchens.
"In terms of lighting, you could go a lot of different ways because the modern farmhouse is a transitional space between multiple styles. You could do something industrial, like the black iron, or you could do something more modern with brushed nickel." — Madi, Vevano Home Designer
What to Avoid
Avoid overly architectural or sculptural lighting fixtures, which may be too contemporary for a modern farmhouse kitchen. Our designers also recommend steering away from chandeliers with tiny crystals, which might tip your kitchen too far traditional.
Hardware
Vevano Home's expert designers assert that simple pulls or knobs are popular in modern farmhouse kitchens. The cup pulls and half-dome pulls in particular lend to the modern farmhouse appeal nicely.
In terms of color and finish, matte black, oil-rubbed bronze, and brushed nickel are standard for the modern farmhouse style. Bronze, in particular, can pop beautifully surrounded by white and gray, adding that touch of warmth.
Don't be afraid to mix metals in terms of finishes in your kitchen, our designers say! That fits well within the warm and vintage farmhouse style.
What to Avoid
Anything too decorative or elaborate in hardware may come across as too traditional. Too much oil-rubbed bronze may also trend more traditional if the kitchen isn't furnished in a more modern fashion.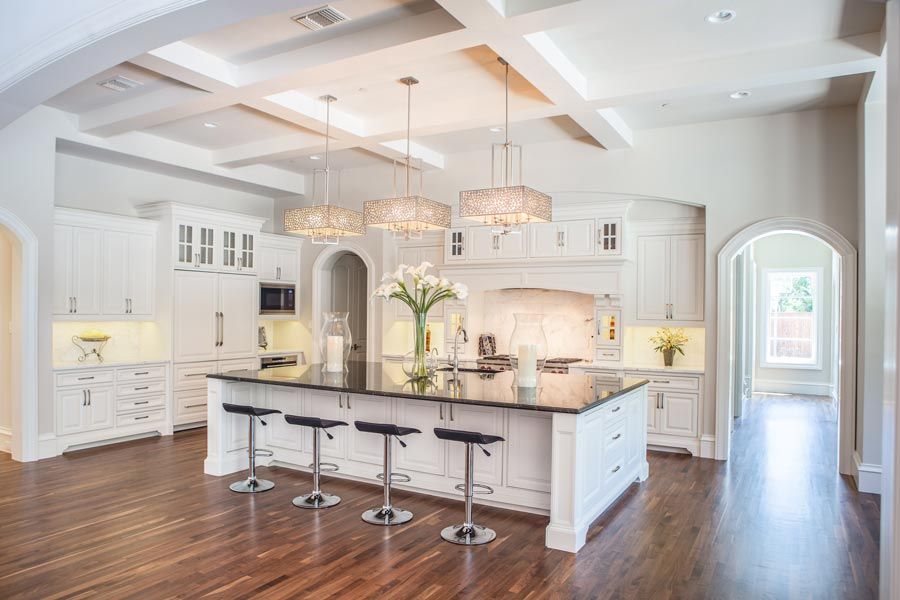 Since modern farmhouse kitchens lean on natural elements, any wood look would be ideal for flooring.
That could include engineered hardwood floors, tile, luxury vinyl tile, or laminate flooring that's designed to look like wood. Light or dark wood would work well for a modern farmhouse kitchen, depending on the rest of the kitchen's design.
Andrea also suggests that big slate or slab tiles that look like marble in cool tones could also contribute to a modern farmhouse feel.
What to Avoid
While travertine tiles are very beautiful, they lend themselves to more of a Tuscan or traditional style than to a modern farmhouse style.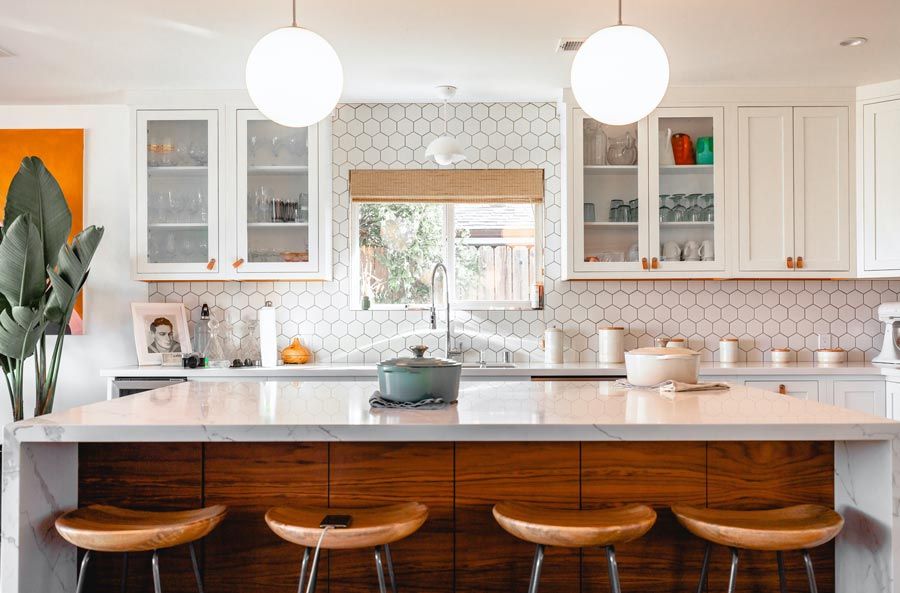 Simple backsplash tiles are the most befitting of the modern farmhouse aesthetic. This could be white subway tiles or white hexagonal tiles. For a little more character, handmade artisan tiles can make for a beautiful backsplash. If you decide to go for a design, make sure the tones correspond with your chosen color scheme.
In sticking with natural elements, sometimes brick might be a fun addition to a modern farmhouse kitchen, particularly when painted white.
What to Avoid
Backsplash with warm undertones may not match the cooler tones that are more likely to be found in modern farmhouse kitchens.
A signature feature of modern farmhouse kitchens is the farmhouse kitchen sink, also known as an apron-front sink. Usually, in white ceramic or porcelain, the timeless farmhouse sink can handle the mess and prep of large loads while maintaining a nostalgic feel.
Nowadays, it's not uncommon to see a copper or bronze farmhouse sink too, but white is the classic favorite to achieve the farmhouse aesthetic with ease.
If not a farmhouse sink, a white undermount kitchen sink would also fit a modern farmhouse look.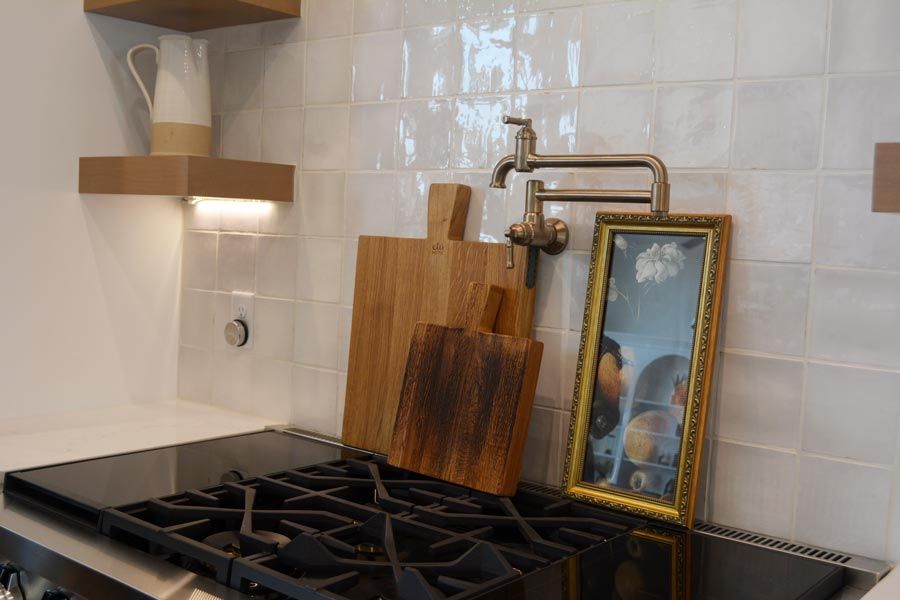 Don't forget that a faucet can contribute to your overall kitchen aesthetic too. The pull-down faucet with one handle appears to be a staple for modern kitchens, thus it transitions well to modern farmhouse kitchens. Pot fillers are also increasingly more popular for a modern gourmet kitchen with a farmhouse twist. A traditional bridge kitchen faucet might also work well in a modern farmhouse kitchen as long as it's balanced with more contemporary features.
Finishing Touches
Since the way to soften up a modern kitchen layout is through the eclectic and vintage details that are signature to farmhouse styles, stylistic touches like rugs, art, plant life, and other decor are sure to help you achieve the modern farmhouse look you like.
Vintage or thrifted decor can lend itself well to the mismatched farmhouse style, so you can focus on modern cabinetry or lighting to balance modern lines with rustic touches.
Range Hood
One way to make a statement is to have a decorative cover for your range hood to match or work with your cabinets. Beadboard covers for range hoods have become popular for modern farmhouse kitchens.
Art
Any painted artwork, especially landscapes or nature-oriented pieces that look like they would fit in a farmhouse, would highlight the farmhouse aesthetic. Neutral or cool colors in paintings or photographs will help the artwork blend into the modern farmhouse kitchen more naturally.
Photographs of farm animals are also a good option for modern farmhouse kitchens.
Avoid bright-colored or contemporary abstract paintings as those will contrast too much with the modern farmhouse style.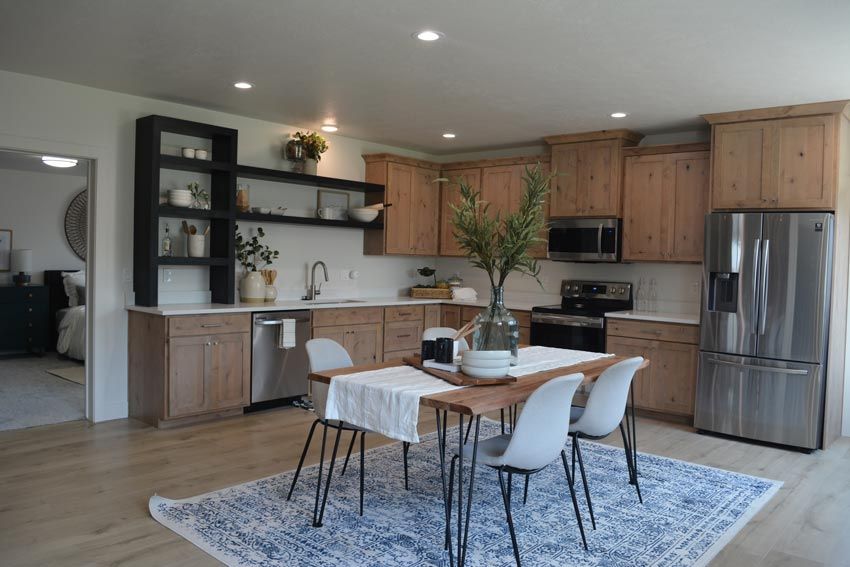 Rugs with a natural (or faux) material or pattern are great for adding texture and warmth to a modern farmhouse kitchen. For example, a cow-hide rug will definitely tap into a rustic farmhouse feel, or this indigo rug will add a nice touch of color to an otherwise neutral modern farmhouse style.
Note that rugs that are too brightly colored or boldly patterned might clash with a modern farmhouse kitchen.
Show Off Your Wares
You can also show off your unique, vintage, or thrifted collection of dishware, potware, and accessories with floating shelves, also contributing to the farmhouse look.
Modern Farmhouse Kitchen Ideas
Since modern farmhouse kitchens are a fusion of two styles, there's a considerable spectrum of designs that still fit the modern farmhouse style.
White Modern Farmhouse Kitchen
While most modern farmhouse kitchens opt for simpler cabinet detailing, this nearly all-white kitchen includes decorative glass doors and colonial cabinet doors. The traditional elements are balanced by contemporary chrome finishes and modern pendant lights.
Bold Modern Farmhouse Kitchen
By bringing in strong elements of both traditional farmhouse style and modern style, this is a gorgeous example of how to blend cool and warm tones to create a unique modern farmhouse look. The light fixture, range hood, and modern-styled bridge faucet on the island contribute to the modern edge, while the wallpaper, warm wood textures, woodblock, and blue Shaker cabinets are quintessential farmhouse.