9 Small Kitchen Remodel Ideas on a Budget
November 29, 2021
By the Vevano Home Team
Kitchen renovations are one of the best things you can do to increase your home's value, boost inside appeal for prospective buyers, and rank your home with the best in your neighborhood. Remodeling an entire kitchen, however, can be quite costly and time-prohibitive. If you don't have the budget or time to tear your entire kitchen apart, consider working on a small project like one of these, instead:
You don't necessarily have to remodel the entire kitchen to make a big difference. Even small renovations such as these can dramatically improve the look, feel, and flow of your kitchen. And, when you've accomplished that, you've just made your home worth a lot more to prospective buyers when you're ready to sell.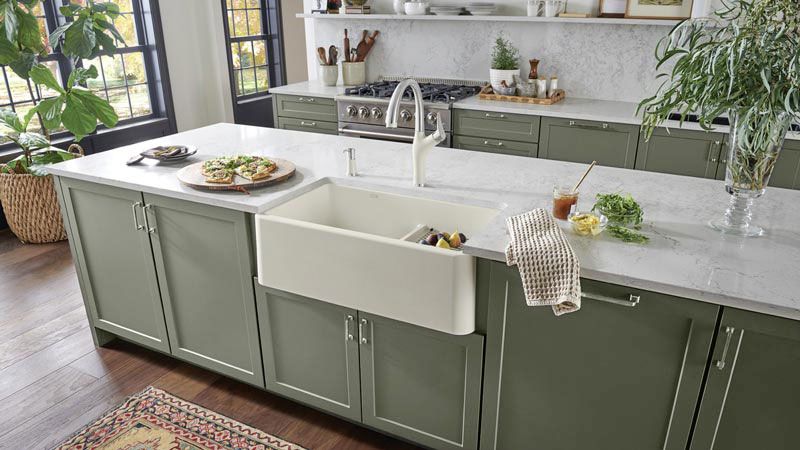 The kitchen is one of the most lived-in and enjoyed rooms in the entire house. Outside of bedrooms, most people spend most of their time in the kitchen cooking with family members, sipping coffee with friends, or planning a holiday get-together. This is why it's so important to transform tired-looking kitchens into better versions of themselves.
When it comes to small kitchen remodel ideas, giving your entire kitchen a new coat of paint is one of the best. Just think about the impact you could make by swapping out the drab paint that came with the house to a light, bright, and airy coat that makes you smile every time you walk in? If you love the way your kitchen looks, chances are your family and prospective buyers will, too.
Small kitchen remodel ideas on a budget aren't simply meant to benefit you as a homeowner. You can make these ideas for small kitchen remodel projects contribute significantly to increasing the overall appeal of your home.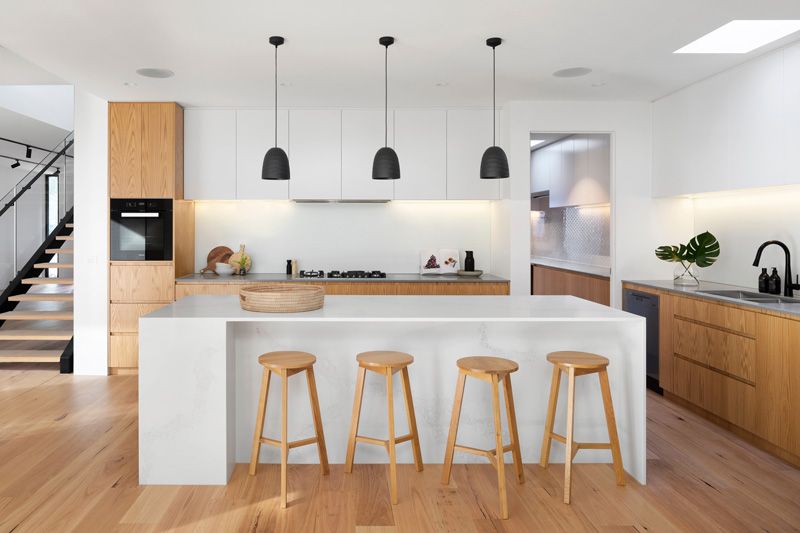 Updating the lighting in a small kitchen is another excellent project to take on that will provide significant benefits to the overall look, feel, and style of your home. While this kitchen remodel idea can be completed in no more than a day, the change it can make will last for a lifetime.
What types of lighting should be swapped out? Take one look at your ceiling and determine whether your current lighting fits your needs. Does it look old and outdated? Does it provide enough light when you're cooking and baking? Is it uninspiring and something you've wanted to change? Depending on your answers to these questions, you'll quickly determine whether lighting should be where you begin.
If you're looking for small U-shaped kitchen remodel ideas or small galley kitchen remodel ideas, lighting is a great place to start. The right lighting, such as recessed lighting, can make a huge difference in small kitchen spaces and open up the space available.
Larger kitchens can also benefit from lighting changes. The more space you have, the more impact you want your lighting to make. So, rather than keeping recessed lighting only, consider giving your space an upgrade by installing pendant lighting for kitchen islands. This will add some flair and provide better lighting when you need it most.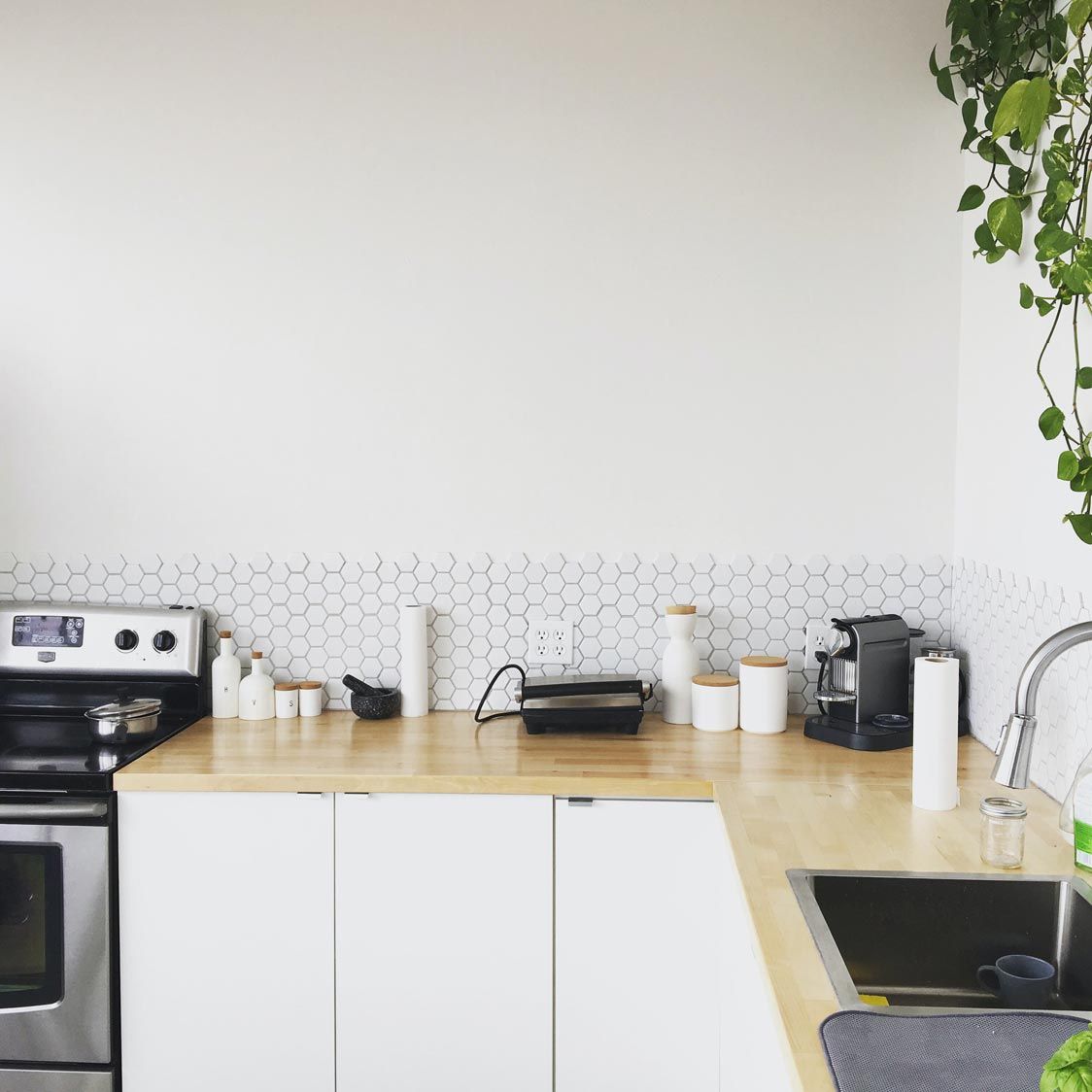 Counter space and backsplash areas are two more places where your kitchen could benefit from an upgrade. This kitchen remodel is a small one and, if no backsplash already exists, the project can be completed single handedly in a day.
The backsplash can help set the tone in your kitchen and pull design concepts together. Rustic or farmhouse styled kitchens can benefit from the ever-popular shiplap style backsplash, while more modern kitchens can sport stone backsplashes such as marble, subway tile, ceramic tile, metal, and glass.
When it comes to small kitchen ideas that make a big impact, you can't go wrong by updating your backsplash.
If you want to change one thing in your kitchen, you can make a huge impact by giving your kitchen a cabinet makeover. Depending on the kitchen cabinet ideas you want to utilize, you can change your entire kitchen layout.
Open shelves and floating shelves look fantastic in spaces with plenty of room and kitchenware that is displayable. Glass doors look equally posh if you are an organizational guru and want to display your fine dining ware for all to see. If you aren't a fan of displaying your cups and plates or you simply need more storage space, refreshing and bright white cabinets look exceptional.
In terms of feasibility, painting is the easiest kitchen renovation move to make if you want to breathe new life into your upper cabinets or lower cabinets. A white kitchen fits with nearly any decor scheme and is a good place to start if you're not sure what direction to head in for the final look.
Projects like changing cabinet doors, remodeling all the cabinetry, or replacing cabinets with open shelving will take more time, planning, and elbow grease if you're going the DIY route. If going this direction, plan a minimum of a few weekends to get your cabinets finished.
For a very small kitchen remodel project, one place to look is the cabinet hardware currently in use. If you like your cabinets and you've already updated the paint, then the next thing to change is the hardware. Changing out your cabinet and drawer pulls is an easy swap to make that creates a big impact on your kitchen cabinets and the kitchen as a whole.
This project is also ideal if the budget for your kitchen remodel cost is on the smaller side. A simple change in hardware could transform your kitchen design. Most often, you'll want to purchase new hardware after you've given your cabinets a fresh coat of paint, but if the paint is good enough, you could opt to simply change out the hardware and leave larger kitchen remodel ideas for another time.
Kitchen sinks tend to get used and abused, so over time they can appear faded, scratched, dinged, and tired. The amount of work a sink remodel will take largely depends on whether you have an undermount kitchen sink or a sink that fits atop a kitchen sink base cabinet. You'll also need to decide whether you want to keep the same sink type or if your new kitchen design ideas will result in changing out the cabinetry and counters in addition to the sink.
Your kitchen interior design should position your sink to be the proverbial cherry on top of the entire design and layout. It doesn't have to steal the show, but it shouldn't fade into the background, either. Whether you have a tiny kitchen or a large one, make sure the sink fits into the overall design you've established for your kitchen.
Choosing new kitchen faucets most often comes after you remodel your sinks. This is because placing new faucets on old sinks can cause the sink to look old, tired, and outdated. However, with the right sink, a new faucet can transform the entire space.
When choosing a faucet, you'll want to determine how far the reach should be, whether you want high-tech functions such as a no-touch faucet, and how important items like water conservation are. Many of today's modern faucets come with a wide range of options that allow you to customize the features you desire.
You'll also want to match the faucet to any type of backsplash you're planning on in the future, or if you plan to install new quartz countertops. Most faucets look phenomenal when paired with a variety of backsplashes and countertops, but it's always a good idea to get samples of backsplash or countertop material and compare it to your faucet choice to make sure the colors and styles complement each other.
Updating Your Kitchen Made Simple
Updating your kitchen layout doesn't have to be overwhelming or frustrating. Rather, with Vevano Home's interior design service, we can walk you through any of the design concepts mentioned in this article or help you come up with remodeling ideas of your own. As you've seen, you don't need a huge budget to change up some essentials to transform the look and feel of your kitchen.
Whether you want to update the kitchen counters, choose a new paint color, redo your hardware, or install a kitchen island, our helpful design pros have the years of experience needed to help you pick out the right products, order what you need, and complete an installation process that will make you proud.
You don't need to keep putting off that small kitchen remodel project you've been wanting to tackle. With Vevano, you'll have all the help you need to settle on an updated design, choose the right products and services, and complete your project. We'll work with your needs, your space, and your budget to help you get the best possible look.