Lighting Principles to Transform Any Room
By the Vevano Home Team
May 6, 2020
Just like every room serves a purpose, each light contributes to that purpose within that space. Lighting can have a transformative effect on not only the environment of a room but also on your mood and behavior. Each room calls for different styles and tones of lighting to match and support the activities that go on there--the bathroom or kitchen should have different lighting styles than your bedroom or a study.
Let's take a look at different aspects of lighting types and temperatures, what kind of lighting we recommend for each space, and how they can work alone or together to enrich and transform your home.
Light Types and Temperatures
Different light aspects impact your ambiance. The type of light determines how you can illuminate and highlight different rooms, whereas light temperature indicates the tones and colors of the room's lighting fixtures.
Lighting Can Be Broken Down Into Three Types
There are three types of lighting available for you to play with in arranging your lighting for optimal effect.
General lighting: Also known as ambient light, general lighting refers to the main light of a room. This could involve the use of windows and skylights for natural lighting as well as light fixtures.
Task lighting: Task lighting illuminates working areas like counters, desks, vanities, etc. Through various light fixtures and lamps, task lighting can be useful in offices, kitchens, and bathrooms as you focus on the work or activity at hand.
Accent lighting: If you want to highlight a certain part of a room, whether that's a piece of art, the dining room table or your entryway, accent lighting is what you're looking for. Accent lighting provides just enough light to draw the eye but not so much that it overwhelms what it's spotlighting.
Know that lights could fall under either one or more of these categories. A way to add dimension and depth to any room is to mix and match general lighting, task lighting and accent lighting in complementing layers. Layering different lighting types can transform a room's ambiance.
Light Temperature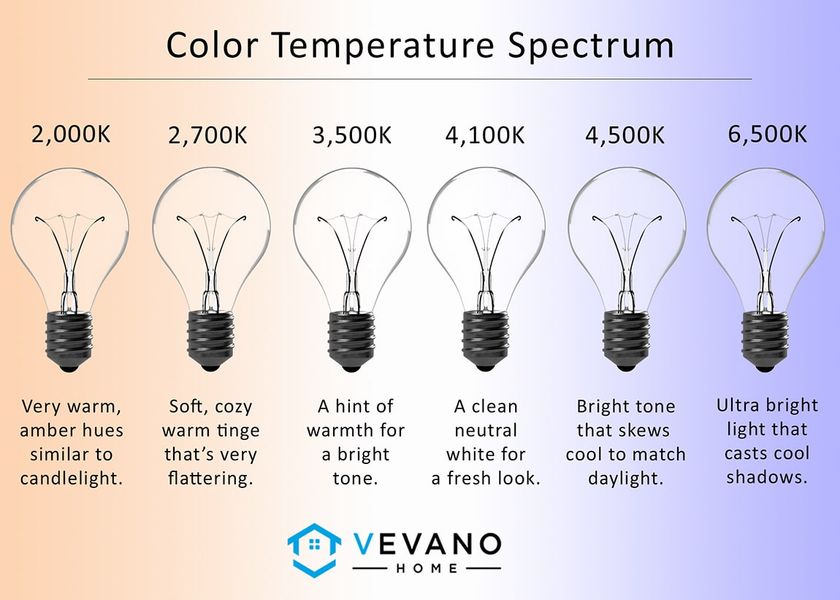 The temperature of a bulb will determine if it will glow warm, cool, or white color tones. The most common temperatures (measured in Kelvin) you'll find in your home range between 2,000K to 6,500K, with 2,000K glowing warmer tones, transitioning to white tones around 3,500K, and cooler tones emerging as you approach 6,500K.
The light temperature influences the overall ambience of a room, affecting how everything from the floor to the paint and furniture look.
Warm tones (2,000K-3,500K), with a hint of orange coloring, may be a popular option for bedrooms, studies or living rooms to create a warm and welcoming ambience. Warm tones can provide a nice base for general lighting or even accent lighting.
White tones (3,500K-4,1000K) may be more commonly found in rooms requiring clean or clear lighting so you can see what you need without being washed out, such as kitchens or bathrooms, or for task or accent lighting. White light can also be a solid overall function tone to use for task lighting.
Cooler tones (4,500K-6,500K) may be preferred in spaces where super bright lighting is desired or for task/accent lighting. Cooler tones angle toward a shade of bright blue, like a bright sunny day. This kind of lighting may be most useful in bathrooms or sunrooms.
Which Lighting for Which Room?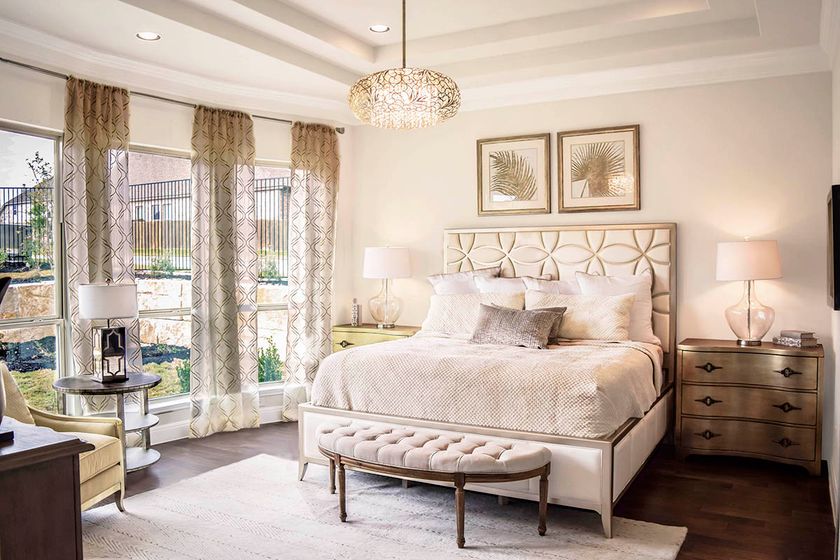 Each room comes with its own functions and needs in terms of lighting. Lighting fixtures, types, temperatures and tones--each aspect could directly transform how a room feels. Let's get into specifics...
A Comfortable Bedroom to Relax In
A cozy bedroom begs for mood lighting--keep the bright lighting for your bathroom and kitchens. Since the bedroom is where you unwind and sleep, you'll want a combination of general lighting and task/accent lighting for your favorite spots. Think of the layers of lighting fixtures as a hug before bed. Just as every person is different, you'll want your bedroom lighting to match what will make you happy. Light temperatures could range from warm to cool, depending on your preference and what light tones relax you. Dimmable lighting fixtures are a great option here, so you can pick and choose how bright you want it depending on your mood.
Ceiling lights can help you to achieve an overall "blanket" ambience, such as a ceiling fan with a light, a flush mount light, or even recessed lights.
To make your bedroom even more cozy (or hygge, as the Scandinavians would say), layer accent/task lighting such as bedside lamps or sconces, track lighting if you want different highlights, or floor lamps.
B is for Bright Bathrooms
The lighting in your bathroom is very important to get right. Not only do you need the right lighting for personal grooming, but you also need the correct light bulbs and light fixtures that can be used in damp or wet areas.
Bathroom lighting can be flexible, though wall lights will be best around your vanity to prevent unseemly shadows while you're preparing for the day. Perhaps it feels luxurious to add a pendant light or chandelier above your bathtub. Otherwise, recessed lighting is a popular option for bathroom general lighting.
Bright, vivid tones, via LED mirrors, vanity lights, or a pair of sconces at eye level, will be helpful at your vanity so you can present your best face to the world. Play with bathroom wall and ceiling light fixtures to optimize the lighting around your vanity and in your bathroom.
Even-Keeled Kitchens
The kitchen is a central hub for just about everything--cooking, cleaning, and mingling. It should be a well-lit and welcoming space as everyone will spend time there. This calls for bright, practical and even lighting to avoid shadows. The light temperature for your kitchen may differ based on your personal preferences, but lights in the white tone spectrum will brighten up everything for a clear and clean view.
The natural lighting from windows combined with recessed lights, flush mount lights or bigger light fixtures are great general lighting options to illuminate the whole kitchen.
Layering in task or accent lighting with kitchen light fixtures can brighten this space up further. Under cabinet lights brighten up your counter space to help you safely prepare what's on the menu, or kitchen pendant lights can highlight the dining table or island countertop.
Living Rooms Love Layered Lights
The living room is where you can layer up the different types of light to create a distinct ambiance to put your personality on show for your loved ones and visitors. This is where everyone will hang out, whether solo or as a group, so a variety of lights can help suit all sorts. A mixture of general lighting, task and accent lighting can liven up the living room, whether you'd like it brighter or dimmer, depending on the activities or the mood. Warmer light tones may encourage a cozy and relaxing vibe, whereas cooler light ones will have a more refreshing ambience. That's up to you, and we have lighting options to suit your desires.
From pairing different ceiling lights like pendant lights, recessed lighting, or chandeliers; tracking lights to highlight nooks, artwork or bookcases; dimmable lamps or wall lights next to your couches... You can add drama and shadows with accent lighting. The sky's the limit in your living room lighting possibilities.
Time to Find the Right Light for You
Take a look at each room. What function does it serve? How do you want to feel when you're there? What aspects do you want to highlight or which activities require extra lighting? Do you want warmer tones or cooler tones? Consider these questions as you establish the lighting for each room in your home.
The lighting within a space can transform both its ambience and enhance its functionality by contributing supportive lighting and energy to suit each room's unique purpose and needs. Choose your lighting fixtures carefully for the most impact--and have fun with it! For more information and details on lighting, check out our Ultimate Guide to Lighting.