The Ultimate Guide to Choosing a Dining Room Table
By the Vevano Home Team
March 5, 2021
Your dining room table has the potential to achieve many great things in your home. From hosting and dining with family and friends to operating as a makeshift crafting table when the need comes, your dining room table can be a hub for all kinds of activity, whether connecting with others or connecting with yourself. Choosing the right dining table is ultimately an investment for your home, your loved ones, and your time. We want to help you choose the right table for your home.
When it comes to choosing a dining table for your dining room, there are a few things to keep in mind so you can optimize your dining area's functionality and aesthetic:
Room Size
Table Size & Space
Style & Design
Chair Size & Design
It's important to have measurements of the room to determine the best size of furniture to ensure the fit works for your desired dining space.
Measuring for an Ideal Dining Table Size
Identifying the correct dimensions for your future dining room table will depend upon the dimensions of the space you are going to use. Clearance is needed between the table, the wall, any doors or openings, or other furniture so everything fits together in an easy to navigate flow.
There should be no less than 36" (or 3') on all sides of the table to ensure the ability to get out and move around easily, particularly where a wall is concerned. We recommend planning for up to 42" of space on all sides of the table to be sure no one feels cramped in the space.
Measure the room and subtract 72" (6') from each the total width and length to guarantee at least three feet (36") of clearance around the table for people to sit and move around. If your table is near a doorway, closer to 48" (or 4') is recommended to have a clear walkway.
To get started, grab a measuring tape and measure the length and the width of the room. Here's a handy formula:
Length of Room x Width of Room → (Length - 72"/6') + (Width - 72"/6') = A maximum table length and width
Example: 16' x 12' → (16' - 6' = 10') x (12' - 6' = 6') = An ideal dining table size for this space is 10' x 6' or less (120" x 76")
If you want to ensure 4' of clearance around the table, switch 6' to 8' For the example above, the adjusted table length and width would be 8' x 4' (12" per 1').
Choosing a Shape & Size
The shape and size of your dining table will affect how the room feels and functions, so choose a fit that feels and works well within your space.
Then, decide how many people you'd like your table to host. We recommend having no less than 24" horizontally per person or place setting at the table. 30" per place setting is ideal for ample room for everyone to prevent banging elbows. To easily pass food across the table, keep the table depth under 48" (or 2').
Square or Rectangle
Classic and ideal for most dining rooms as they are most often rectangular in shape already. Rectangular dining room tables also work well in narrow rooms or open-concept layouts as a divider. Square-shaped dining tables are growing in popularity and work well in square-shaped spaces.
Number of Seats - Length/Width of Square/Rectangle/Oval Table
2 People: 40"
4-6 People: 48"-60"
6-8 People: 60"-72"
8-10 People: 80"-96"
10-12 People: 120"
Round or Oval
A round or oval-shaped dining table is more communal and accommodating for space, so they often contribute to a cozy vibe. An oval table retains the top space while removing possible sharp edges with corners. Good for smaller spaces or for family dining or entertaining as circular tables can often fit more people.
Number of Seats - Diameter of Round Table
2 People: 32"
4 People: 42"-48"
6-8 People: 60"-72"
8-10 People: 72"-88"
Extending Dining Tables
Either round or square-shaped dining room tables can come as extendable dining tables with added leafs to make extra length and space to host more people.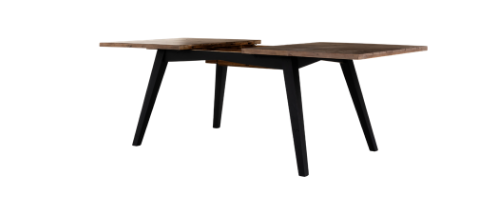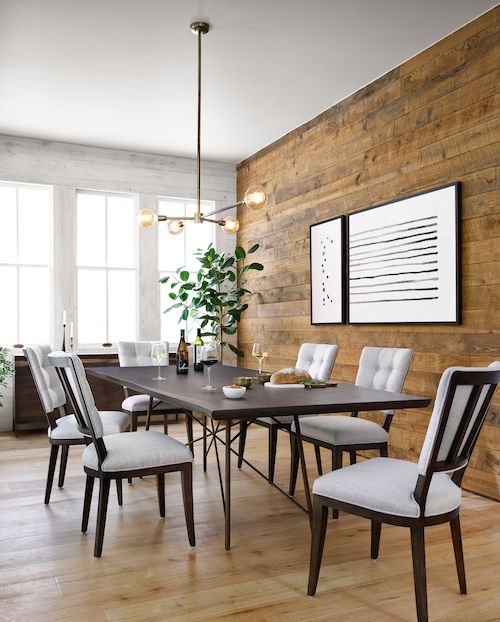 Style & Design
Dining Table Top Materials
The center of your eating and hosting should support the activities you expect to share over your dining room table. Consider how you expect to use the dining room table to understand what kind of material would best suit your needs and purposes. Will it be more formal, used only for special occasions? Or a table more suited for daily use by family and friends?
Each dining table material comes with its own character that you can personalize your dining area with. Dining room tables come constructed in a variety of materials, and the material will largely depend on your preferred aesthetic and structure. Also, look at the longevity of the material and consider how much maintenance your selection might require.
Wood - Wooden dining room tables are a classic, durable, and versatile option, a popular choice for many. Available in hardwood, soft wood, or composite/engineered wood, a wood table can be formal or more casual, depending on the color and finish. Wood tables add a natural warmth, or even elegance, to a room and can work for a variety of styles, from farmhouse to contemporary. Keep in mind that wood reacts to humidity and temperature. Some types of wood tables are also easily sanded or refurbished for a fresh look every few years, if needed.
Best hardwood for dining tables:
Beech
Cherry
Mahogany
Maple
Oak
Teak
Walnut
Laminate - Laminate dining tables come in all shapes, sizes, colors, and designs and usually more budget-friendly and customizable. Laminate table tops are also called veneers. Usually made of layers of materials, often including PVC, melamine, and wood grain finish, laminate tables are sturdy and easy to clean, but they may be prone to damage. Note that formica and laminate are the same kind of material, though their names may be used interchangeably.
Metal - Metal dining room tables are for if you want to go bold and modern or industrial in style. Metal tables are very sturdy, require little maintenance, and run cool to the touch, though that means they are susceptible to changing temperatures and may run hot or scorch with hot pans. Metal tables are not ideal for rooms that run warm and place mats will be needed.
Marble - For a more luxury feel, a marble dining room top may be to your liking. Low maintenance, a marble table top won't stain or scratch easily and is easy to clean. Marble comes in different colors and patterns, so you can find one to match your style. Popular marble tops include white Indian marble, Italian marble, onyx, and stone.
Quartz - Also low maintenance, engineered quartz table tops are also a solid option for dining. It's more cost friendly and still provides a natural stone look, so it's a great alternative for the latter. It comes in a variety of colors and patterns to suit your taste, though note that the colors may fade if the table sits under the sun for a long period of time. Kalinga stone is a very strong and hardy quartz top that's gained traction lately.
Synthetic - Synthetic materials are quite versatile though usually structurally strong, so they can make a variety of designs for dining tables. They are often inexpensive and lightweight, but don't let that fool you in how sturdy they can be. Stylistically, synthetic tables have their own flavor and may not appeal to all.
Table Base - Leg Styles
While not all dining tables are composed of the same material between the top and the base, the base is also a factor to think about when choosing a dining table. Both square or circular tables could have any one of the following bases, depending on their size, shape, and design.
Four Legs - Simple, straightforward, and a standard base with clean lines. Commonly seen in the minimalistic shaker style tables or the blend natural and metallic look of a rustic modern dining table.
Trestle - Traditional style with ample leg room along the long edges, but may cramp the edge seat's legroom since that's where 2-3 trestle supports are. May come with intricate designs or simple lines. Also can be found in modern styles.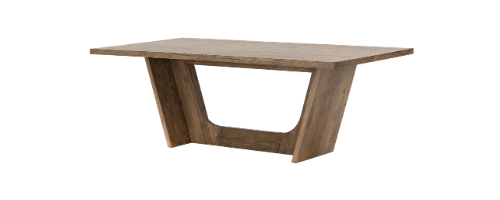 Pedestal - Suited for small square or round tables with one central leg, or column, to stand on. More common in smaller areas, and may feature extendable leaf sections to expand seating.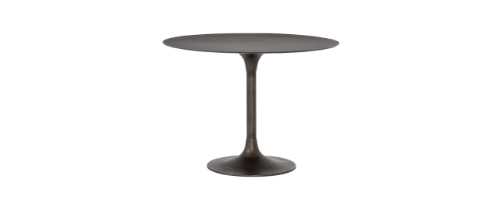 Double Pedestal - Suited for oval or rectangle tables, a support column on each end. Large dimensions with architectural impact and allows for plenty of legroom for many people.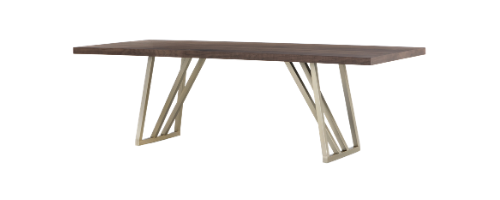 X-Base - The table legs make an X-shape for symmetrical lines with versatile style. Often seen in sturdy farmhouse tables.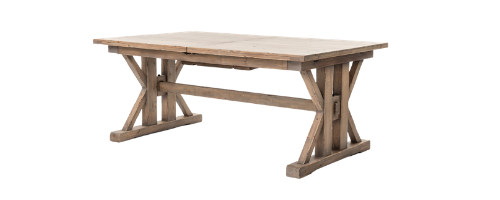 Choose Your Chairs
Some dining tables come with corresponding chair sets, but not all do. In fact, you may prefer to choose your own seats for your dining room table for a more customized look. Here's what we recommend considering when selecting new dining chairs to go with your dining table.
Seating Height
Chair height should coordinate with the height of the table, so if you're buying chairs separately keep in this mind. Up to a foot of space is recommended between the lower edge of the table, or apron, and the top of the chair for ample room for legs at a comfortable height for the table.
For a counter-height table, the recommended chair height is between 24-26".
Knowing the length of the table will also help you to pick chairs that fit and allow space between to prevent your chairs from hitting each other. Keep in mind that the legs of the table may affect the length of the table and the space for chairs to be tucked in as well. Also, consider the height of armrests on the to see if they can be pushed under the table or not.
Seating Styles
Dining chairs come in a variety of materials that can work with your dining table, depending on your chosen aesthetic and how much you want to match or contrast the styles.
You can find dining chairs made in the following styles: wood, leather, upholstered, metal, or woven.
Accessorizing Your Dining Room Table
In terms of designing, here are a few tips to designing your dining space and table setting to highlight or compliment your dining table.
Traditionally, a dining room table's placement is often underneath a ceiling light fixture. Pairing a statement pendant or chandelier lighting piece is a great way to light up your dining room and table. A fun way to layer lighting in a dining room is to use recessed or track lighting over a parallel bar area along with the statement pendant or chandelier fixture.
Rugs are also a popular accoutrement, adding both comfort, personality, and distinction for your dining area. They are also useful as a barrier between the flooring, table, and chairs to prevent furniture and flooring damage. A rug that extends 2" beyond your table on all sides is ideal to allow for chairs to go in and out without snagging.