Delta Glass Rinser: Are Kitchen Sink Cup Washers Worth It?
Delta Glass Rinser: Are Cup Washers Worth It?
March 7, 2022
By Jessica Grimaud
Specialized glass rinsers have long been a staple for commercial kitchens and bars for their ultra-efficient, rapid cup rinsing. Delta, an award-winning faucet manufacturer, recently introduced the convenient bottle and cup washer to residential homes with their DIY-friendly Delta Glass Rinser.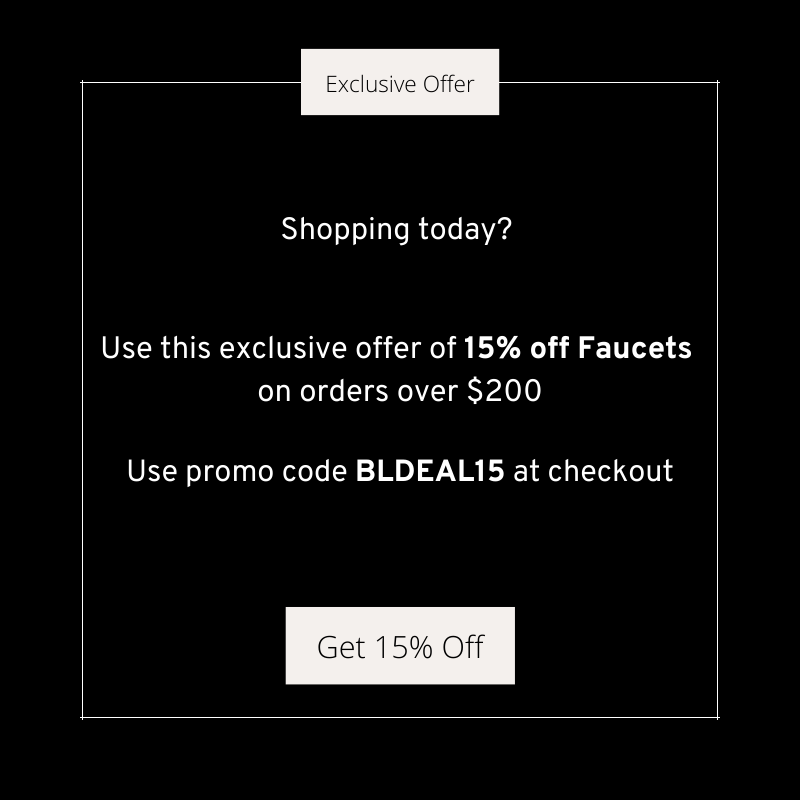 But is the Delta cup washer worth it? And is it really that easy to install a kitchen sink glass rinser? Here's what you need to know about the latest kitchen trend making its way to homes.
Kitchen sink glass rinsers (also known as bar glass rinsers or cup washers) powerfully clean your bottles and cups by shooting high-pressure jets of water into the drinkware while it is upside-down.
The combination of gravity and powerful, rapid rinsing washes out hard-to-reach places and breaks down even the toughest stains and residue in your cups.
The low-profile kitchen appliance can be installed in any available countertop or sink hole, such as one used for soap dispensers or hot and cold water dispensers.
How do glass rinsers work?
To activate a glass rinser, simply take your drinkware, place it face-down over the installed cup washer, and push down on the top of the cup to activate the water jets. Most cup washers are designed to drain directly into your sink to minimize splashing.
The kitchen accessory is installed beside your kitchen or bar sink faucet, usually replacing your hot or cold water dispenser, kitchen spray, or other available countertop or sink hole.
DIY-friendly cup washers, like the Delta Glass Rinser, don't require a new water supply line. Instead, a tee adapter (usually included with the product's purchase) adds another water outlet to your sink's water supply valve.
✅ Pros
Easy to Install
Rinses Most Standard Drinkware
Prevents Water Splashing
Spot-Resistant Finish
Can Be Installed on Most Sinks
Great for Rinsing Water Bottles and Smoothie Cups
❌ Cons
Can't Fit All Cup Sizes
Requires Available Installation Hole
Stainless Steel Finish May Not Match Your Sink
A leading manufacturer of faucets, Delta has won awards for its innovative faucet solutions, including its touchless kitchen faucet and voice control technologies.
In another attempt to elevate kitchen functionality, Delta has brought the commercial glass cleaner into everyday homes. Its reception has been mostly positive, with a few complaints about the finish and size limitations.
The sleek, low-profile kitchen accessory, which is installed beside your kitchen or bar sink faucet, takes up little real estate at only 1.5 inches tall and 4 inches wide. You can choose between multiple finishes, including chrome and stainless steel.
The main complaint when it comes to the design is that, for some, the stainless steel finish doesn't exactly match other stainless steel appliances. While a natural occurrence when purchasing any stainless steel appliance (every brand has its own formula and variation), customers can buy the matte black glass rinser and other finishes if they are concerned about clashing finishes.
The rinser is designed to drain water right into your sink, so you don't have to worry about water splashing or spilling onto your countertop. Your purchase includes a matching cover to avoid accidental spraying when not in use.
The rinser is designed to accommodate most drinkware, with a minimum glass opening size of 1.5 inches and a maximum size at 3.5 inches. Many users add a touch of soap to the containers so they can clean their drinkware right then and there.
However, some have complained that some of their most-used cups, such as wide-brimmed coffee cups, were too big for the rinser.
TIP: Before purchasing, measure the diameter of the glassware you use the most. In particular, measure your coffee mugs and smoothie cups.
A major upside to the Delta Glass Rinser is the DIY-friendly installation. The accessory can be installed in most kitchen sinks—you don't need to have a Delta kitchen faucet or sink to use this product.
All you need is an extra installation hole beside your faucet to attach your rinser to. For that reason, this product pairs well with single-handle faucets or sinks designed with sprayer or soap dispenser holes. If you don't have an extra installation hole, you may have to drill another hole.
When it comes to connecting to water supply, Delta provides an easy-to-install tee adapter and 42-inch supply line that hooks up to your existing faucet water supply and diverts water to the rinser when in use. Users can choose to hook up their rinser to either hot or cold water.
Is a glass rinser worth it?
At just a little over $200, the Delta glass rinser is a relatively affordable and easy kitchen upgrade with shockingly efficient results.
If you make a lot of smoothies, drink coffee (or any beverage that stains glassware), or have to wash baby bottles or narrow-rimmed bottles, the glass rinser is a major time saver. Just think: no more soaking smoothie cups or finding surprise leftover residue and food in your drinks!
This glass rinser may not be the best option for those with glassware that exceeds a 3.5-inch diameter. If you already have a powerful sprayer, such as a pre-rinse kitchen faucet, the glass rinser might seem unnecessary.
However, the all-around convenience, consistent powerful rinsing, and splash-free functionality alone make the Delta Glass Rinser an excellent choice, even for those with high-pressure sprayers.
One coffee roaster and long-time user of the product says it's not the water pressure that's so impressive but the added element of gravity. By washing the glass upside down, the food debris is expelled when it's rinsed and doesn't swish around and settle back on the glass. The efficient process ends up saving you water in the long run!
Here's one Tik Toker explaining why he loves this kitchen upgrade:
How do you install a cup rinser?
Installation instructions may differ depending on which cup rinser you purchase. However, the general assembly requires an available installation hole by your faucet and a tee adapter and supply line to connect to water supply. The latter two items are likely included in your purchase.
You'll also want to make sure you have an available installation hole that is far enough away from your faucet (the rinser is 4 inches in diameter). Make sure that you have enough height clearance above the glass rinser so your cups don't run into window seals or cabinetry when you go to wash.
Here's a brief overview of how to install the Delta Glass Rinser.
The following video is an excellent guide to installing the Delta Glass Rinser. You can also read on for a high-level summary of the installation process or view the official Delta Glass Rinser installation instructions.
Turn off your hot and cold water. The shutoff valve is likely below your sink faucet along the water supply tube. Make sure to turn off both valves—one for hot water and the other for cold.
Assemble the rinser. While the base of the rinser is right-side up, put the mounting shank (a the long cylindrical piece) through the hole at the center of the base. Next, slide the steel support washer through the shank from below the rinser's base, so the base will be sandwiched between the top of the shank and the support washer below. If a spacer is needed, pull the optional spacer through the shank so it sits just below the support washer.
Lower the assembled rinser into the installation hole. Ensure that the rinser is lined up properly so it drains into your sink.
Attach the tee adapter and provided supply line to water supply. With your water supply turned off, unthread (unscrew) the faucet supply line you wish to hook up to your rinser (you can choose between hot or cold water). Attach the tee adapter to the existing supply line and thread both the existing water supply line and provided supply line to the adapter.
Thread the provided supply line to the shank.
Fit the actuator arms to the center nozzle. The actuator arms, which looks like a small spindle, needs to align with the nozzle at the center of the rinser's base. The arms should angle downward.
Turn on your water and get to rinsing! Slowly turn back on your hot and cold water supply, checking for leaks. Once everything is properly fitted, you can start using your glass rinser!