8 Best Kitchen Gifts for People Who Love Cooking (That They Don't Already Own)
October 20, 2021
By Jessica Grimaud
Looking for a gift that will wow your friends and family who love cooking? If your loved one has been a culinary enthusiast for a while, chances are they already own many of the appliances, utensils, and other kitchen gadgets frequently recommended in kitchen gift guides.
But if you're ready to gift your at-home chef friends something they will use every day—and that will significantly increase their enjoyment in the kitchen—then you've come to the right place!
Rather than recommend the same kitchen items your friend likely already owns, we've assembled a list of the best kitchen gifts with chef-like functionality that your foodie friend will appreciate for years to come.
1. Under Cabinet Lighting
Whether it's pendants over a kitchen island or recessed ceiling lights, the more task lighting you can add to the kitchen, the better. Under cabinet lighting is an easy, affordable gift that elevates the style of the kitchen and enhances the food prep and cooking experience.
When it comes to under cabinet lighting, we recommend the Maxim CounterMax under cabinet light for its energy efficiency and low-profile design. The integrated, diffused LED bulb produces 1250 lumens, perfect for task lighting and illuminating the details of a kitchen. This under cabinet light comes in six sizes, ranging from 6" to 36", so you can find the right size for almost any cabinet length.
2. In-Between Cabinet Spice Rack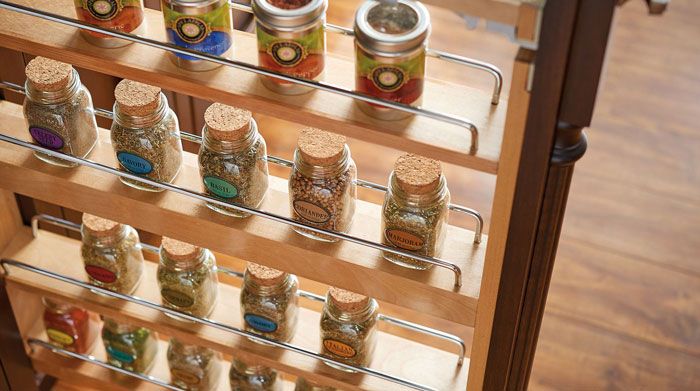 Your chef friend is bound to have an abundance of spices that they use in the kitchen. If you want to get them something they'll use every day, consider gifting an in-between cabinet spice rack. These pull-out cabinets cleverly utilize unused space between cabinets and make it easier to access, organize, and store spices.
Though not a between-cabinet pull-out, the Rev-A-Shelf Natural Maple spice rack is a classic spice organizer option for those who want to provide better spice organization at a lower pricepoint. This spice rack can be easily mounted on most cabinet doors and includes three adjustable shelves for optimal storage.
3. Appliance Lift Shelf
For the friend who loves their standing mixer—but doesn't love the counter space it takes up—an appliance lift is the perfect gift. Whether it's a coffee machine, food processor, or some other favorite kitchen apparatus, an appliance lift shelf is a great way to declutter the kitchen while still keeping a frequently used appliance in a convenient location.
When it comes to any sort of kitchen cabinet organizer, it's hard to beat Rev-a-Shelf. That's why we recommend the Rev-a-Shelf Natural Maple appliance lift shelf. This heavy-duty, easy-to-install cabinet upgrade can hold appliances up to 60 lbs!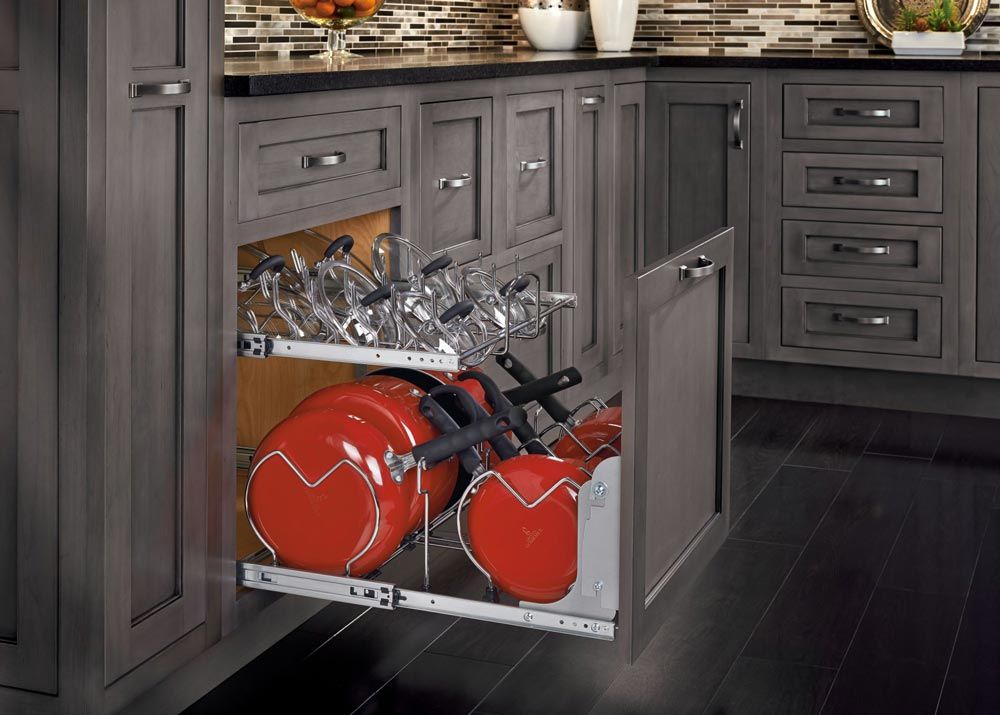 A pot organizer is a welcome addition to any kitchen but especially a chef's kitchen! Anything that makes it easier to grab or store frequently used cookware will be appreciated by people who enjoy cooking.
The Rev-a-Shelf chrome pull-out organizer goes above and beyond by transforming a base cabinet into a highly efficient two-tiered organizer. The bottom tier stores large pots and pans while the top tier holds lids and smaller cooking accessories. Both of the tiers move independently from each other for easier access, and the dividers can be adjusted to fit your friend's pots and pans perfectly!
Pegboard organizers are another versatile way to store any type of cookware, from pots and pans to plates and cups. If you're looking for a gift that's lighter on the wallet and easier to install than the chrome pull-out organizer, the Rev-a-Shelf pegboard pan organizer is a wonderful option.
5. Commercial-Style Kitchen Faucet
Known for their incredibly flexible spout and powerful flowrate, pre-rinse faucets have long been the gold standard for commercial kitchens. Recently, these chef-quality faucets have become popular for those seeking gourmet functionality in their home kitchens. If you want a gift that will make your foodie friend feel like a pro-chef, a commercial-style kitchen faucet is the way to go.
Our pre-rinse faucet pick is the stylish Kohler Tournant pre-rinse kitchen faucet. This semi-professional faucet features the signature flexible coiled spout, held securely in place by magnetic docking when not in use. The Tournant also boasts three different spray settings—one for food prep, one for filling pots and pans, and one for cleaning.
Another excellent culinary faucet is the Blanco Culina pull-down faucet, which has garnered several accolades (including a Red Dot award) for its sophisticated styling and semi-professional functionality. Along with its expertly designed flexible steel spring spout and quick-release magnetic hand spray, the faucet also efficiently saves 20% more water than average faucets because of its optimal, eco-friendly flow rate.
Speaking of faucets, a pot filler is another excellent gift that elevates a kitchen's functionality, especially for those who love cooking soups and pasta! Sometimes called a "pasta faucet," pot fillers are conveniently located near the oven range, so you can fill your large pots and pans right where you're cooking. Pot fillers typically feature a higher flow rate for quicker fill time.
When it comes to pot fillers, we recommend the Anzzi Braccia pot filler in matte black, both for its clean, contemporary styling and its excellent price point. Along with its sleek modern design, the Braccia features a 24" foldable spout reach and 360-degree swivel for maximum maneuverability.
If you want to gift a pot filler with a more rustic or traditional look to it, we recommend the Kohler Artifacts pot filler in oil-rubbed bronze. Like the Braccia, the Kohler Artifacts pot filler features a highly-practical 360-degree swivel but only a 22" spout reach.
The sink is right up there with the oven range and refrigerator as one of the most used and essential features of a kitchen. If you're ready to gift a next-level kitchen upgrade, a brand new culinary kitchen sink is almost guaranteed to make the impact you're looking for.
The ideal chef sink is one that features high-quality material and deep, spacious basins. The Kohler Prolific undermount sink meets these qualifications and more! The stainless steel sink offers a generous workspace with its 11" depth and nearly 31.5" width. Just as impressive are the sink's innovative graduated ledges, which allow you to add three tiers of accessories to the basin. Along with your purchase, you receive a cutting board, two multipurpose grated racks, a colander, and a washbin that all integrate with the basin's design for easy storage and use.
Another top-rated semi-professional sink is the Franke Culinary Center stainless steel double basin kitchen sink. Built with durability and efficiency in mind, this 19-gauge stainless steel sink comes with pre-installed sound-deadening pads and features a sizeable left-hand basin and an extra tall right-hand basin. The sink includes all the accessories you could ask for, including a knife block, knives, cutting boards, and drying rack.