The 4 Best Farmhouse Kitchen Faucets to Pair with Your Farmhouse Sink
By Shantlee Sutch
December 31, 2019
Farmhouse sinks are one of the favorite kitchen upgrades due to their visually appealing form and extreme practicality. With all the space you could use to hide dirty dishes or thaw an entire turkey you're going to want to finish off your sink with farmhouse faucet that best serves you.
Which types of faucets are best with farmhouse sinks?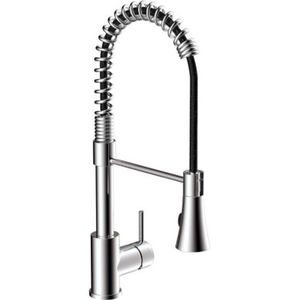 Pre-Rinse Faucets
Pre-Rinse Faucets are the domesticated version of a commercial kitchen spray faucet. These faucets are often high arched with high powered spouts that can handle caked on food from last night's dinner. Pre rinse faucets are on the taller side so an open space works best. These faucets can have an industrial feel but with colors to choose from like polished chrome and satin nickel a pre-rinse faucet can fit into almost any style preference.
Pull-Down Faucets
Pull-Down Faucets you can pull down the spout from the faucet neck and maneuver the spout within the sink. This is a great option if you like the pre-rinse faucets but need something smaller. There are a ton of design options to choose from so you may find choosing just one may be harder than expected.
If your space does not allow the height of a pull-down faucet but you want a maneuverable spout a pull-out faucet could be the compromise you're looking for. These can come in heights less than ten inches so if you have lower cabinets or any reason to save space on the height this could be a great option.
Two-Handle Faucets
Two-Handle Faucets are a classic and come in a large variety of styles and finishes. For your farmhouse sink you can choose a tall gooseneck or a low arc faucet. These are great if you like the control over the hot and cold water individually and a more classic faucet style.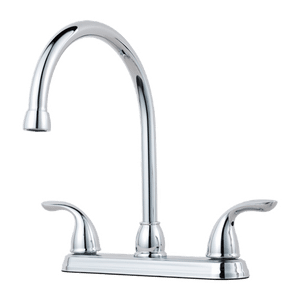 For more help picking out a farmhouse style kitchen faucet to pair with your farmhouse sink, or any sink, send us a message and we can help you find a farmhouse faucet that fits your specific needs and style.