Gourmet Kitchen Design Tips & Upgrades (That Won't Break the Bank)
By Emily Webb
August 25, 2021
What is a Gourmet Kitchen?
When you imagine a gourmet kitchen, you might picture a vast, spacious room packed full of top-of-the-line kitchen appliances. While abundant space and fancy equipment are great, they are not necessary for a well-organized, professional kitchen.
The central defining feature of any professional kitchen is ease of access. Counters shouldn't be cluttered with utensils or other implements, the walkways should be free of obstacles, and everything you might need during the food preparation stage should be within reach.
The Kitchen Work Triangle
The most optimal kitchens adhere to a design principle known as the "kitchen work triangle." It was developed in the 1920s by the industrial psychologist, engineer, and efficiency expert Lillian Moller Gilbreth, who originally referred to it as "circular routing."
The kitchen work triangle attempts to maximize the efficiency of a one-cook kitchen by limiting how much an individual moves around a kitchen and how much time it takes to get from one task to another.
The three points of the triangle are the food preparation area (sink or cutting board), the food storage area (refrigerator), and the cooktop. A triangular design keeps all of the most pivotal cooking zones within a few steps of each other, so no time is wasted dashing around the kitchen.
As you plan your kitchen's layout, consider how you can apply the principles of time and motion efficiency to create a workspace that would fit in at any professional establishment.
If your kitchen doesn't currently follow the kitchen work triangle model—or you feel like the current layout is hindering your cooking experience—it might be worth meeting with a professional interior designer to discuss ways you can remodel and optimize your current kitchen setup.
How to Design a Gourmet Kitchen—4 Tips to Get Started
A brand new kitchen island, designer range hoods, and high-powered ovens would undoubtedly enhance your kitchen's functionality. However, one of the best ways to start your gourmet kitchen design is to focus on simple upgrades that elevate what's already in your kitchen (without requiring a major remodel to install).
Think about your current cabinet setup—do you know where all your ingredients are stored? Are the items you use most (sugar, flour, spices, etc.) within reach and well laid out? Can you always find the appliances you're looking for?
In a gourmet kitchen, adequate cabinet organization and storage are vital. Because all the counter space is dedicated to food preparation, you won't want to keep your mixer or spice racks out in the open. Instead, identify ways you can transform your cabinets into the perfect storage solution.
Installations like a Base Cabinet Appliance Lift Shelf can be fitted to your cabinet to both hold your appliances and raise them to counter height when you need to use them.
The empty space between cupboards can be utilized for ingredient or appliance storage through the addition of a pull-out organizer or a blind-corner optimizer. Lazy Susans are also a great way to supplement the shelf space in your cabinets and allow you to quickly grab the right tool.
And, of course, no gourmet kitchen design is complete without a spice rack organizer. Consider installing an in-between cabinet pull-out spice organizer near your oven for optimal storing and ease of access.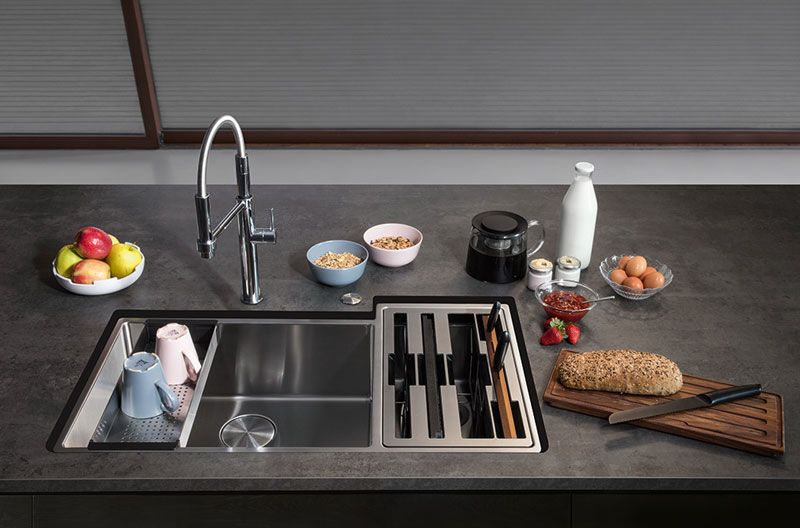 The versatile Franke Culinary Center Sink includes accessories like a walnut cutting board, wire rack, knife set, knife holder, and more.
3. Invest in a Culinary Faucet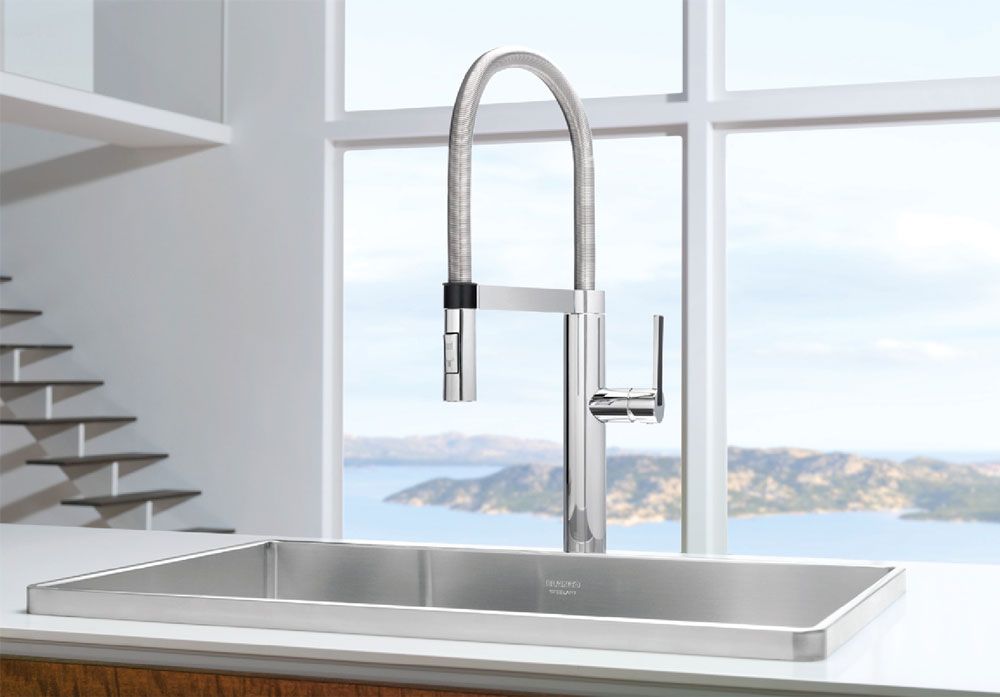 4. Enhance Your Task Lighting
Kitchen pendants, under-cabinet lighting, and other task lighting sources are vital to a gourmet kitchen design.
A bright, well-lit kitchen isn't just beautiful—it's also much easier to work in. And there are ways to incorporate additional lighting into your kitchen that will keep you from straining your eyes without overburdening the space.
Under-cabinet lighting adds soft illumination to your kitchen directly over the places where you most need it. Options include strip lighting that runs along the cabinets or individual lights that you can attach as needed.
Pendant lighting over your kitchen island can brighten up the room while adding to your overall aesthetic. Most pendant lighting fits well with a modern interior design, a popular style for gourmet kitchens.
Track pendants are lights attached to a track on the ceiling, allowing you to adjust the lights as needed. Multi-pendant lighting is ideal for large kitchens, and drum lighting lets you pick a material and look that fits into any design scheme.
Take Your Gourmet Kitchen Design to the Next Level
If you have the time and the budget to do it, the next best gourmet kitchen upgrades could include adding a new kitchen island, customizing your cabinets for new appliances, or adjusting the layout so it aligns with the kitchen work triangle.
A professional interior designer can help you make the most out of your gourmet kitchen remodel and ensure you have everything you need for a successful project. They can even help you save money! Contact one of our expert Vevano Home designers today for a free consultation about updating your home kitchen into a workspace worthy of a professional chef.