2022 Kitchen Design Trends That Will Modernize Your Space
November 15, 2021
By Emily Webb
Your kitchen is one of those spaces where a few changes or upgrades can dramatically improve how you use the room. The start of a new year, with the announcement of new trends and the reveal of the latest in appliances, is the perfect time to evaluate your current design.
According to the Vevano Home designers, there are many new trends on the horizon that will redefine the way we engage with our living spaces and how we choose to demonstrate our personality with our home design. Using their insights, we've put together this guide to give you ideas for renovating your kitchen for 2022.
2. Bold Colors & Nature-Inspired Hues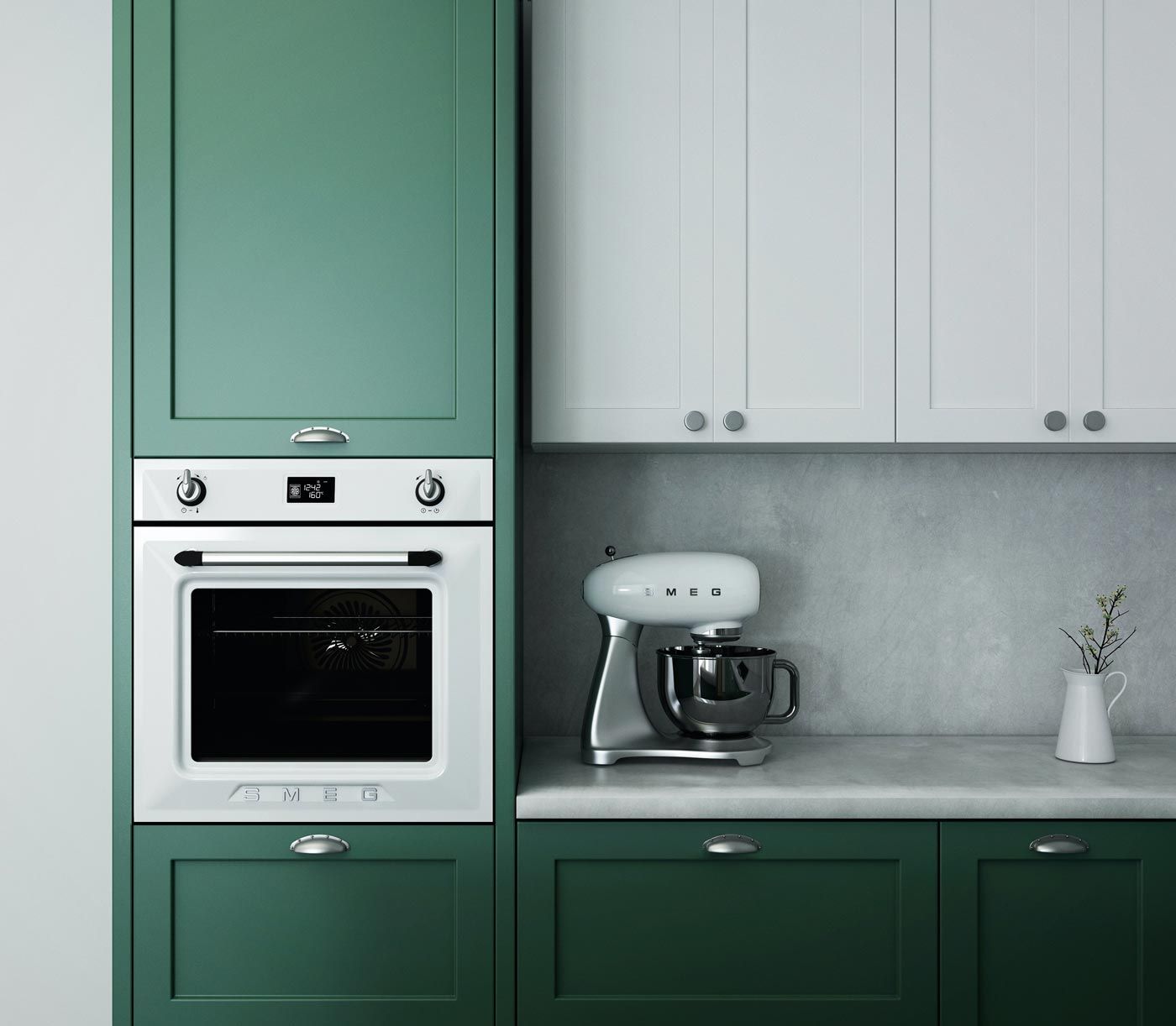 Stark white cabinets and walls set off by black fixtures have been the style of the moment for the last few years, but our designers have started to get fewer clients requesting this scheme. Instead, expect to see color make a comeback as people take a more personal approach to home design. Rather than using bright or bold hues as accents, color is becoming the main event.
Our designers anticipate the two types of colors that will continue to rise in popularity are jewel tones and nature-inspired hues. Jewel tones are richly saturated shades that resemble the colors of precious gems like emeralds, rubies, and sapphires. They are a striking decor choice and tend to warm up a room.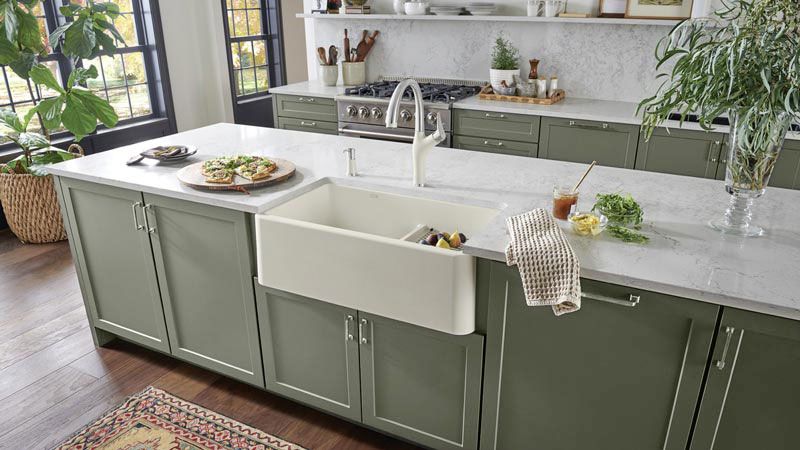 Natural hues, including browns and greens, are another popular option. Several paint companies have chosen a shade of green as their color of the year for 2022, as they have determined that many people will want to embrace the calming feelings evoked by a walk through a misty forest. As more people began working from home—and staying home more in general—in 2020 and 2021, they became more interested in turning their homes into havens of tranquility.
Even those opting for white cabinets are still warming up their colors, according to Vevano Home designer Michael: "A lot of people are not as interested in the stark white cabinets anymore. Instead, they want something cream or off-white—something warmer."
White and neutral colors will always be popular for cabinets because of their versatility, but if you want to get a bit more daring in your kitchen, consider painting your cabinets a color that reflects your personality or the atmosphere you want to create in your home. It's possible to have fun with your decor scheme while still maintaining elegance, and 2022 is the perfect year to give it a try.
To match the rise in popularity of nature-inspired colors, natural materials like wood and stone are taking their turn in the design spotlight. Our designers are also seeing an increase in requests for pieces of furniture that mix multiple materials, like standalone cupboards that are made from both wood and metal or Bar stools made of rattan and natural cane. These raw, natural materials often act as the focal point or statement piece of the kitchen, employing unique constructions and shapes such as seen with the Maxim Horgen Wood Pendant.
Marble and granite countertops will remain popular, but one change our designers are seeing is the use of these countertop materials extending into the backsplash. "I'm seeing more and more people doing slab backsplash, often the same as your countertop, rather than doing tiled," said Martha, lead designer at Vevano Home. Another option is to still do a slab backsplash but with a material that contrasts with the countertop, which adds extra flair to the space.
5. Open Shelves Above the Oven Range
There are a few ways you can change up your cabinets in the new year that will make your kitchen better suited to your needs. Our designers have noticed a trend in people asking for open shelving, particularly above the range, to offer easier access to a few items you use frequently or to add to the aesthetic of the room. If you have particularly special dinnerware that would look good against the cabinets, consider installing open shelving to show them off.
6. Gap-Free or Three-Level Cabinets
Another option becoming more popular is the elimination of the empty space at the top of cabinets. Not only is that space functionally useless, but it's a trap for dust, dirt, and bugs. If you could use some extra storage and don't want to worry about cleaning the top of your cabinets, look into installing cabinets that extend all the way to the ceiling—or, if your ceilings are particularly tall, a third row of cabinets above the traditional top row.
7. Transitional Cabinetry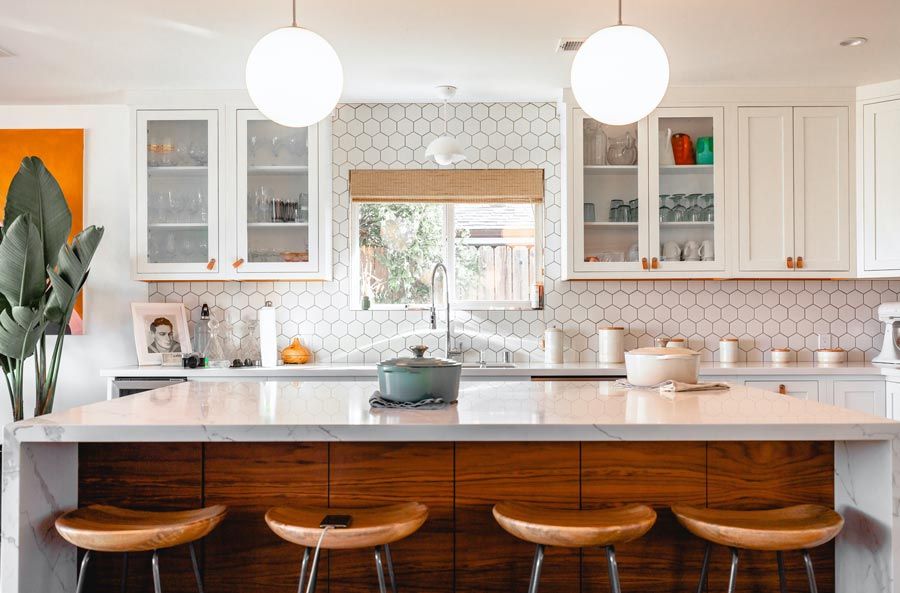 Something that we expect to see become more common over the next year is a shift away from minimalism and sleek contemporary styles. As with color, people are becoming more interested in adding touches of personality to their homes, particularly with embellishment and design flourishes on areas that have generally been overlooked. The end panel of a row of cabinets is one of these areas. Replacing your plain cabinet end panels with a decorated piece can liven up the room and help you move your kitchen into a more transitional style.
Adding elements of both modern and farmhouse style to create a transitional kitchen is also growing increasingly popular. To this end, our designers are receiving more requests for glossy white cabinets rather than the standard shaker cabinets. Although shaker cabinets will always be a top seller because of their versatility, clients are beginning to realize that they don't need an ultra-modern kitchen to have white gloss cabinets—they can blend multiple styles together to create a space all their own.
"Instead of white cabinets with a farmhouse sink and lantern-style lighting, I've noticed that people still want white cabinets but with a stainless steel undermount sink and a modern light fixture. It's still very similar to the white farmhouse, but it doesn't feel as farmhouse." —Michael, Vevano Home Designer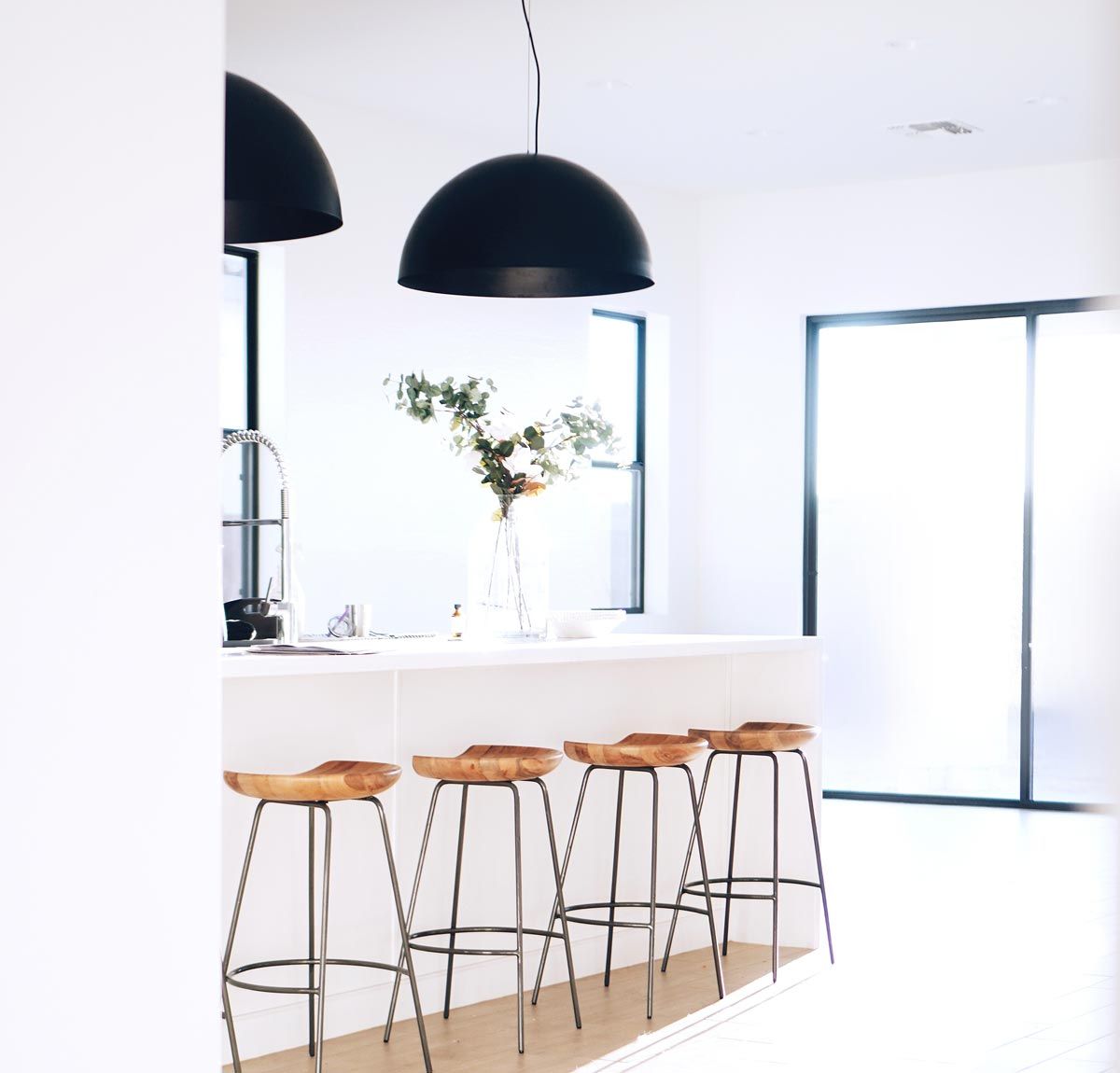 Statement lighting is swinging to the forefront of many wishlists, especially as a way to further emphasize a shift to transitional style. Pairing glossy cabinets with a wicker pendant can soften the ultra-modern sensibility and allow you to explore your creativity. If your kitchen leans toward the farmhouse style, you can mix things up with a large dome metallic pendant.
The kitchen trends for 2022 give homeowners a lot of latitude to inject personality into their kitchen and design a space that works best for them. If you're interested in modernizing your kitchen and want some advice about what to do with the space, book a consultation with our Vevano designers.