14 Best Kitchen Sink Materials for Ultimate Durability & Style
Whether you're taking on some small kitchen upgrades or tackling a full kitchen remodel, finding the perfect sink is critical! It's one of the most used spaces in your kitchen and a critical focal point of the overall design, so you need to find sink material that not only is beautiful and stylish, but also matches your family's needs for durability and maintenance.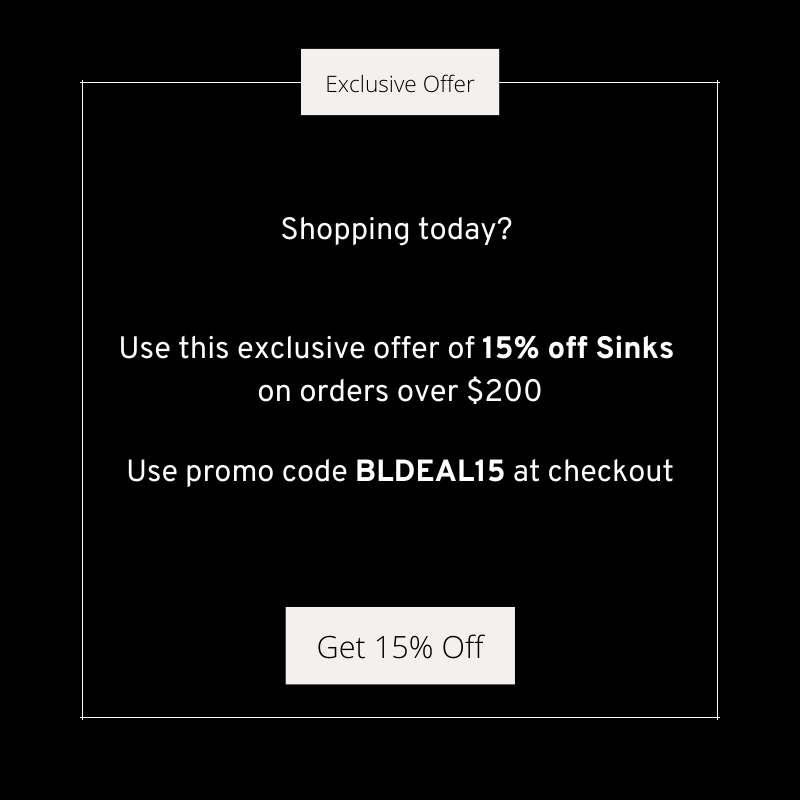 Whether you're ready for a style-focused, high-end upgrade or are looking for an attractive but more affordable change, this guide to the best kitchen sink materials will help you choose the right one for your needs and your budget!
Common Kitchen Sink Materials:
Pros: Affordable, easy to clean and maintain
Cons: Can be noisy, shows water spots
Style: Modern, Farmhouse, Transitional, Traditional
Cost: $-$$
When choosing your kitchen sink, you pretty much can't go wrong with stainless steel. This top kitchen sink material is extremely durable and able to withstand heavy drops from pots and pans while also resisting scratches from sharp knives and utensils.
With antimicrobial properties and a rust resistant surface, stainless steel is ultra hygienic, making it easier to prevent contamination as you prepare food or wash your dishes. And because it's heat and stain resistant, it's extremely easy to keep stainless steel sinks clean!
One of the only drawbacks to stainless steel is that dropping dishes and utensils into the sink is very noisy. But when you look at all the other benefits, stainless wins overall!
When choosing your stainless steel, make sure to pay attention to the gauge (or thickness) of the steel you're getting. The smaller the gauge, the thicker your steel. We recommend purchasing 16 to 18 gauge steel as those are tough, strong, and unlikely to buckle or bend under heavy use.
Another important factor in the durability of stainless steel is the series number, which tells you how the steel was manufactured and whether or not it's magnetic. 300 series steel is usually best because it's not magnetic and contains both chromium and nickel to add corrosion and heat resistance.
How to Clean a Stainless Steel Sink
Stainless steel sinks require little maintenance other than regular cleaning. Every day, simply wash with a soft cloth and gentle soap and rinse with warm water. For a deeper clean and added shine, sprinkle your sink with baking soda and scrub with a gentle cloth. To add shine and remove smelly odors, you can cut a lemon in half and use the cut edge to scrub the rest of the baking soda residue from the surface before you rinse your sink with water. (For more cleaning tips, check out our ultimate guide on how to clean your kitchen sink.)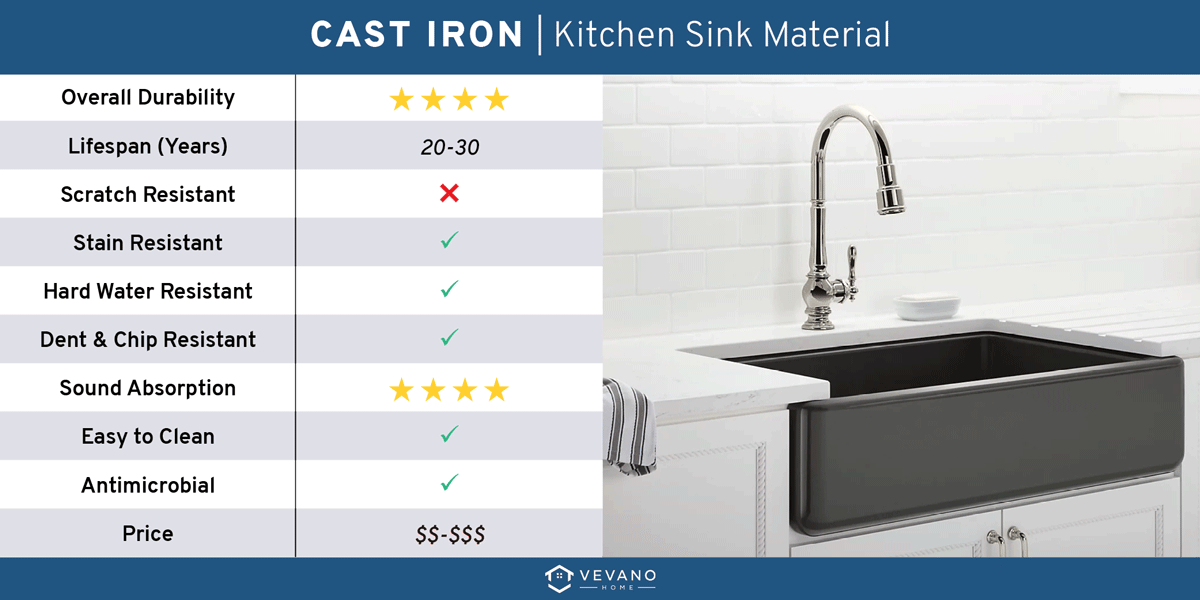 Pros: Highly durable, versatile style
Cons: Heavy, can chip
Style: Farmhouse, Traditional
Cost: $$-$$$
Cast iron is one of the heaviest materials you could use for your sink–but it's also one of the most durable!
One of the first things you should consider before installing this sink is whether or not you need to reinforce your cabinets to keep them from buckling or warping under the weight of your sink—especially when it's filled with dishes and water.
Cast iron sinks are made with a non-porous enamel coating that is fused to the iron with extremely high heat. This coating is available in a wide range of colors and finishes so you can match your sink to nearly any decor.
Enamel is easy to clean, but requires more frequent cleaning than stainless steel. It is also more susceptible to chipping or scratching from sharp objects and heavy pans, exposing the iron underneath and causing rust. To prevent this type of damage, you can place a protective plastic or silicone grid on the bottom of your sink.
How to Clean a Cast Iron Sink
Though non-porous and stain resistant, harsh chemical and abrasive cleaners can stain the enamel coating on cast iron. Regularly clean your skin with mild cleaners or detergents–such as baking soda–to prevent stains.
Pros: Affordable, easy to clean
Cons: Susceptible to dents, chips, and rust
Style: Farmhouse, Traditional
Cost: $-$$
If you like the classic look of enameled cast iron but are looking for a lower price tag, enameled steel is a good way to go!
Just like enameled cast iron, enameled steel is constructed with a steel frame covered in a durable, non-porous enamel. It's easy to clean, resistant to stains and scratches, and fits a variety of kitchen styles.
Enameled steel is also much lighter than it's cast iron counterpart, so you likely won't need to add cabinet reinforcements, cutting down the cost of your new sink. However, enameled steel is not quite as durable as enameled cast iron.
Enameled steel is thinner and more prone to chipping and cracks, which can lead to rust if water leaks below the surface to the metal. Despite an increased risk of damage, enameled steel remains a popular choice because it's affordable and still lasts for 15 years or longer.
How to Clean an Enameled Steel Sink
Wipe down with gentle soap and water regularly. Abrasive cleansers and chemicals can damage the surface of the enamel and expose the metal underneath.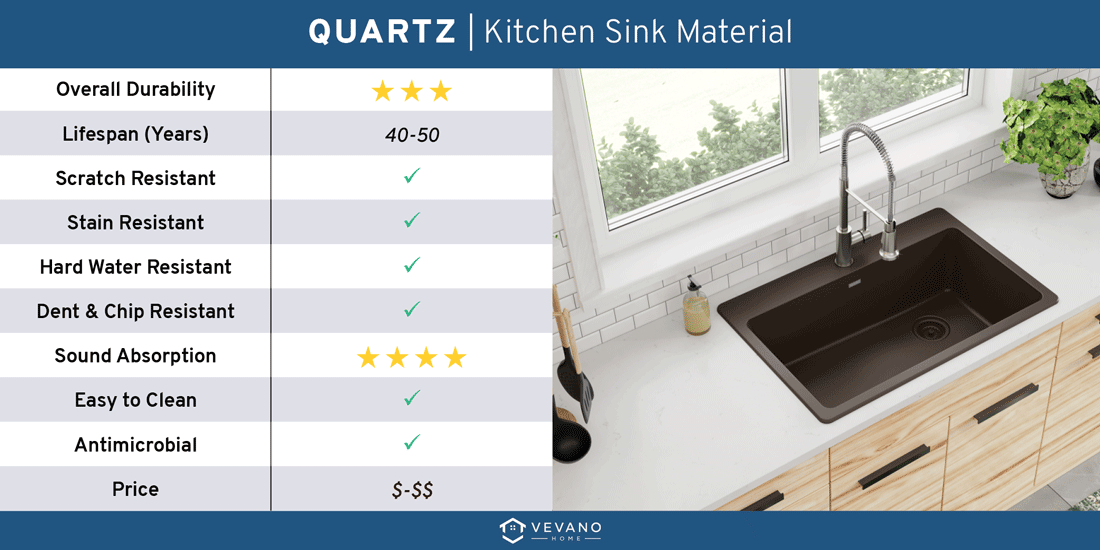 Pros: Extremely durable, heat and sound resistant
Cons: Dishes can break if dropped in sink
Style: Transitional, Traditional
Cost: $-$$
If you love the look of natural stone but aren't ready for the big price tag, quartz composite may be a perfect fit! This man-made material uses a mixture of natural stone and acrylic resin to create the look and feel of natural stone.
While the porous surface of natural stone absorbs water and stains, quartz composite resists staining because it's nonporous and uniform all the way through. This also helps increase resistance to chips and scratches.
Though the extremely hard surface of quartz composite offers increased durability, it's possible for delicate dishes and glasses to break if they are dropped in the sink. However, quartz composite is still a really popular material for sinks because it's extremely heat resistant, absorbs sound, is available in a variety of styles, and is far more affordable than natural stone.
How to Clean a Quartz Sink
Wipe your sink down regularly with water and mild soap to keep it clean.
Pros: Easy to clean and maintain, resistant to heat, scratches, chips and staining
Cons: Heavy and may require cabinet reinforcements
Style: Transitional, Traditional
Cost: $-$$
Similar to quartz composite, granite composite is a mixture of natural granite and acrylic. This combination creates one of the strongest sink materials available!
It's easy to clean, resistant to heat, scratches, chips, and stains–everything you need to keep your sink beautiful for decades. Unlike metal and ceramic sinks, granite composite dampens sound so you hear less clanging of pots and pans.
Like enameled cast iron sinks, granite composite sinks are very heavy and may require cabinet reinforcements. With durable features, plus a smooth matte finish available in multiple colors, granite composite sinks are extremely popular.
How to Clean a Granite Sink
Simply wiping down your sink regularly with mild soap and water should keep it clean. However, for tough stains you can sprinkle baking soda in your sink, add vinegar, wipe with a non-abrasive sponge, and rinse with warm water.
Pros: Resistant to stains, scratches, rust, fading, and high temperatures
Cons: Can crack from dropped objects which can't be repaired
Style: Modern, Farmhouse, Traditional
Cost: $$-$$$
Just like it sounds, fireclay is clay shaped and fired at high temperatures to forge a durable, hard material. This popular sink material resists stains, scratches, and high temperatures while also being resistant to rust and fading.
Fireclay's biggest weakness is that it can crack if heavy or sharp objects get dropped in the sink. Because it doesn't have an iron or steel core to keep pieces together, cracked fireclay sinks cannot be repaired and have to be replaced.
We recommend using a silicone or plastic grid on the bottom of the sink to protect it from sharp objects that could cause chipping or cracking.
Solid surface sinks (and countertops) are made by mixing a mineral compound with polyester or acrylic resin into a rigid, nonporous material. Being a completely manufactured material, solid surface sinks can be made into nearly any color or shape and can even mimic the look of stone.
As a bonus, solid surface sinks can be seamlessly joined to a solid surface countertop which prevents bacteria from growing in the seams between your counter and the sink. The smooth, nonporous finish of solid surface sinks prevents food debris and liquids from sticking to the surface and causing stains.
Solid surface sinks are durable, easy to clean, and are resistant to dents, stains, and color fading. However, hot pots and pans can melt this material and it can be scratched. Luckily, scratches can be repaired with sanding and polishing.
How to Clean a Solid Surface Sink
To avoid hard water build up, dry your sink after each use. For general daily cleaning, use warm water and soap or an ammonia based cleaner. For a deeper clean once or twice a week, fill a spray bottle with ¾ of the way up with bleach and top off with water. Spray bleach-water solution on your sink and let it sit overnight up to 16 hours. Rinse with warm water to reveal a germ-free, gleaming sink!
Want a sink that stops the show? Choose a beautiful, eye-catching copper sink!
Usually hand crafted, these sinks are usually pricier than nearly all other kitchen sink materials. However, they are worth the investment because of their unique style, natural antimicrobial properties, corrosion and rust resistance, and sustainability (they are 100% recyclable.)
While some love having a bright, shiny copper sink, others value the natural patina that develops over time and adds a vintage touch to the style of your sink. That's why manufacturers offer a wide variety of choices.
Natural copper sinks can be sealed to preserve the original luster and shine. Alternatively, you can purchase an artisan crafted sin that is pre-aged with a natural patina and sealed to prevent further changes in color. Scratches and dings will be more visible on smooth finishes while a hammered finish hides damage and imperfections.
Additionally, you will want to pay attention to the gauge (thickness) of the copper you choose for increased durability. While the thickest and strongest copper sinks are 14 gauge, you can find sinks that go up to 20 gauge which is the thinnest and most fragile.
How to Clean a Copper Sink
Copper sinks can have color changes and stains from hot utensils or acidic foods and beverages. Rinse acidic foods off quickly to prevent damage. For day to day cleaning, use mild soap and water or a gentle copper cleaner and pat dry with a soft cloth. Prevent water spots and mineral deposits by applying copper-safe wax regularly.
Pros: Antimicrobial, stronger than copper
Cons: Requires more maintenance, susceptible to scratches, dents, and dings
Style: Modern, Transitional, Industrial
Cost: $$$$
Brass sinks are similar to copper ones–in fact, they are simply an alloy of copper and zinc! Like pure copper sinks, brass sinks have natural antimicrobial properties and can develop a unique patina over time if not sealed properly.
Brass is somewhat stronger than copper, but it is still susceptible to dents, dings, and scratches. It requires more care and maintenance than other kitchen sink materials, so if you're expecting a lot of heavy use it may be more practical to choose another material. However, brass offers added home value and will last as a statement piece in your kitchen for decades.
How to Clean a Brass Sink
Wash regularly with a mild soap and water. Never use cleaners with harsh chemicals as it will wear away finishes and cause discoloration. If you want to maintain your color and avoid the natural patina, it requires additional sealing.
Pros: Affordable, easy to clean, versatile style
Cons: Susceptible to scratches, dings, and heat damage
Style: Farmhouse, Traditional, Minimalist
Cost: $-$$
Looking for a sink that can match nearly any style? Acrylic is a perfect choice!
This easily moldable plastic is one of the most affordable and versatile kitchen sinks you can find. It's easy to clean, strong, sound absorbent, and the nonporous surface is resistant to mildew and dirt buildup.
However, because it's plastic it can be scratched by sharp objects and abrasive cleaners and is susceptible to burn marks from hot pans. Luckily, because acrylic is a solid color all the way through, scratches can be repaired with a car buffing compound.
If you choose an acrylic sink, it's important to evaluate the kind of wear and tear your sink will need to endure.
How to Clean an Acrylic Sink
Clean with gentle cleaners and water regularly. Avoid abrasive brushes and cleaners as they will scratch the surface of acrylic sinks.
Pros: Easy to clean and maintain; stain, heat, and scratch resistant
Cons: Can be chipped by heavy objects
Style: Traditional, Minimalist
Cost: $-$$
Porcelain is a traditional material that has been used for centuries in dishware, sinks, toilets and more. It's typically made by firing these two ingredients at extremely high temperatures: potter stone and kaolin, a silicate mineral that creates structure. The result is an extremely dense and hard ceramic with a smooth, nonporous finish.
While solid porcelain sinks are durable and great on their own, some homeowners opt for extra reinforcement by choosing porcelain coated steel or porcelain with a protective coating of vitreous china. Porcelain can come in a variety of colors, though white is a long-standing favorite thanks to its timeless appeal.
Porcelain is easy to clean and maintain and is stain, scratch, and heat resistant. However, porcelain is susceptible to cracking or chipping from dropping hard or heavy objects so we recommend using a protective grid or silicone pad in your kitchen sink to prevent damage.
It's also important to remember that porcelain is a heavier material, especially when casted over steel or cast iron, so your cabinets could need some reinforcements to withstand the weight.
How to Clean a Porcelain Sink
Porcelain can be cleaned with nearly any type of cleaner. We recommend regularly rinsing your sink with mild soap and water to avoid spots from dried on food debri. To remove hard water build up, use ammonia based cleaners or bleach.
Pros: Affordable, easy to clean and maintain
Cons: Less versatile in style
Style: Traditional, Minimalist
Cost: $-$$
If you love the timeless look and easy maintenance of porcelain but want some extra durability, vitreous china is the top choice!
Vitreous china is an enamel-like finish typically applied over traditional porcelain to make it stronger, shinier, and more resistant to scratches, chips, and stains. Typically, vitreous china is more durable and less expensive than porcelain, making it a popular choice in commercial bathrooms and other high-use areas.
Vitreous china is a great choice for withstanding the wear and tear of dishes and food prep. Vitreous china is usually easier to install than traditional porcelain, especially because it's lighter than the steel and cast iron reinforced versions of porcelain.
How to Clean a Vitreous China Sink
Regular cleaning with warm water and mild soap should keep vitreous china clean and shiny. For tougher messes, use a cleaner specifically for sinks. Avoid abrasive chemicals.
Pros: Heat-resistant; long lifespan; adds value to your home
Cons: Very heavy, extra reinforcement needed; proper sealing required
Style: Modern, Farmhouse, Transitional
Cost: $$$$$
Want you sink to be a showstopper in your kitchen? A natural stone sink is a great option!
Whether you choose marble, granite, lava, or petrified wood, you're getting a durable sink that adds incredible value to your home and will last for years to come. Because stone sinks are carved from single pieces of material, natural variations in tone and texture are preserved making your sink 100% unique.
Stone sinks are incredibly resilient to heat, scratches, and dents. But they are also porous and need to be sealed to prevent them from absorbing liquids and becoming stained or discolored. They are also extremely heavy, usually requiring cabinet reinforcements before installation. Natural stone sinks are some of the most expensive you can get.
How to Clean a Stone Sink
Stone sinks are particularly susceptible to hard water build up, especially if they aren't sealed. For the best prevention, dry your sink after each use. For general cleaning, a mild soap and water is best. Avoid using acidic cleaners (even vinegar and or lemon based cleaners) because they can eat away the protective coating, scratch your stone, and cause irreparable damage.
Pros: Unique style, sound absorption
Cons: High maintenance, expensive
Style: Modern, Farmhouse
Cost: $$$$
We know what you may be thinking–does wood and water really go well together? It can! With the right wood, special sealants, and proper care wooden kitchen sinks can be a great investment!
Though one of the least common kitchen sink materials, wood sinks can add a beautiful, earthy touch to your kitchen that won't get with any other material. Many wood sinks are made of teak, a wood harvested from Asian forests that is often used in outdoor furniture. Because it has a high resin content, teak has some natural resistance to water damage and rotting, but to last under the heavy moisture exposure needs of your sink it should be sealed with a water-tight coating.
Other wood sinks are made of bamboo or eucalyptus. Before choosing a wood sink, be sure to consider your maintenance requirements and the fact that they won't last as long as other sinks do.
Conclusion
No matter you budget, style, or practical needs, there's a kitchen sink material out there for you! We hope this comprehensive guide to kitchen materials helps you narrow down your search for the perfect kitchen sink for your home. For personalized, expert advice on your kitchen sink choice or larger kitchen remodel needs, be sure to reach out to a Vevano Home Designer for a free consultation to get started!