The Ultimate Guide to Shaker Cabinets
By Jessica Earley
February 16, 2022
If you have been planning a kitchen or bathroom remodel, you've probably come across Shaker cabinets as you've been browsing and shopping. As one of the most popular, long-standing styles of cabinets out there, Shaker style cabinets are built to last and can adapt well to changing home styles.
Let's dive into the details and find out what makes Shaker style doors so great and how you can style them to match your home!
What Are Shaker Style Cabinets?
Shaker cabinets are simple cabinets that are most often used in kitchens but can also be installed in bathrooms. They consist of five pieces: One recessed center panel framed by four raised pieces. The simple, clean lines make them easy to match a variety of styles throughout kitchens and bathrooms.
Shaker cabinets were invented by a religious group called the Shakers that split from the Quakers in the 1700s. Shakers were very industrious and quickly became known for making quality furniture and cabinets. Their approach to carpentry reflected the basic values behind their beliefs: plainness, practicality, and pride.
Consequently, all of their furniture–including cabinets–was free from intricate designs and embellishments. They focused on clean lines and emphasized functionality.
Traditionally, the Shakers built cabinets from the abundant supply of birch, cherry, pine, maple, and oak near their settlements. In the beginning, each cabinet was handcrafted and used in Shaker homes.
As early adopters of emerging power tools in the late 1800s, the Shaker community began to build and sell surplus furniture and cabinets that quickly spread throughout the United States. Today, Shaker cabinets have become a timeless style that is mass-produced and sold around the world.
Are Shaker Style Cabinets Trendy or Timeless?
Simple answer: Shaker cabinets are both timeless and extremely popular right now!
While other styles of cabinets have had waves of popularity over the years, Shaker cabinets have remained a mainstay style because of their simple construction and ability to match nearly any style or aesthetic.
Shaker cabinets are like an unobtrusive canvas upon which you can paint, stain, or add creative hardware that matches the particular style you're going for. Though shaker cabinets are a hallmark of farmhouse kitchens, there are ways to give your cabinets a modern edge or traditional flare. (More on that later.)
So, are Shaker cabinets going out of style? No! With so many options and versatility, it's safe to say that Shaker cabinets are here to stay.
Why we love Shaker Cabinets!
Extremely minimalistic and versatile
Can be easily paired with different materials and design elements
Simple construction lends to durability
Easy to clean and maintain
Never goes out of style
There are three ways that any cabinet door can be placed within your cabinets–inset, full overlay, and partial overlay.
Inset cabinet doors are set into the frame of your cabinets and are constructed to fit flush with the face of the cabinet when closed. This is a popular choice for Shaker cabinets because it highlights the simplicity of the design with a smooth, clean appearance. Because there is no room around the edges of the doors when shut, inset Shaker cabinet doors require knobs or handles to open them.
Full overlay Shaker cabinet doors are the most popular and least expensive option. The opposite of inset doors, full overlay doors sit outside of the frame and completely cover the cabinet face when closed. If you like the smooth, seamless look of inset cabinet doors at a 15% to 30% lower cost, full overlay doors may be right for you. Knobs or handles are still needed to open the doors.
Additionally, some homeowners love partial overlay Shaker cabinet doors because they are set outside the cabinet frame like full overlay doors but typically have over an inch of space around the sides so you can open them without any additional hardware.
Color
One of the best things about Shaker cabinets is that they can be painted or stained to match nearly any decor or style. The most popular Shaker cabinet color is white!
Because the color white reflects whatever light is in your room, white Shaker cabinets will create the impression that your room is larger and brighter. White enhances the sleek and minimalist design of Shaker cabinets to make your space feel more airy and welcoming. White also acts as a great backdrop for highlighting centerpieces and allowing other colors and cabinet finishes to pop.
Gray is another popular color choice. With so many shades to choose from, painting your Shaker cabinets gray can match any style from farmhouse to ultra-contemporary. However, gray can look dull if it's not paired with contrasting details like bright bar stools, striking countertops, or colorful decor.
Black cabinets are both dramatic and sophisticated. One of the best things about having black cabinets is that dirt and grime will be less visible. Because they will absorb light more than they reflect, it may be best to pair black cabinets with pale floors or countertops to balance out the darkness.
If you want to take a step outside more traditional colors, consider blue cabinets to bring in some cool and peaceful tones or green to embrace elements of nature. The lighter shades of blue and green can make your room look bigger where darker shades like navy or emerald will add a touch of sophistication.
Materials
The final style of your Shaker cabinets will depend on the cabinet material they are made of. Here are some of the popular materials you'll find for Shaker cabinets.
Hardwood–Original shaker cabinets were usually made with pine, birch, and maple. These types of wood cabinets will match traditional styled rooms best.
Medium Density Fiberwood (MDF)—Made from a mix of dehydrated wood shavings and sawdust mixed with resin and formed into smooth planks, MDF is a durable material that is easier to paint and more affordable than hardwood. This is a great choice if you plan on painting your cabinets to match your style.
Plywood—Made from compressed, glued together layers of veneer (extremely thin sheets of wood,) plywood costs less than solid wood and can be easily painted, making it a good material for Shaker cabinets. You may see some plywood varieties referred to as "cabinet-grade plywood," but that's just a moniker for hardwood plywood. A more expensive and stronger variety, hardwood plywood is finely sanded down on one side and less sanded down on the other.
Standard, Skinny, and Shallow Shaker Cabinets
As you're shopping for Shaker cabinets, you may start to find designs that are called "skinny" (or "slim") and shallow. Typically, the skinnier and shallower your cabinets get, the more modern they will look.
Standard Shaker cabinets will have stiles (the vertical parts of the frame) and rails (the horizontal part of the frame) that range from 2 ¼ inches to 3 ½ inches wide. Typically, there is a step of about ¼ inch down to the recessed Shaker panel. This construction leans more toward a traditional style.
If you're looking for a way to make cabinets a little more modern, you might want to look into the skinny Shaker cabinet varieties. Skinny or slim Shaker cabinets have stiles and rails that are slimmer, sometimes shrinking down to just ¾ inches, allowing for a much wider recessed panel.
Shallow shakers cabinets are also more modern. They have a smaller step down to the recessed panel than standard Shaker cabinets, often only ⅛ inch.
Many of the contemporary and modern styles of Shaker cabinets will combine skinny and shallow properties. If you opt for skinny or shallow cabinets, keep in mind that you may have to choose different hardware that these thinner and skinnier cabinets can hold.
How Shaker Cabinet Doors Are Made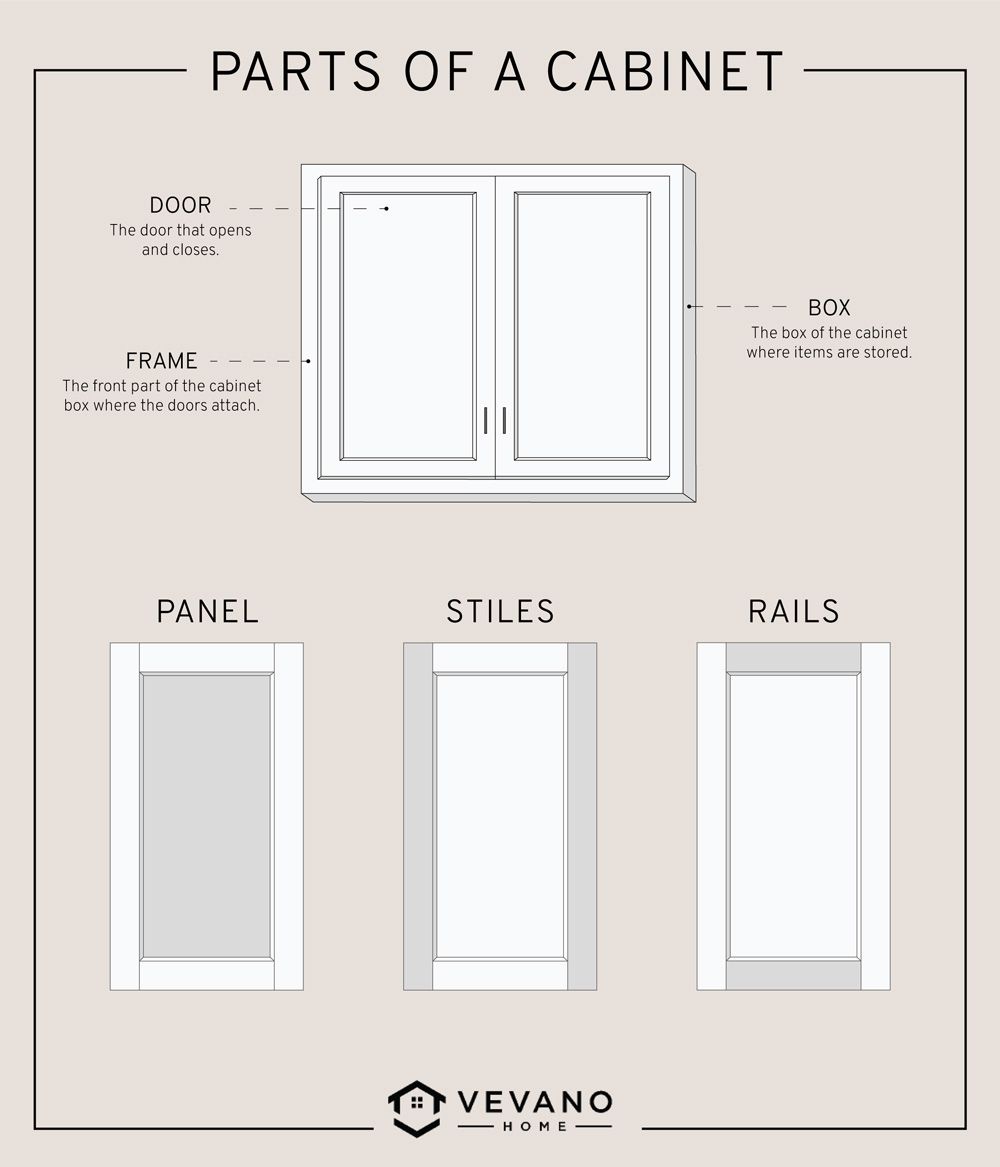 As we mentioned earlier, the Shaker's designed cabinets with plainness and practicality in mind–and it's evident in the way they are constructed.
Shaker cabinets only have five pieces–two stiles, two rails, and the center recessed panel. The stiles and rails are thicker than the recessed panel and have slots and carved tongues so the pieces can fit neatly together. Typically, wood glue is applied to the slots in the stiles and rails before the recessed panel is slipped inside. Once the glue is dry, they're ready for hardware and hinges!
This type of cabinet construction is referred to as the cope and stick method, which differs from many other cabinet types that are made with mitered joints. Cope and stick means that the slots and grooves of your stiles and rails come together at a 90 degree angle in each of the four corners. Mitered styles meet in the corners at a 45 degree angle, creating a diagonal seam.
Cope and stick cabinets have two many advantages over mitered cabinets. First, having 90 degree angles at the corners makes them stronger and more durable over time. Second, they allow for the natural swelling and shrinking your cabinets may have with changes in temperature and humidity. The grooves often are a little deeper than your initial needs so when the center panel swells, there's room for it which prevents warping or cracking.
Shaker Cabinet Styles + Pictures
We said it earlier, and we'll say it again–Shaker cabinets are so versatile they can fit into almost any design style you're imagining. Here are just a few of the different styles that Shaker cabinets can complement.
Modern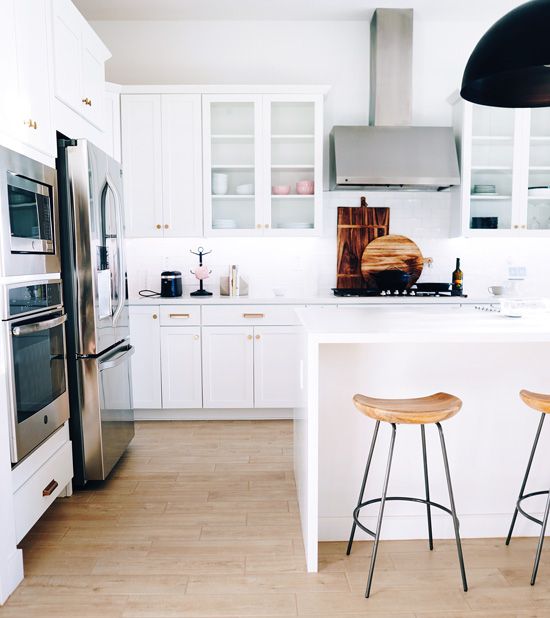 Modern cabinet styles forgoes ornate details and emphasizes clean and polished lines for an overall minimalist look. With a focus on plainess and practicality, Shaker cabinets are the perfect fit!
The Shakers originally made everything–including pulls and knobs–from wood. Modern Shaker style cabinets usually feature metal hardware. Cup handles are usually used on drawers while simple round knobs are best for cabinets.
However, you may prefer a pull bar that mimics the straight lines of Shaker cabinets. Choose from chrome, stainless steel, bronze, or nickel hardware to give your Shaker cabinets a simple modern upgrade.
Another way to create modern Shaker cabinets is by playing with bold, striking colors rather than neutral or muted colors found in more traditional styles. Explore options with dark greens, intense blacks, bright turquoise, and more!
You may also want to consider using more than one color to create zones throughout your kitchen or bathroom. Paired with the right accents and hardware, these colors will quickly take your look into the modern era.
Farmhouse
Shaker cabinets are the most popular choice in farmhouse kitchens. They follow many of the same tenets of farmhouse style: function over fashion, simplicity, and a callback to past eras.
Farmhouse style is characterized by a lot of natural light, exposed wood, and soft colors. White is the most popular color for Shaker cabinets used in farmhouse spaces. But you may also want to consider other soft colors and natural tones, like pale blues, greens, or yellows. Staining your cabinets to look like aged or natural wood is also a great choice!
Farmhouse shaker cabinets usually feature traditional cup pulls, square or round knobs, and polished finishes. Bronze is a popular finish for farmhouse hardware, but you can also find dark cabinets paired with gold finishes or clear glass knobs and pulls that blend into your painted cabinets. Large or oversized hardware is another characteristic of farmhouse shaker cabinets.
Traditional
Traditional styled cabinets are characterized as having beveled edges, eclectic hardware, and natural colors. Though other cabinets are more popular for traditional styles, shaker cabinets are still a great fit!
Shaker cabinets' main traditional characteristic is the clean beveled edge leading to the recessed center panel. Most traditional styled shaker cabinets keep their original wood finish that may be enhanced with carefully chosen stains. In addition, they may be white or have antique glaze finish.
Overall, you want your traditional shaker cabinets to exude warmth and coziness. To add more traditional flairs to your shaker cabinets, you may want to choose antique looking knobs and handles either made from wood or aged metals.
Characteristics of Quality Shaker Style Cabinets
When upgrading your shaker cabinets, you want to make sure you find quality cabinets that will stand under the wear and tear of kitchen or bathroom use. Here are some of the qualities to look for.
Single Wood Construction—This means that each cabinet door is made for a solid piece of wood. Since Shaker cabinets may swell and shrink with changes in humidity and temperature, constructing them from a solid piece of wood ensures that all the pieces react the same which prevents cracking.
High Quality Materials—Traditionally, the Shakers used pine, birch, and maple to construct hardwood cabinets. Other popular and durable materials are medium density fiberwood, or cabinet grade plywood.
Soft Close Hinges and Slides—Though shaker cabinets are really durable on their own, repeated slamming can wear down the edges or cause cracking. High quality shaker cabinets will feature soft close hinges and slides that keep your cabinets and drawers from slamming shut.
Fully Assembled Cabinets—Generally, fully assembled cabinets will be stronger and more durable than ready-to-assemble Shaker cabinets that you put together yourself. Fully assembled cabinets are pricier, but can prevent expensive mistakes, repairs, or replacements.
Semi-Gloss or High-Gloss Finishes—The durability of your Shaker cabinets will be greatly influenced by the type of finish you choose. Semi-gloss is most popular because it's inexpensive and resistant to heat, chemicals, scratches, water, fungus, mildew, scratches, dents, and smudges. High-gloss finishes are more expensive but typically provide all the same protections as semi-gloss but it will last longer because it absorbs and becomes embedded into the wood.
Pro Tips: Shaker Cabinet Hardware
Looking for the perfect cabinet hardware to match your shaker cabinets? Here's a quick guide to hardware that will help you pair the perfect pieces to the most common color options available.
Shop Our Shaker Cabinet Collection
At Vevano Home, we have an extensive collection of Shaker cabinets you can browse. We even offer financing!
Not sure what will match your kitchen or bathroom best? Get help from a Vevano Home interior designer. Schedule your free consultation today!