Ultimate Guide to 9 Best Wood Kitchen Cabinets
Bring Nature Indoors with Stunning Wood Cabinetry
By Mikael Short
March 3, 2022
Wood cabinets—whether a solid hardwood or a veneer—are a staple in any kitchen, thanks to their design versatility and overall strength and natural beauty. As cabinets are the foundational statement feature, they create both the functional and aesthetic backbone of your kitchen.
Wood kitchen cabinets in particular are popular for both their appearance, durability, and functionality. They are so versatile they can be easily matched with other design elements in your kitchen.
Even if you can't afford solid wood cabinets, there are a variety of wood-looking alternatives that can be just as beautiful and, in some cases, more durable.
There are four degrees types of wood cabinets to be aware of:
Solid Hardwood - The classic, timeless, and unique wood cut and carved into cabinetry, highlighting the natural beauty and strength of wood pieces.
Engineered Wood - As an alternative to real wood, engineered wood creates a slab made of several layers of sliced wood, glued and pressed together with heat and thermofused melamine to create a board with a wood-grain texture surface.
Veneer - A thin piece of wood attached to a manufactured, composite interior piece, offering the look of wood cabinets.
Laminate - A composite plank topped with a laminate layer bearing the appearance of your choice.
There are a variety of ways to achieve a wood-look with your kitchen cabinets, depending on your budget, style, and durability needs.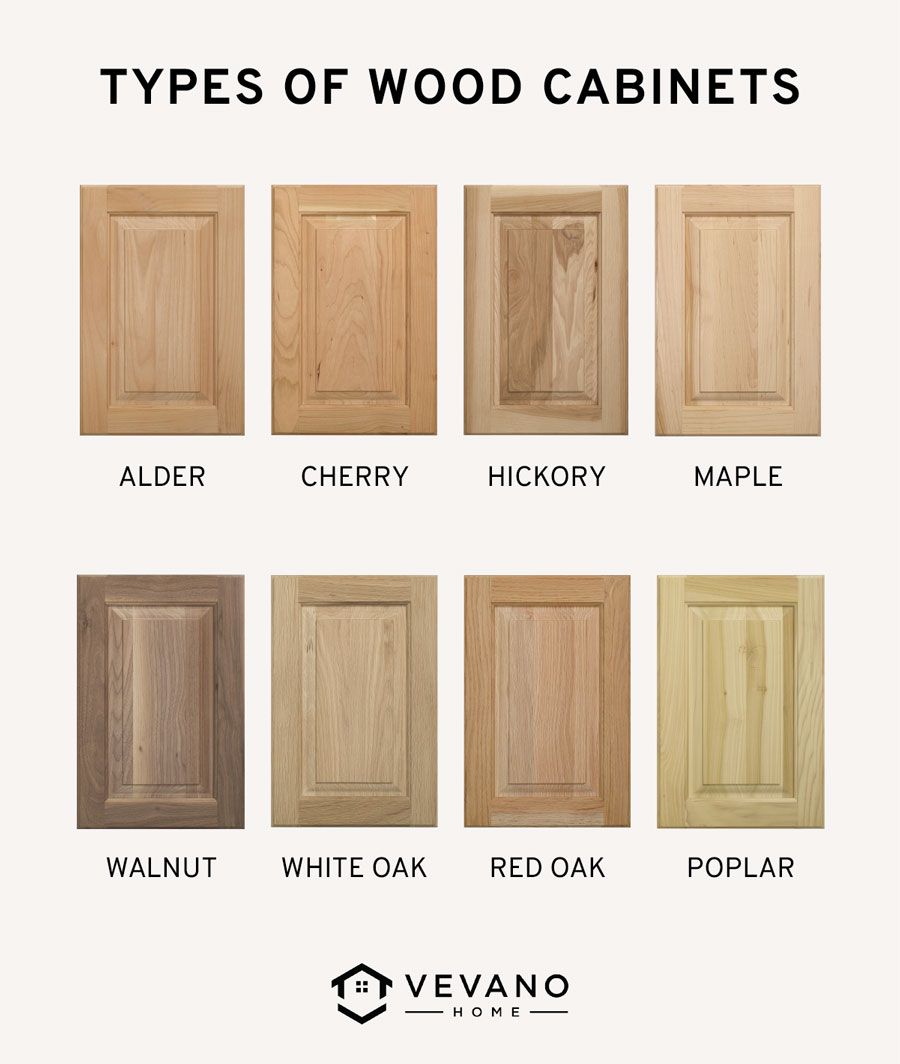 Wood cabinets are available in many different colors, shades, and species (tree type), providing a wide range of wood-grain variations and characteristics. The grain is the texture, markings, and pattern on the wood.
Note that the best woods are both sturdy and beautiful. The most durable woods for kitchen cabinets have higher densities to ensure long-lasting cabinets.
Below are the different wood species you'll find in cabinetry, their defining characteristics, and what kitchen design and cabinet styles they work well in. Note that you don't need solid hardwood cabinets to get the look of Maple, Cherry, Walnut, and other wood cabinet varieties. All wood cabinet pictures are from our popular and customizable Foxcroft 10x10 Kitchen Cabinet Collections.
Maple Cabinets
Hard maple is fine grain, light color wood with minimal color variation, offering a fairly uniform appearance. It often features well with a clear or natural finish to enhance its lighter tones, though it is easy to paint or stain too.
It is more expensive than oak, though it is less dense. Maple is very durable and withstands temperatures better than other hardwoods. Often used for semi-custom and custom cabinets.
Popular for light contemporary or farmhouse styles.
Cherry Cabinets
Cherry is a hardy and strong wood that features a smooth, fine-grain pattern that is beautiful whether it's natural or stained. It's considered a high-end wood type.
The color varies between red to reddish brown in warm tones. Cherry is unique in that it darkens with age and sun exposure. It is often stained for uniform appearance throughout.
Popular in contemporary or traditional styles.
Walnut Cabinets
Walnut features a smooth uniform grain, like swirls, from deep chocolate brown to light reddish gray. It's also easy to carve. Walnut tends to mellow, or lighten, with age, making it a premium wood choice for kitchen cabinets.
Popular for traditional, classic, and transitional styles.
Hickory Cabinets
Very strong and bearing a similar grain to oak, Hickory carries a wide variation in tone and color. It features tones from a pale cream, to a warm reddish light brown, or even black. Hickory is highlighted best with clear or natural finish.
Popular with rustic or farmhouse styles.
Red Oak Cabinets
Red oak features distinct curved and straight grain patterns. Very hardy, strong, durable, and moderately priced, making it a favorite for kitchen cabinets. Red oak works with a variety of styles and finishes. If it's painted, it may still reveal its grain beneath.
Popular in traditional styles.
Alder Cabinets
Alder wood features a straight, fine-textured grain, much like cherry and maple. It's a lightweight hardwood (referred to as semi-hardwood) that's fairly uniform in color, light brown with reddish undertones. It's considered eco-friendly and easy to work with. You can use its natural grain and color or even stain it.
Popular for rustic modern and contemporary styles.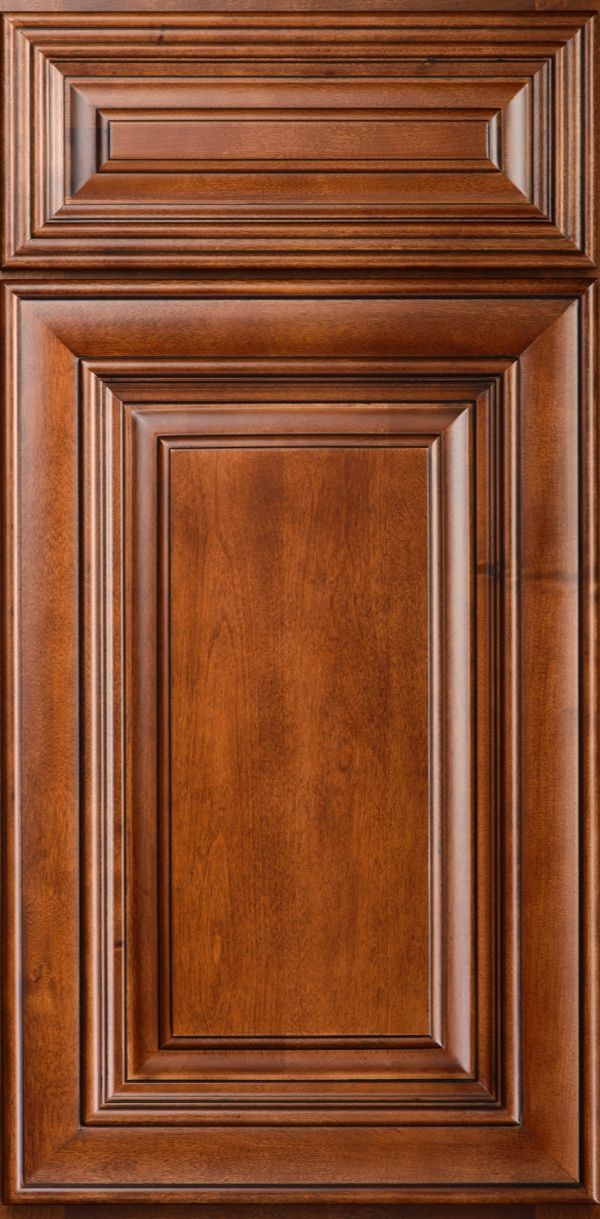 Birch Cabinets
Birch is a durable and versatile fine-grain wood and is commonly used for moderately affordable cabinets. Its grain runs slightly darker than maple. Even though it's prone to inconsistent coloring, birch wood also takes finishes well, so it can be stained to resemble more luxury wood, like cherry or maple. Birch tends to be more expensive than engineered wood.
Birch can work in a variety of styles due to its versatility.
Poplar Cabinets
Poplar wood is one of the strongest softwoods, and one of a couple soft woods available in cabinetry. It carries a uniform, light wood appearance, and it's being growing in popularity due to how affordable it is.
It's lightweight yet strong, versatile, and easy to paint (though it may require more paint than you think when repainting). With how soft it is, it is prone to denting and scratches.
Popular with farmhouse, rustic, contemporary, and modern styles.
Cost of Wood Cabinets
The cost of kitchen cabinets will vary depending on the type of wood and the varying degrees of cabinet materials used in the overall construction of the cabinet. Be prepared to pay at least $120 per square foot for wood kitchen cabinets.
Stock kitchen cabinets that are readily available will be the most affordable, while semi-custom and custom cabinets will start to increase that base price depending on how personalized you want your cabinet set.
Whether the cabinets come pre-assembled or ready-to-assemble (RTA) will also impact the price as well as shipping costs, since pre-assembled wood cabinets will cost a lot more due to shipping weight.
Vevano carries primarily engineered wood, which is less expensive than real hardwood, with many of the same benefits. A standard 10x10 kitchen cabinet set from Vevano Home starts at $2,000. The upper range for custom wood kitchen cabinets could get up to $7,000 - $10,000, if not more.
Note that laminate cabinets are about half the cost of solid wood cabinets.
Wood Cabinets: Pros & Cons
✅ Pros
Classic, beautiful appearance
Sturdy, strong, and durable
Variety of colors, grains, and cabinet finishes
available
Every cabinet is unique since every piece of wood is unique
Adds a natural, organic warmth to the room
Long life-span
Easy to find hardware to match
Works well with most styles
❌ Cons
Certain types are prone to warping, or shrinking and expanding, with humidity changes
May fade or darken with light exposure
Requires sanding and priming in order to refinish solid wood
Cabinet Materials
While it's rare to have wood cabinets made entirely of solid wood, it's more common to have wood cabinets made with multiple materials.
Solid wood cabinets featuring the singular natural material is the cream of the crop when it comes to wood cabinets. No two wood slabs are alike, featuring beautiful textures and wood grain. The range of colors available make wood a popular material for kitchen cabinets since it can work with so many styles. Real wood comes with the heftiest weight and the highest price tag since it's a premium material that's meant to last for decades.
Solid wood is more likely to feature on the cabinet face frames and cabinet doors.
Engineered wood can be found at almost any level of cabinet construction. Engineered wood is a man-made material that combines thinly sliced wood pieces into a slab fused together with heat and pressure, sometimes combined with melamine, to give it the appearance of wood.
Despite not being pure wood, engineered wood is just as strong, lighter, less expensive, more waterproof, and more warp-resistant than solid wood. However, engineered wood cannot be refinished or painted.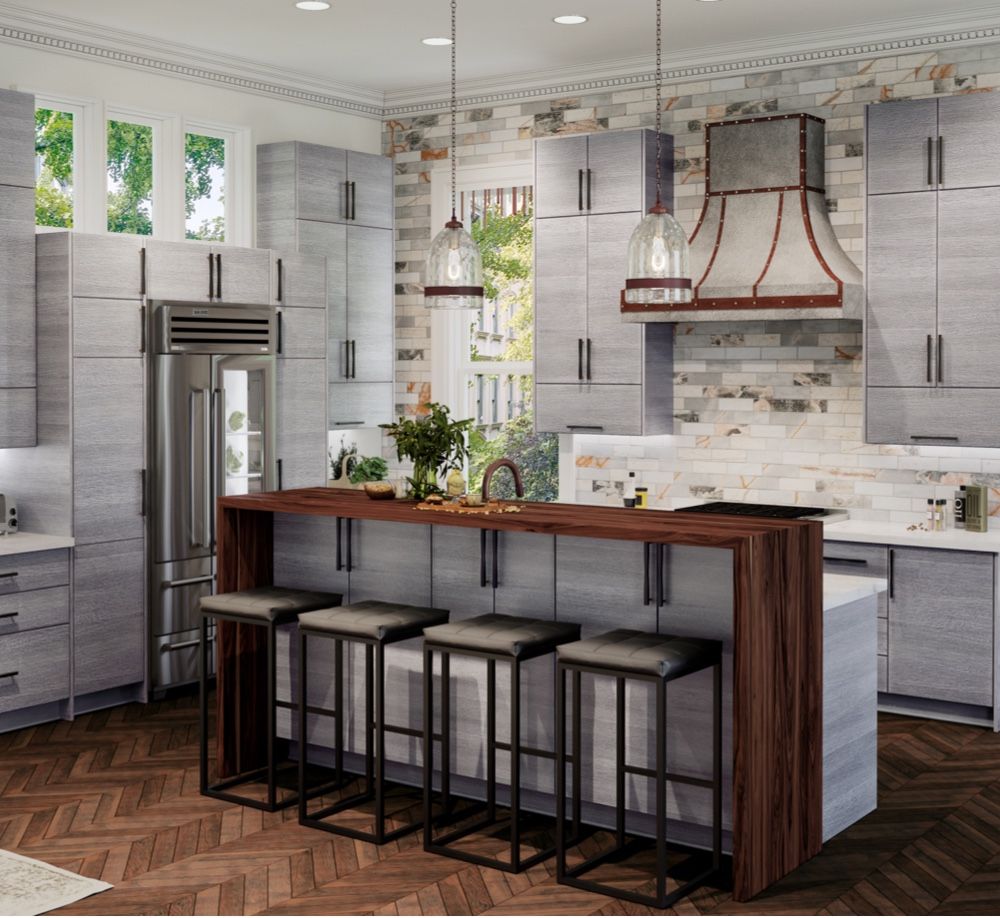 High-density fiberboard (HDF) and medium-density fiberboard (MDF) are made by combining wood particles with resins and glue and pressing it together to create wood-like slabs in varying degrees of strength and density.
High-density fiberboard (HDF) is one of the most common cabinet materials since it's strength parallels that of real wood. HDF is a common cabinet building material and can be found in cabinet panels.
MDF is less dense than HDF and is mostly used for cabinet boxes, shelves, and drawer floors.
Both HDF and MDF take paint well if you want to reface your cabinets, however, they lack the long lifespan of solid wood and engineered wood.
Plywood is constructed of thin layers of wood, glued and pressed together. It's water resistant and can hold its weight without warping. Plywood also carries a cross-grain texture that's helpful to hold nails and screws.
The inexpensive and lightweight plywood comes into play within cabinet and drawer boxes as inner box material. Plywood can also hold a veneer, giving the wood-look without the cost.
Wood Cabinet Finishes
Refinishing your wood cabinets can be done depending on the make of your kitchen cabinets. Refacing cabinets is easy enough with the right base material—just change the finish to change the appearance to match the style you want without having to replace your cabinets.
Painting your kitchen cabinets gives them an even, smooth, and consistent color throughout your kitchen. Unlimited colors to choose from and can easily be refreshed or repainted. However, paint may chip or fade over time.
Paint should only be applied to smooth engineered woods, like MDF or HDF. You can paint wood cabinets, though we don't recommend it without proper sanding and refinishing.
A glaze can top either painted or stained cabinets to enhance the dimensions and contrast on cabinet door styles with detailing or frames like recessed or raised paneling.
Wood Alternatives
Other wood-adjacent materials that can help you achieve a wood-look in your kitchen cabinets might include cabinet veneers or laminate cabinets.
A cabinet veneer, or a one-piece face, is constructed with a layer of real wood on top of a composite layer or plywood, reinforced with backing (paper, 2-3 ply wood, or resin) before application, giving it added strength and durability.
Veneers can be made from a variety of wood species and various grades that affect how much it costs. A few assembly types are available that affect how the grain appears throughout your cabinets:
Book match creates a mirrored grain appearance, like an open book.
Slip match lines up the cuts in the order they were sliced from the log.
Reverse slip match has every other leaf rotated 180 degrees.
Pleasing match are arranged by color consistency rather than grain matching.
Random match where undesired patterns are cut up and spread out.
Often veneers are cut from a part of the tree that isn't easy to cut from or that have unique growth and knots, so the appearance can be truly one-of-a-kind and beautiful.
Veneers are commonly found on cabinet doors and frames to maintain the classic appearance of a wood-look cabinet.
Laminate features a plastic layer on top of a composite layer that can be designed to look like real wood.
Melamine is a laminate, or a substrate layer, sandwiched between paper fused with thermally fused melamine resin with high heat and pressure. Once it hardens, it creates a durable, scratch-resistant material that can be used to build sustainable and affordable cabinets that are easy to maintain.
The paper fused to the substrate can feature printed colors, patterns, or wood designs to match the style you desire.
Wouldn't You Like Wood Kitchen Cabinets?
Naturally, wood cabinets are a mainstay in kitchen design for a reason with their durability, strength, and beauty. We invite you to browse our beautiful wood cabinet collections to find the right fit for your kitchen.
If you'd like some help in picking out wood cabinets that suit your style or fit your kitchen, Vevano Home designers are here to help! The first interior designer consultation is always free, and you get free interior design services when you purchase your cabinets from Vevano!