9 Best Cabinet Materials: How to Choose Quality Cabinetry
March 11, 2022
Mikael Short
When you're picking out new kitchen cabinets, you likely want to know you're getting high-quality cabinetry that fits your budget. Cabinet quality ultimately boils down to the material a cabinet is made of.
Picking the best material for kitchen cabinets (or any cabinet in your home) will set the functional tone and overall style for your space. The cabinet materials will determine the strength, durability, lifespan, maintenance, changeability, and overall style of the cabinetry.
As you shop for cabinetry, here are the top materials you should know about to make the best purchase for your home:
Cabinet Materials
Kitchen cabinet materials range wide, as each reflects a different scale of quality, durability, appearance, and price.
Certain materials are also more applicable to different parts of a cabinet than others, which is why a baseline understanding of cabinet construction will improve your chances of selecting the best cabinet material for your needs.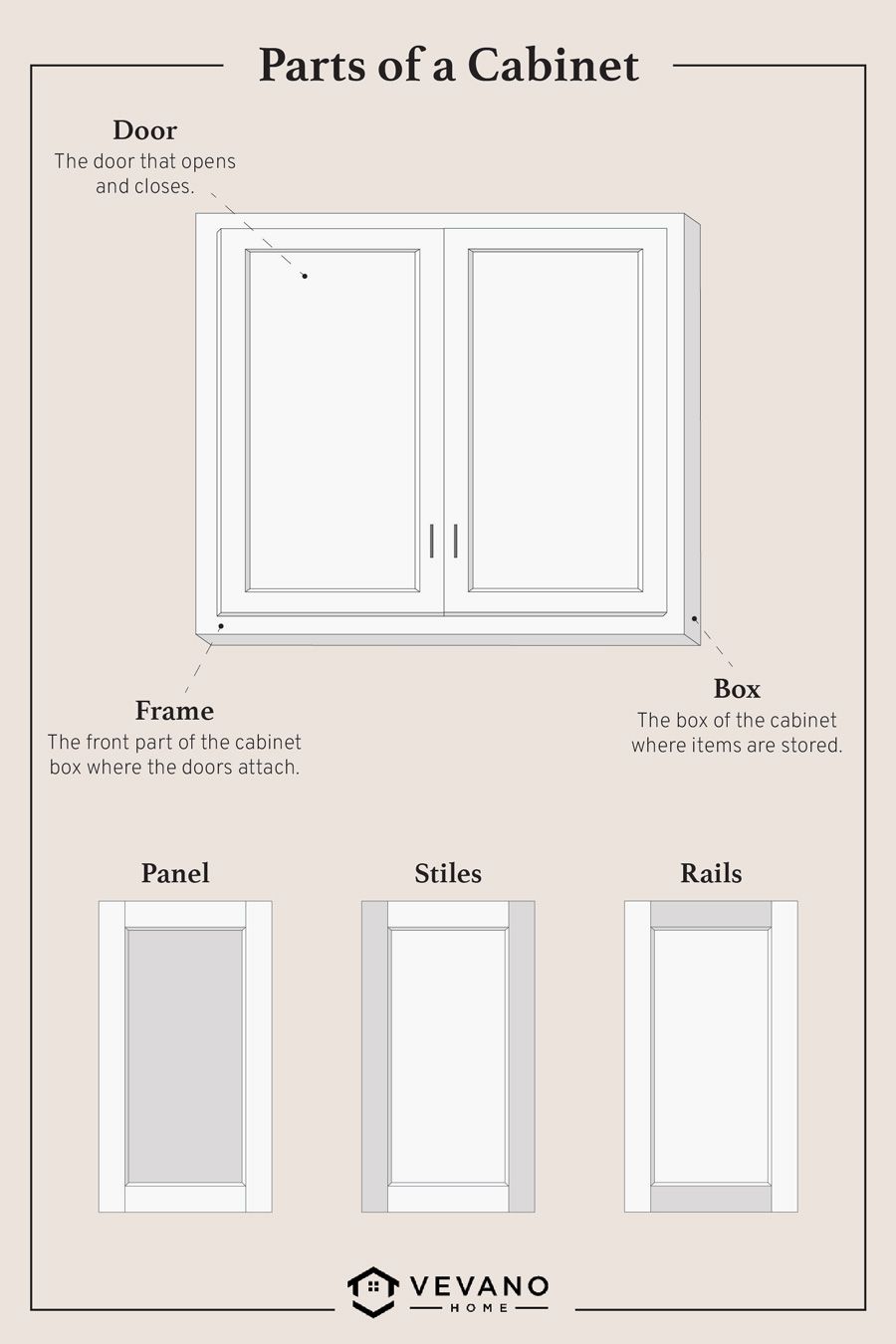 Cabinet Door Overlays
Cabinet door overlay styles include:
Inset - Where the door is installed flush with the frame for a flat, seamless face. The entire frame is exposed.
Partial Overlay - Where the door sits on top of the frame and leaves 1-2 inches of the frame exposed.
Full Overlay - Where the cabinet doors completely cover the cabinet box frame.
Cabinet Frame
The cabinet frame is attached to the front of the cabinet box. It's what the doors often attach to in a framed cabinet box.
Framed cabinets have extra pieces of wood overlayed and "framing" the opening of the cabinet box.
Frameless cabinets (also called European style cabinets) opt for no frame or extra wood on the cabinet box for a cleaner, sleeker design. Because of this, frameless cabinets require stronger, thicker base material to hold up to storage and use.
9 Best Kitchen Cabinet Materials
Many cabinets might include a compilation of materials in their overall structure. However, the materials may be used for different cabinet parts. Below are the most common cabinet materials you'll find on the market and what they are most often used for.
Solid wood is one of the most popular materials for kitchen cabinets for its natural beauty, strength, durability, longevity, and versatility for different styles—though that does make it a premium cabinet material. Since no two pieces of wood are alike, neither are wood cabinets. From color, grain, pattern, and texture, wood cabinets have a wide range of looks and styles they can match.
Solid wood is most commonly used in cabinet face frames and cabinet doors.
✅ Pros
Beautiful natural appearance
Variety of colors, grains, and cabinet finishes available
Sturdy, strong, and durable
Long lifespan
Customize cabinet door styles easily
Can be restrained or painted to change appearance
Works well with most styles
❌ Cons
High cost
Certain types are prone to warping or shrinking and expanding, with humidity changes
May fade or darken with light exposure
Requires sanding and priming in order to refinish solid wood
High maintenance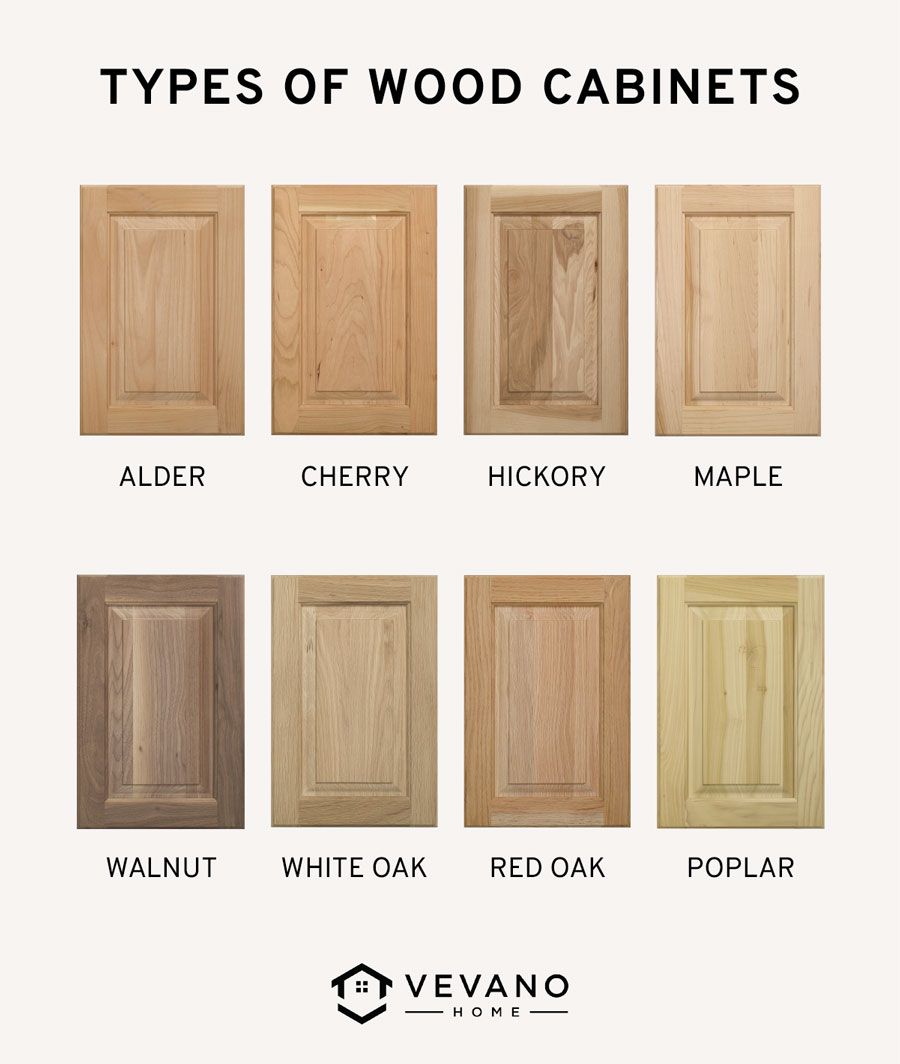 Of the premium wood for kitchen cabinets, maple wood is popular for it's uniform appearance and hardiness, and cherry wood is desirable for its stunning warm tones and fine-grained texture. Both are extremely durable and hard, able to withstand denting or scratching better than other hardwoods.
Red oak wood is also widely used in kitchen cabinets due to being moderately priced, sturdy, arched grain patterns, and its versatility with styles.
Solid birch wood is also a popular tree type harvested in cabinet construction for its durability, availability, smooth grain, and ability to be refinished to look like premium woods.
A couple of softwoods are also gaining traction for being more affordable than hardwoods, like poplar wood.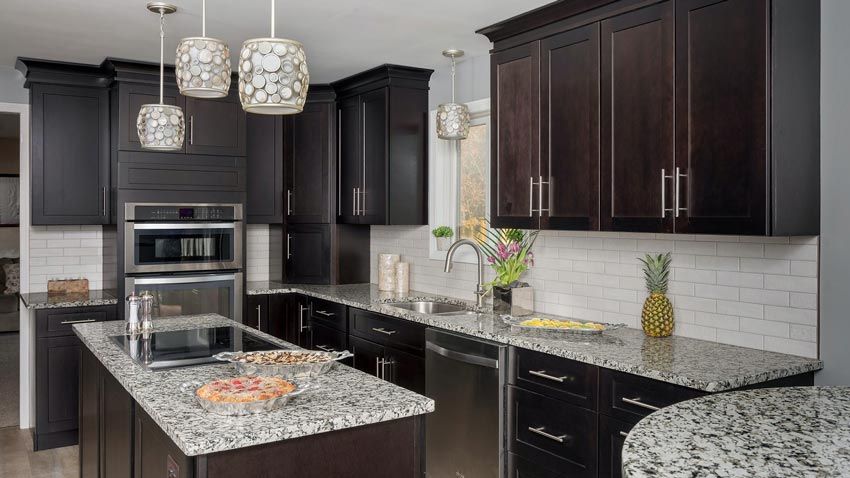 A wood veneer is a thin strip of solid hardwood peeled or cut from a log. Wood veneers are then attached to plywood, medium density fiberwood (MDF), or particle board to create wood-like panels. They are thin, lightweight, and a way to achieve the wood look without the cost of solid wood cabinet doors. Consider wood veneers a finish to present a beautiful wood face for your cabinetry.
✅ Pros
Beautiful wood appearance
Less expensive than solid wood
More durable than laminate
Resistant to warping
Easy to maintain
❌ Cons
Susceptible to water damage
One of the most common materials in cabinet construction is plywood, which is built up of layers of thinly sliced wood slabs (known as flitches), layered in opposing directions and bonded together with adhesive. It's much more durable than particle board. Plywood is often covered with a decorative wood veneer to give the appearance of wood for cabinet boxes.
It's the strongest of the engineered wood options, making it the best choice for cabinet boxes, drawer floors, shelves, and frames.
Note that there are different grades of plywood that will affect its price, durability, and appearance (from AA, B C, D, and E).
✅ Pros
Less expensive than wood
Strong & durable enough to hold heavy items
Holds its shape against humidity and temperature changes
Takes a veneer to get a wood-look cabinet
Holds screws and nails well
Water-resistant
❌ Cons
More expensive than other engineered woods
Not as strong as solid wood
Low-quality plywood comes apart and splinters easily
4. High-density Fiberboard (HDF)
An engineered wood variant made with wood fibers mixed with resins and glue, high-density fiberboard (also called hardboard) provides the hardness and appearance of wood cabinets but without the price tag. It's denser than solid wood, though less expensive than both hardwood and plywood.
HDF works well for cabinet panels.
✅ Pros
Extremely hard
Stable in humid and dry environments
Takes paint well
❌ Cons
Susceptible to water damage
Cannot hold screws or nails
Lacks lifespan of hardwood
No wood grain
5. Medium-density Fiberboard (MDF)
Another engineered product, medium-density fiberboard is less dense than HDF since it is made with less pressure. It is often used as a substrate for cabinet surface layers like veneer and laminate.
MDF is also used as an inner layer for engineered wood cabinets. It works best for cabinet panels, drawers, and shelves.
Thermofoil cabinets are constructed with a foil-like material vacuum sealed with heat over MDF. High gloss thermofoil in particular creates a shiny and reflective surface that makes your kitchen look bigger and brighter.
✅ Pros
Inexpensive
Easy to clean
Resistant to warping and fading
Variety of shapes, colors, patterns, and designs
Potential to be used on shaker or simple arch cabinet doors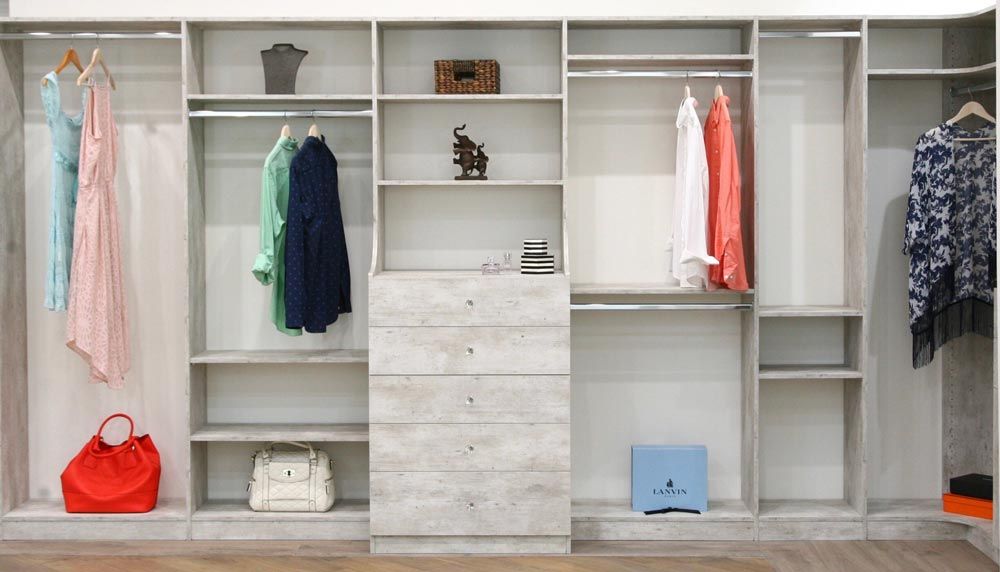 Laminate is a resin combined with a paper featuring the desired design, color, or pattern, pressed together with heat. It's a surface material that affixes to plywood or other fiberboard on the cabinet body.
The quality of the laminate will affect its price, strength, and tendency to peel from the core component. High-pressure laminate (HPL) will crack and chip less than the low-pressure laminate (LPL).
PET laminate in particular features a thermoplastic polymer laminated to substrate, like MDF, that has a stronger heat seal with special adhesive and a beautiful transparent, reflective glossy surface. PET laminate is considered stronger than most melamine surfaces.
✅ Pros
Affordable
Easy to clean
Resistant to scratches and stains
Resistant to heat and moisture
Resistant to warping and rippling
Lasts longer than thermofoil surfaces
❌ Cons
Cannot be repaired if cut or cracked
Less durable wood material core
LPL more prone to chip and crack than HPL
Melamine is a type of laminate surface with a plastic coating over plywood or fiberboard. Like laminate, melamine is made with paper and resin, pressed together with heat, but it's cheaper to produce.
Melamine has different degrees that reflect the quality. Low quality melamine doesn't have the lifespan of laminate. Textured thermal-fused melamine, on the other hand, is thicker and has the potential to outlast HPL.
Textured melamine offers a more dimensional appearance and texture for the paper designs within the resin compound, making the wood paper look and feel more like the real thing, for example.
❌ Cons
Can't be refinished
Uses potentially harmful adhesives
Lower quality wood material
Particle board is a low density fiberboard, made by pressing wood particles (sawdust, wood chips, etc) together into sheets with resin and heat. It is often topped with a veneer or laminate to create the finished cabinet look.
Particle board tends to work best in drawer boxes.
✅ Pros
Inexpensive
Versatile in appearance
Uses wood byproduct and recycled materials
❌ Cons
Least durable wood product for cabinetry
Sags under heavy dishes, countertops, or appliances
Easily chipped or broken
Susceptible to moisture damage
How to Select Durable, Quality Cabinets
Finding and buying kitchen cabinets that are both durable and within your budget is achievable, thanks to a variety of cabinet materials available.
One way to get more bang for your buck around cabinet purchasing is to order RTA (or ready-to-assemble) cabinets as they come packaged in flat packages that are more affordable to ship than bulky and heavy pre-assembled cabinets.
Higher quality materials in your kitchen cabinets will provide strength, durability, longevity, and even increase home value for if or when you decide to sell. The higher the quality of materials, the longer they will last.
Inexpensive lower quality or less durable cabinets have the potential to be damaged more easily, or they may not last nearly as long as the more durable counterparts. And this means you have to replace your cabinets much quicker, which may end up costing you more in the long run.
So, when you think about investing in kitchen cabinets, remember that a little more money up front may save you more money and stress down the line. An awareness of cabinet materials will help greatly to find what materials will be strongest in the long run, so you know that your money is working for you when investing in quality kitchen cabinets.
We recommend opting for durable, strong cabinet materials such as engineered wood, wood veneers, PET laminate, or thermal-fused thermofoil on good quality MDF or plywood, or solid wood (if you have the budget).
Maximize Your Cabinets with the Right Material
If you're remodeling your kitchen, it may be in the cards to update or replace your cabinetry. If you'd like assistance in finding cabinets that match your vision, fit your budget, and use quality materials, Vevano Home designers are here to help.