Refinish, Reface, or Replace: What Do Your Cabinets Need?
Cabinets are a mainstay in many kitchens and bathrooms, though there may come a time when you want to update your cabinets in some way. There are multiple ways you can change up the appearance or function of your cabinets, whether refinishing or refacing your cabinets or replacing them altogether. Which option is best? It depends on how deep of a change you want to make and what your needs are.
First, consider what you want your cabinets to look like and how you want them to function. Are they still working for you? Do you want to change up their look? Is there any structural damage or blemishes you want to fix? Do they just need a facelift? Visualize how you want your kitchen or bathroom to look so you can plan to update your cabinets in the most cost-effective way.
The quality of your existing cabinets and what you desire for them to look like will determine if they need to be refinished, refaced, or replaced.
So, what's the difference?
Refinishing Your Cabinets
Refinishing your cabinets means you are simply changing the appearance of your cabinets, such as the color or the cabinet finish. This can be achieved through staining or painting your existing cabinets. Nothing is removed, and the cabinets have the same base, frames, and doors. Think of refinishing as freshening up your cabinets. Keep in mind that only wood cabinets can be refinished.
Your cabinets should be strong enough to withstand any sanding or paint-stripping necessary to prep the cabinets prior to painting or staining. If you like your cabinets' orientation in your kitchen and they are still in good condition, refinishing your cabinets is a great way to give your kitchen a facelift without replacing anything.
Certain cabinet materials cannot be refinished, such as laminate and thermofoil, since they can't be sanded, stripped, and don't hold paint or stains.
Cost to Refinish Your Cabinets
Cabinet refinishing is the most affordable and time-efficient way to update your cabinets. Home Advisor estimates the average cabinet refinishing project costs $2,880 (with a range of $1,700 - $4000). Expect to spend between $4 to $10 per square foot to plan for your refinishing project.
Ways to Refinish Your Cabinets
There are three options for cabinet finishes: paint, stain, or glaze. Each one has different properties and strengths that affect the longevity and appearance of your cabinets. The look also depends on the material of your cabinet doors.
To highlight your wood cabinets' natural grain, restaining your cabinets is a beautiful way to refinish your cabinets. Stains seep into the wood grain and darken the natural features of the wood while adding rich color tones to the cabinetry.
Since they are translucent, stains are really only used with natural wood doors and cabinets instead of medium-density fiberboard (MDF) or high-density fiberboard (HDF) materials, as these lack the natural grain stains are meant to enhance.
Proper preparation is crucial for a stain to work correctly. Any finish or paint needs to be sanded off completely. Stains will not work on top of a topcoat or sealant. If you have a veneer, you might want to paint instead.
Stained cabinets tend to be easier to maintain over time and last longer because they won't peel or crack. The downside to staining is that your color options are limited and your cabinets won't be as smooth as if they were painted.
On average, stains run $100-$200 for materials to refinish your cabinets. Staining will cost less than painting your cabinets, saving you $500 to $1,000. Given proper prep and patience, staining could be a DIY project for a few days to a couple of weeks.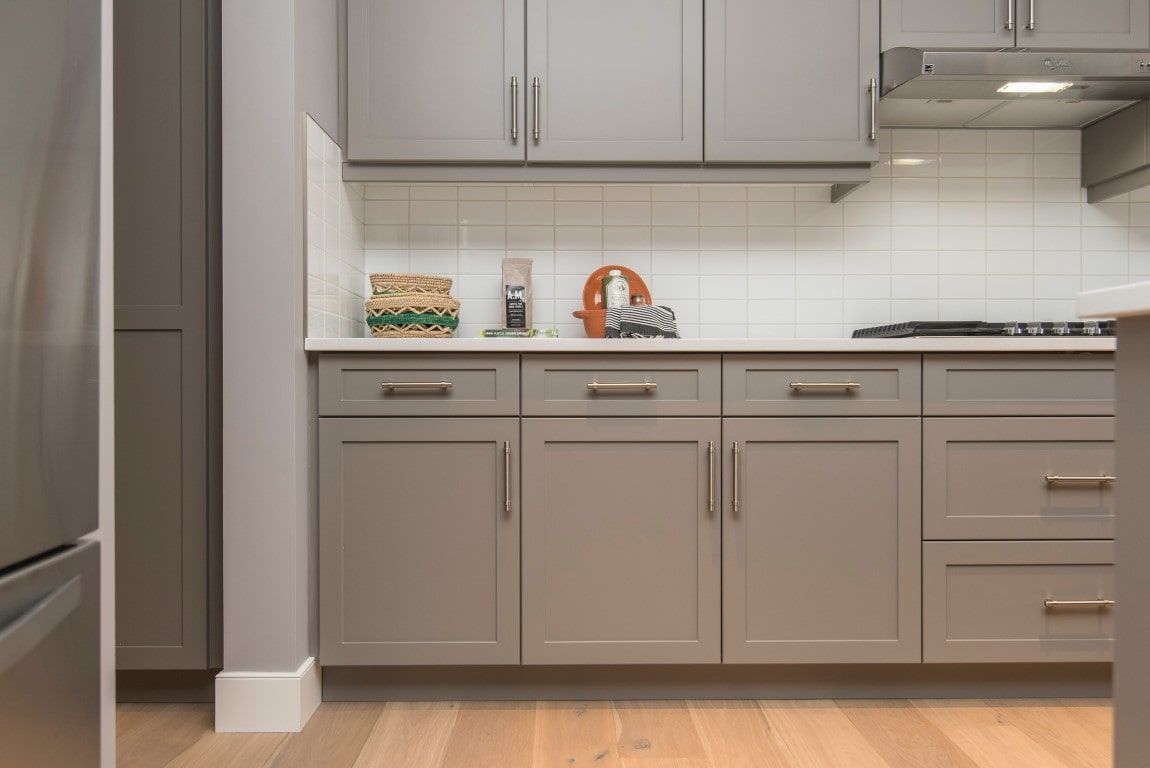 For a flawlessly smooth, solid color and surface throughout your cabinets, paint is the way to go when refinishing your cabinets. Painting your cabinets is a budget-friendly way to change the look and style of a kitchen without the cost of replacing everything. For example, painting your cabinets white is a popular way to brighten up your kitchen and make it seem bigger.
Painted cabinets feature an even coat, providing an opaque layer of solid color, hiding any wood grains or defining markings. On wood doors, paint hides the wood grain below, which may be a positive or negative depending on how you feel about wood grain.
While it's possible to paint your cabinets DIY, we highly recommend a professional application since it can become complex and involved with sanding, prep, and proper application. Professional painters ensure a smooth process and clean finish that lasts longer than most at-home applications.
The main downside to painting is that it will start to crack and peel over time, so that's something to consider as you pick what's best for your home.
Repainting your cabinets costs between $1,200 to $5,000, depending on how many cabinets you're painting. Materials alone will likely cost $200 - $300.
Paint is not ideal for engineered wood, MDF, or HDF cabinets since they cannot be refinished to be properly prepped for a new coat of paint.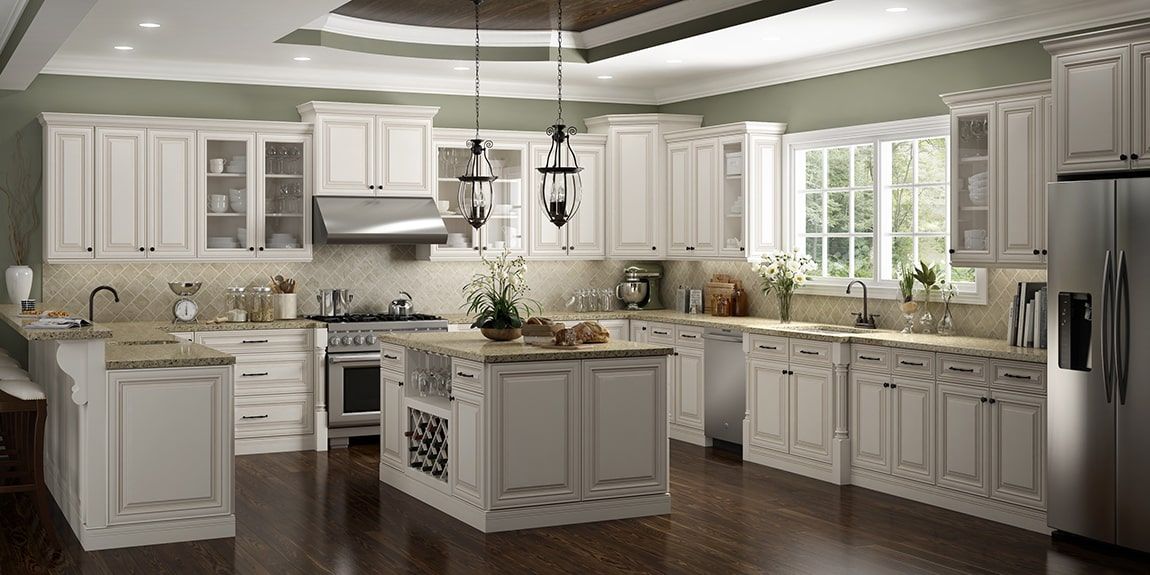 Glazing your cabinets is like a top coat to whichever stain or paint you presently have. A glaze helps to add dimension and contrast to your cabinets. Glaze is applied on the top of stained or painted cabinets to highlight the features. This is particularly seen with shaker and raised-panel style doors.
You can do an accent glaze, where the glaze is applied to corners and lines to create decorative contrast. Or you can apply the glaze throughout your cabinetry to add texture or sheen to your stain or paint job.
Glazing will cost $10 to $25 dollars per square foot. This is one DIY job you can do yourself and save money on labor.
What Cabinet Materials Can be Refinished?
As you can see above, the material of your cabinet will determine what kind of changes and updates you can make to your cabinetry. For example, wood cabinets are best suited for refinishing via stain or even paint. However, other cabinet materials are not suited for refinishing and may need to be replaced via refacing to achieve the change you want.
If necessary, get a professional refinisher's opinion to see what might be best for your existing cabinets. Our expert designers can also help find a solution.
In the end, you can opt for the perfectly smooth finish of paint or embrace the natural features stains enhance. We offer both types of cabinet finishes so you can find the best fit for your home.
Cabinet Refinishing Pros
More affordable than resurfacing or replacing cabinets
Quicker than resurfacing or replacing cabinets
Most DIY-friendly way to update cabinets
Cabinet Refinishing Cons
Not all cabinet materials can be refinished
Will not fix major dents or damages to cabinets
Cannot change the overall design or layout of your kitchen cabinets
Refacing & Resurfacing Your Cabinets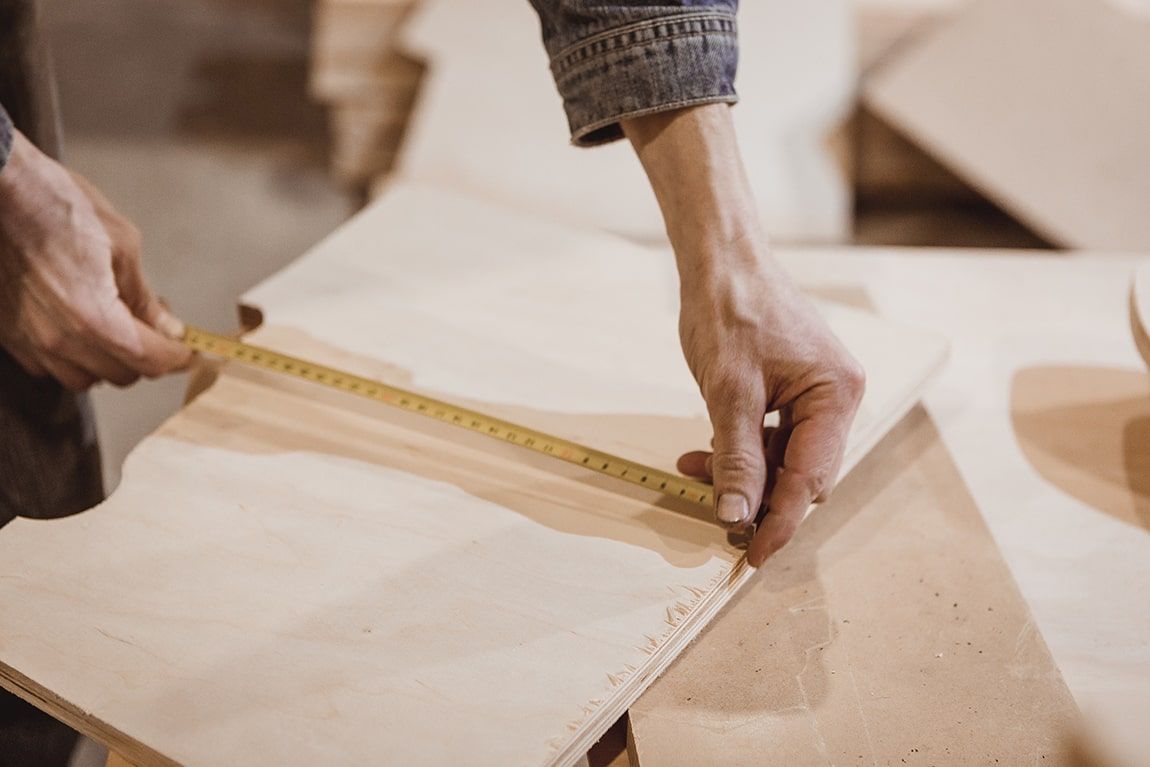 Refacing your cabinets involves replacing the cabinet doors and drawer fronts with new ones, as well as putting new veneer or material on top of the existing cabinet frames or doors so they match the new doors. Resurfacing your cabinets may also include replacing side panels, moldings, or face framings for a uniform look or style. Refacing and resurfacing are often used interchangeably.
Refacing or resurfacing your cabinets is likely useful if your cabinet boxes are still in good shape, but you want to update the style, design, or color of the front (or the visible faces) of your cabinets. Refacing also helps to improve the durability of your existing cabinets as well.
Refacing your cabinets is that nice middle ground budget-wise, where you can completely change the look of your cabinets without replacing them. Thus, refacing is less expensive than replacing cabinets but more costly than simply refinishing your cabinets.
Simply refacing your cabinets can transform the look of your kitchen, along with other kitchen renovations like updating your countertop or cabinet hardware.
Cabinet Refacing Cost
According to Home Advisor, refacing your cabinets can cost between $4,000 to $9,500. But, again, this depends on how many cabinets you are refacing and will also depend on the make and quality of door fronts you choose. This may also include new hardware and pulls.
Cabinet Refacing Pros
Can completely change the look of your cabinets without the cost of replacing them
Will fix major blemishes to your cabinet doors and surfaces
Less disruptive than replacing cabinets
Cabinet Refacing Cons
Not as affordable as refinishing cabinets
Cannot change the layout of the cabinets
Not as many customization or design options as cabinet replacements
Most likely requires professional help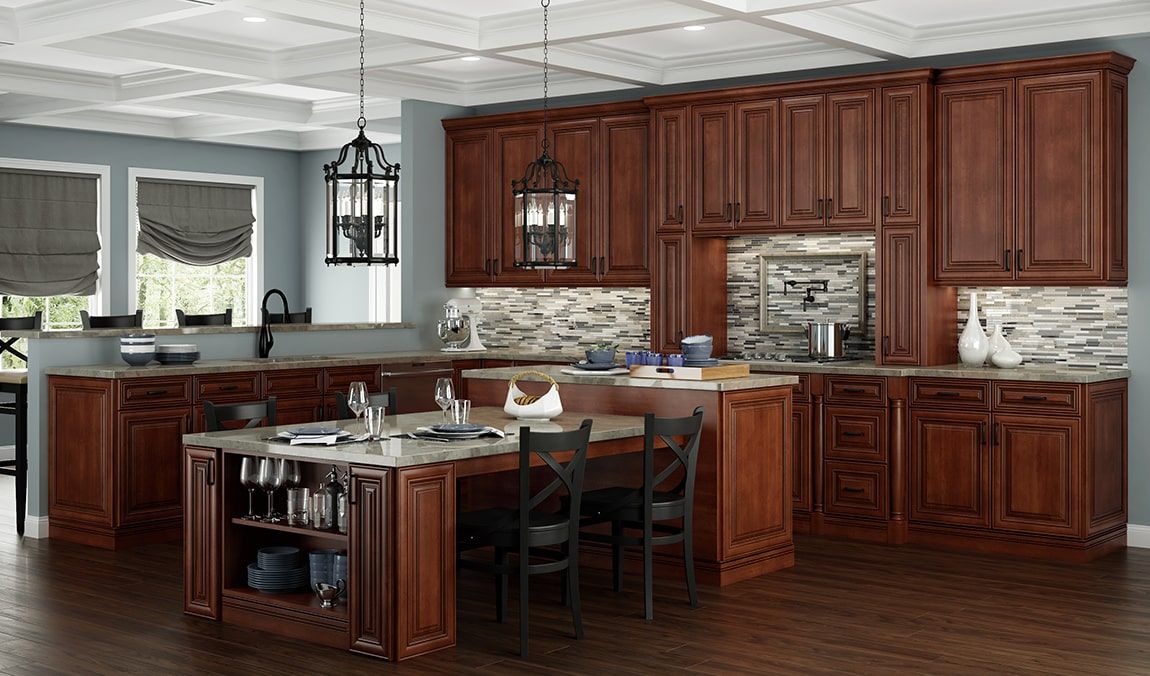 Replacing your cabinets is straightforward—you replace your existing cabinets with new ones. You may need to replace your cabinets if there's structural damage or the functionality is no longer useful for you. You may opt to replace your cabinets when you want to remodel your kitchen into a new layout as well to give it an entirely new look and orientation. This is when you want to go with brand new cabinets, likely in a new design, style, and color than your original cabinets.
Replacing your cabinets is the most expensive way to update your cabinets. This process will likely render your kitchen unusable for a period of time while the original cabinets are removed and the new cabinets installed.
Replacing Cabinets Pros
Can completely update the layout of your cabinets or kitchen
More customization opportunities
More style, color, and design options than cabinet refinishing or refacing
Replacing Cabinets Cons
Most expensive way to update cabinets
Most likely requires professional installation
Takes longer than resurfacing or refinishing kitchen cabinets
What's The Most Affordable Way to Update My Cabinets?
Depending on what you want to accomplish in your kitchen renovation will likely help you determine what's most important and cost-effective for your cabinets.
Refinishing will be the most cost-effective, costing approximately 60 percent (or two-thirds) of the cost of refacing. On average, refacing is about 70-80 percent of the cost of replacing and installing new cabinets.
While refinishing or refacing might be doable as a DIY (particularly staining or glazing), if a professional contractor does the job, the quality is likely to be better than if you did it yourself—so that's a cost to consider too. Replacing cabinets most likely will require professional help as well.
Are You Ready to Update Your Cabinets?
Whether you're refinishing your cabinet with a new color, refacing your cabinets with a new door style, or completely replacing your cabinets for a brand-new layout, we have an extensive cabinet selection for you to choose from. We carry a variety of cabinet colors, finishes, and styles.
And hey, while you're updating your cabinets, it's also a great time to update your hardware since they will likely be disassembled already! This will elevate your updated cabinets' final design even more.
If you need help designing a new layout for your cabinets or selecting cabinets to fit your style and design, contact our professional designers today and they can help you see your cabinet renovation through!