Cabinet Door Styles 101: Shaker, Raised Panels, and More
December 21, 2021
By Mikael Short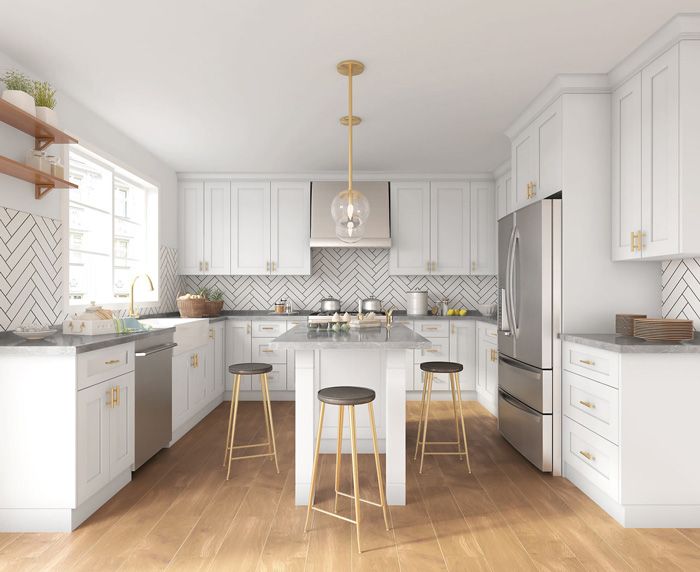 Shaker cabinets are one of the most popular cabinet door styles available due to its versatility, durability, and clean lines. Shaker cabinets can tie together almost any kitchen design.
The shaker style was named after its inventors, an offshoot of the Quakers in the 1700s called the Shakers, who were known for their exemplary woodwork and carpentry skills. Its classic style features five pieces: a recessed center panel framed by simple four raised pieces (called rails on top and bottom, and stiles on the sides). The shaker cabinet frame is constructed with cope-and-stick technique, joining the rails and the stiles at a 90-degree angle with a mating part on each side to securely join them.
The cabinet's minimalistic yet elegant recessed panel in a square or rectangle frame is considered a time-tested staple in many households today.
Popular for use in many styles from traditional, contemporary, transitional, cottage, farmhouse, and industrial.
Recessed panel cabinet doors feature a center panel that sits lower than the surrounding raised frame profile. They often feature squared frames and angles, often made with miter joints, that transition well into many design styles. Although similar to Shaker door styles, recessed panels are constructed differently and usually have a shallower recess.
Popular in modern, contemporary, farmhouse, and transitional styles.
Shaker vs. Recessed Panels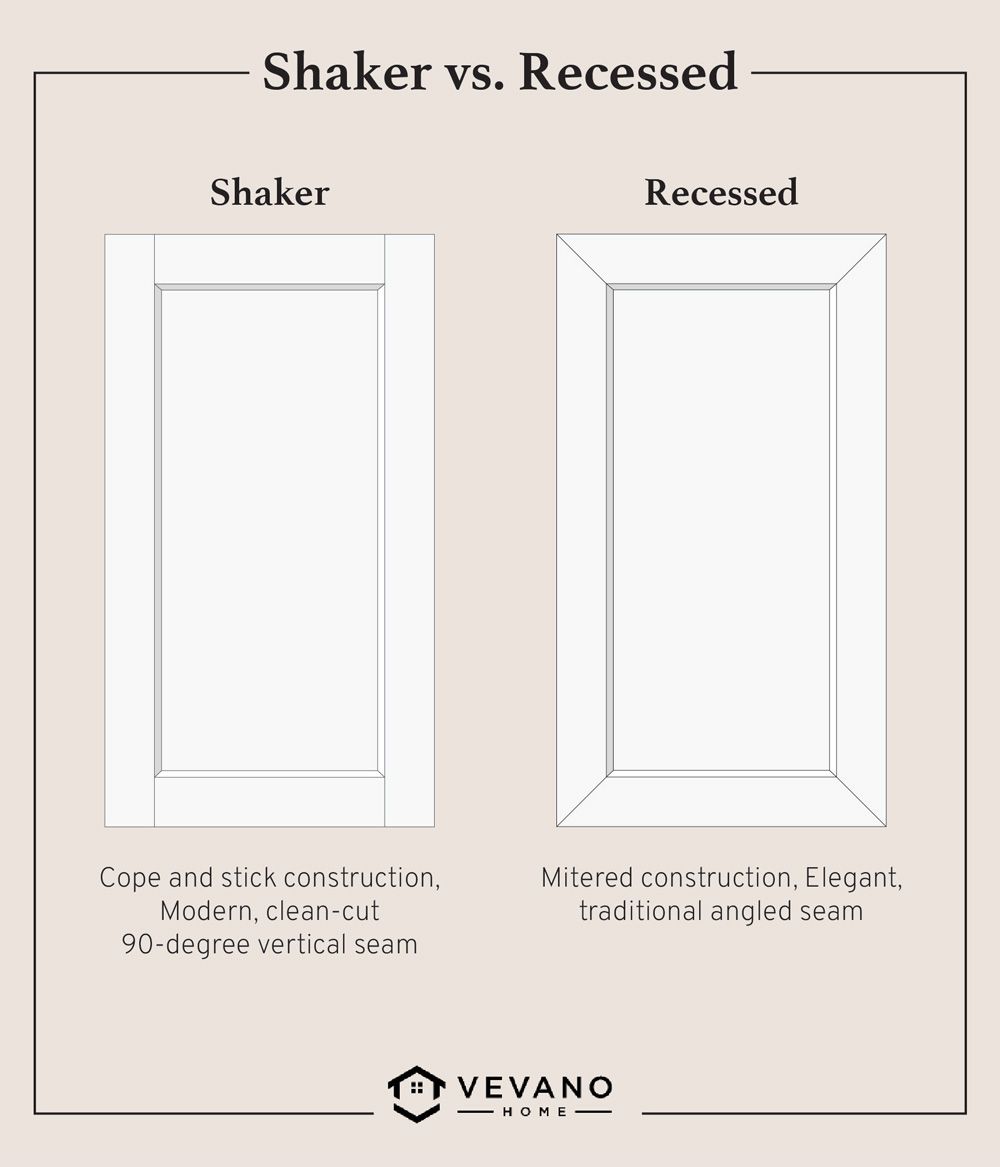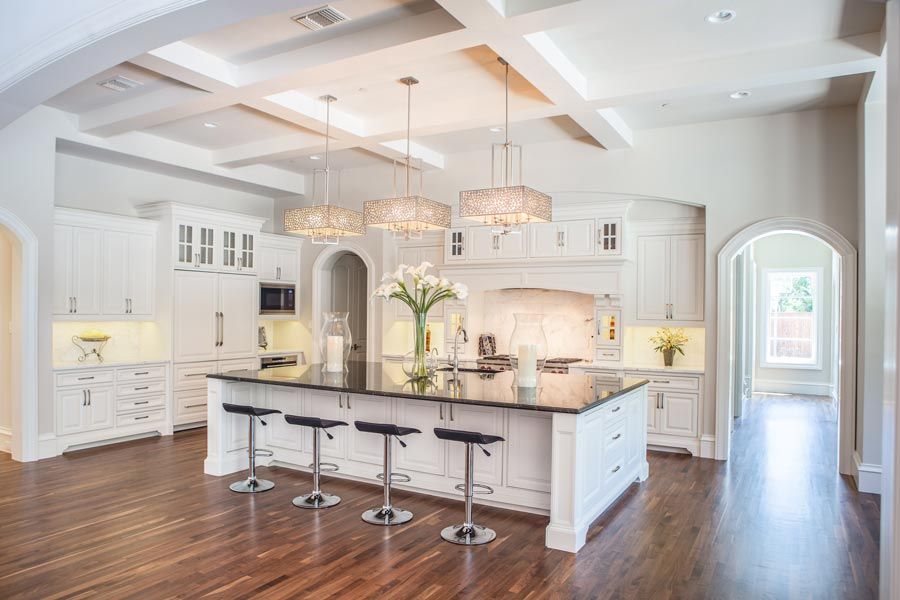 Raised panel cabinet doors feature a contoured center panel framed by four pieces, much like a shaker door. However, instead of the recessed panel, the center panel is beveled with stylistic grooves and raised, often level with the frame. The raised panels are often made with mitered joints that join at 45-degree angles in the corners of the frame to allow the wood cabinet craftsmanship to shine.
The contoured designs range from simple to elaborate, making this both a popular and versatile cabinet door style. It tends to lean more ornate than recessed panel doors, a good fit for farmhouse and cottage styles.
Popular in traditional, classic, cottage, farmhouse, coastal, Mediterranean, and transitional styles.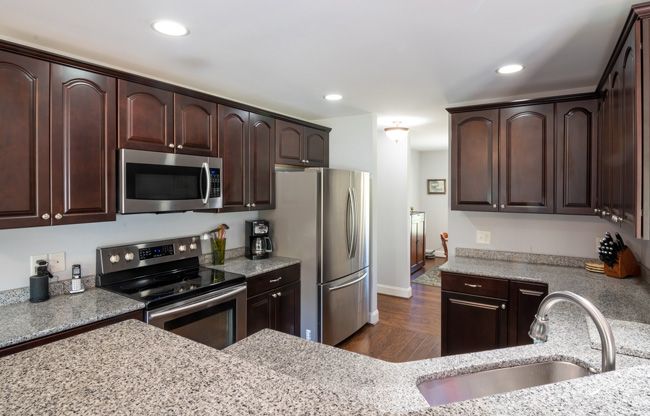 Both raised and recessed panel doors may feature an arch in the top panel in the shapes of the classic arch or fancier cathedral arch.
Arched cabinet doors are a great way to add character to your cabinets. Various arch shapes and sizes are available. Double arched doors have the arch on the top and the bottom rails, creating an ornate and traditional design.
The cathedral arch is similar to the classic arch; however, it's indented and often steeper than the traditional arch.
Arched cabinet door styles are sometimes old-fashioned, so it's hard to update and may not appeal to everyone.
Popular in traditional, cottage, or Gothic styles.
You can also find cabinet doors with beadboard or v-grooves incorporated into the construction or as panel inserts to add detail and flair. Beadboard is a more casual style that highlights vertical planks separated by "beads," or the ridges between the slats. Beadboard can often be found in cabinets with decorative recessed panels.
You can find beadboard and v-groove door or panel designs with varying widths of planks to suit your style.
Popular in cottage and rustic styles.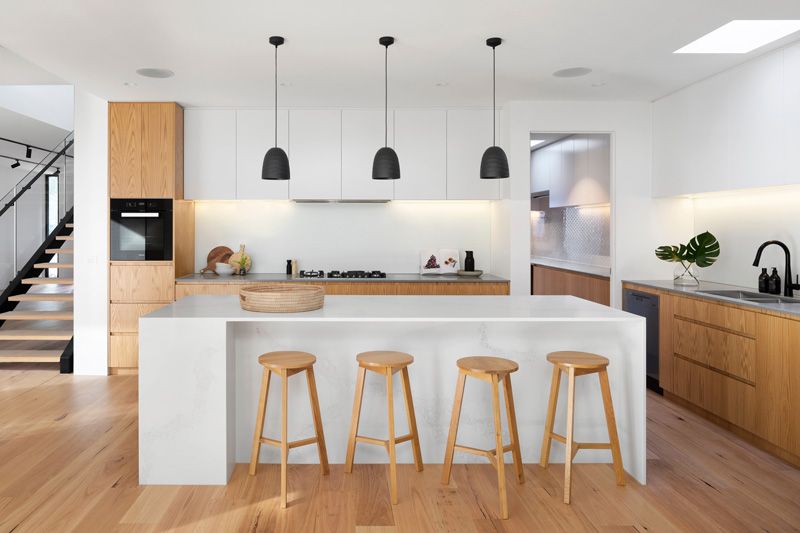 Flat panel cabinet doors, otherwise called slab cabinets, do not have frames like other cabinet door styles, giving a streamlined appearance. With European roots, slab doors are solid, flat slabs of wood or other material. The European style flat surface makes slab cabinet doors easy to clean. Available in various materials and designs, such as solid hardwood, marble, or high gloss.
Popular in modern, minimalist, contemporary, Mediterranean, and industrial styles.
Mullion cabinet doors feature glass panels surrounded by a wood or wood-like frame. They are also known as glass panel doors, though mullion designs include grids with wood for additional style. The glass allows for showing off your beautiful belongings. Mullion cabinet doors are also seen in bookshelves and bars.
The level of glass transparency is your choice, depending on the type of look you want. You can choose clear, colored, or opaque (frosted or textured) glass. Tempered glass will be the most sturdy for cabinet doors.
Glass panel cabinet doors are a premium choice for your kitchen cabinets. They make your kitchen look bigger and brighter by revealing the interior of your cabinets and their contents. Some even have spotlights within them to show off their hold.
Note that the glass will need regular cleaning and the doors should not be slammed to prevent any breakage. Soft-close mechanisms are recommended for glass cabinet doors.
Popular in traditional, coastal, and both country and modern farmhouse styles.
Louvered cabinets provide a subtle sophistication and ventilation through a series of narrow open or closed slats. This design helps a room feel more spacious. They are not only used in kitchens, but louvered doors are becoming more popular. Often custom designed so users can pick the make, size, and color.
Popular in modern styles.
Like mullion, open frame cabinet doors have a single wooden frame. However, there's no center panel or piece. That way, it's prepared for any insert panel you want to customize your cabinetry, though it's mainly used with tempered glass inserts, thin beadboard, or other customized panels.
Cabinet Door Overlay Types
The cabinet overlay refers to how exposed the front frame of the cabinet is. Here are the types of cabinet door overlays to know about.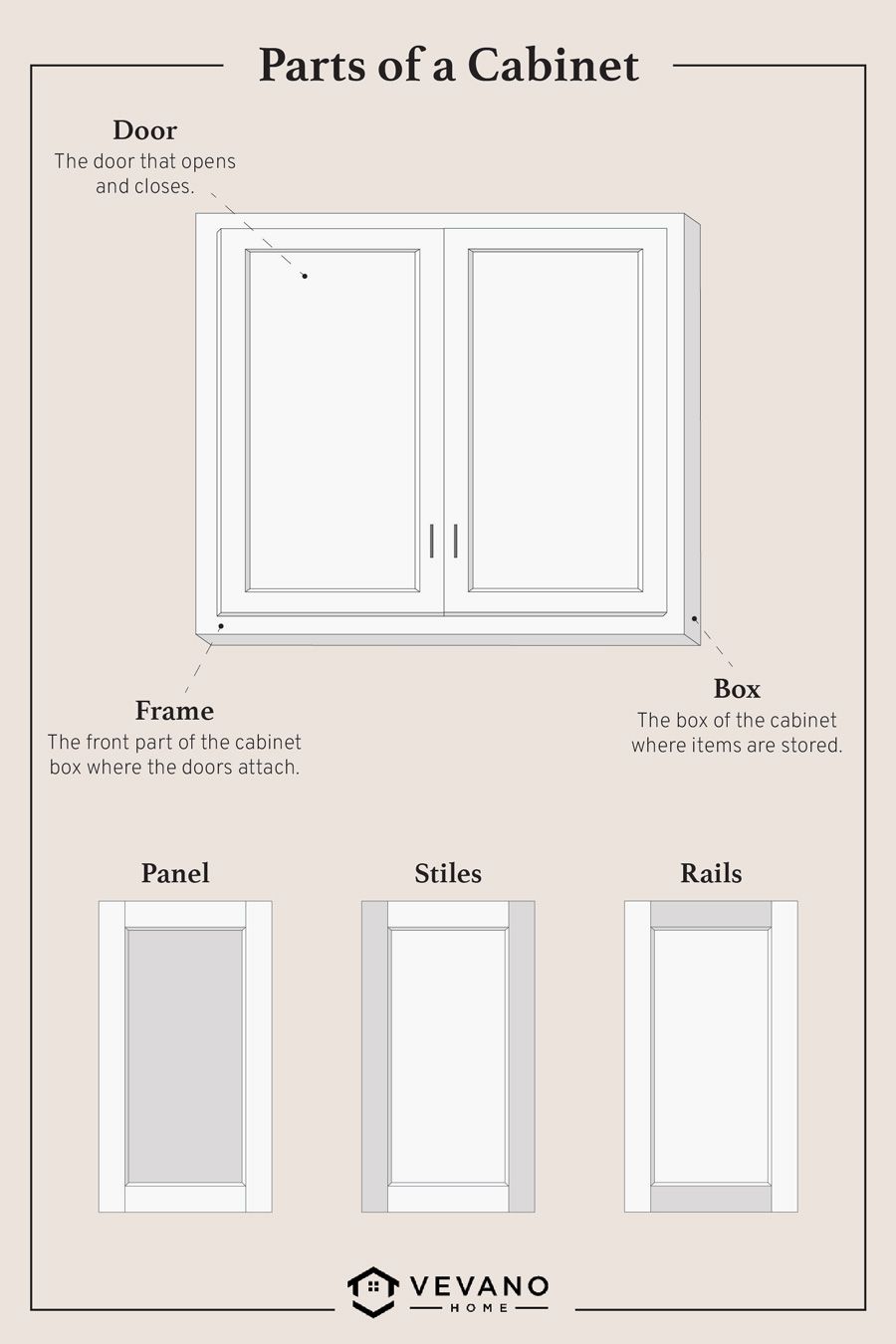 Inset cabinet doors attach to the cabinet from inside the frame, rather than the front like the other door types, with exposed hinges on the outside. This creates an overall flat and seamless appearance from cabinet frame to door. The design of inset doors must be meticulous to fit and work well within the frame. They come in either beaded or non-beaded styles. This is a premium cabinet door type.
Popular in traditional, modern & minimalist styles.
Best Cabinet Door Designs For Your Kitchen & Bathroom
Based on your chosen aesthetic, here are some ideas for befitting cabinet door designs.
Both shaker and recessed panel cabinet doors have a home in the farmhouse kitchen style with their simple design. Decorative details will bring out more rustic charm, such as beadboard, v-groove, and mullion door designs.
White, creamy neutrals, and light wood work great as farmhouse cabinet colors.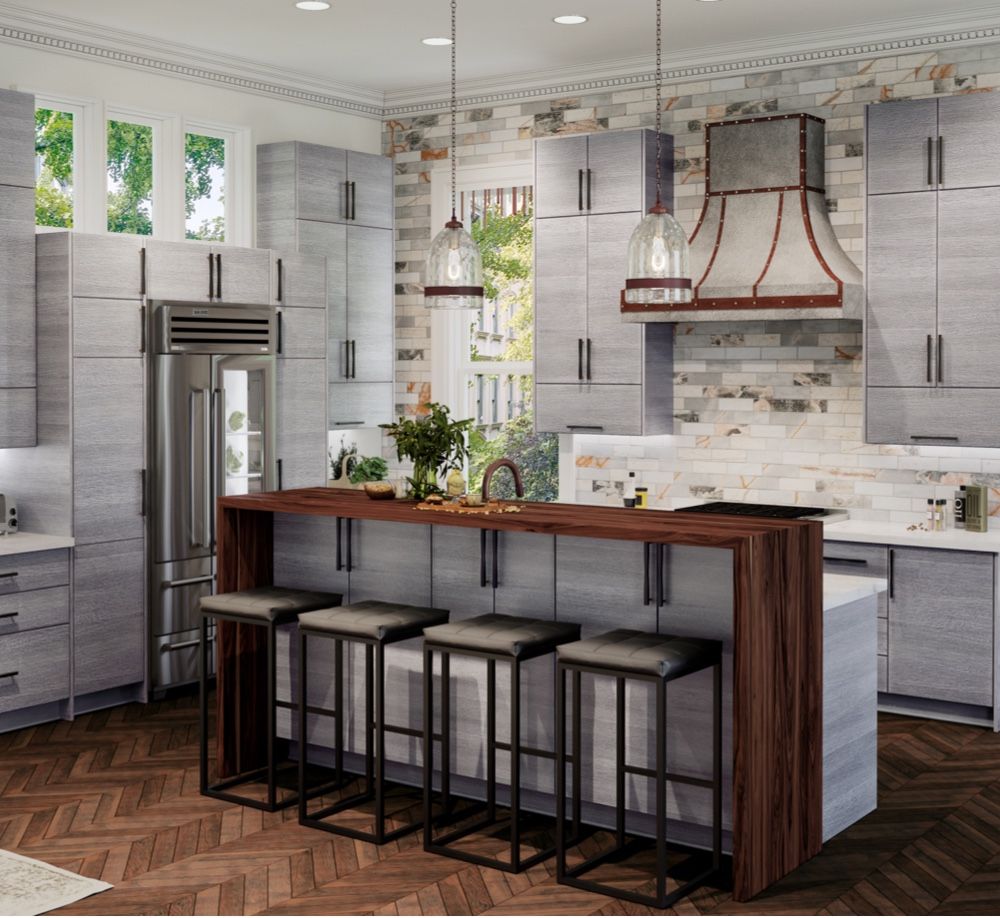 Industrial kitchens lean more modern with slab or shaker style cabinets. The panels should be plain and simple. The color palette would be light or medium wood, grays, or monochromatic.
Since contemporary incorporates elements that are popular, shaker cabinets fit right in, as do the full-overlay flat panel doors.
Style Your Cabinet Doors
Once you've identified the style and type of cabinet door that will enhance your chosen design for your kitchen or bathroom, select the cabinet material, color, and hardware that best suits your personal style and creates a consistent or cohesive sense of style throughout your home.
Considering different cabinet finishes, stains, and colors are also important to create a cohesive style in your kitchen or bathroom cabinets.
Depending on the style of cabinet door, hardware pulls and knobs can help tie your desired aesthetic together as well.
To further add personality and panache to your cabinets, you might consider adding molding and panels to the top, bottom, or sides of your cabinets for a more complete look by concealing edges and joints with style.
Need Cabinet Styling Assistance?
Do you have an idea of the look you want for your cabinets but need help identifying doors that fit your home and style? Our designers can help!