Why We Love White Shaker Cabinets
By The Vevano Team
August 3, 2020
If you're seeking a universal and versatile cabinet, then you don't need to look much further than the white shaker cabinet. Whether it's a white shaker kitchen cabinet or a white shaker bathroom cabinet, there are many reasons this style is such a popular choice. Thanks to its simple design, it's easy to personalize to your own aesthetic.
Here's a few reasons why we love white shaker cabinets and how you can use them to increase the appeal and boost the aesthetic of any room in your home.
The Sensational Shaker Style
The Shaker cabinet style earned its moniker from those who originally invented it. The Shakers, an off-shoot from the Quakers in the 1700s, were renowned for their woodwork and carpentry skills, and so the shaker cabinet door style came about through their designs.
The Shaker style cabinet door is recognized for its beautifully simplistic design, complete with a framed and recessed center panel, oftentimes with minimal ornamentation. The straightforward recessed panel design is easy to incorporate with modern, traditional, farmhouse, and other popular kitchen styles. The frame provides the perfect touch depth and dimension for a timeless look.
Best of all, the simple recess panel design is flexible, versatile, and easy to incorporate into the most popular design aesthetics—from traditional, cottage, farmhouse, transitional, and modern. Not only that but white shaker cabinets look good in just about any room in your house, whether it's your kitchen, bathroom, laundry room, home theaters, or bar area.
It's all about how you personalize and stylize the cabinets, doors, and hardware with the surrounding accoutrements.
Why White?
The color white reflects whatever light there is in the room, whether it's natural light through a window or from general or accent lighting. In reflecting the light, white cabinets give the impression of a larger and brighter room. White also makes a room feel bigger, more open, sleek, and clean. All of this combined makes a room feel more airy and welcoming.
From there, white cabinets provide an excellent backdrop for highlighting centerpieces. White provides a blank slate to decorate from, allowing different colors and finishes to pop. It's also one of the most versatile colors you could choose for your cabinets, as it can easily be used for many different looks and doesn't clash with other colors. (Just remember to keep up on cleaning white cabinets since messes will stick out.)
We offer 10 white cabinet collections in three different shades of white, depending on the aesthetic you want. Different shades of white will have a different effect on your space.
Dove:
With a slight tint of grey, dove white softens the light in a room and offers a cooler aesthetic that pairs well with many colors. Our Wilora Hawthorne Shaker Dove cabinet collection provides a simple air of sophistication to your kitchen.
Finally, cabinet color can have a big impact on the room. The countertops, lighting, wall color, and appliance hardware are all affected by whatever color the cabinets are. Choose wisely to pair your cabinets with complimentary features, such as cabinet hardware like knobs and pulls in finishes to match the aesthetic you want.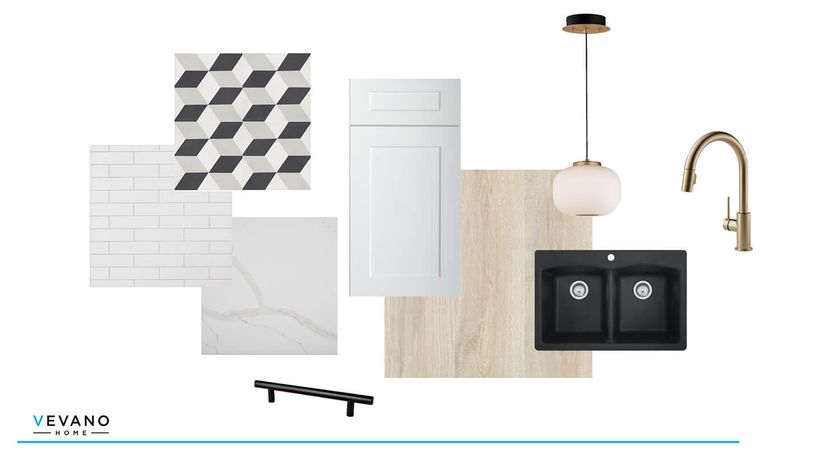 Personalization & Versatility
The ability to personalize and customize how white shaker cabinets look and feel further makes them a popular choice for kitchen cabinets or bathroom cabinets.
For example, to give white shaker style cabinets a more modern or edgy look, you could pair them with black and/or gold fixtures and handles, or even utilize clean lines in surrounding palettes (countertops, backsplashes, etc).
Or, if your design tastes run toward a more updated traditional style, white shaker cabinets can also be paired with copper finishes or other antique-like fixtures to play up that aesthetic.
Or maybe you want to add more depth to your kitchen, and so you decide to keep your wall cabinets white while changing the shade of the base cabinets to grey or another darker shade.
Due to the classic white shaker style cabinet design, it's a popular choice for kitchen remodels. Another bonus is that you don't need to replace white shaker cabinets if you feel like a change of scenery. You can also update other aspects in the area (like countertops, backsplash, cabinet hardware, appliances, lighting, etc.) to completely reinvent the space. Choosing different accent colors and pieces change up the room as well.
Depending on the style you want, we offer different collections to help you select hardware to personalize your white shaker cabinets. We recommend shopping by collection or by finish to create a more cohesive aesthetic. For more combinations and inspiration, see our Ultimate Guide to Cabinets and our White Cabinet Collections.
To sum up, there are many reasons to love white shaker cabinets and doors. The versatility and flexibility alone is appealing as it can match or enhance whatever palette or style you choose to work with. The white color is clean and idyllic and the design is simple, making for classic cabinets to add both style and function to your kitchen, bathrooms, and beyond.
If you're ready to remodel or update your cabinets, our design team would be happy to help you map out how your new cabinets will look. To get started, here's our handy guide to measuring your cabinets.