How to Choose Cabinet Hardware
Your ultimate guide to selecting bathroom and kitchen cabinet knobs, pulls, hinges, and more
By Jessica Earley
April 20, 2022
Getting ready to finish up your kitchen remodel? Don't overlook the finishing details–your cabinet hardware!
With flawless cabinets, immaculate flooring, and state-of-the-art appliances ready for installation, the last thing you want to do is add finishing touches that clash with your design choices or clutter up your polished look.
In this guide, we will explore the details of kitchen cabinet hardware so you can pick pieces that maximize the overall function of your kitchen and help harmonize your overall kitchen style.
Table of Contents
Knobs are one of the most common kitchen hardware types for opening cabinets and drawers. They are most commonly round or square and only require drilling one hole for installation. This is great if you're not ready to commit to drilling multiple holes in your beautiful cabinets to install a pull.
If you're looking for hardware that is a little more modern and is extremely easy to grasp, pulls may be the best option for you! Pulls offer more leverage for opening heavy kitchen drawers and require less dexterity to use (which is helpful if your family members are older or have a disability).
Pulls also require more planning since they require drilling two holes before they are attached to your cabinets. Plus, they take up more space.
While pulls come in a wide variety of shapes and styles, the following sections outline the three most common subcategories of pulls.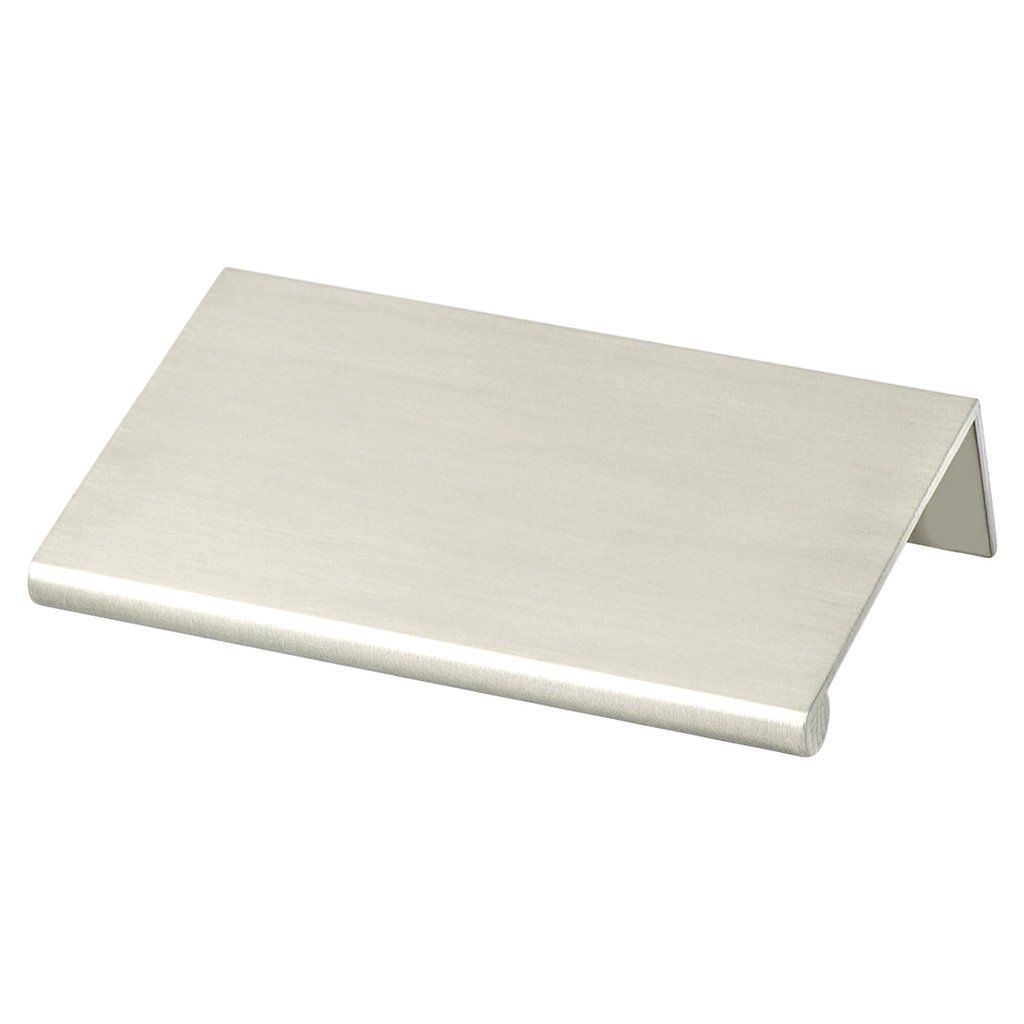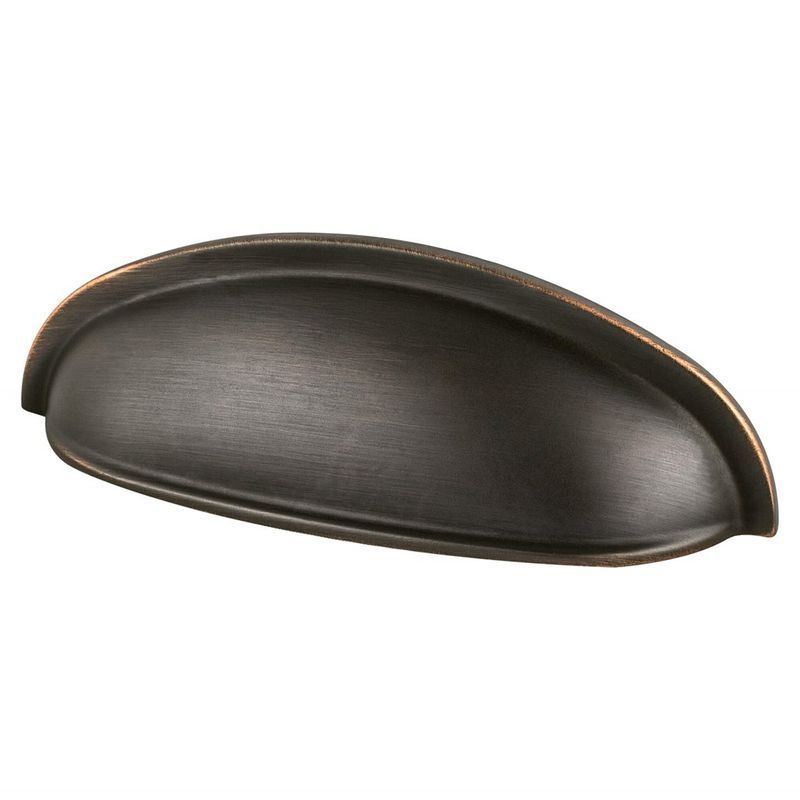 Cup pulls are shaped like cups. You use them by sliding your fingers up and underneath the cup to grasp it and pull. Cup pulls are timeless and match a variety of interior design styles.
Now that you know a little about the different hardware types, let's dive into the different styles your hardware can complement. From the traditional to the ultra-modern, there are options for any kitchen!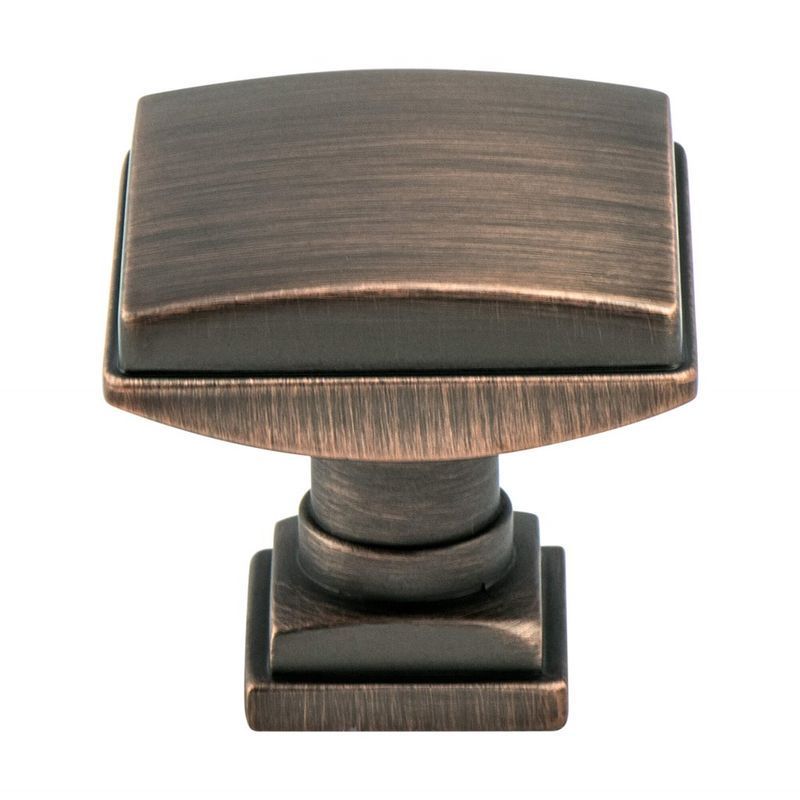 Surface-mounted hardware and pieces with more ornate embellishments and finishes are best for traditional kitchen cabinets. Find knobs, pulls, and hinges made with brass, bronze, or copper in polished, satin, antique, or rusticated finishes. Traditional kitchens tend to use knobs more often than they use pulls, but you can still find both throughout this style.
A key element of the farmhouse kitchen is the cup pull–always used on drawers–paired with square or rounded knobs on cabinets. Farmhouse kitchen hardware will often have more rustic finishes using chrome, bronze, gold, or copper. Other popular finishes are clear glass, nickel, and matte black.
It has been said that cabinet hardware is like the jewelry of your kitchen, and that's especially true if you choose some decorative styles! These styles of knobs, pulls, and hinges are all about adding a unique flair to your cabinets.
For example, while knobs have traditionally been made of metal and were round, you can find options today that are geometric, hexagon, T-shaped, square, cylinder, and more! Some are even made of glass, acrylic, crystal, natural stone, wood, and even leather. You can find similar, more decorative styles in pulls as well.
T-style hinges tend to lean more decorative. Also, some cabinets use decorative metal backplates in place of embellishments carved directly into the wood.
Pro-tip: If you're installing hinges that are visible on the outside of your cabinets–like surface mount, butt, flush, semi-concealed, and t-style hinges–it's best that the material and finish are matched with your knobs or pulls.
Best Cabinet Hardware Materials
The type of metal and finish of your cabinet hardware not only affects the style but also how well your knobs, pulls, and hinges will hold up under the wear and tear of kitchen use. Let's dive into the pros and cons of each type of metal and possible finishes for your kitchen cabinet hardware.
Copper is a unique kitchen cabinet hardware material found in both traditional and farmhouse kitchens. Because your hardware will be one of the most touched surfaces in your kitchen, copper is an excellent material to choose because it has natural antimicrobial properties. Plus, it's one of the most unique and beautiful options!

Pros
✅ Can develop a uniquely beautiful patina over time
✅ Anti-microbial
Cons
❌ Can tarnish and change color over time
❌ It's a softer metal than can scratch and show fingerprints
Bronze is a highly durable metal alloy usually made of copper and tin with pewter or iron mixed in to add strength. You'll find bronze most often in traditional and farmhouse kitchens. Depending on the finish, bronze can be lighter with copper highlights or darker with an aged or weathered look
Pros
✅ Extremely durable
✅ Corrosion-resistant
Cons
❌ Porous and can shrink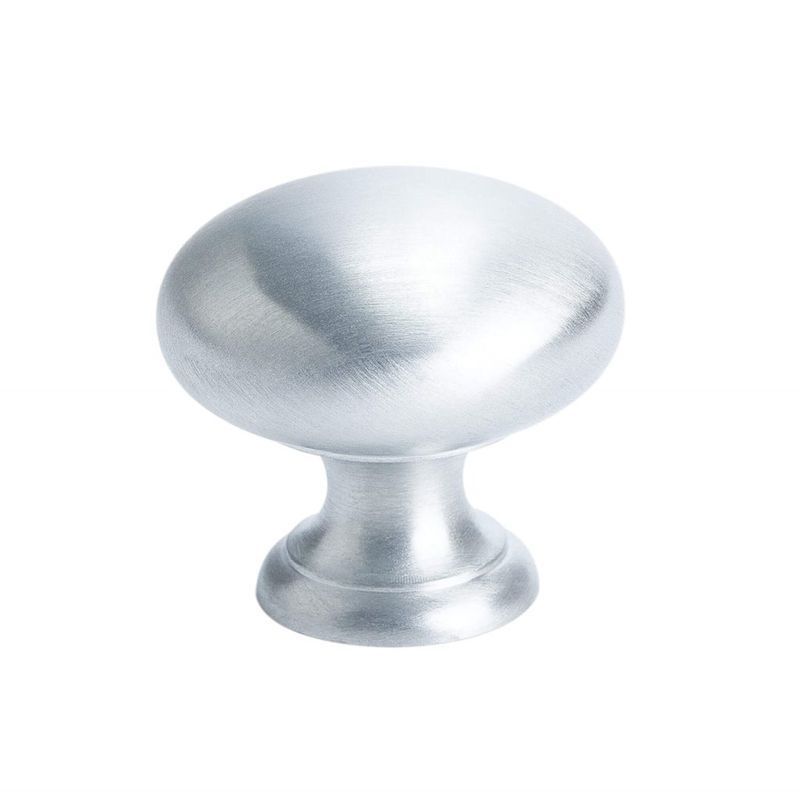 Chrome cabinet hardware is typically made with some kind of metal core covered by a thin layer of chromium veneer. It is very strong and corrosion-resistant, perfect for the humid environment of a kitchen. Chrome reflects a lot of light and will add a dramatic flair to your kitchen. You will often find chrome in farmhouse or modern kitchens. Chrome pairs well with lighter-colored cabinets.
Pros
✅ Corrosion-resistant
✅ Rust resistant
✅ Durable
Cons
❌ Can show scratches, fingerprints, and water spots
❌ Can dull over time
❌ Less expensive chrome can flake or peel

If you're looking for something a little warmer and richer than chrome, nickel is the best way to go. Similar to chrome, nickel cabinet hardware is made by covering a metal core with a thin nickel veneer. Though it's more expensive than chrome, the price of nickel pays off because it resists corrosion and rust better than chrome. You will find nickel in both traditional and modern kitchens.
Pros
✅ Strong, durable, and corrosion-resistant
✅ Richer and warmer than chrome
Cons
❌ More expensive than chrome
❌ Without lacquer, the finish can tarnish and dull
❌ Requires frequent cleaning to prevent discoloration from food and oils
Most gold hardware has a core of aluminum that is either plated with gold or is gold-colored. Gold hardware is warm and neutral and pairs well with many cabinet colors and styles. In more modern styles, gold hardware may be mixed with pieces made from other metals. Gold is also popular in farmhouse kitchens.
Pros
✅ Similar to brass, but adds warmth
✅ Matches a variety of materials and styles
✅ A good jumping-off point for mixing metals
Cons
❌ Not as durable as some other metals
We love including silver hardware in both modern and traditional kitchens. The brightness of silver hardware is an excellent contrast against deep and dark-colored cabinets. Like gold, silver hardware can pair beautifully with other types of metals. One of the only drawbacks is that silver can tarnish over time and develop dark streaks. Antiqued silver hardware is a great option if you want to avoid color changes over time.
Stainless steel hardware is a popular choice for cabinet hardware because it's strong and durable and will match the plethora of stainless steel kitchen appliances out there. Stainless steel is great for both traditional and modern kitchens.
Cons
❌ More expensive than other hardware materials
❌ Stainless steel-plated hardware is not as durable as solid stainless steel
Best Cabinet Hardware Finishes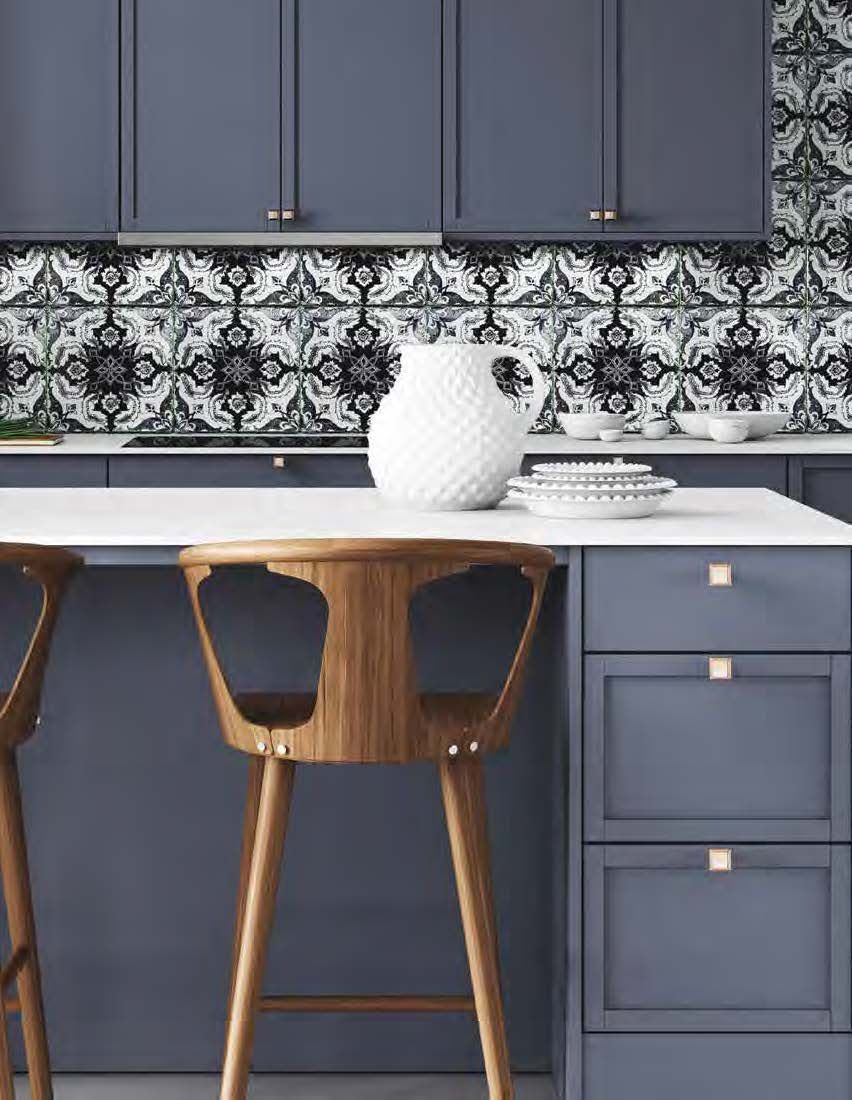 After choosing the type of hardware material you want, it's important to consider which finish will hold up under your family's kitchen use. Here are the best hardware finishes you will find!
Antiqued
Some hardware looks best with an antiqued finish, which is the process of purposely pre-aging the metal to bring out a natural patina or expose other colors within the metal. Usually, antiqued metals are sealed with a protective coating to prevent further aging. Antiqued brass and copper are the most popular.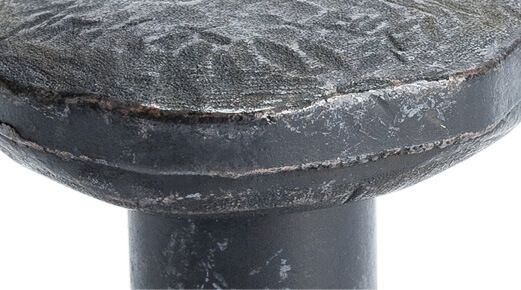 Hammered
Hammered finishes are similar to antiqued finishes because they are meant to pre-age the metal. Typically, hammered finishes are made by striking the metal repeatedly to make small dents and imperfections throughout the surface of the hardware. This is an especially popular hardware finish for copper because it hides imperfections or scratches that can happen over time on this soft metal.
Brushed
Hardware with a brushed finish is created by brushing the metal with a specialized tool that creates small abrasions on the surface to give the metal a softened appearance. One of the main advantages of brushed metals is that they help to conceal water spots and fingerprints. Brushed nickel and bronze are really popular.
Satin
Satin finishes are so similar to brushed finishes that sometimes the names are used interchangeably. However, satin is created and applied differently using electrolysis and is finished with lacquer to dull the metal's shine and preserve the finish. Satin finishes also help hide water spots and fingerprints but are also resistant to scratches.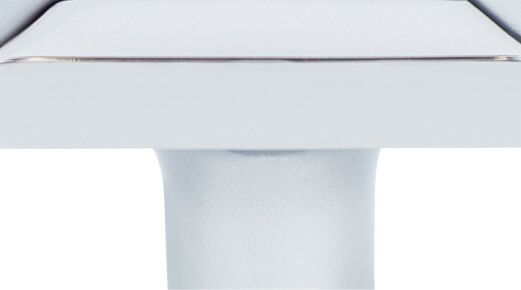 Polished
Polished finishes are typically shiny, bright, and very reflective. One of the most popular materials with a polished finish is brass, but you can also find polished nickel and chrome. Polished finishes add a unique radiance to your cabinets, but fingerprints can show up more easily than other finishes.
Matte
Matte finishes are becoming extremely popular in modern and farmhouse kitchens. Matte finishes reflect little to no light and create a sleek and minimalist look. Matte black is the most popular type of this finish.
Now that you know all about cabinet hardware types, materials, and finishes, it's time to consider the size of knobs and pulls you should purchase. The following guidelines will help you choose hardware that keeps your kitchen looking balanced.
Small Drawers
12" or less
Knobs should be about 1" in diameter.
Pull should be 3" to 4" long.
Medium Drawers
12" to 30" long
Knobs should be 1" to 1.5" in diameter.
Pulls should be 4" to 8" long.
Large Drawers
30" to 48" long
Knobs should be 1" to 1.5" long, and you will usually need two of them.
Pulls should be 3" to 4" long, and you will need two of them.
Where to Put Knobs and Handles on Kitchen Cabinets
Knobs should typically be centered horizontally and vertically on the face of the drawer. On longer drawers that require two knobs, they should be centered in the left and right thirds of the drawer.
Pulls should also be centered in the middle of the drawer. On larger drawers, place your pulls in the left and left and right thirds.
Cup pulls are best when installed on the top third of your cabinets.
Deeper drawers that are meant for pots and pans are best with knobs or pulls that are installed on the top third of the drawer for proper leverage.
Cabinet Hinges, Slides, and More
Knobs and pulls are important to the function of your kitchen, but if you don't have any hinges, they don't matter!
Hinges attach the cabinet doors to your cabinet frame and allow them to swing open and closed. You should choose your hinge based on the type of cabinets you have–inset, partial overlay, or full overlay.
Here is some brief information about the ten most common types of hinges available.
European hinges are concealed hinges and they fit inset, partial, and full overlay style doors.

Full crank (or inset) hinges sit flush with the cabinet face or box when closed and are best for overlay doors.

Half crank (or partial overlay) hinges are similar to an inset hinge but sit back from the edge of the door to allow a partial overlay on the cabinet frame.

Full overlay hinges are straight and offset your door, so they can be used on full overlay cabinets.

Surface mount hinges are mounted to both the outside of the door and the outside of the frame so they are completely visible. These are great for showing off some style!

Butt hinges have two mounting plates that are connected by a barrel. Once installed, the barrel is completely visible on the outside.

Flush hinges are similar to butt hinges, but they have a slimmer and sleeker profile.

Semi-concealed hinges are best for overlay or face frame cabinet doors. They hide the primary mechanism of the hinge behind the door with just a small part visible on the edge of the door or frame.

Wrap-around hinges are similar to semi-concealed hinges, but they wrap around the edge of the frame to offer more stability.

T-style hinges have a vertical arm that is attached to the cabinet frame and a horizontal arm that attaches to the outside of the door. These are usually the most decorative types of hinges you'll find.
Roller slides are usually the least expensive option and have a small nylon or plastic wheel that moves inside a stainless steel track.
Ball-bearing slides move on a set of stainless balls and are smooth and quiet. Typically, ball bearing slides are more expensive than roller slides but offer greater durability and alternative functionalities.
Before shopping, you will also want to choose how you want to mount your slides–bottom, side, center, under, or groove.
Also, take into consideration how much you want your slides to extend. Three-quarter extension slides are good if you don't need to regularly see the entire contents of your drawer at once.
Full-extension slides are most popular for kitchens because it's easier to search through all of your utensils.
Over-travel slides extend beyond the length of your drawer, allowing you to see all the contents if your countertop is overextended or your cabinets have a lip.
A Note About Cabinet Hinges and Slides
Both hinges and slides can have features that can preserve the longevity of your cabinets and make them easier to open.
Soft-close hinges and slides slowly draw in doors or drawers to keep them from slamming (and reducing wear and tear.)
Self-close hinges and slides draw your cabinets closed with even less effort than soft-close.
Finally, self-open hinges and slides open by pushing them in slightly to release the spring inside that pops them open. They close with a click to re-engage the spring.