5 Steps to Choosing a Vanity Cabinet
By The Vevano Team
August 3, 2020
Your bathroom vanity can be both a statement piece and a functional powerhouse. No matter the bathroom, the vanity is always a prominent fixture. After all, the bathroom vanity is where you get ready for the day. Keeping this in mind, you want your vanity to work for you. A vanity, generally topped with a mirror or mirrored Kohler medicine cabinet, houses the sink as well as any cabinetry to keep what you need close at hand.
In updating or remodeling your bathroom vanity, here's what you should consider in selecting a vanity cabinet for your bathroom.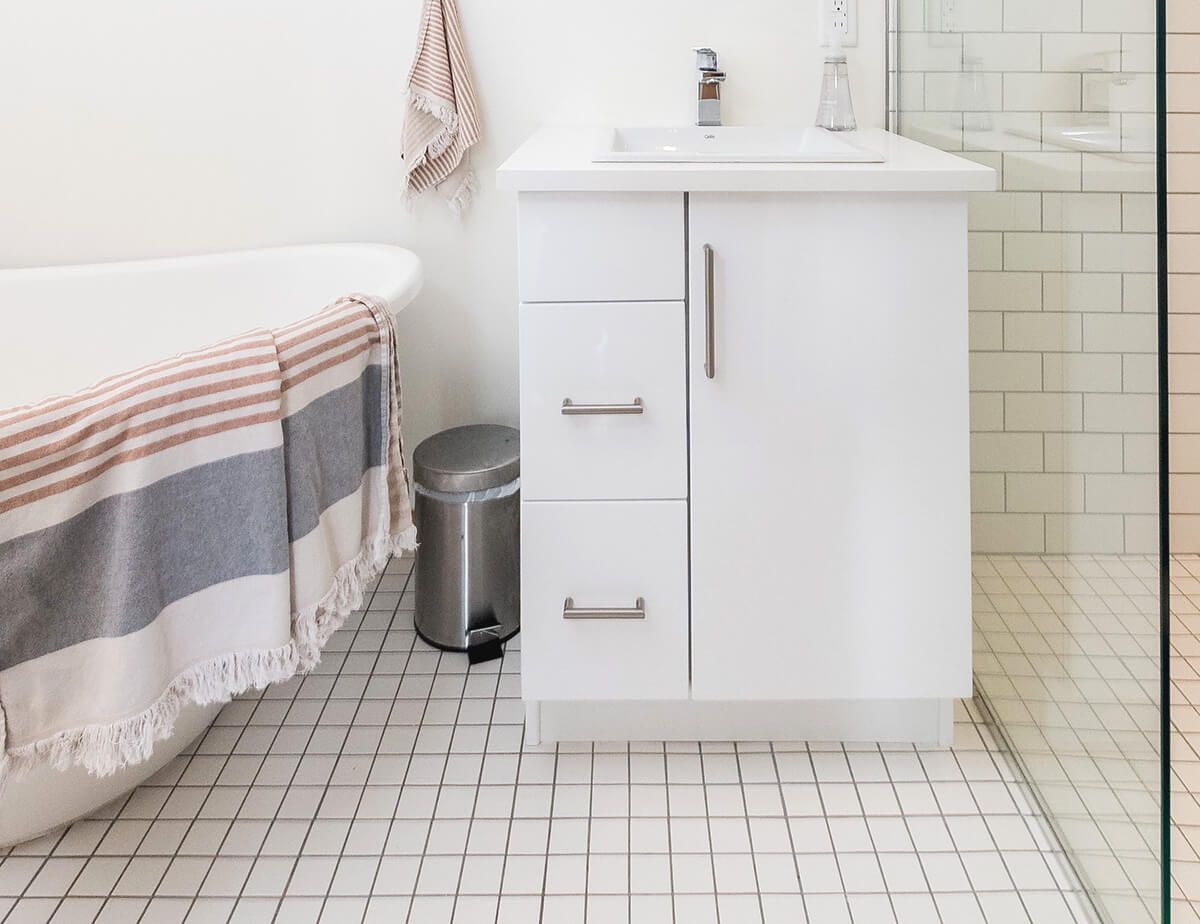 Consider the Bathroom - Size, Space & Who Uses It
Look at the bathroom you wish to update. How big is it? Is it a massive master bath, a small guest bathroom, or a ¾ or half bathroom near your living areas? This will determine how big of a vanity you will be able to work with or if it needs particular dimensions due to how the bathroom is laid out. Next, how much space are you working with in terms of where the vanity will be? How big would you like your desired vanity to be given the space?
In this first step, think about who will be using the bathroom as well, to help plan for the functionality of a vanity cabinet. More people, such as a handful of kids as opposed to an adult couple, will likely need a bit more storage or space to use when it comes to planning your bathroom vanity cabinet remodel.
Using simple tools, you can map out a basic measurement map of your bathroom and/or the vanity cabinet with our 8 simple steps here. All you really need measurements of is the cabinet height, length, depth, and width to get you started in looking for a vanity set.
Consider the Bathroom Color Palette - Cabinet & Hardware
Now for the design aspect. Like most cabinets, the make and color can vary based on your preferences and desired style. What is the aesthetic you're aiming for with your bathroom? You'll want to keep this in mind as you select the cabinet material and color palette for your bathroom vanity cabinets. Here are some popular styles based on cabinet color:
Gray
An unconventional though popular choice are gray cabinets, often sought after for contemporary, transitional, and industrial styles. Gray cabinets provide a more muted tone to a bathroom. They pop particularly with metallic finishes and hardware. We offer many shades of gray vanity cabinets, from light to dark.
Wood
For a cozier bathroom, you may opt for wood vanity cabinets, which come in various shades and can be enhanced with stains. Modern, classic, and traditional styles work well with wooden cabinets as they provide warm, natural notes. This is a flexible color for cabinets as it can pair well with most hardware finishes.
Dark
Dark cabinets provide polished, rich tones for your bathroom and can pair well with metallic finishes like silver, chrome, or glass. As they add depth to your bathroom when paired with lighter fixtures and features, dark cabinets pair well with modern or traditional styles.
Make Vanity Cabinet Storage Work For You
While most vanity cabinets provide storage beneath the sink through base cabinetry, there are more ways to play up the advantages of other cabinet features for your vanity. You could select a wall mount vanity cabinet, or a freestanding vanity cabinet, which is more flexible as you could move it around the room as needed.
Depending on how much space you're working with, you could work with a solo vanity base cabinet, floor-to-ceiling vanity cabinets, mirrored medicine cabinet, or a combination of vanity cabinet storage options from under, over, and everywhere in between. From there, you can pick doors, drawers, shelves, or open-faced shelving to diversify your vanity storage. The storage you need will depend on how many people will use the bathroom and what kind of items you'll want to have handy for getting ready. It may be fun to experiment and customize your vanity with a variety of storage options for a more personalized and practical bathroom. Here are a couple of examples:
In a smaller bathroom, you can create a more open and airy space with open-face shelves in the vanity cabinets, whether freestanding or mounted, in which you could store items in coordinating baskets, bins, or other containers.
If you have a bigger bathroom, you could customize your vanity even further by taking advantage of the space around the vanity by installing a little vanity "alcove" through floor-to-ceiling vanity cabinets that border the vanity and up the walls on either side. This would enhance the coziness factor of the bathroom, depending on the style, as well as provide handy extra storage at less than an arms-length away. You could even top it with an overhead wall cabinet or wall shelving to optimize wall space and function, particularly if it's a small bathroom. We also offer a variety of cabinet organizers that could further boost your vanity cabinet's functionality.
Ultimately, the vanity cabinet that's best for you and your loved ones will be the one that marries function, storage, and the desired aesthetic you want.
Finding Your Ideal Faucet & Sink
Once you've selected the vanity cabinet style, make, color, and storage options, the next consideration is finding a faucet and sink to complete the vanity ensemble. Many vanity cabinets available do not have built-in faucet and sink options, though they do have various types of holes available for different sink sets: single-hole, centerset, widespread, vessel, and wall-mount. This makes it easy to easily customize your bathroom vanity faucet and sink with our collection of vanity faucets.
Matching Style & Function with Your Vision… With a Pro
If this sounds overwhelming, we can help you. We have a staff of professional designers who offer virtual design services who can help you fine-tune your desired style and pair it with a vanity cabinet that fits the function you need while also suiting the style you want. We can help streamline the process and help you find the vanity cabinet (and all its fixings) to fit your bathroom needs. Get a personalized design mock-up from our professional designers today!