Top 5 Kohler Toilets for Your Home
Kohler is one of the most trusted names in toilet manufacturing, and with good reason. From a smart toilet to standard toilets, Kohler offers a wide range of toilet options sure to fit your style and needs. Vevano Home offers many different models of Kohler toilets, including, but not limited to the following:
Top 5 Kohler Toilets
These Kohler toilet models boast unique characteristics, shapes, styles, dimensions, and technological conveniences. With all these options, finding the right style and model of Kohler toilet for your bathroom may seem a little daunting at first, but we at Vevano are here to help.
We've put together a list of Kohler toilet options to help you choose the perfect toilet for your new build or remodel! Here's a closer look at each collection.
Are you going for a sleek, modern style in your bathroom? Or maybe you're a little tight on space but don't want to sacrifice comfort. If so, the Kohler Santa Rosa toilet may be just what you're looking for.
The Kohler Santa Rosa toilet features a compact, contemporary design with top-notch performance. This toilet's comfort height and elongated seat provide the user with comfort, while its 1.28-gallon high-efficiency flush saves up to 16,500 gallons of water per year! Compare that to a standard toilet flush of around 3.5 gallons and you'll understand how the savings can add up.
The Santa Rosa's Kohler one-piece toilet design seamlessly integrates the toilet tank and elongated toilet bowl for a sleek, modern look that's also easy to clean. Despite the Kohler Santa Rosa's compact design, its elongated bowl gives the user the feeling of spaciousness while taking up no more room than that of a standard round-front toilet bowl. This feature, coupled with the Kohler Santa Rosa's comfort height makes this toilet the obvious choice over any standard toilet.
Those looking for a more classic, elegant appearance for their bathroom are sure to love the clean, crisp lines and bold angular shape of the Kohler Memoirs toilet.
Marrying a striking traditional design with modern flair and equally modern efficiency, the Kohler Memoirs toilet evokes a timeless architectural appeal without sacrificing performance. This Kohler toilet boasts a high-efficiency 1.28-gallon flush, as well as a Glenbury quiet-close seat with grip-tight—this not only allows the toilet seat to close quietly, but also allows for quick and easy removal for more efficient, thorough cleaning.
But the technological sophistication of this classic-looking toilet doesn't end there. The Kohler Memoirs toilet also includes a patented ReadyLock installation system, doing away with the need to drill into the floor and making installation a snap.
The Kohler Memoirs toilet coordinates with other appliances and products from Kohler's Memoirs collection. So, if you're looking to remodel a bathroom, you can easily match your Kohler toilet to your appliances or faucet by purchasing the entire Memoirs collection from Vevano.
The Kohler Wellworth toilet is one of the standards of the toilet industry. When you picture a classic toilet, quite possibly the Wellworth toilet is the one that comes to mind. The Wellworth's timeless, iconic design makes it a perfect fit for bathrooms of all styles.
Don't assume that this classic Kohler toilet hasn't kept up with the times just because the Wellworth has been around since 1936. Like many of its Kohler toilet counterparts, the Kohler Wellworth toilet boasts a high-efficiency flush, saving the user up to 16,500 gallons a year.
The Wellworth comes in a classic two-piece design, meaning the tank and bowl are two separate, detachable pieces. The round bowl is a great size and shapes for bathrooms that are a little short on space in case you need to compensate for larger sink sizes. Overall, the style of the Kohler Wellworth toilet is low-profile, and could be considered the default choice for any bathroom.
When it comes to toilets, functionality is key. No matter how modern or stylish a toilet is, it needs to perform consistently and reliably, or else it isn't much use to anyone. The Kohler Highline toilet is where style and functionality converge.
Simplicity is the Highline's specialty. From its clean, minimal design to its straightforward functionality, the Highline has built a reputation as the go-to Kohler-toilet model. The Kohler Highline toilet is a two piece toilet, with a classic polished chrome left-hand trip lever, and a sleek, modern profile, merging the traditional with the contemporary. The Highline fits in well with any design, especially those of a more transitional nature.
Unlike other toilets, the Highline doesn't sacrifice efficiency or comfort for reliability and style. The Kohler Highline toilet's revolutionary 1.28-gallon flush conserves water without losing power. And, the comfort height feature ensures that the user will remain comfortable when going from a sitting to standing position.
Tools to Install a Kohler Toilet
Tape Measure
Socket or Adjustable Wrench
Wax Ring
Flange
Shims
4-foot Level
Caulk
Kohler Toilet Installation Instructions
How to Fix a Kohler Toilet That is Running
A running toilet is a common issue. If your toilet is running, you'll hear a constant hissing or running noise coming from the tank that doesn't stop. Upon lifting the toilet lid, you may also notice a slight ripple in the surface of the water in your toilet bowl. If you lift the toilet tank lid, you will see water flowing into the overflow of the flush valve.
There are a few common reasons as to why your Kohler toilet is running, including:
The trip lever arm is binding.
Water in the toilet tank is overflowing into the overflow of the flush valve.
There is debris lodged under the cap of the fill valve.
The toilet flapper is old and worn.
There are a few easy things you can do to top a running toilet. This includes:
1. Flush the Fill Valve:
Overflowing water in the toilet tank is sometimes caused by sediment lodged in the cap of the fill valve, preventing the water from turning off. To remedy this, you'll need to:
Remove the float cap assembly.
Press down on the top of the cap assembly and rotate one quarter turn counterclockwise to remove the cap. Then, remove the seal underneath the cap and rinse it thoroughly.
Next, hold an inverted cup over your float cap assembly and turn on your water supply to flush the fill valve for thirty seconds.
Replace the float cap assembly.
If the fill valve is still running after you've flushed it, replace the fill valve.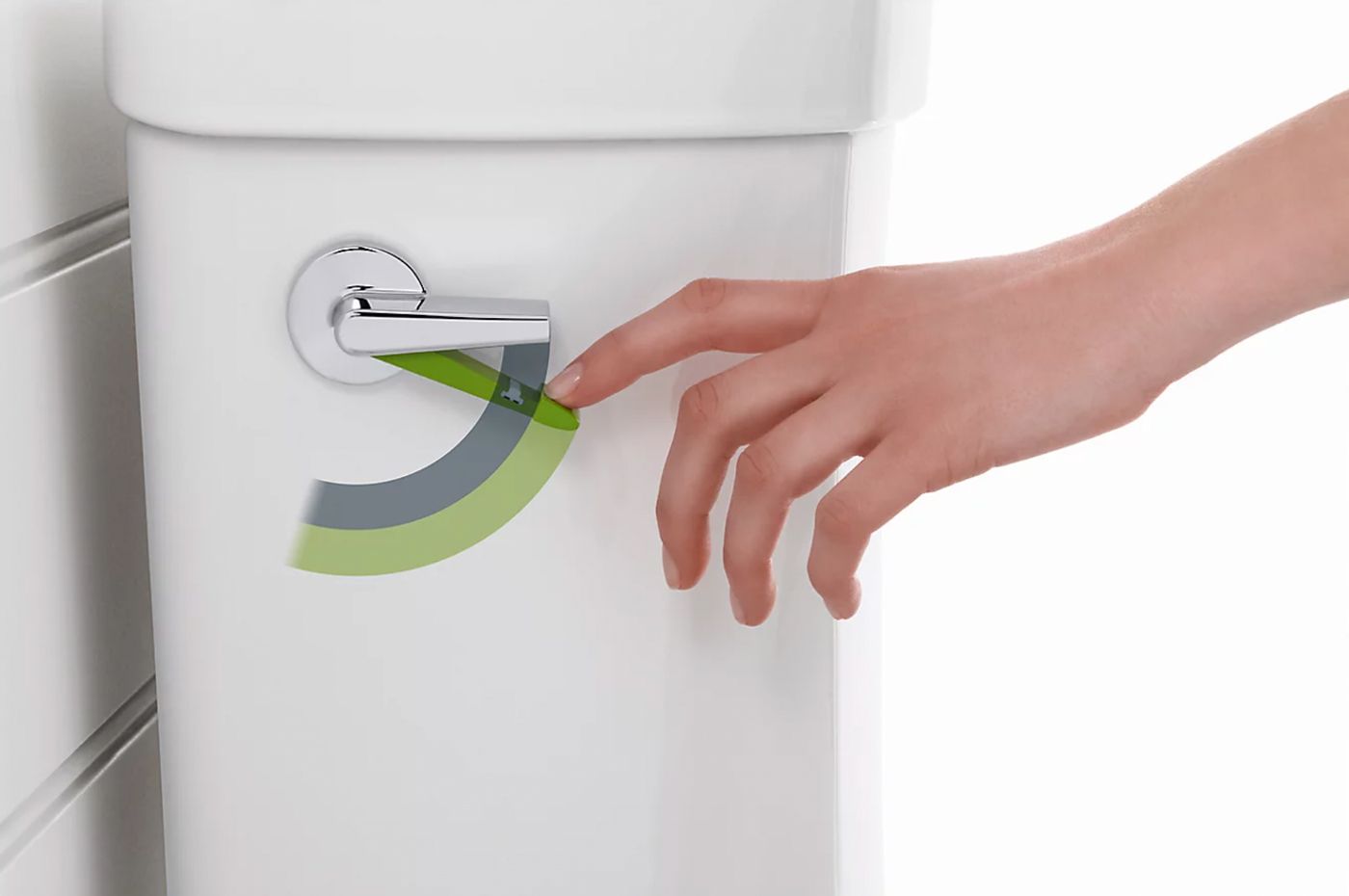 2. Adjust the Trip Lever Chain:
The trip lever chain should only have about one to two links of slack so the chain doesn't get caught on the trip lever arm. Adjust the chain, if you notice it is misaligned or caught on something.
If you're still unsure about how to make these adjustments, contact a professional plumber.
Where to Buy Kohler Toilet Parts
Now that you've familiarized yourself with some of Kohler's most popular toilet models, and learned a thing or two about toilet installation and maintenance, all that's left is to purchase your new Kohler toilet.
Vevano carries a wide selection of Kohler toilets, as well as many other Kohler bathroom fixtures, to make coordinating your dream bathroom a breeze. Our intuitive website navigation and secure checkout will ensure that purchasing your new Kohler toilet is a safe and enjoyable experience.
Are you remodeling and aren't sure where to begin? Our team of expert interior designers is here to help! Not only will we help you find the Kohler toilet that suits your needs, but we'll also coordinate your entire bathroom interior, making sure you get the new bathroom of your dreams.
Add a Kohler Toilet to Your Bathroom Today!
The Kohler toilets covered in this article were only a small sampling of what Kohler has to offer. Whether you prefer a touchless toilet, an intelligent toilet, or something a little more standard, Vevano's selection of Kohler toilets is sure to have what you're looking for. And, if you need help finding the best toilet for your bathroom, please don't hesitate to contact us.
Don't put off your new bathroom any longer! Schedule a design consultation today.