2022 Bathroom Trends: Smart Tech, Taller Cabinets, and More
November 21, 2021
By Emily Webb
The start of a new year is always an exciting time for interior design as designers and homeowners alike discover new ways to use familiar spaces. This next year promises to be no different. According to the Vevano Home expert designers, 2022 will likely bring changes to the relationship between form and function in bathrooms, with more people considering what upgrades will improve their use of one of the most important rooms of the house.
Across the whole home, we are expecting to see a surge in the use of creative patterns and bold colors in 2022, and the bathroom is no exception. Tile is a practical bathroom material since it stands up well to moisture and is easy to clean, and it is growing in popularity because of how well it lends itself to unique design themes.
"Instead of accent wallpaper, people want accent tile," explained Michael, a Vevano Home designer with extensive experience redesigning bathrooms.
White subway tiles, small tiles in intricate patterns, and large hexagonal tiles are all popular options that bring texture and visual interest to a space. Tile allows you to mix and match different styles and colors to create a highly personal decor scheme. The color options are almost limitless, and you can even get tile that mimics the look of other materials, such as wood or marble.
3. Storage Is Taking a Different Shape
Medicine cabinets, that long-standing bathroom staple, might be on their way out. Because they tend to be shallow to prevent jutting out too far into the room, they aren't that practical for the modern homeowner. "People aren't usually asking for a medicine cabinet unless they already have one," said Vevano designer Andrea. Instead, tall floor-to-ceiling linen cabinets are showing up in more and more bathrooms as the best way to store toiletries and other bathroom essentials.
Tall, narrow tower cabinets make good use of vertical space while remaining inconspicuous enough to not draw too much attention. Varieties that feature both open shelves and doors allow you to display some items while tucking others away. These tower linen cabinets are frequently standalone or placed above the toilet, but an increasingly popular option is to build a floor-to-ceiling cabinet in between the sinks of a double-sink vanity.
4. Bathrooms are Getting Tech Upgrades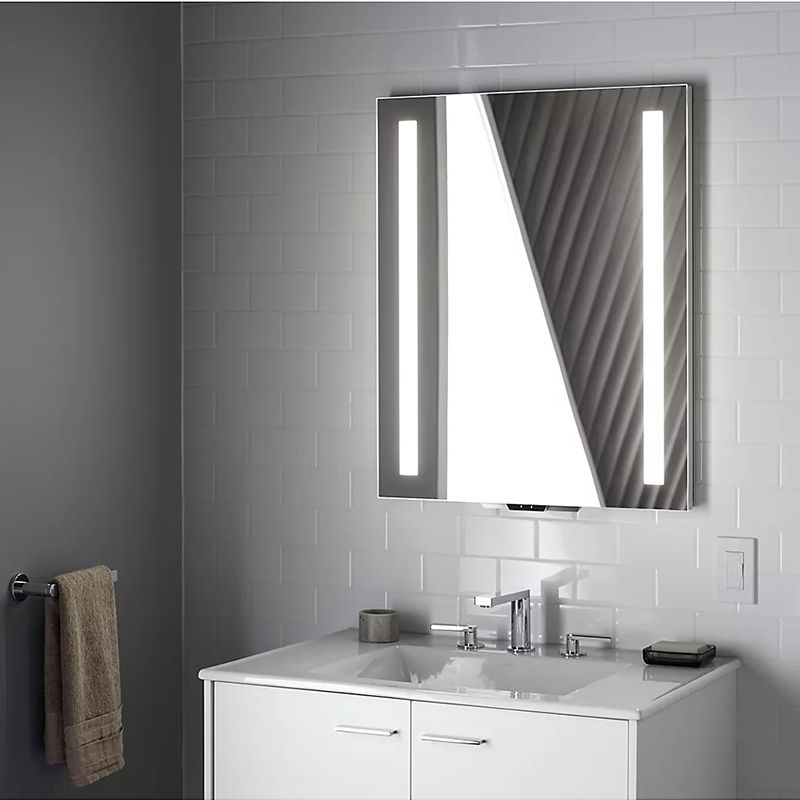 Technology is making our lives easier in many ways, and the bathroom is particularly primed for innovation. From better lighting to smart devices, technological improvements will continue to grow in popularity in 2022. Here's a quick sample of specific smart bathroom upgrades that are growing in popularity.
LED Mirrors
Well-lit bathrooms make it easier to accomplish the necessary daily tasks and make any space feel more open and inviting. Many people are choosing to install multiple lighting options, including colored lights in the shower, dimming lights for the general space, and bright LED lights built into mirrors.
LED mirrors are an especially great choice if you want the most light possible while applying makeup, shaving, or doing other tasks that require you to get a close look at your face, and the energy-efficient bulbs last for longer than other types of light sources. For even more functionality, some LED mirrors include built-in speakers and voice activation.
Smart Toilets
Toilet upgrades are another anticipated trend for 2022. Bidets have recently gained popularity in the United States, and options range from basic water streams to advanced models with multiple pressure and temperature settings. Installing a bidet is relatively easy, so it's a simple change that will have a big impact. Some are taking toilet upgrades even further, however, by purchasing a smart toilet with features like motion-activated lights, automatic lids, seat warmers, and the capacity to self-clean.
Luxurious Shower Systems
As showers continue to blend luxury and functionality, multi-functional shower systems will grow in popularity as well. Smart shower systems allow you to change the brightness and color of the lights, adjust the water temperature, control the different showerhead spray settings, and play music all from a single location.
These luxury shower upgrades could be as minor as installing a Bluetooth showerhead speaker or as major as installing body sprays and surround-sound shower speakers. For less extensive renovations, people are opting for shower panels with built-in temperature controls and body sprays.
5. The Outdoors Are Coming In
Throughout 2020 and 2021, indoor plant collections were one way people were able to create a sense of tranquility while spending more time at home than ever before. That will likely carry over into 2022 as living plants, nature-inspired designs, and natural materials all fit well into the trending theme of bold individualism.
The majority of paint companies who select an annual color have chosen variations of green for their 2022 color of the year, with several specifically pointing out that their colors are meant to invoke images of walking through a forest or along a beach. Those colors will likely be incorporated more into bathrooms—whether as paint or the aforementioned tile—and go well with actual plants used as decor items.
If you decide to follow the trend and add plants to your bathroom, look for species that do well with near-constant moisture. Choose plants that will also thrive in the light conditions of your bathroom.
The 2022 bathroom design trends lean heavily into creating spaces that are beautiful, functional, and intended to improve the overall quality of life. To get ideas for how you can incorporate some of these trends into your home, reach out to our Vevano Home designers for a consultation.