6+ Stylish Upgrades for the Ultimate Smart Bathroom
Technology is everywhere these days—even in your bathroom! Everything from your mirror to your toilet can be enabled with smart features that upgrade and add convenience to your morning and evening routines.
However, we know a lot of smart bathroom technology can stick out like a sore thumb, making your bathroom look clunky, busy, or disjointed. Not only that, but many smart products are poorly constructed and prone to glitching, requiring you to replace the gadget after just a few months.
Thankfully, you don't have to sacrifice style or quality for smart upgrades. Smart tech can (and should) elevate the functionality and overall aesthetic of your bathroom. From Bluetooth showerheads to touchless faucets, we've rounded up examples of high-quality, beautifully designed smart bathroom gadgets that are guaranteed to bring your bathroom into the 21st Century.
We love the Kohler Verdera LED Mirror for its clean, contemporary design and sophisticated smart tech. Though it may not include all the bells and whistles of more advanced smart mirror tech, it's one of the more affordable options on the market for the quality and style it offers. Plus, what smart features it does include are seamlessly integrated into the design and perform beautifully. Let's see how it stacks up against our smart mirror criteria:
✅ Quality Material & Finish - The Kohler Verdera LED Mirror has a rust- and crack-resistant finish and is made of anodized aluminum, which holds up well against water.
✅ Integrated Lighting - The integrated energy-efficient LED light bulbs have a life expectancy of 36,000 hours! With approximately 3000 Kelvin light and 90 CRI, this mirror provides the best light for all your tasks, especially when applying makeup. The mirror even comes with a motion-activated night light.
❌ Storage - Sadly, this smart mirror does not include storage. If you like this mirror's styling but want storage (and could do without the built-in stereo), check out the Kohler Verdera Mirrored Lighted Medicine Cabinet.
✅ Pivoting Side Panels - The Kohler Verdera LED Mirror's pivoting side panels can help you find the perfect angle and lighting for your profile.
✅ Stereo Sound System - This smart mirror includes an integrated stereo sound system, perfect for listening to the news in the morning or winding down to your favorite music at night.
✅ Bluetooth - The Kohler Verdera LED Mirror is Amazon Alexa-enabled and includes a built-in microphone so you can adjust your light settings or stereo volume with just your voice!
If you love the look of the Kohler Verdera LED Mirror but want something a bit less expensive and with storage capabilities, then the Kohler Verdera Mirrored Lighted Medicine Cabinet might be just for you!
This Kohler smart mirror includes integrated LED lights, hidden storage with lighted storage shelves, pivoting side panels, and a vertically adjustable flip-out 3x magnifying mirror on the inside of the door! Plus, the internal aluminum shelf has two electrical outlets so you can power small devices like a toothbrush or razor. However, this mirror does not include a speaker or Bluetooth capabilities.
Ready for more than a simple flush to help take your bathroom business away? Smart toilets are one of the best upgrades you can make to your home, which is why we have a whole article dedicated to an in-depth analysis of the topic. Here's a quick snapshot of the kind of features a smart toilet might include (click on the links to learn more):
Though we've outlined several excellent smart toilet options in our ultimate smart toilet guide (including budget-friendly options and our luxury pick), our favorite toilet overall is the Toto Neorest RH. Despite its compact size and sleek, minimalist design, the toilet packs an enormous amount of functionality and checks off nearly every smart toilet feature we can think of.
✅ Eco-friendly Functionality - This toilet is Watersense certified, which is no easy task considering the rigorous requirements needed to pass certification. The Neorest also incorporates eco-friendly technologies like 1.0 GPF Gravity technology and eWater+, a type of electrolyzed water that keeps your toilet bowl clean without using harsh chemicals.
✅ Self-Cleaning Toilet Technologies - The Neorest includes the ultra-efficient Tornado Flush system for cyclonic rinsing action and the CeFiONtect Ceramic Glaze to prevent debris from sticking to your toilet. Additionally, the bidet comes with a premisting and eWater+ feature that keeps the wand and toilet bowl cleaner longer.
✅ Seat Warming - The Neorest is designed with your comfort in mind, which is why it includes a heated seat with temperature control.
✅ Ambient Lighting - This toilet includes a night light, providing a soft glow that can help you navigate to the toilet in the dark.
✅ Bidets -The Neorest's integrated washlet includes both front and rear warm water washing with adjustable temperatures and pressure control. There's even a warm air dry function!
✅ Deodorizer - The Neorest has an automatic air deodorizer, an appealing feature for any bathroom product but especially the toilet.
✅ Remote & Automatic Capabilities - The Neorest includes a remote control that you can use to adjust your water pressure and temperature, change your flush settings, and more. The toilet seat can open automatically or remotely.
❌ Bluetooth Speakers - Unfortunately, this toilet does not have Bluetooth speakers or wifi. Check out the Kohler Numi if this smart feature interests you.
If you're not able to upgrade to a full smart toilet, consider getting a bidet seat that you can attach to your existing toilet. For example, the Toto Washlet C5 has many of the smart bathroom features we recommend, including self-cleaning technologies, adjustable bidet settings, and remote operation.
Automatic features and touchless handwashing are not just for public restrooms anymore—the same technology is readily available and easy to install in your own home! We love how smart bathroom faucets can keep your bathroom more hygienic while offering eco-friendly water and energy savings.
When shopping around for a smart faucet, keep an eye out for the following features:
Eco-friendly Functionality - Smart faucets with water-conscious, eco-friendly features can help you save money and the environment. Especially when it comes to touchless faucets, be sure the faucet has safeguards against false motion-triggers and that have limited run cycles. At the very least, your smart faucet needs to comply with any state water conservation laws (we recommend looking for smart faucets with a certified Watersense label).
Touchless Operation - Some of the "smartest" faucets to date are those that include touchless, motion-activated functionality. Like we already mentioned, your touchless faucet should include quality sensors so that your faucet isn't automatically triggered throughout the day.
Easy to Install - Most smart faucets, especially those that are touchless, require a power source. Battery-operated touchless faucets, also known as DC-powered, are easier to install than AC-powered faucets. Ensure that the faucet you buy is conducive to your current bathroom setup; otherwise, you may need to spend additional money renovating your bathroom for installation.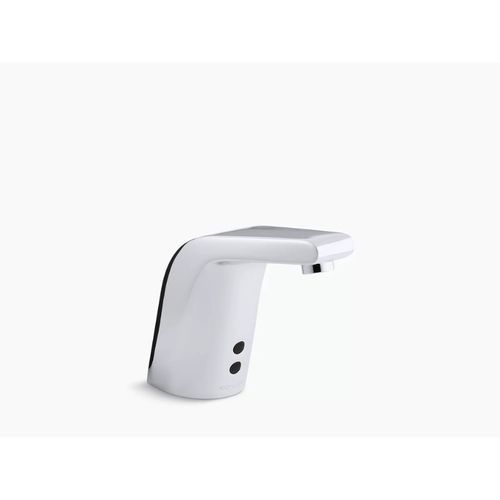 Kohler's faucets are known for their high-performance, impeccable design, and use of quality materials. The Kohler Sculpted Touchless Bathroom Faucet has all of these characteristics and more, pairing a sleek curved profile with touchless, water-conscious functionality. We especially love this faucet's gleaming polished chrome finish. What's more, the Sculpted faucet uses DC power (battery), which is easier to install and more energy-efficient than AC-powered touchless faucets.
✅ Eco-friendly Design - Although not Watersense certified, the Kohler Sculpted touchless bathroom faucet complies with EPA standards for water conservation and follows even the strictest water law standards throughout the U.S. There's also a 30-second maximum run cycle to conserve water.
✅ Touchless Operation - Not only is this faucet touchless, but the faucet includes an infrared scanner that analyzes your bathroom and memorizes the layout to avoid false motion triggers.
✅ Easy to Install - This faucet is DC-powered (battery-operated), making it easier to install. The faucet also comes with a 24" flexible supply hose and an above-counter valve for easy installation.
The Kohler Geometric Touchless Bathroom Faucet offers the same touchless and eco-friendly features as the Sculpted faucet but has a vibrant stainless finish and sharper profile. However, the Geometric touchless faucet is AC-powered, which can complicate installation.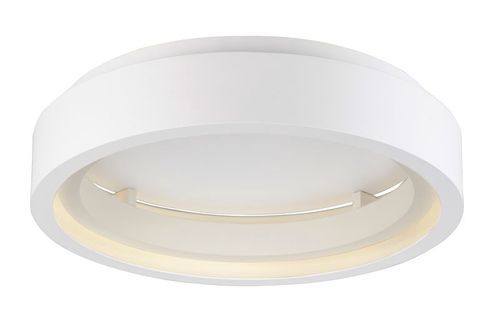 Make the most of your bathroom lighting with the ET2 iCorona lighting collection. Both the pendant or mounted styles are a great addition to any room and can integrate with most smart home apps for remote adjustable brightness, temperature, and even scheduling. Both styles come in a sophisticated, minimalist style with a white matte finish and contemporary rounded profile.
✅ Adjustable Brightness - You can dim iCorona lighting remotely or increase the brightness for optimal task lighting!
✅ Adjustable Temperature & Color - The iCorona lets you choose from thousands of colors and hues when connected to Phillip Hue devices and apps.
✅ Remote Functionality - ET2 iCorona lights are compatible with a variety of smart home applications, including Amazon Echo, Apple HomeKit, and Google Home. If you're away from home, you can even turn off your lights on and off for more security.
✅ Energy-efficient - Though not Energy Star approved, the iCorona collection uses energy-efficient LED lights.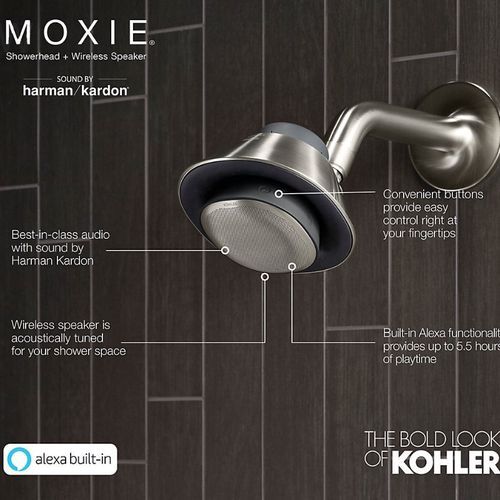 If you love singing in the shower, a smart showerhead is a must-have smart bathroom upgrade! We love the Kohler Moxie Bluetooth Showerhead Speaker for this reason. Not only can you connect to Amazon Alexa to play your favorite music, listen to your favorite podcast, or ask about the weather with voice controls, the completely waterproof speaker can be detached to take with you anywhere!
✅ Eco-friendly Design - The Kohler Moxie Bluetooth showerhead is Watersense certified, making it one of the most eco-friendly smart showerhead options on the market.
✅ Stereo Sound System - The Moxie speaker provides up to 5 and a half hours of play time and includes both a "Shower" and "Normal" setting.
✅ Bluetooth - Using cutting-edge technology, this showerhead speaker is able to tune out background noise for clearer voice command detection.
✅ Detachable - One of our favorite features of the Moxie showerhead is its detachability. That way, you can take the waterproof showerhead speaker wherever you want.
We recommend you pair your Kohler Moxie showerhead with the Kohler DTV+ Digital Interface, which gives you a single place to control your shower's audio, steam, and lighting settings. Here's a quick summary of how it can integrate with your smart showerhead:
Digital interface with easy to read configurable color touch screen
Can control shower outlets, audio output, chromatherapy, steam and lighting
Ability to upgrade to the Kohler Konnect platform for voice-enabled control of the showering system​​ (K-97999-NA required)​​
Can control one or two digital valves to provide two different shower temperatures
Six user-definable presets for saving your favorite settings
Love the natural sounds of rushing water? Find that natural touch and more with the Kohler RiverBath Bathtub. This tub comes with a plethora of luxurious features, from jets that mimic natural water settings to ambient, chromatherapy lighting. The Kohler RiverBath includes a lighted keypad control and floating remote control so you can toggle between settings from the comfort of a lounging position.
✅ Size - The tub sports a luxurious soaking depth of 20 inches and is large enough to fit multiple bathers.
✅ Lumbar Support - As with every Kohler bathtub, the RiverBath is ergonomically designed to support your lower back for maximum comfort.
✅ Jets & Bubbles - The Kohler RiverBath takes jets to the next level. The 4 Riverjets and 8 hydromassage jets are built to mimic natural water and can be configured to whirlpool, rapids, and whitewater settings.
✅ Heated Surface - This tub includes a built-in heater, keeping your water warm for as long as you want to bathe.
✅ Chromatherapy Lighting - As if this tub didn't include enough features, the Kohler RiverBath comes with built-in chromatherapy lights.
A Bathroom That's Smart in Every Way
As you search for the perfect smart upgrade for your bathroom, remember that you don't have to give up style for function. The best gadgets are smart in every way—durable, highly functional, and beautifully designed.
Looking to completely remodel and upgrade your bathroom? Our Vevano Home designers can help you maximize your bathroom's potential. Sign up for a free consultation today.