Top 4 Best Smart Toilets + Our Favorite Intelligent Toilet Technology
Technology is everywhere these days, giving us more convenience and options than ever before—including for your toilet! If you're interested in upgrading the porcelain throne in your home, we've compiled a complete guide for all the gadgets and upgrades you will want to consider before making a smart toilet purchase.
So, What Makes Your Toilet a Smart One?
It's pretty simple really; any toilet that has any feature beyond a simple flush is considered a smart toilet! The features range anywhere from eco-friendly flushing to Bluetooth speakers. Here are some features and characteristics an intelligent toilet may have:
With all the smart toilet options out there, how can you ever choose which one is right for your home? We've done the research for you!
The Toto Aquia IV is the most budget-friendly option for upgrading your standard toilet to a smart one. One of the lowest priced intelligent toilets, it includes everything from a bidet to heated seats and even remembers the custom settings for up to two users! Here are some other things we love about the Aqui IV.
Front and rear warm water cleansing with adjustable water temperature and pressure control
Dynamax Tornado Flush system for ultra high-efficiency cleaning
CeFiONtectt ceramic glaze prevents debris and mold from sticking to ceramic surfaces
Quiet flush
The wand and bowl uses eWater+, a biodegradable cleaning solution that's safer than harsh chemical cleaners
Remote control operated
Heated seat with temperature control
Automatic air deodorizer
Soft-close seat
Skirted design for easy cleaning and maintenance
Dryer function
Night light
2-user memory
Premists bowl before use, which deters waste from sticking to the surface
Lid automatically opens and closes
The Toto Washlet G400 has a sleek, compact design to fit seamlessly into most bathrooms. It's incredibly eco-friendly and minimizes debris and mold from sticking to your toilet to keep it cleaner, longer. Check out what else we love about this toilet.
Sleek, low-profile skirted design
Washlet with front and rear warm water washing with temperature and adjustable pressure control
Heated seat with temperature control
Air deodorizer
Dryer function
Illuminated touchpad
Lid automatically opens and closes
Auto flush
Premists bowl before each use
Remote control and hanger included
ADA compliant
Ready for the ultimate in luxury? The Kohler Numi toilet combines unmatched design and technology to bring you the finest in personal comfort and cleansing. It allows you to fine-tune every setting to your exact preferences. Want to listen to your favorite music or podcast while showering? Simply connect your Bluetooth device, store MP3 files to the SD, or plug it in with the aux cord. Here are the rest of the luxury options for this toilet.
Customizable ambient colored lighting
Heated seat and foot warmer
Power-save mode
Emergency flush for power outages
Intuitive touchscreen remote
Bluetooth technology
Elongated bowl offers added room and comfort
Chair-height seating that makes sitting down and standing up easier for most adults
Motion-activated, hands-free opening/closing of seat and cover
Advanced bidet functionality with a self-cleaning wand, precision air dryer, and deodorizing filter all in one
The Toto Neorest RH has many of the same features as its G400 and Aquia IV smart toilet counterparts while still including some of the luxury features you could want in a smart toilet. Its seamless, compact design is what makes this intelligent toilet stand out, a beautiful addition to any bathroom, whether big or small. Even compared to the rest of the Toto Neorest smart toilet collection, the Neorest RH stands out for its low-profile design and rounded silhouette. A perfect balance between practicality and style, the toilet features a streamlined integrated bidet seat, innovative high-efficiency flush technologies, and various automatic and customizable functionality—all at a reasonable price.
Tornado Flush system for centrifugal, cyclonic rinsing action
CeFiONtect Ceramic Glaze to prevent debris from stick to your toilet
Integrated bidet seat with front and rear warm water washing and adjustable water temperature and pressure control
Warm air dry function
Heated seat with temperature control
Sleek, low profile skirted design with integrated cleaning & comfort function in the seat
2-user memory
Light flush
Soft-close lid
Ultra-efficient 1.0 GPF Gravity technology
Air deodorizer
Universal height for comfortable seating
Innovative eWater+ cleaning technology for wand and bowl
Remote control operated
Automatic toilet seat can be opened or closed via remote or sensor operation
Night light
ADA Compliant
Watersense certified
The Features We Love in Smart Toilets
One of the first and most basic things you'll find in smart toilets are features that conserve water to make them more eco-friendly. Here are the different types of eco-friendly toilets you will find while looking for a new toilet.
Low Flow Toilets - Most older toilets use 6 gallons of water per flush—a completely unnecessary amount! Low flow toilets only use 1.6 gallons of water per flush and are just as effective at removing human waste as older toilets. Low-flow toilets are so effective and eco-friendly that a law was enacted in 1994 to ensure that all toilets manufactured and installed after that year only use 1.6 gallons of water per flush.
Dual Flush Toilets - These toilets take eco-friendly a step further with two flushing options—one for liquid waste that uses .8 gallons of water and the other for solid waste that uses 1.6.
WaterSense Toilets - Similar to the EnergyStar ratings for electrical appliances, toilets can receive a WaterSense rating from the EPA. The WaterSense program sets higher standards for eco-friendliness, and manufacturers that meet the criteria can use the WaterSense label to promote their products. To qualify, the toilet must use at least 20% less water than the 1.6-gallon standard.
Toilets with Integrated Sinks - Though not as common as the other eco-friendly options listed above, some toilets save water by having a sink attached to the lid. Clean water is pumped through the faucet when you wash your hands and then is drained into the toilet bowl below to be used for flushing.
Composting Toilets - These toilets use no water at all—natural decomposition and evaporation remove human waste! These kinds of toilets are more common in rural areas than in cities because cities have stricter local ordinances about toilets. Before buying one of these, check to make sure it complies with local requirements.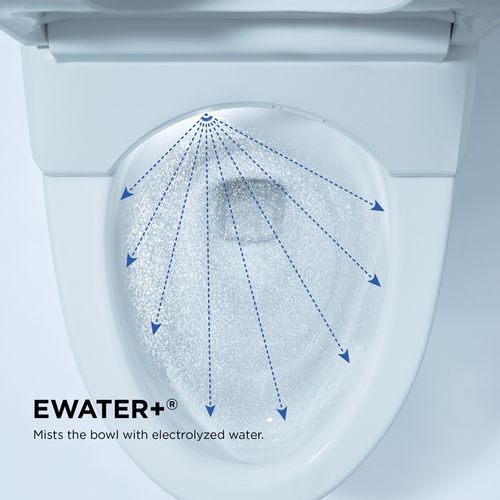 The easier a toilet is to clean, the better! Some of the best intelligent toilets are ones with advanced, innovative self-cleaning technologies that ensure a more sanitary bathroom experience. Even if you don't opt for a full smart toilet, many smart bidet attachments (like Toto washlets) can offer the same features. Here's a look at just some of these technologies:
Eco-friendly Electrolyzed Water - Toto developed and pioneered the use of eWater+, a type of electrolyzed water that acts as a safe, eco-friendly disinfectant that reduces stains, odors, and the need for harsh cleaning chemicals. Toto products with this innovative technology automatically mist the bowl with eWater+ after each toilet use or after 8 hours of unuse.
Premisting - Premisting is another Toto smart toilet technology. Premisting coats the toilet bowl in moisture before use, making it easier for waste to slide off the surface.
UV Light - Some smart toilets include a special UV light or other lighting technologies that can help disinfect and regularly clean your toilet bowl or bidet wands.
Ceramic Glaze - Even the toilet's material goes a long way in keeping it clean. Intelligent toilets often employ a unique glaze, like Toto's CeFiONtect ceramic glaze, that makes it harder for waste to stick to the surface of the toilet bowl.
High-efficiency Flushing - Not only can efficient flushing save you water, but it can also save you time cleaning. High-efficiency, powerful flushing technologies like Toto's Tornado Flush or Kohler's Revolution 360 Swirl Flushing can help reduce waste build-up and keep your toilet bowl cleaner, longer. Some Kohler smart toilets even come with a feature that sends out a special cleaning solution with each flush.
Automatic Flushing & Toilet Seat Opening/Closing - only are automatic flushing and lid opening/closing features convenient, but it's also more sanitary. These touchless, motion-activated functions help keep your toilet more hygienic by eliminating high-touch areas like toilet lids and handles. Plus, you never have to worry about forgetting to flush!
Seat warmers are no longer just for cars! Heated toilet seats are an innovative high-end feature for new toilets that are nice to have when you consider that the average person spends 3 hours a week taking care of business. Heated toilet seats can be found as a built-in feature of smart toilets, or you can buy a separate heated seat to replace the one you already have on your toilet.
Tired of stumbling in the dark in the middle of the night to use the bathroom? Maybe it's time to add a nightlight to your toilet! Want lighting that coordinates with your bathroom's aesthetic? There are options for that too! Many toilets with light features include multiple color and brightness settings plus auto shut-off features to conserve energy.
Bidets are great for cutting down on toilet paper waste, are more hygienic than toilet paper, and are becoming increasingly common worldwide. We love having bidets integrated into your smart toilet, but you can also find more affordable options amongst bidet attachments, bidet toilet seats, and handheld bidets. Additionally, washlets—whether built-in to your toilet or bought separately—come with a whole slew of other smart toilet features:
Adjustable Water Pressure & Spraying - Smart washlets often come with various water settings, allowing you to adjust the spray's water pressure or even change how it sprays. For example, some bidets come with pulsating or oscillating spray options.
Multiple Water Temperature Settings - Along with adjustable water pressure and spraying, some washlets offer multiple water temperature options to ensure maximum personalized comfort.
Warm Air Drying - Bidets may include an air-drying feature with multiple air temperature settings.
We all know that some trips to the bathroom are smellier than others, making built-in deodorizers a great addition to smart toilets!
Some smart toilets have built-in Bluetooth speakers so you can listen to music from your phone. Wifi capabilities enable you to use features like Amazon Alexa or adjust settings remotely.
The goal of a smart toilet isn't to overcomplicate your life but to simplify it. Many smart toilets come with a remote or side panel where you can control the features manually. However, most of the intelligent toilet features we've mentioned, especially self-cleaning technologies, are automatic! That way, you don't have to necessarily keep track of each feature that's available to you—the toilet is smart enough to do it for you.
What Will You Choose?
Choosing your smart toilet or toilet seat is a big step in upgrading your home. Consider your budget, your lifestyle, and the level of convenience you're searching for. No matter your needs, there will be a smart toilet out there for you!