Top 3 Kohler Faucets for Your Kitchen and Bathroom
By the Vevano Home Team
September 14, 2021
Far too often, the faucet is treated as an afterthought in the design of a kitchen or bathroom. But, when carefully considered, this deceptively simple fixture adds much more than just functionality.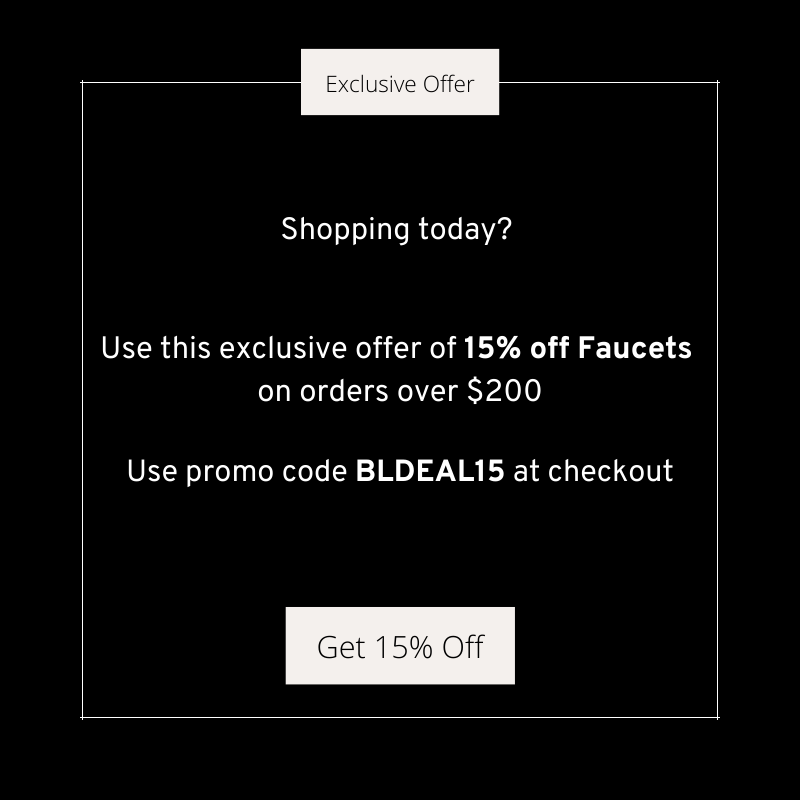 Kohler faucets are crafted to provide the highest quality of both function and style, and can serve as stunning accent pieces to round out the design of your kitchen or bathroom. Listed below are the top three Kohler faucets for kitchen and bathroom sinks.
Top 3 Kohler Faucets for Your Bathroom:
When choosing the Kohler faucet that best compliments the interior of your bathroom or kitchen, it's important to consider several aspects of the faucet's design, such as color, material, finish, and style. It is also helpful to educate yourself on common faucet issues and how to correct them to ensure your faucet's longevity and functionality for years to come.
If you like the look of the Crue Pull Down, but prefer a kitchen faucet with a little more flexibility, look no further than the Crue Single Handle Pre-Rinse Kitchen Faucet.
While this Kohler faucet boasts the same basic design and profile as the Crue Pull-Down, with a clean and minimal profile and eye-catching polished chrome finish, the Single Handle Pre-Rinse coiled spout and coated hose lend it an industrial appeal and professional-grade functionality.
If that's not enough, this Kohler faucet also features Kohler's Boost technology and a Docknetic magnetic docking system for added convenience and function.
Bold in its understated design, the Composed Two Handle Widespread Faucet is the most minimal Kohler faucet yet.
The sleek, minimalist design of this faucet will give your bathroom a clean, modern style, that is both efficient and pleasing to the eye. The Composed Two Handle is part of Kohler's broader Composed collection, so you can match this elegant faucet with a host of other Kohler bathroom fixtures to achieve a highly composed and contemporary style.
This Kohler faucet includes a pop-up drain and two low-profile lever handles, which allow for both pressure and temperature control.
How to Remove Blockage from Kohler Faucets
A blockage in an issue many homeowners eventually encounter with their faucet, regardless of the brand. If the flow rate of your Kohler faucet has slowed to a dribble, odds are a blockage is the culprit. But not to worry; while a blockage is certainly an annoyance, it is a relatively minor issue that, once identified, can be remedied in only a few simple steps.
1. Check the Faucet Aerator
Before clearing the blockage from your Kohler faucet, you'll need to identify exactly where the blockage is occurring. The most common source of blockage is the aerator. This is the small screen at the end of the spout where the water comes out.
To check the aerator, simply unscrew the endpiece on the spout, remove the aerator, and have a look. If you notice sediment buildup blocking the aerator holes, rinse the aerator to clear the sediment and screw it back onto the faucet spout.
At this point, the issue should be resolved. If, however, the flow rate hasn't returned to normal, move on to step two.
2. Check the Faucet Cartridge
Each faucet handle contains a cartridge. If you have a single-handle Kohler faucet, there is only one cartridge. If you have a two-handle faucet, you will need to check both cartridges.
Faucet handles typically have a cap on top, which, once removed, will reveal a screw head. Unscrew this screw head to access the cartridge. Once the cartridge is removed, check it for sediment and rinse if necessary.
Once you've cleared the sediment, returned the cartridge(s), and secure your faucet handle(s), the flow rate should return to normal. If, however, the problem persists, move on to the final step.
3. Clean the Spout
At this point, it is safe to assume that the blockage is occurring in the spout itself. The easiest way to clear sediment from the spout is by submerging it in vinegar overnight. To accomplish this, follow the steps below:
Turn off the water via the shutoff valve.
Using an adjustable wrench, detach the faucet from the plumbing.
Disassemble the faucet.
Submerge the spout in a bowl of white vinegar overnight.
Reassemble and install your faucet the following day.
If, after completing these steps, the issue persists—or, if at any point you feel unequipped to complete the task—we recommend contacting a professional plumber.
How to Stop Kohler Faucets from Leaking
Leakage is another common issue with faucets. Fortunately, in most cases, leaky faucets are an easy fix. Here, we've listed the most common reasons that your Kohler faucet might be leaking, and how to address them.
1. O-Ring
If your Kohler faucet is leaking around the base, an old or damaged O-ring is the likely culprit. If this is the case, the solution is simple.
Shut off the water via the shutoff valve.
Using an adjustable wrench, detach the faucet from the plumbing.
Examine the O-ring.
If the O-ring looks dented or deteriorated, purchase a new O-ring and replace it.
Reattach the faucet.
If this doesn't fix the leak, move on to the next step.
2. Seat Washer
If your Kohler faucet is still leaking, even when the water is shut off, it is likely due to a loose or damaged seat washer. Seat washer screws often become loose after continual use. Simply purchasing and replacing the existing seat washers will fix this issue.
3. Disc Cartridge
The leak may be due to water sentiment buildup around the seals of your Kohler faucet's disc cartridges. If this is the case, replacing the inlet and outlet seals will solve the issue. To prevent this from becoming a recurring problem, we recommend routinely cleaning the seals to prevent buildup.
If, after completing these steps, the leak persists, we suggest contacting a professional plumber to get to the bottom of your leaky faucet.
Are Kohler Faucets Worth the Money?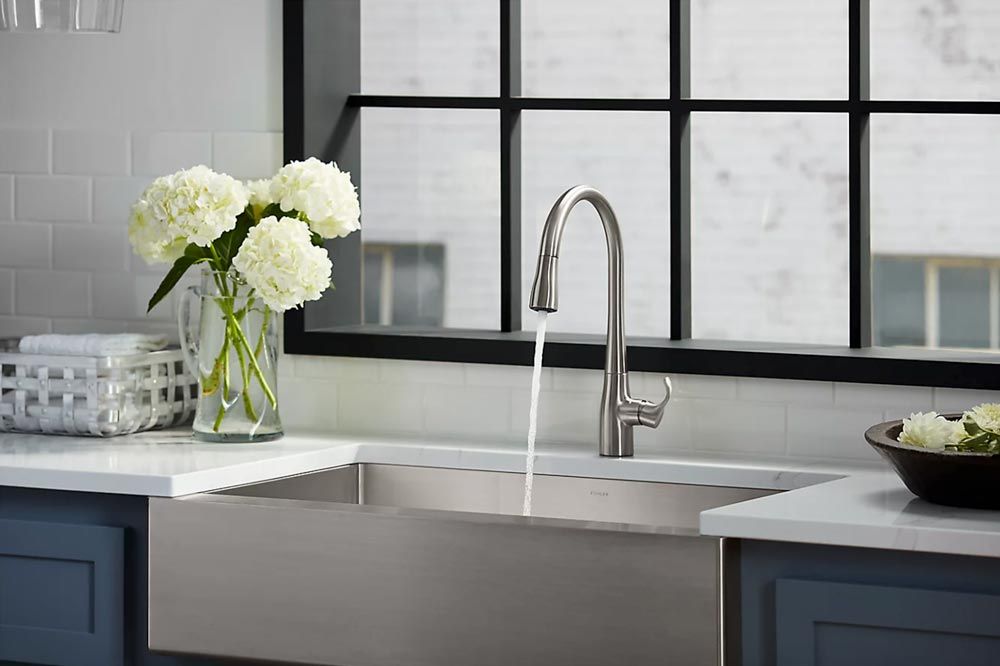 For many of us, upon seeing the average cost of remodeling a bathroom or kitchen, it's often tempting to try and get away with the cheapest fixtures and appliances we can find. While this is an understandable reaction, what many folks fail to realize is that a higher upfront cost can often save you more money in the long run.
While cheap faucets are prone to breaks and leaks, potentially leading to time (and money) consuming problems, Kohler faucets are crafted with resilience and long-term functionality in mind.
Kohler has been refining and perfecting its premium-quality faucets since 1873, which is why it remains the No. 1 faucet manufacturer in the United States.
Plus, Kohler's lifetime limited warranty guarantees that if your Kohler faucet leaks or drips, the company will replace it by mail free of charge! That's something you won't get with cheaper faucet manufacturers, and it could end up saving you a lot of money.
So, are Kohler faucets worth the price? We think so! But don't just take our word for it—just do a Google search for "Kohler reviews" and you'll see the many happy homeowners who swear by Kohler's faucets.
Where to Buy Kohler Faucets?
Now that we've covered a few of our favorite Kohler bathroom and kitchen faucet styles, as well as the common issues homeowners are likely to face with their sink faucets, you're likely wondering where to purchase your new Kohler faucet.
Vevano.com offers a wide selection of Kohler faucets to fit all sink sizes, as well as a host of other Kohler products to match your style.
Are if you're wondering how to remodel a bathroom or kitchen, Vevano has you covered there too. Stop by Vevano Home today and buy everything you need to make your remodeling dream a reality.