How to Choose the Best Bathtub Material-A Comparison Guide
We know how overwhelming it can feel when shopping for a fixture as important and permanent as a brand-new bathtub. One of the best ways to determine if a tub is right for you is to understand the pros and cons of the materials it's made of. The bathtub material can affect everything from the price of installation to heat retention to the overall lifespan of a tub.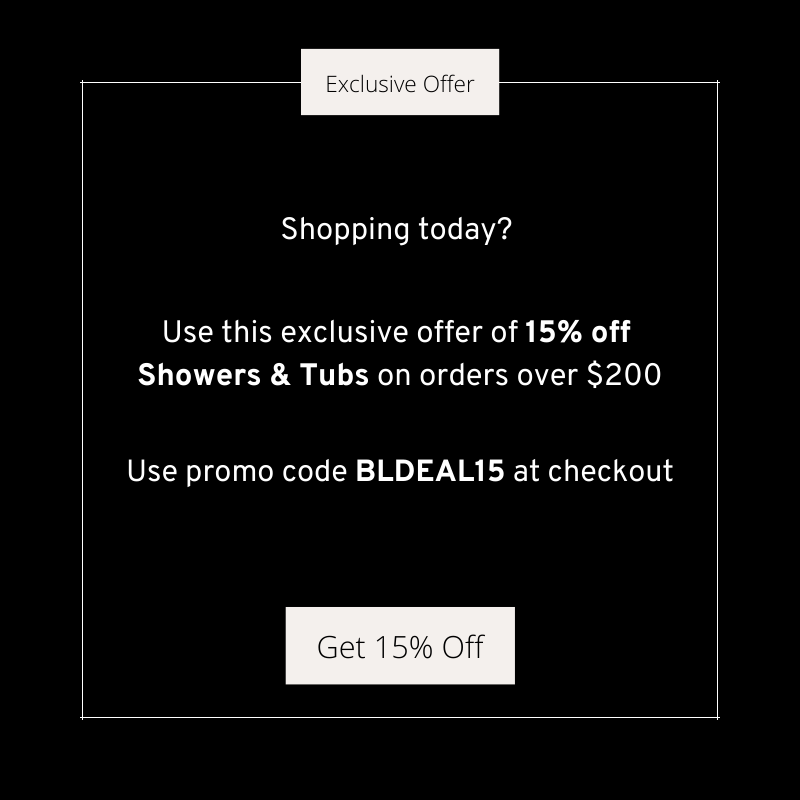 Whether you're just getting started with researching what type of tub you'd like or you're knee-deep in your search, we're here to help you understand the most common tub materials so you can find the best bathtub material for your needs.
What to Look for in a Bathtub
So, what is the best bathtub material? Unfortunately, there's no one-fits-all bathtub material. Rather, your budget, lifestyle, and unique needs are going to determine which bathtub material is best for your home. It all comes down to your priorities and what's most important to you. Is it the overall price? The tub's durability? The look and feel? The following are some of the most important factors to consider before deciding on the bath material you want:
Heat Retention
Some bathtub materials retain heat better than others. If you're someone who enjoys long, warm baths, then heat retention may be an important factor to consider and prioritize.
Crack, Stain, or Scratch Resistance
Some tub materials may be resistant to one type of damage but prone to others. For example, porcelain-enameled steel tubs chip easily but are excellent at resisting stains and scratches. Although acrylic tubs aren't prone to rust or cracks, you may not be able to use any colorful bath bombs or soaps because the surface stains easily.
Weight
The weight of the tub will affect the ease and cost of installation. In general, the lighter the material, the easier and cheaper it is to install. Some tubs, like cast iron tubs, are so heavy that you may need to reinforce the floor.
Cost
Keep in mind both the upfront and long-term costs of your purchase. How much will it cost to maintain your tub? How soon will you need to replace it? Don't forget to think about the costs that aren't included in the initial price tag, such as the cost of installation or the cost of reinforcing the floor if the tub is too heavy.
Cleaning & Maintenance
Every bathtub needs regular cleaning, but some materials are pickier than others when it comes to the type of tools and chemicals you can use.
Installation
The weight and flexibility of your tub's material will influence how easy your tub is to install. In general, the more challenging it is to install your tub, the more expensive the installation.
Now that you have an idea of what to look for, here's a brief overview of the most common bathtub materials.
We'll start with one of the most common bathtub materials—porcelain. There are actually two kinds of porcelain tubs: one with a cast iron base and one with a base of stamped steel (also known as pressed steel). Both bases are covered in a layer of porcelain enamel, which is why both can be referred to as porcelain tubs. However, cast iron tubs covered in porcelain enamel are commonly known as enameled cast iron tubs. Typically, when people talk about porcelain tubs, they are talking about porcelain-enameled steel tubs.
Porcelain enamel is made to protect surfaces, like metal, from chemical exposure or physical damage. It also provides a beautiful, gleaming white top layer for your tub. Because of this, porcelain tubs—whether they have a cast iron or steel base—have a nice shiny finish and a smooth surface, which makes them easy to clean. Porcelain is also resistant to stains and scratches.
However, porcelain can also be slippery. If you purchase a porcelain tub, you will want to be careful to avoid the hazard of falling by getting in and out of your tub with care.
✅ Crack Resistant
✅ Stain Resistant
✅ Scratch Resistant
✅ Easy to Clean
❌ Easy to Install
Heat Retention - Excellent
Average Weight - 240-500 lbs
Average Cost - $$$
Enameled cast iron tubs are sometimes roped into the general porcelain tub category because of their porcelain enamel. Still, the cast iron base is different enough from its porcelain stamped-steel counterpart to warrant its own section. For one, unlike porcelain-enameled steel tubs, enameled cast iron tubs are actually resistant to chipping. This is because enameled cast iron tubs have a thicker enamel and the cast iron is more resistant to impact. Cast iron also has fantastic heat retention, so you will be able to enjoy warm water in your bath for a long time, making it a great soaking tub.
Because enameled cast iron tubs are so heavy, they are difficult to install and move—the floor might even need to be reinforced to hold the tub's weight. Unfortunately, this is also one of the most expensive options of bathtub materials, so you may need to consider that when thinking about your budget. Even so, a well-maintained cast iron tub can last you 50+ years!
Heat Retention - Poor
Average Weight - 75-200 lbs
Average Cost - $-$$
Porcelain-enameled steel tubs have all the great benefits of porcelain enamel, but not as many features as enameled cast iron tubs. For example, porcelain tubs with a steel base have lower heat retention. These types of porcelain tubs are also prone to cracks and chips, and therefore more vulnerable to rust. However, porcelain-enameled steel tubs are not nearly as heavy as enameled cast iron tubs, making them a bit more affordable and easy to install.
Heat Retention - Good
Average Weight - 75-110 lbs
Average Cost - $-$$
After porcelain, acrylic is the next most common material for bathtubs. Acrylic is a combination of materials like stabilizers, fillers, and resins. Acrylic is often reinforced with fiberglass, making it a bit pricier but more durable. Acrylic is a non-porous material, which means that it will not absorb any excess water in your bathtub. This non-porous material also helps with heat retention, keeping the water in your tub warmer for longer.
As with every bath material, acrylic tubs do have some drawbacks. Acrylic material is soft and very flexible, making your bathtub finish less stable, easy to warp, and prone to scratches. Even though the material is non-porous, acrylic is more susceptible to stains because of micro-scratches on the surface.
Acrylic vs. Porcelain Tubs
As the top two most common and popular bathtub materials, acrylic and porcelain are frequently compared to one another. Both are great options—it just depends on what you're looking for.
Keep in mind that acrylic tubs are typically less expensive. They're also lighter, making them easier (and more affordable) to install than both porcelain-enameled steel and enameled cast iron tubs. Though scratch- and stain-resistant, porcelain-enameled steel tubs are more prone to chipping and cracking than acrylic's softer, more resilient surface. Even porcelain-enameled cast iron tubs, which are less likely to crack, are still vulnerable to rust if the cast iron is exposed.
On the flip side, there's a reason why you can still find fully functional 100-year-old porcelain tubs. If properly maintained, porcelain tubs—especially ones with the heat-retaining cast iron base—are highly durable and built to last ages. Consider the pros and cons listed above and decide which one would be best for you.
Heat Retention - Poor
Average Weight - 80 lbs
Average Cost - $
Fiberglass tubs are made from fiberglass-reinforced plastic molded into the shape of a bathtub. These tubs are coated with a layer of gelcoat resin, which provides a high-quality finish and makes the surface easy to clean. The main upside to fiberglass tubs is that they are generally less expensive than porcelain and acrylic tubs. Fiberglass is also a lightweight material, making it easy to move and install your tub.
However, due to the nature of this lightweight material, fiberglass is also one of the most brittle bathtub materials on the market. Like porcelain tubs, fiberglass tubs are also porous, so the surface tends to absorb water regularly, causing it to crack. Fiberglass tubs' soft surface is also prone to warping and scratches. The use of common cleaning equipment on this surface also causes the color and finish to deteriorate over time. So, although this is one of the least expensive bathtub materials, consider the long-term cost of buying a fiberglass tub.
Heat Retention - Good
Average Weight - 200-500 lbs
Average Cost - $$$
Last on our list of common bathtub materials is cultured marble. This specific type of bathtub material is appealing for those looking for a more elegant Roman look. Cultured marble bathtubs are made from crushed limestone and resin and have a gelcoat top layer. Cultured marble bathtubs retain heat very well and come in various shapes, sizes, and colors. While this material is not completely scratch resistant, it is fairly easy to maintain its beautiful surface with car wax and other silica products.
Though elegant and beautiful, a cultured marble bathtub requires more maintenance than the other bathtub materials that we have listed. This type of material needs to be cleaned after each use with a mixture of distilled vinegar and soap (everyday cleaners are not recommended). If cultured marble bathtubs are not properly taken care of, there is harsh discoloration and mildew buildup over time. Cultured marble bathtubs are also very heavy, which can make the installation more costly.
What's Best For You
We hope that this guide to the best bathtub materials and their pros and cons has been helpful for you. We know that each person has a different preference and budget, so there is an option available for everyone.
If you would like additional help in picking out the perfect bathtub for your dream bathroom, don't hesitate to reach out to Vevano's Home designers! We can help you decide which bathtub material would be the best option for you. We also offer free consultations with 3D rendering, and we'd love to help you pick out the best feature of your new bathroom!