Office furniture—for both work and home office spaces—has come a long way over the years. Home offices used to be uncomfortable and cramped, and work offices used to have standard run-of-the-mill furniture. But people are discovering the power of furniture for better productivity and comfort. After all, if you enjoy your workspace, you're likely to be more creative, think clearer, and get more done. This is why Vevano offers a unique line of office desks and chairs for a variety of modern styles and tastes.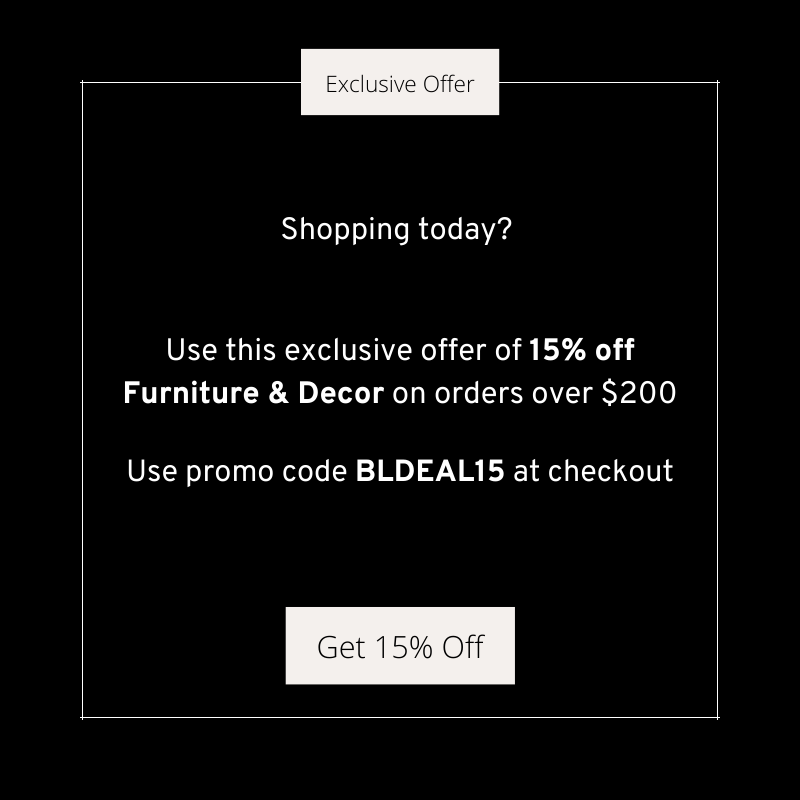 Vevano Office Desk Styles
Vevano Office Chair Styles
As much as possible, an individual workspace should accurately reflect the personality and preferences of the person working in it. Thankfully, drab home and work office spaces can be a thing of the past with the variety of furniture options available through Vevano.
If you need some new office furniture to turn your workspace from blah to hoorah, consider these desk and chair options:
Modern Office Desk Styles
If you have a modern cottage home or office setup, you're sure to love one of these options that put an updated look on a traditional cottage style.
Lifestyle Desk in Sundried Ash - This beautiful piece of modern office furniture features reclaimed wood in pine, a leather writing surface, six drawers, and two pull-out writing shelves. The bottom two drawers are extra deep to contain plenty of files. Inspiration was taken from a classic lawyer's desk for this piece of modern office furniture, and there is enough storage for most everyone's needs. It even includes an extra semi-hidden storage area on the side!
The modern farmhouse and rustic look have become incredibly popular over the past several years. It takes a special look to truly fit and complete the picture you're creating in this style. Here are several modern office furniture design options that you're sure to love.
Sampson Desk in Antique Brass Clad - This desk is ideal for those with a love of minimalist and farmhouse or rustic décor. The simple wood top contains three drawers for all of your essentials, plus room for storage. The clean lines of the legs boast a distinctly modern minimalist feel and contrast perfectly with the rustic reclaimed wood of the entire piece. Brass drawer pulls finish off the look and tie it all together.
Palma Desk in Whitewash - Are you looking for modern office furniture ideas that inspire a sense of rustic, outdoor woodsiness inside your modern home office? If so, this is one of Vevano's modern office desks that do exactly that. This piece of modern furniture for office spaces looks like it came straight out of a craftsman's shop. The criss-cross and angled supports give it a distinctly rustic appeal, while the minimal top provides a rustic worksurface. There are two pull-out writing slabs on the ends, but no storage compartments are contained within the desk. This is for those who love minimalist/rustic modern office furniture sets but don't need a lot of storage space within their desk.
Crockett Desk in White Wash on Acacia - This desk is another win for those who love all things rustic and minimalist. Some might even put it in the ultra-modern office furniture category for rustic office furniture. The Crockett Desk is about as simple as you get. The entire piece is crafted from reclaimed wood and features a solid work surface and simple, straightforward supports. The natural wood is the real beauty here, and the finish makes the entire piece shine. There are no drawers or pullouts, so this is for the office that simply needs a writing or work surface with no storage capabilities.
Modern industrial offices will be perfectly complemented with this piece of modern industrial office furniture.
Shadow Desk in Black - Harmoniously mixing metal and glass, you're sure to fall in love with this four-drawer workstation. You'll have plenty of storage space with a deep drawer for files and three more for essentials. Two glass drawers contribute to a unique look and feel second to none.
Modern Office Chair Styles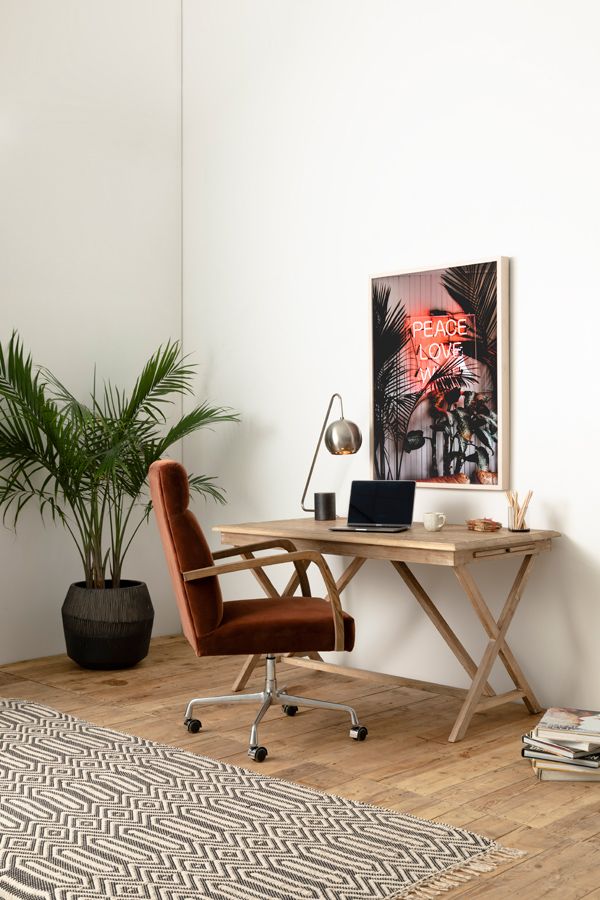 Complete your modern cottage office look with this gorgeous chair that will fit right in.
Alexa Desk Chair in Natural Cane - This comfortable chair combines a linen seat base with a back crafted with natural cane inlay. The honey oak arms and frame contribute to a cottage feel, while the swivel base is ideal for modern offices. This is ideal for any home office and pairs well with a wide variety of modern desk options.
Alexa Desk Chair in Black Iron - While this same chair in natural cane pairs well with cottage-style offices, change the frame to black iron and you have the piece de resistance for a modern mid-century office. Natural cane inlay contributes a distinct look, and the swivel base provides an extra layer of functionality to this piece.
Malibu Desk Chair in Natural Washed Mushroom - This modern office chair is perfect for a modern workstation in the mid-century style. Plush top-grain leather gives a luxurious look and feel to this chair while the steel bottom supports offer function and practicality with a caster wheelbase.
Modern industrial offices will benefit from one of these luxury office chair pairings.
Malibu Desk Chair in Shiny Steel Black or Antique Whiskey - Luxury top-grain leather pairs with a stainless steel base to complete the look of a modern industrial home office, work office, or conference room. Place any number of these chairs around a conference table to create a workspace of comfort and creativity for your team. The caster wheels add a perfect layer of functionality to this piece of modern furniture, making this an excellent task chair for any level employee, from secretary to C-level.
A Well-Designed Office Space
Whether you're an interior designer or someone who simply enjoys a well-designed office space, you're sure to benefit from changing up your furniture. Boring old office furniture should be a thing of the past, thanks to the dynamic, interesting, versatile, and styled pieces offered through Vevano.
No matter the look or feel you want to create, there are plenty of options to choose from. From mid-century or rustic farmhouse to industrial, minimalist, or contemporary spaces, you can put a modern twist on any of these style preferences and create a unique office space that reflects your unique brand of creativity, energy, and work style.