The Ultimate Sectional & Sofa Buying Guide
The Vevano Home Team
March 5, 2021
When it comes to decorating or styling your home, choosing the right sofa or sectional can make or break a cozy, livable space. It's all about coordinating the right size of furniture with the space that you have and, of course, a comfortable place to sit. A sofa or sectional will relate to the space differently, so consider what sofa styles you're seeking when it comes to lounge furniture and general seating in your living areas.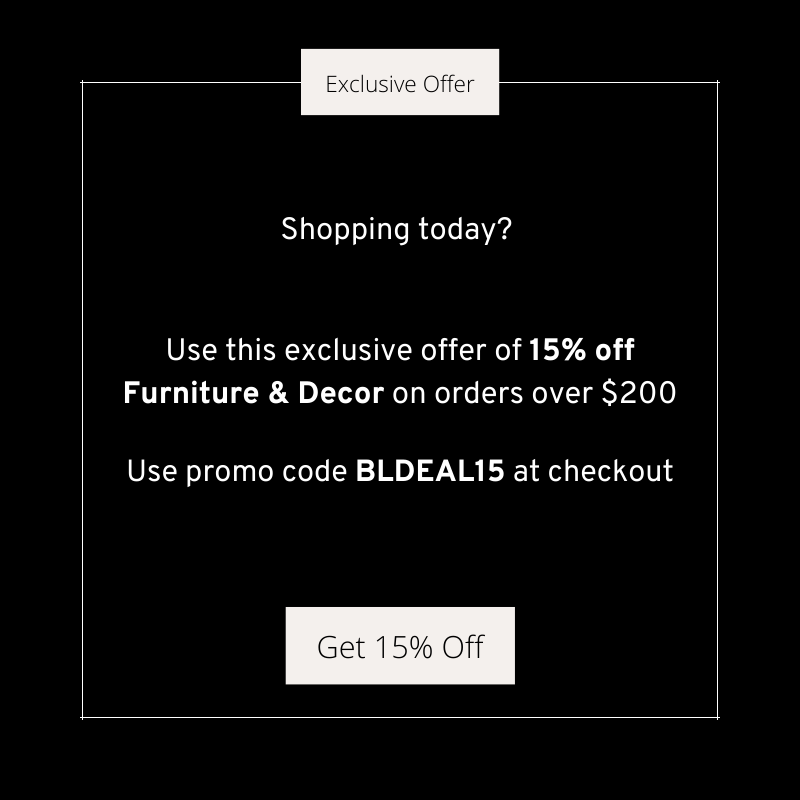 What's the difference between a sofa and a sectional?
A sofa is a straight-line couch containing two or more seating spots or cushions, though a sofa is often nicer than a casual couch. Sofas are ideal for smaller spaces as the whole arrangement is easily accessible since it's in a contained single line. It's easy to arrange a sofa against a wall, at an angle, or free floating; though it can be difficult to maneuver through narrow hallways or doors since they often don't come apart.
Sectionals are usually larger, often customizable and can come in sections, or parts, that interlock together to provide more seating spaces through a variety of possible arrangements, such as L-shaped, U-shaped, or curved shapes. This allows for easier movement and transportation than a sofa, while also offering more functionality and flexibility in designing your living seating arrangements.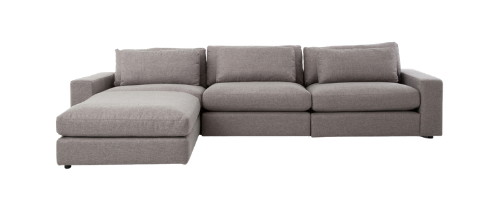 The distinguishing factor between a sofa and a sectional is that the sofa is a linear single piece of furniture, whereas a sectional sofa combines different parts and comes in a small variety of shapes to suit a space while offering ample seating.
How do I begin choosing a sofa or sectional?
Sofas
First, consider the size of the space you are furnishing. It may be helpful to draw out a blueprint of the room to measure and plan for new furniture to make sure everything will fit in an intuitive, livable flow. Measure the dimensions you are working with so you can pick a sofa or sectional that fits your space best in terms of desired seating and size. Also, don't forget to measure your door frame and hallways to make sure your selection fits upon delivery.
From there, consider how much seating you need; this could depend upon how many people live with you or how much you like to host and entertain. Think about how and who will use the space and seating to figure out your priorities in a sofa.
Once you have an idea of how many seats you need, decide what size of sofa you want. If you have little space or simply want a streamlined design, a standard sofa is a solid choice as it can usually seat three to four people. Loveseats, on the other hand, are ideal for seating just two people.
Sectionals
Sectionals, however, offer additional seating and comfort by coming in a couple different shapes & styles:
L-Shaped - This is the classic right-angle sectional, the most popular of the sectional shapes. The L-shaped sectional often comes with a two-to-three cushion sectional sofa combined at right angles with a perpendicular section, called an arm, offering a couple more seat placements or even a lounge seat. It can be a right-facing sectional (RAF) where the right arm extends toward you when you face the sofa, or left-facing (LAF) with the opposite side extending out instead. When picking an L-shaped sectional, be aware of which side orientation you want to have for your space and that will streamline your search. A reversible L-shaped sectional, where you can swap ends to be left or right facing, is also a possibility. L-shaped sectionals work great in corners and in smaller spaces, such as an apartment living room. They also work well to divide an open or large space if it's anchored by other tables or decor.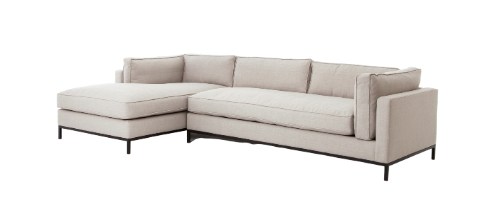 U-Shaped - The U-shaped sectional combines a three-to-five seater sectional sofa with two arms extending from both ends, creating the shape of a block-style U. Like the L-shaped sectional, the U-shaped sectional could also incorporate a chaise or ottoman arm on either side or a standard loveseat extension. Due to their large size, U-shaped sectionals are better in larger areas or open concept layouts where you have a lot of space to fill. They pair well with rugs, coffee tables, and encourage communal activities with all sides of the sofa facing the others.
Curved - Creating the outline of a half-circle, the curved sectional is a beautiful statement piece, often meant to seat several people. Due to it's curved shape, it's not as intuitive to place this shape of sectional against a wall, but rather in the middle of a large or open room. Like the U-shaped sectional, they pair well with a round coffee table in its center and are often considered a more artful addition to your living space.
Modular - While many sectionals come in predetermined shapes, modular sectionals allow you to customize your sectional's layout with versatile sections that you can combine with others to create the orientation you want, however you want, whenever you want.
Sleeper - To have the option of converting your sectional into added sleeping arrangements, a sectional containing a sleeper sofa is one such variety, whether it's a convertible or a sofa containing a pullout mattress under its cushions. Sleeper sofa additions are most commonly paired with chaise sectionals.
Optional features to add to your sectional setup:
Chaise lounges - For an L or U-shaped sectional, you may opt for a chaise lounge or an extended ottoman for one of the arms for added comfort and lounge-ability in your sectional.
Ottomans - Ottomans are the sections where you usually kick your feet up. They are also the sections you can move around depending on where you want them. Ottomans often come in a variety of sizes or as additional pieces of a sectional.
Recliners - You may seek a recliner as part of your sectional in order to lay back and relax. Recliners are either available on the edges or on each section of the sofa. It's best to provide space between the sofa and the wall for optimal recliner use.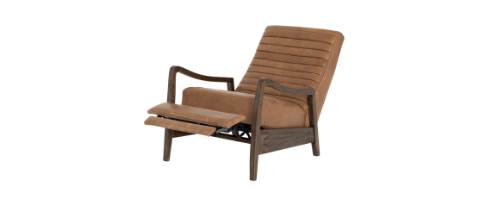 Consider if you want a symmetrical or asymmetrical sectional, based on your needs and preferences for the room.
Once you have the dimensions aligned with your space, such as depth, length, and width with your chosen sectional or sofa shape, you can start looking for a sofa or sectional that fits your vision!
Microfiber - Recently growing in popularity, the cost-effective microfiber is a hardy material for your sofa/sectional. The fine polyester used in microfiber is easy to clean while maintaining a soft suede feeling, ideal for a sofa or sectional. For those with pets, this material can stand up to their claws and stains, but it does attract hair and dander too.
Cotton - Cotton is a natural fiber and common fabric for sofas since it's cost-effective and can come in many colors and patterns. The durability of cotton couches will depend on how high the weave is, the tighter, the sturdier and more high quality. Otherwise, cotton holds color well, but can also stain or wrinkle, and it's not always easy to clean if it's not a high weave count.
Chenille - This soft and fuzzy fabric has an elegant touch that's both cozy and durable, though it is a little high maintenance. It should be cleaned regularly and liquid spills may require professional cleaning. Not ideal for dog or cat owners as claws can snag on this fabric.
Velvet - While velvet takes to color exceptionally well and is incredibly soft and luxurious, it's a more high maintenance sofa fabric since it can stain easily. Since it carries a high price tag, opt for tightly woven performance velvet to stand up to regular use, fading, and stains.
Linen - Often used for sofa slipcovers, linen is a more delicate material that is easily dirtied or wrinkled, though it is resistant to color fading. Linen works best for formal living areas or homes without pets or young children, unless you opt for performance linen which is better for more regular use.
Tuxedo - Another sofa style featuring same-height back and arms, the square-framed tuxedo sofa offers a sleek look, often topped with luxurious fabric. Comes in modern and minimalistic styles. Styles: Modern, Contemporary, Transitional
Cabriole - A large wooden frame slightly curved in on the sides with legs that curve down and out are part of the cabriole sofa's design. Often upholstered with soft fabrics for comfort. Modern cabriole's opt for minimalistic legs and an upholstered back. Styles: Traditional, Modern
Camelback - An arched back is the signature look of a camelback sofa with one or two elegant curves (or humps) often paired with ornate bordering or legs. Also comes in contemporary styles. Styles: Traditional
Lawson - The lawson sofa features rolled or square arms set lower than the square back of the sofa. It's built for comfort with detached and plush cushions. Styles: Traditional, Modern, Transitional, Contemporary
Bridgewater - A casual and welcoming classic, the well-padded bridgewater sofa features an upholstered back with low setback armrests on the side. Styles: Modern, Traditional, Transitional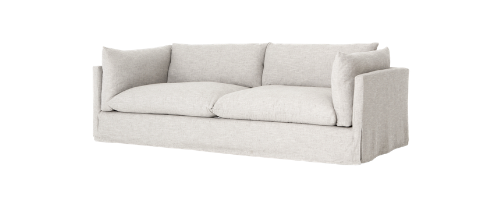 English Rolled Arm - Low-appearing "tucked in" arms with a high back, loose cushions, and tight upholstery is signature to the English (rolled arm) sofa. Styles: Modern, Contemporary, Transitional
Mid-century Modern - Clean rectangular lines and wooden legs are identifying features of mid-century modern couches. Styles: Modern, Minimalist, Contemporary
Knole - With a low seat and very high arms and back, the deep knole sofa is rather throne-like, offering a more formal appeal to a room. With clean, straight lines, a knole sofa takes a modern twist. Styles: Traditional, Modern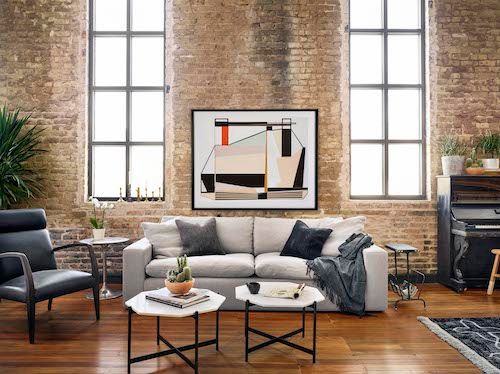 Choosing Your Comfort Zone
At the end of the day, you want a sofa or sectional that's comfortable and appealing to you and your tastes. It can be helpful to try out different sofa styles and materials by actually sitting on a few options to see what types of sofa or sectional feels best for you and your family.
If you need help finding a sofa or sectional that suits your desired aesthetic, reach out to our expert designers here.