Blend Your Favorite Decor Styles with a Transitional Living Room
A living space that matches your personal style while also presenting an aesthetically pleasing and unified appearance sets the tone for the rest of your home. The room where you spend time with your family, entertain guests, or take a quiet moment for yourself should feel inviting and like a reflection of your own personality.
By putting together a transitional-style living room, you can meld your favorite aspects of different design styles and create an environment that is wholly your own. Transitional style exists as the balance between contemporary and traditional, modern and French country. It borrows bits and pieces from across the design spectrum and brings them together in perfect harmony.
Building a Transitional Living Room
To bring your transitional-style living room to life, start with a color palette centered on neutrals like white, gray, or beige. Making neutral colors the base of the design gives you room to incorporate varying shades for dimension or jewel tones for a pop of playfulness. Once you settle on a color palette, you can start to plan out the design.
If you're interested in creating a transitional living room, you're in luck. When it comes to furniture, lighting, and decor, a transitional style lends itself to a wide variety of different options.
By selecting pieces from various styles while keeping to a central color theme, you can create a living room that is as personal to you as it is beautiful. We've compiled a few design ideas and suggestions to get you started.
One of the many benefits of the transitional style is that you can choose your furniture pieces individually rather than purchase everything as a set. The furniture doesn't have to match perfectly, which is what will give your room its charm.
Transitional styles often strike a balance between hard lines and lush curves. Combine the soft elegance of a distressed leather library chair with a sleek mid-century modern sofa in light gray. And don't be afraid to mix textures—materials like velvet, metal, wood, rattan, and glass are all at home in a transitional living room. Seat your upholstered sofa across from two leather armchairs, then scatter iron or bronze tables between and beside the seats to complete the look.
Your furniture will probably be the focal point of your living room, so make sure to find pieces you love. Set off your neutral seating with a bold, dark coffee table or the stunning Schmidt Side Table in Raw Antique Brass. You might also consider incorporating additional materials with a glass-topped table, like the Shagreen Coffee Table in Antique Brass. Because a transitional style incorporates the clean appearance of modern decor, it leans toward minimalism more than maximalism. Be deliberate about the furniture you choose to create unity in the space.
Contemporary metal chandeliers are a popular choice right now for transitional living rooms. You can choose a simplistic chandelier with exposed bulbs for an understated but still eye-catching look, or you can bring some excitement to the space with a complex multi-ringed statement piece, like the Orbit 14" Single-Tier Chandelier with 3 Lights - Oil Rubbed Bronze.
Even if your living room has multiple windows, make sure to spread lamps throughout the space to give yourself enough light at night. Place a few lamps on your side tables or your TV stand, then flank the windows with a few floor lamps. Keep to the contemporary theme with quirky modern options like the 64.25" Tall Rover Floor Lamp in Metallic Gold, or add in some stoic industrial elements with a 31" Tall Anvil Table Lamp in Natural Iron.
Whatever light fixtures you choose should fit into the overall tone of the room while still adding an element of interest. The transitional style allows you to be creative while still offering a clean and polished profile.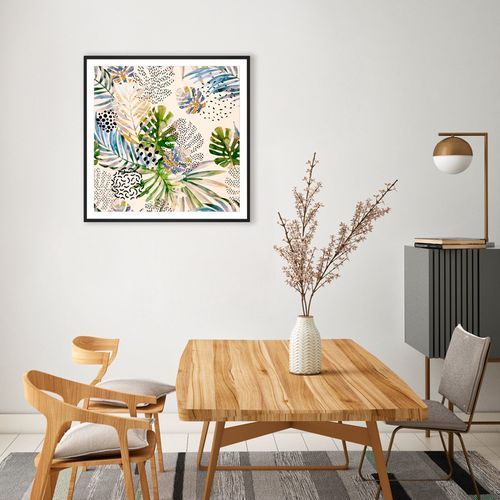 Once you've selected furniture in neutral grays and tans, maybe with a few darker pieces thrown in, you might be searching for ways to add a few splashes of color to the design. That's where your decor comes in.
Transitional style lends itself to embellishment more than straight contemporary or modern looks but is more understated than Art Deco or Bohemian styles. Colorful throw pillows and patterned cushions are staples of a transitional room. The woven wool texture and geometric design of a Cream Pillow in Multi Blue will add depth to your couch while still smoothly complementing the general design.
Area rugs add another layer of texture to the room. Use your floor space as the primary nexus of color in the room with a striking piece like the Sadzi Rug in Juniper Green, or play with patterns to inject more movement into your design.
When it comes to your walls, select a few pieces of vibrant, noteworthy art. Large paintings or photographs in wooden or metal frames will draw the eye without detracting from the rest of the room, and pieces with intense colors mesh well with your neutral furniture.
Many transitional-style living rooms also feature mounted wall mirrors. Mirrors add depth and the perception of extra space to a room, reflect light, and bring in more textures and materials. With an option like the 27.5" High 1 Light LED Mirror in Anodized Bronze, you add glass and shining bronze to the room and bring in an additional light source. Leave it as your only light in the evenings for mood lighting, or brighten your space even further.
Designing a transitional living room can be a fun and creatively stimulating process as you combine the elements you love from contemporary, modern, and traditional styles and leave the rest. For more help crafting your space, reach out to our interior designers. They are happy to help you align your favorite pieces into a cohesive and beautiful living space.