Outdoor Living Space Ideas to Bring Your Backyard to Life
By the Vevano Home Team
May 5, 2021
Whether big or small, your outdoor living space likely has a lot of potential to transform into a beautiful extension of your home. Whether you have a patio, deck, or simply a cement pad, the following ideas can help you create an outdoor space that you'll want to return to over and over again with your loved ones and friends.
Finding the right outdoor furniture and features takes planning and consideration. With the help of Vevano Home's expert designers, we take a look at the best ways to liven up your outdoor space with intention and style.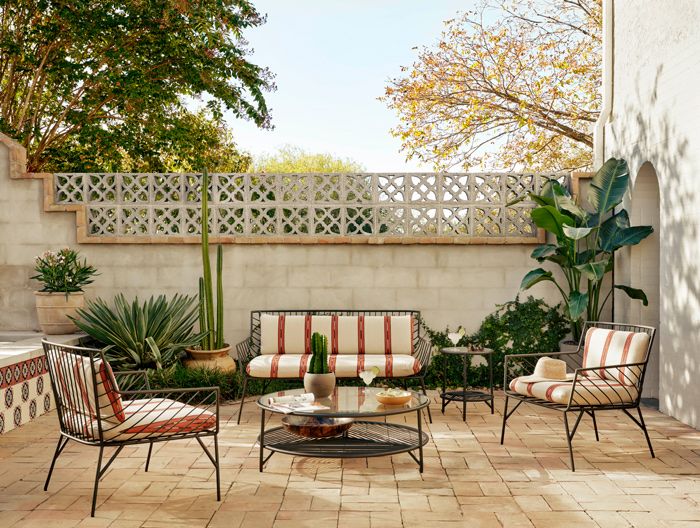 Start with an Intention for Your Outdoor Space
Before you start planning for your outdoor space—or any space for that matter—ask yourself the following question: What is the desired function of the space?
Plan for what you want your outdoor space to achieve—start with the end in mind. If you're still unsure, it may be helpful to ask yourself who will be using the space and what activities you want to take place there.
For example, is the intention for you and your kids to have an outdoor fireplace to sit around and make s'mores, or do you want a spa-like retreat for you to relax and sunbathe? Do you plan to host outdoor gatherings and activities with friends or family? Or, if you have a small patio, do you simply want a spot to sit and enjoy your hot beverage of choice before you head to work?
Without an intention for your outdoor space, you don't know what to look for or what to prioritize when it comes to budgeting and selecting features that will create the environment and experience you desire. With the endgame in mind, you can plan for your exact wants and needs.
"Set the intention for the design." —Michael, Vevano Home Designer
How to Budget for Your Outdoor Space
When it comes to budgeting for your outdoor space, it may help to focus on the features you care about the most. Figure out your non-negotiables so you know where to splurge and where to compromise.
For example, do you want a fire pit (if so, check your city's regulations for adding a fire feature)? A large outdoor dining set? A statement and shade-providing pergola or canopy? A gorgeous water fixture? An outdoor bar or wet kitchen area?
When it comes to purchasing and accessorizing any part of your home, it can be easy to get carried away and spend much more than you planned... or on more than you need (plant parents know what we are talking about).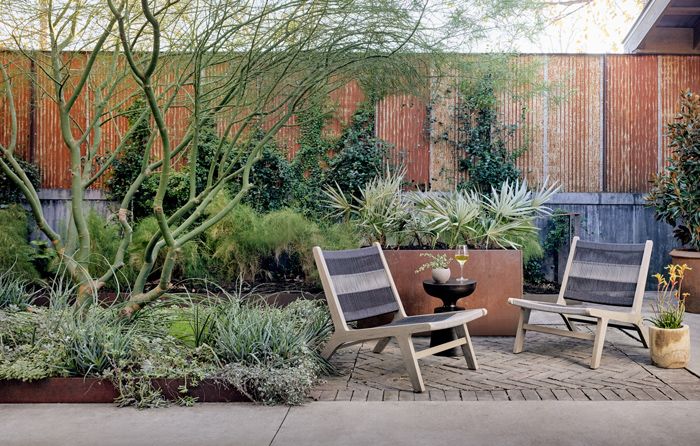 Vevano Home designers recommend two possible ways to stay on budget when it comes to planning for your outdoor space:
Go for one big investment feature piece.
Opt for smaller items that contribute to an overall aesthetic.
If you're opting for a larger (or more expensive) statement piece, Michael, a Vevano Home designer, recommends budgeting for this item first. "If you decide the most important part of your outdoor space is a fire pit, spend time finding the fire pit you want! And if that's 75 percent of your budget, then you know how much you have leftover for other purchases."
On the other hand, if you want to create an overall theme using smaller pieces and accessories, Vevano Home designer Andrea suggests the following: "Budget off of colors or another category, like plants, so instead of spending money on one big thing in that category, you're getting a lot of small things."
"If I only had $100 to spend, I am going to take only $100 in cash when I'm shopping for my outdoor space and leave my credit cards at home." —Michael, Vevano Home Designer
Invest in the pieces you care about the most and prioritize them in your budget. You can always save other expensive investments for future enhancements. Don't underestimate how a few small, affordable statement pieces can transform your outdoor space into a more welcoming and enjoyable spot.
Use Lighting to Create a Cozy, Inviting Atmosphere
When it comes to ambience, lighting is everything. It's not just about the pillows or comfy seating. Outdoor lighting goes a long way in creating a cozy and inviting atmosphere, playing both a functional and aesthetic role in your outdoor living space.
"Even adding a firepit makes your outdoor space more inclusive because there is something for people to gather around," Andrea says. "It makes a really great entertaining space, but also provides a lot of functionality too."
Often, people don't consider lighting until it's too late—you don't want to wait until you're hosting a dimly lit outdoor party before realizing the importance of lighting! While layered outdoor lighting can create an inviting and warm atmosphere, poor lighting can achieve the opposite effect.
Although the addition of pillows and comfortable seating contribute to physical comfort and coziness, lighting is what will truly elevate your patio or yard.
"Lighting makes a big difference. There are some really cool ways to utilize lighting in outdoor spaces, whether it's little string lights in the yard, outdoor sconces, or little grass lights you stick into the lawn—anything like that will add ambiance."— Madi, Vevano Home Designer
Opt for Neutral and Natural Colors
The best colors for outdoor furniture often follow a natural and neutral scheme: brown, beige, gray, black, or even greens. "Anything neutral will offer a more timeless look," Madi, a Vevano Home designer, says.
Natural colors, as well as patterns, will be your friend in hiding any dirt or other weathering on the furniture. Any dirt or mess will clearly show on white outdoor furniture, so it may be better to steer clear of the pearly hue.
"Depending on the color of furniture you choose, some are going to look better covered in dirt and mud than others. Pick colors that are not white and have a little bit more variation, or even have a pattern that hides how dirty the chairs actually are."— Madi, Vevano Home Designer
"Don't forget to look at the color of the dirt in your area," Andrea says. It may be helpful to consider the color of the soil around your home so you can identify a furniture color that will complement the surrounding area and mitigate any earthy scuffs and stains.
Neutral, earthy-colored furnishings sound great—but what if you want a little more color? "Colors are also fun," Madi says, "so I recommend adding pops of color with your accessories." This can be achieved with pillows, outdoor blankets, or a bright umbrella for a spot of shade and personality. Your neutral-colored furnishings can be a great backdrop for bold and vibrant-colored accessories that you can change depending on the season.
Some outdoor furniture may fade or discolor if it's not already treated to withstand changes caused by the sun or the weather, so keep that in mind while searching for your ideal outdoor furniture.
Plan for Any Weather
Since your outdoor living space is outside, consider the possible conditions your outdoor furniture will face with the seasons. Thankfully, most outdoor furniture and accessories are already made with durability in mind, so there are plenty of options to choose from. Just know that some materials may be better suited to the weather conditions in your area than others. Be sure to research and choose a material that responds well to your location's climate.
It may help to plan for materials and furnishings that can either withstand weather changes, can be stored away during off-season, or can be properly covered when it's not in use. With this in mind, consider whether your outdoor furnishings are too heavy to move (iron) or so light any wind will buffet it (light plastics and some aluminum). Fabrics, such as those made by Sunbrella, are specifically made for exterior use.
Michael says that high-quality slipcovers are a great option to protect your outdoor furniture when it's off-season or not in use. "My mother bought custom slipcovers for all of her outdoor furniture. She invested in nice slipcovers so that it doesn't just look like she put trash bags on her furniture. The covers she has for them are super thick and durable." Slips like these help with keeping exterior furniture clean and protected from the weather.
In Madi's experience, it's helpful to remove and store the cushions from her outdoor sectional during off-months. "They are still technically durable, but they will last longer if you take better care of them."
Care and maintenance for your outdoor area's furnishings given the weather patterns will likely factor into your decision-making in creating an outdoor space you enjoy. Choosing high-quality materials and taking proper care of them will make a huge difference in how long your outdoor furniture will last.
Invest in Quality & Natural Materials
When it comes to outdoor furniture and accessories, you need materials that will stand up to the elements over time.
"Think of those cheap plastic chairs. After one summer you lean back in them and the back falls off and you end up on the ground!" Andrea says. "Instead of having to buy those same plastic chairs every year, if you invest in something that's a little bit nicer and more expensive, then it's going to last you seven to 10 years. And you'll probably end up spending the same amount in the long run."
With this in mind, it's absolutely worth it to invest in durable pieces that you love and that will also last a long time. This goes for furniture, lighting fixtures, and accessories.
When it comes to durability, natural materials—stone, marble, granite—are a safe bet, even if they require a little more upkeep. Plus, natural materials never go out of style.
For the eco-conscious, you may want to pay attention to what is sustainably made. "While some heavy-duty plastic furniture is going to last a long time, it's going to last too long—they're not necessarily good for the environment," Michael says, highlighting that some options are more eco-friendly than others. "Using natural products is going to be a lot friendlier for the environment."
Materials like aluminum, stainless steel, and certain types of hardwood (teak, eucalyptus, cedar, etc.) are great quality options that can withstand the weather and hold their form well in an outdoor space while also being eco-friendly. Even if they need to be treated or stained, they are still more environmentally friendly. Concrete is another hardy material that can be used to create outdoor furniture and other features.
In terms of synthetic materials, most outdoor furniture is made with synthetic polyethylene resin already, but high-density polyethylene (HDPE—a high-quality resin) is the most durable while remaining eco-friendly since it's recyclable. There's also eco-friendly recycled plastic outdoor furniture available in many styles, but it may be prone to blowing about in the wind.
Ultimately, no matter the material, quality is always in style.
Accentuate with Accessories: Elevate Your Space with a Few Statement Pieces
"Accessories make a big difference. Whether it's little outdoor pillows, plants, or things like that— that can just add to what you already have and make it a bit more elevated and cozy." —Madi, Vevano Home Designer
Accessorizing your outdoor space is a great way to make it homey and inviting without breaking the bank. You can't go wrong with an umbrella to provide some shade on sunny summer days. A few well-placed potted plants or a garden bed of curated flowers add beauty and romance, while an outdoor rug and pillows add coziness.
"Adding an outdoor rug adds a lot to the space," Andrea says. Although they're not as common, outdoor rugs "add a lot of coziness and visual interest" to an outdoor space. Specifically, look for exterior rugs since they can stand up to being hosed down to be cleaned.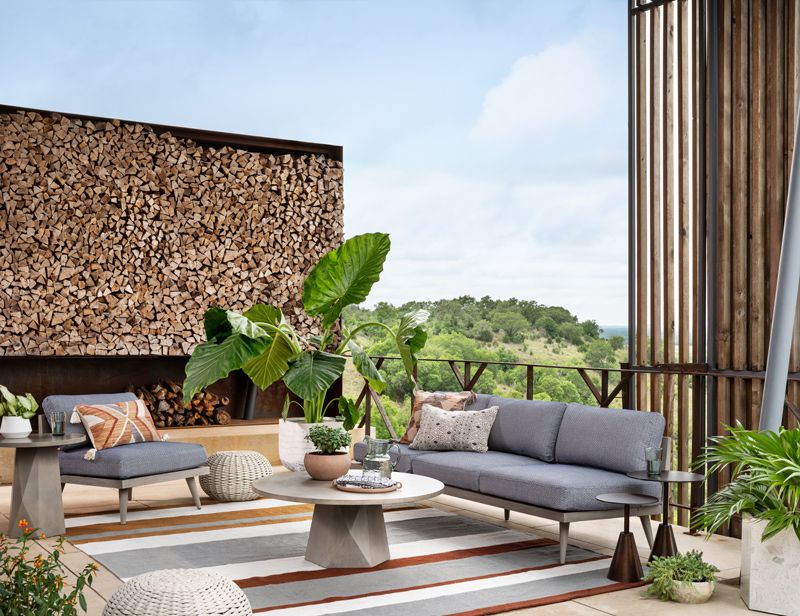 Adding different textures can also contribute to the ambience and coziness. You could add wicker furniture, metallic decorative lanterns, and a couple of outdoor lounge chairs topped with cushions and pillows to add dimension and variety to your outdoor space. Or perhaps you have a hardwood bench that could double as a side table or seating, depending on what the day calls for. A bistro table with matching chairs, paired with a couple of potted plants, is a great option to optimize the space of a smaller patio area, too. Adding a couple of plants could create your own personal jungle. The options are truly endless.
Be sure to balance the features and textures you decide to include. Don't introduce too many accessories, or your space could feel cluttered or too busy. If you keep with a theme, it's easier to stick with like-materials that match a certain aesthetic.
"Find a good balance of durable but soft and comfortable textures to enhance your outdoor space." —Michael, Vevano Home Designer
Boost Enjoyment (and Home Value!) with Built-in Outdoor Features
Permanent features can definitely elevate the experience and enjoyment of an outdoor space. Not only that, but certain built-in features can also increase the value of your home while also increasing the functionality of the space.
On the extravagant end, you may love a built-in outdoor kitchen or built-in grill so you can cook and entertain outside without having the back and forth between indoor and outdoor hosting. There are also built-in fireplaces, not just fire pits, that are possible for your outdoor patio.
"Anything built in is going to add value to your home."— Andrea, Vevano Home Designer
Vevano Home Designer's Top Picks for Outdoor Spaces
"I love this lever because its bronze finish makes it perfect for traditional spaces. It is simple but will add a great finishing touch to the exterior of your home!"
—Madi, Vevano Home Designer
Single-Basin Stainless Steel Sink
"I like this sink for an outdoor space because it's stainless steel, which means it will be easy to clean. It also has the offset drain which will help make it so you have more room in your sink."
—Andrea, Vevano Home Designer
"The natural stone adds texture to your space, and it's perfect for an outdoor fireplace!"
—Michael, Vevano Home Designer
Make the Most Out of Your Outdoor Space
Designing an outdoor space you enjoy is a fun way to expand the entertaining capabilities of your home.
Whether it's stringing up lights, adding some new seating, or accentuating with smaller touches like plant life and pillows, you can absolutely elevate your outdoor living space with durable exterior furniture and accessories. All it takes is a little planning and intention to get started.
Do you want to renovate your pre-existing built-in outdoor kitchen? Or do you need help planning and designing a sunroom? Do you need help bringing your outdoor living space ideas to life? Vevano Home's expert designers are here to help.