8 Furniture Pieces to Optimize Your Living Room Storage
May 25, 2021
By the Vevano Home Team
Whether you're a seasoned homeowner or a new renter, optimizing your living room storage space is a great way to make your home feel more spacious and less cluttered.
As one of the home's premier places for hosting guests and relaxing, the living room is a high-traffic area that can quickly become cluttered and untidy. Thankfully, a few simple, stylish tweaks to your space can help keep your living room organized and clean. Today we'll cover living room storage ideas and other simple solutions that can help you make the most of your space.
Coffee Tables
Everyone loves a good coffee table. They're great for displaying decorative pieces, stashing away clutter, providing a home for candles and coasters, and sometimes acting as the room's statement centerpiece.
Coffee tables can also pull off double duty by providing a place for storage in their drawers. Take advantage of this space by storing remotes or other small, frequently used items. You may also consider selecting a coffee table with additional storage at the bottom for things like board games and magazines.
Keep in mind that there are thousands of coffee tables that you can choose from. Coffee tables come in several different sizes, materials, makes, and colors, so choose one that matches the rest of your living room. For example, if you already have a modern black sideboard, consider pairing it with a sleek black coffee table.
Floating Shelves
If you're a book or movie lover, a floating shelf may be just the option for you! Instead of placing your books, magazines, or decorative items on a table—which may cause clutter—consider installing floating shelves on your wall.
Floating shelves have become popular because of the ease of installation and their clean, minimalist look. Don't be afraid to hang up a few floating shelves to optimize your living room space to hold items or display any pictures or cool souvenirs. Floating shelves are a great modern look, so if you're designing a contemporary feel for your living room, these would be the perfect fit.
Sideboards
Sideboards, also known as buffets, are a classic staple for any living room and provide ample storage space. You can use this versatile piece of furniture to either dress up or dress down the style of your living room. They're not only a great storage furniture piece to store special-occasion dinnerware, linens, and flatware, but sideboards are perfect for displaying decorative items and adding a "wow" factor to your living room.
TV Stands
If you're looking for a little more floor space but still want the storage space that a coffee table provides, consider having a TV stand or an entertainment center in your living room. Placing a TV stand against the wall, or wherever you'd like, can help open up the room, while still providing a place for books, magazines, movies, CDs, and other small items.
You can select a TV stand or entertainment center with open or closed shelves, depending on whether or not you want your stored items on display. If you have a small living room, then this is an ideal storage solution for you so that you have more floor space available.
Storage Ottoman
For a little extra storage space that needs to be hidden, try a storage ottoman. Ottomans make great storage units because they provide a dual purpose—a footrest or a place to sit, and also a great place to keep items like pillows and blankets. Many people also like to store magazines or games inside their storage ottoman. This is an ideal piece of storage furniture because no one will know that you are using it to store items, and it still makes the room look nice and comfortable.
Additional Furniture Options
We've talked about several different furniture pieces that can help you optimize your living room storage. Now we want to talk about what else needs to fit in your living room—basic furniture. While some furniture items don't offer much in the way of storage, the look and placement of your living room furniture can go a long way in making a room feel inviting and organized.
Living Room Seating
Living room seating can be anything from ottomans that double as coffee tables, to decorative stools and benches, to a simple couch. There are multiple different types of living room seating that can double as a storage unit. As mentioned above, storage ottomans are a great use of space. Ottoman coffee tables provide a great coffee table surface, but also the comfort of an ottoman.
Sofas and Sectionals
Each living room should have an inviting atmosphere, and sofas and sectionals do just that. A room is only as comfortable as its furniture, so you'll want to pick out the right sofa or sectional for you and your space.
Often, many people select their sofa first, which can set the tone for the rest of the furniture in the room. Because of this, you'll want to have already decided on a theme or design for the room, or the sofa can help you with that.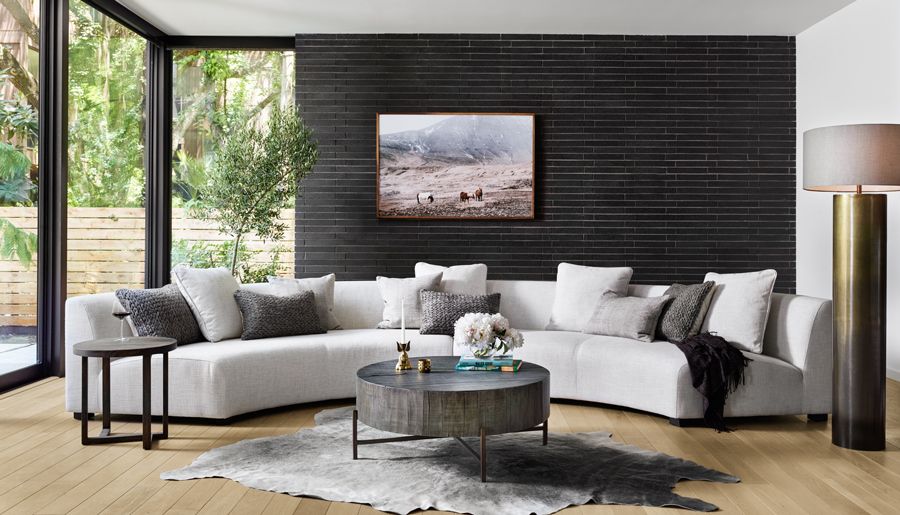 Sectionals are an amazing piece of furniture for big families or large groups of guests because they provide more space than a basic sofa. However, if you are more limited on space, a sofa would be the way to go. Whatever the case, a sofa or a sectional can provide a polished environment in your living room by adding extra comfort and relaxation.
Make it Yours
Design your room with one coherent style and implement these living room storage ideas to both optimize your space and, ultimately, make it your own. For more help in designing your ideal home office and finding the perfect home office furniture for you, reach out to our Vevano Home designers today!