Home Office Design Ideas: How to Choose the Perfect Home Office Furniture
By the Vevano Home Team
April 1, 2021
Whether you're looking to set up a permanent home office or to designate an area of your home for work, the following home office design ideas are bound to help you create the perfect home workspace. Functionality is key for your home office, as is a space that looks and feels good to keep you focused on the tasks at hand.
Before you begin, consider the space you want to use for your home office. Are using a previously unused corner in the living room, your bedroom or a spare room?
As always, start with a measuring tape. Plan for the dimensions of your space. Everything that can fit doesn't mean it will fit well. Get the measurements you are working with so you can plan for correctly sized home office furniture that fits and works well within the space. Remember to also check the dimensions of doorways and hallways to ensure a safe transition of furniture.
Another note for measuring space in your home office: Don't forget to find where outlets live on your walls. Plan to position your desk and electronic devices either close to the electrical outlets or for safe placement of extension cables. Some office desks come equipped with wire organization for safe wiring. This blog article goes over Why Measuring Your Space is Important: A How-to Guide.
Next, think about how you need to use your home office. Will it just be you, or will it need to convert into other uses for other people in your household? Do you need filing storage? How much space do you need on and in your desk to work optimally? Think about the overall functions of your home office and what you need it to do to best serve your purposes and work routine.
Make sure you're not crowding your space with furniture so you can't move around. You'll likely want an easy flow of traffic around and to your desk, about 3.5 feet on the chair side. You also want to make sure that you can open your cabinets and drawers easily. Be sure to dial in on what you really need to do your work in your home office, particularly if you're limited on space.
Budget what you want to spend on home office furniture. The key for home office furniture is to opt for well-made materials with a warranty. Comfort is also paramount. Consider where you want to splurge so you know where you may have to compromise on budget. Perhaps you require a super supportive chair so you opt for a simpler desk. Or perhaps storage of extensive files is essential to your work so you may splurge on a credenza for more workable office storage.
Next you can start planning for the essential pieces of a home office: your home office desk and the office chair! Here's how you can select an ideal office desk and office chair so you can comfortably work from home with style.
Choosing Your Home Office Desk
The most considerable feature of your home office is your desk. Office desks come in a wide variety of sizes, shapes, styles, materials, and colors. This is your working zone, so you want it to work for you.
Have an idea of the activities you want your home office desk to support you with so you know what to look for. For example, do you have a limited amount of space for your home office desk? Does it need to hold a full computer setup (complete with keyboard, mouse, monitor, and/or tower) or just a laptop? Do you need a lot of desk space for research or other paperwork? Do you need storage? Ask yourself these kinds of questions to identify what type of desk you require.
From there, you can start to put together an idea of how big of a desk you need and what kind of size, shape, and style will suit your needs and space.
Sizing & Comfort
When it comes to choosing a home office desk, definitely consider ergonomics, which brings into play both comfort and functionality.
The standard height between the floor and the desk surface is between 28"-30", which works well for people between 5'6" and 5'11". The key is to have a desk where you can comfortably rest your hands on the desk with your elbows bent at a 90-degree angle.
Another dimension to consider for your comfort is the computer monitor level. Ideally, a computer monitor should sit between 20"-30" from your face with your eye line aligned at the top of the monitor. Keyboard height is something to consider as well if you need a desk with enough space for a full computer. The surface height of the desk may be too high for your comfort, and some desks come with a pull-out keyboard shelf at a more comfortable level.
Desk Styles
The style of desk will contribute to how your desk might look and function or even offer storage.
Writing desk - A desk designed with distraction-free writing in mind. Often features a large flat surface space that's ideal for paperwork, a notebook, or a laptop, but has minimal storage space.
Computer desk - Equipped with cable and wire holes and organizers, a computer desk is built for those who require a complete computer system for their work. More often than not, computer desks feature pull-out keyboard shelves for easy typing.
Executive desk - This is your classic corporate desk with plenty of surface space, and storage cabinets often featured below the desk top. If you're seeking sophistication, the executive desk is it.
Secretary desk - The secretary desk is another traditional desk style that also has handy cubbies, shelves, and cabinets for organizing paperwork, pens, books, and other tools. This is a charming multi-functional addition to your home office, especially if you're transforming a corner of a room for your office rather than a whole room, as everything is built-in and can hide away features for a streamlined look when you're not working.
Corner desk - A corner desk is great for optimizing space while also providing plenty of surface area to work with. One side could be dedicated to your computer and printer, while the other side is meant for paperwork, for example. The L-shaped desk also provides ample legroom space. Corner desks work great in smaller areas or to help provide division between areas of a room for a degree of separation for your home office.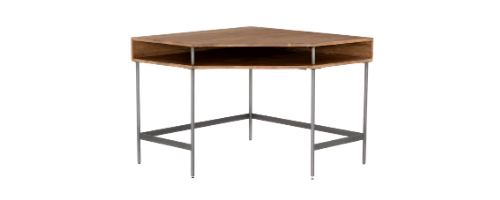 Floating desk - Attached to the wall, a floating desk is a good option for setting a custom height for your desk surface. Since it's attached to the wall, there's floor space available beneath floating desks. If you set it high enough, you may remove the need for an office chair at all--ideal if you would rather stand while working.
Standing or Sit/Stand desks - Sitting at a desk all day isn't easy on your body, so many people opt for a standing desk. Standing and sit/stand desks have become more popular as they offer a desk option that allows for automatic/electronic or manual adjustments for standing while working.
Desk Materials & Colors
The color of your home office desk is likely determined by the material you select. Choosing a desk to match your decor is also a way you can hone in on the style of home office you want.
Wood - Wood is a classic and traditional choice for an office desk, and it is also hugely versatile so you can use it with most aesthetics. Wood comes in a variety of colors and grains, so it's easy to find a wood desk to match your desired style.
Laminate - A laminate-topped wood desk is a practical and affordable option. As they come in many colors, it's easy to further personalize your office with a laminate desk.
Glass - A modern choice, a glass-topped desk certainly makes a statement. Glass is also easy to clean and helps the space look bigger and more open by reflecting the light into the room.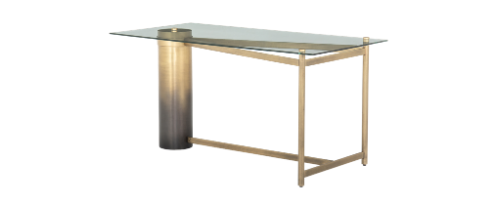 Metal - For a hardy industrial look, a metal desk might do the trick. Metal desks are extremely durable and require minimal upkeep and maintenance, unlike glass or wood.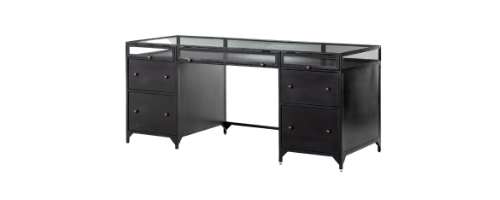 Choosing Your Office Chair
When it comes to your home office chair, comfortability and support is key. Your office chair alone greatly impacts your day-to-day wellbeing (and your back) the most, so this is one piece of furniture you want to pay special attention to.
Styles
Different styles of chairs may provide specific support for the type of work you do.
Task Chair - This is the classic office swivel chair, designed to slide in under most desk styles so you can do the work you need to for the day. They often feature wheels, high backs, and armrests, and come in a variety of materials and colors.
Ergonomic Chair - Ergonomic chairs, while they can look like task chairs, are designed to keep you safe by supporting good posture while you're working. These chairs often come in multiple adjustable parts so you can customize it to support your body best for optimal health and productivity.
Drafting Chair - Drafting chairs often offer a bit more elevation than task chairs to offer a higher vantage point for certain professions. They often come with a metal ring as a footrest for more comfortable seating. They don't often have armrests, but they may have high backs depending on the design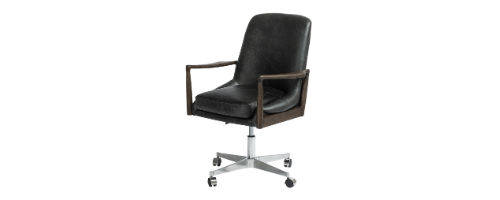 Big & Tall Chair - Specifically designed for those with larger body types, big and tall chairs are ideal for those who feel cramped or crouched over in the standard office chair. Double check the dimensions to ensure a comfortable fit.
Materials
Your office chair material determines how comfortable your chair is. The material and design contributes to the overall aesthetic of your home office as well.
Leather / Faux leather - Leather chairs offer a luxurious and sleek feel to your home office while providing plenty of comfort. Avoid leaving leather in direct sunlight to prevent fading.
Mesh - Chairs featuring mesh backs are very breathable, keeping your back cool by allowing the flow of fresh air through them. Many ergonomic chairs are made with mesh.
Fabric - Available in a wide variety of patterns and colors, fabric chairs are common for computer chairs. They may trap and hold moisture or odors, but they are often quite comfortable.
Vinyl - Quite stylish, vinyl office chairs are sturdy, reliable, and easy to clean. However, they aren't very breathable and often run cool to the touch.
Plastic - Durable and easy to clean, plastic chairs are most often found in stackable, drafting, or foldable chair options.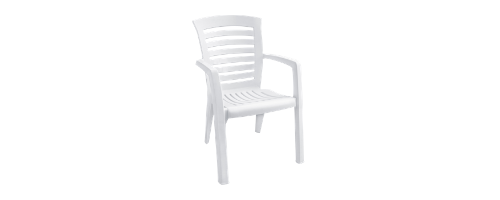 Additional Types of Office Furniture
To further flesh out your home office, you may want to incorporate additional furniture to play up your sense of style or to add further functionality to the space.
Accent/side chairs - An accent (or reception) chair isn't meant for constant use, but may contribute to the homeyness factor of a home office for when guests or colleagues are present.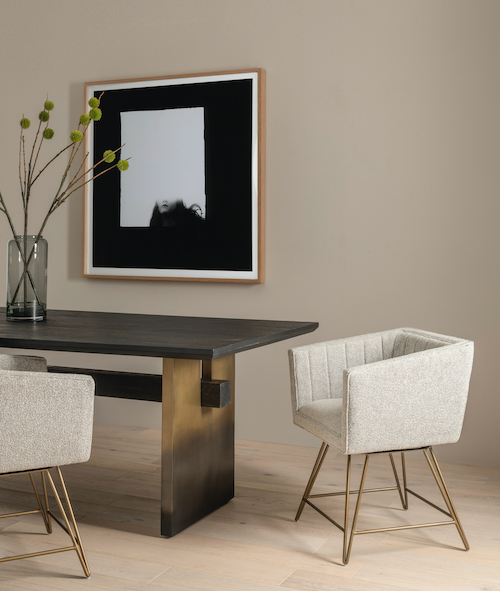 Storage furniture - Sideboards and cabinets, whether built into your desk or not, provide ample storage for your work supplies and files. Consider how much storage you might need to handle your filing and organizing needs. A cadenza (commonly called a sideboard or console), for example, is a great way to add a lot of functional storage and added working space to your home office by pairing it with your desk.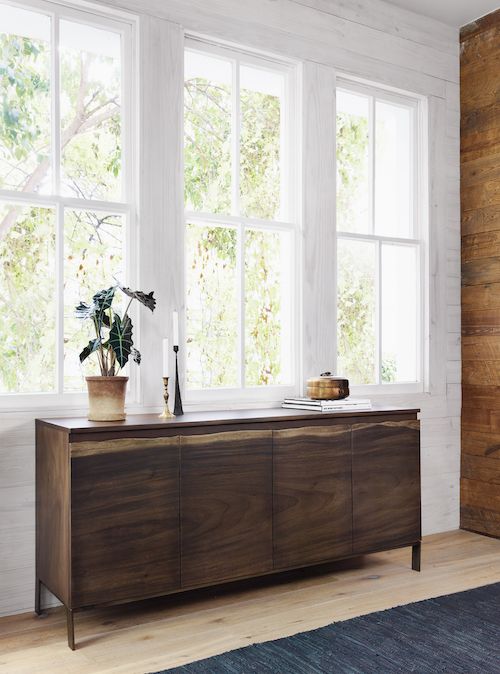 Decor, rugs & art - While you want a functional home office, you also want it to feel good. To personalize your home office, adding decorative touches and textures is a way to turn a stale or stuffy home office into a Zoom-worthy backdrop to impress. This could involve rugs or chair mats under your office desk and chair, art or plant life to beautify your storage or shelves, and other decor.